You Traveled Back In Time To The 80's With Your Walkman
And this is what you heard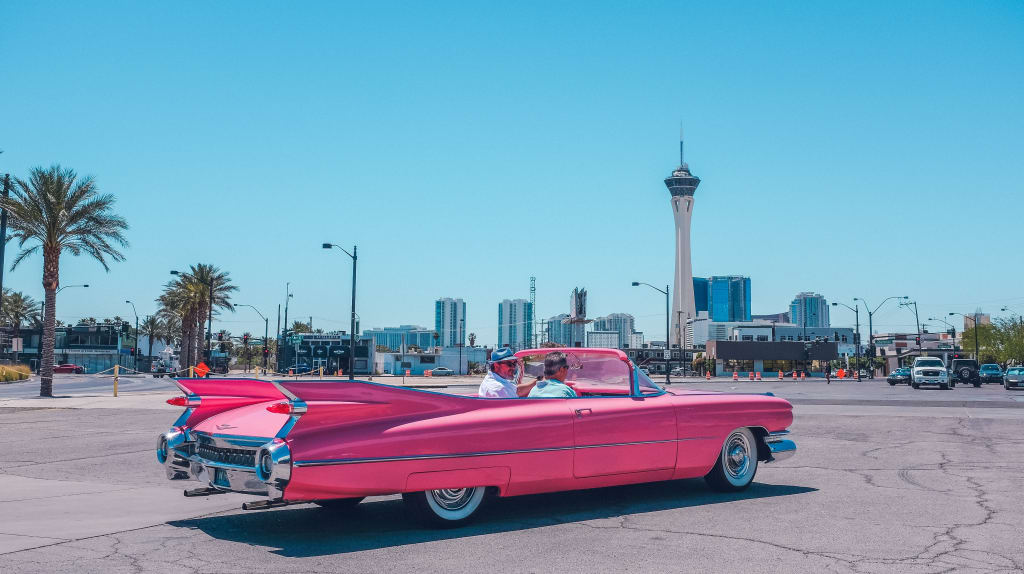 Photo by Kenny Eliasion on Unsplash
I don't know what it is but the old songs seem to hit different compared to the new music today and by that I mean the songs are expressed differently. Don't quote me though because Harry Styles and Doja Cat are pretty awesome artists. (You can't even lie.)
I happen to be an old soul that enjoys some oldies any chance I get hear them. For some reason I've always felt like the oddball that belonged to a different decade or generation of some sort. If you mention anything retro, I'm always down for it. Vintage cars, diners, polaroid's, record players, typewriters, classic arcade games, drive-in theaters, clothes. You name it. I guess you can say I have an old flame with the early days. Although it wasn't my time sometimes I wish it was.
I'll be listing a series of throwback jams and I'll also include the meaning behind the songs along with fun facts. Let's take a stroll through the 80's.
Bon Jovi - You Give Love A Bad Name (1986)
I think we've all been through some sort of relationship where a person gave love a bad name. You know how most people say don't be fooled by looks? Well this song represents a perfect example of that. A guy falls for a beautiful girl but is tricked by her appearance. In the lyrics of the song they mention a perfect example of this,
"An angel's smile is what you sell. You promise me heaven then put me through hell"
(Short story: Looks don't always provide the full package you're seeking for.)
Fun fact: In 2005, You Give Love A Bad Name became a #1 hit in Poland once a Polish singer recorded the song.
A-ha - Take On Me (1985)
The song "Take On Me" is structured around a girl taking interest in a guy. Throughout the video, the guy is trying to convince the girl to accept him as a lover. Artistic illustrations are demonstrated along with the reflection of real-life scenarios. Although she seems to be shy, the guy's urge to be with the girl is truly consistent, and he won't stop until he steals her heart.
Fun fact: This video was based on a transformation scene from a 1980 sci-fi movie called the Altered States. All the scenes were shot live and then traced on paper.
The Outfield - Your Love (1985)
According to the lead singer Tony Lewis, "Your Love" is not based on a true series of events. Many people would ask the question, "Who is Josie?" or "What is the plot?" but he mentioned in an interview that everything is made up.
Fun fact: The Outfield band was once called "The Baseball Boys," before they shifted to their present name. Your Love was also written in 20 minutes according to Tony.
Journey - Don't Stop Believin' (1981)
Don't Stop Believin' focuses more on the positive side of things when dealing with uncertainty in life. The songs express different point of views. To sum it up, these individuals are in search of their destiny and feel stranded in their purpose in life. That's where this song comes in with its song title.
Fun fact: In 2020 some hospitals used "Don't Stop Believin'" as an inspirational call toward patients that were recovering from COVID-19 along with the ones who were being treated. A New York hospital located in Queens, NY played the song throughout the building each time a coronavirus patient was discharged.
Eurythmics, Annie Lennox, Dave Stewart, Sweet Dreams (Are Made Of This) (1983)
In 2022 Dave Stewart was interviewed by Songfacts and explained a deeper meaning behind the song. He went on to say: "A lot of people use it as a very uplifting dance record at EDM festivals, raves, and parties. When the DJ puts that on there are always a lot of hands in the air. But it's a very sort of existential, spooky record asking if this is what the world has come to. Is this what our dreams are made of? And then some people want to use you, some want to abuse you. So it goes into a topic that could go massive if you want it to."
Annie Lennox also had her say on things and mentioned that the song is about searching for fulfillment, and the "Sweet Dreams" happens to be our desires.
Fun fact: Sweet Dreams was used in 13 movies.
Survivor - Eye Of The Tiger (1982)
This song was written for the movie "Rocky III". The movie is based around a boxer who trains hard with physical and mental tests to win a boxing match. It's all about having the will to fight for what is yours whether that is short or long-term goals. In simpler terms chase whatever it is you want in life by all means.
Fun fact: In 2015 this song was used in a Frosted Flakes commercial for the cereal mascot Tony The Tiger.
George Michael - Careless Whisper (1984)
Careless Whisper is about lost love. George Michael speaks about a previous relationship he had where he cheated with another woman. His disloyalty leaves him feeling regretful, lonely, heartbroken, and unhappy.
Fun fact: George Michael wrote this song at 17 years old.
Cyndi Lauper - Girls Just Want To Have Fun (1983)
This song expresses the meaning of being free as a woman. Cyndi Lauper wanted this to be known as a feminist anthem and she states that women who feel restricted in the world should enjoy life. In the song, her Mother and Father are judging her life but she just wants to have fun.
Fun fact: Girls Just Want To Have Fun was used in the popular film Clueless starring the famous American actress Alicia Silverstone.
Rick Astley - Never Gonna Give You Up (1987)
Like the song "Take on Me" this song is quite similar. The only difference is that he is with the girl and is promising his loyalty and commitment to never let her go. According to the song, the couple seems to have experience with relationships and understand the rules to them. They've also known each other for a long time and seem to be taking the effort.
Fun fact: This song was a big hit in United Kindgom during 1987. The track stayed at #1 for five weeks.
Michael Jackson - Bad (1987)
At some point, the term "bad" meant " cool". Michael is referring to himself as being cool as a good guy and is stating that the people who are actually bad guys are not considered cool. The people who do bad things to show off, and act out aren't as cool as they appear to be so he tries to prove a point by standing up to the bad people, showing them who's boss.
Fun fact: In the process of recording the Bad album, every Friday Michael Jackson brought in two chefs to cook food for everyone in the studio.
Earth, Wind & Fire - Let's Groove (1981)
Let's groove is all about losing yourself to music and finding yourself on the dancefloor. In a sense this can be dancing wherever you are at home, at a wedding, a party, at a bar, etc. This song is made to get people in the mood to move their bodies, sing along to lyrics, and have a good time overall.
Fun fact: The video to this song was the first ever to be featured on Video Soul, a popular show on the cable network known as BET.
Europe - The Final Countdown (1986)
With the theme of this song being apocalyptic and optimistic, it describes a trip leaving the grounds of Earth, then heading to Venus. The lead singer Joey Tempest went on to say "The music was almost like a soundtrack to a movie, about leaving Earth, and that the time on Earth has been spent. And one day, we'll probably have to leave this place. It was kind of a dream-like lyric, but that was the backdrop for it."
Fun fact: This was #1 in 26 countries along with Germany and over eight million singles were sold across the world.
Crowded House - Don't Dream It's Over (1986)
A boy is explaining to his lover to not give up on her dreams and to have hope. The obstacles that may get in their way cause the woman to believe the relationship is over, but the boy continues to encourage her to keep pushing forward.
Fun fact: Paul Young performed this song as a cover in 1989 at the Nelson Mandela Tribute.
Van Halen - Jump (1984)
Many meanings are given to this song, but the American Singer David Lee Roth mostly says the lyrics are about a TV news story he saw. A man was on the verge of killing himself by jumping off a building. So then this song was created.
Fun fact: Eddie Van Halen played Jump on Oberheim OB-Xa synthesizer which was a well-known synth business during the '80s
Cutting Crew - (I Just) Died In Your Arms (1986)
The lead singer Nick Van Ede wrote this song and it was inspired by his relationship. The song was dedicated to his girlfriend. One night they both got to meet up after a year apart, and there were sexual feelings between the two. Although it felt right in the moment, he said he had a feeling in his gut that told him he shouldn't be doing it.
Fun fact: In 2020 during the Super Bowl, a Planters commercial was released with Wesley Snipes and Matt Walsh riding on a Peanutmobile, singing along to the song as it is playing on the radio.
Ray Parker Jr - GhostBusters (1984)
In short this song is based on the 1984 film Ghostbusters starring the four main characters Bill Murray, Dan Aykroyd, Harold Ramis, and Ernie Hudson.
Fun fact: Ghostbusters has featured on the television series Stranger Things in season 2, episode 2. Lucas, Dustin, Will, and Mike dressed up in ghostbusters costumes. The instrumental version plays while they are posing in their outfits, and at the end of the episode, the full song plays.
Bon Jovi - Livin' On A Prayer (1986)
This song tells a true story about Tommy and Gina, a couple that is working hard to make ends meet will all that they've got. They're out of luck and things are tough but with the love they have for each other it is enough. They both seem to appreciate what they have in spite of the hardships that they are facing.
Two is greater than one and to be able to share a life with another person through challenging times, while comforting one another, is quite the gem. Livin' On A Prayer can be defined in many ways by different people. My definition of the song though? Don't give up and have faith even when life doesn't come so easy.
Fun fact: On September 21, 2001, Bon Jovi played the song as a part of the "Tribute To Heroes" television program as an appreciation of the victims of terrorist attacks in the US.
Whitney Houston - Dance With Somebody (1987)
This song speaks from an emotional place. It's not about spending time with just anybody but being with that special somebody. It's about finding someone to love, go through the feels with, and have a romantic date night with. The artist craves to be around someone she can call a lover. Without somebody to dance with she feels lonely, lost, and blue.
Fun fact: Prince Harry and Meghan Markle chose this song as their first dance at the evening reception before their wedding.
Tears For Fears - Everybody Wants To Rule The World (1985)
The title of this song is self-explanatory, but just in case you're a bit lost, it talks about how everyone in the world wants to have power over things. That can be achieving status, fame, followers, money, etc. Anything really that puts us on a pedestal because for some reason many of our values lie there.
The band mentions the consequences that come with wanting to rule the world. Although you get temporary freedom and pleasure, there are gray areas in trying to have control over everything. Ultimately, this burning desire for power won't last forever, no matter how much influence we have over something. Although this song seems like a good upbeat tune to be inspired by it also states serious points that can lead to our misery.
Fun fact: Before the song was changed to "Everybody Wants To Rule World" it was once called "Everybody Wants To Go To War" according to the musician Roland Orzabal.
------
Reference
Songfacts. (n.d.). Song meanings at Songfacts. Song Meanings at Songfacts. Retrieved July 31, 2022, from https://www.songfacts.com/
80s music
About the author
𝘈 𝘣𝘪𝘨 𝘵𝘩𝘪𝘯𝘬𝘦𝘳 𝘵𝘩𝘢𝘵 𝘣𝘳𝘪𝘯𝘨𝘴 𝘢 𝘤𝘭𝘶𝘴𝘵𝘦𝘳 𝘰𝘧 𝘵𝘩𝘰𝘶𝘨𝘩𝘵𝘴 𝘵𝘰 𝘢 𝘱𝘭𝘢𝘤𝘦 𝘤𝘢𝘭𝘭𝘦𝘥 𝘳𝘦𝘢𝘭𝘪𝘵𝘺.
𝘚𝘱𝘳𝘦𝘢𝘥 𝘭𝘰𝘷𝘦 𝘢𝘯𝘥 𝘣𝘦 𝘨𝘳𝘦𝘢𝘵.🎨
Reader insights
Be the first to share your insights about this piece.
Add your insights