Yo Hago Lo Que Me Da La Gana: The Rise of Bad Bunny
An overview of the growth and accomplishments of Spanish artist Bad Bunny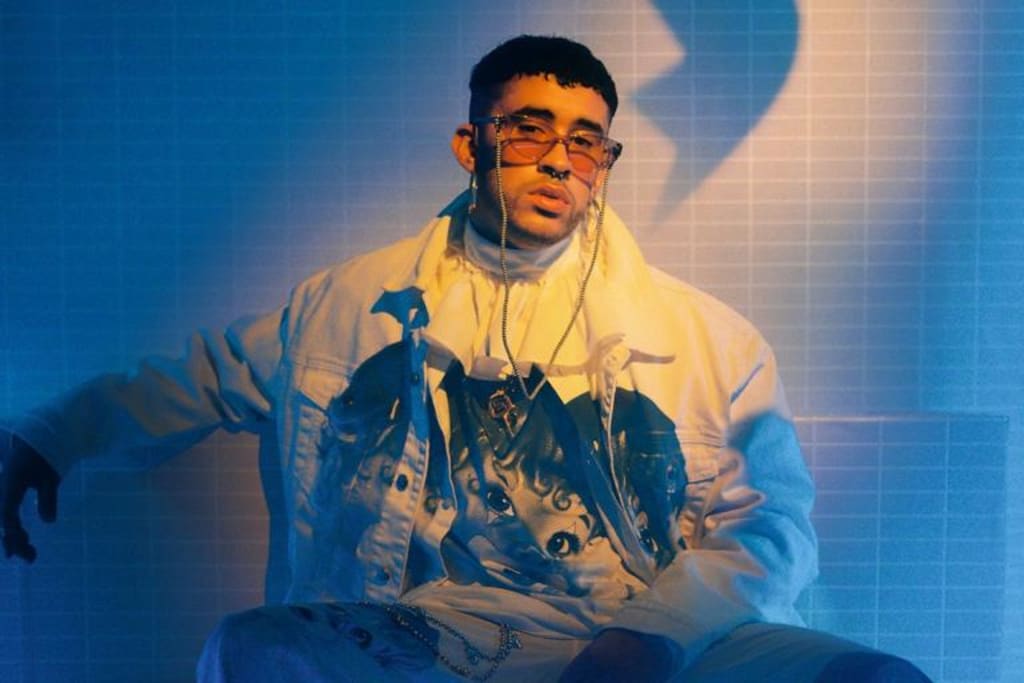 Benito Antonio Martinez Ocasio, or better known by his stage name of Bad Bunny, has had an eventful year. From the recent release of his sophomore album YHLQMDLG, to performing at this year's Super Bowl halftime show with musical peers J-Lo, Shakira, and J-Balvin. Bad Bunny is at the top of the world right now, and has become the leading figure in the new generation of Spanish artists that have started to dominate the mainstream. And while he has many accomplishments that many established artists wish to achieve, his career is only at the beginning.
The first time I ever heard of Bad Bunny was the Summer of 2017, when one of my friends played the song "Krippy Kush" to me, right before telling me that Bad Bunny is the Travis Scott of Spanish music. A comment that I quickly brushed off, but as the next few years passed by, I have started to realize how much weight that comment actually held.
Bad Bunny grew up in Vega Baja, Puerto Rico, and beginning of 2016 he was a bagger at a local super market while releasing music on his SoundCloud. Benito's stage name came-about from a picture of his childhood in which he is dressed in a bunny costume, while having an angry expression. Soon he was able to catch the attention of DJ Luian who signed him to Hear this Music. Soon Bunny was able to release his breakthrough single "Soy Peor" which broke him and led him onto the path of becoming the Latin trap king. He would spend the next few years releasing original music, and collaborating with other Spanish artists such as Karol G, Ozuna, Anuel AA, Daddy Yankee, and a whole other mix of artists.
In 2018, Bad Bunny reached new levels of mainstream attention as he worked on three tracks that are career defining in his discography. The first being the "Te Bote Remix", which had Bunny work with the other Latin artists who were leading the Latin trap movement, creating an anthem for the genre. And a couple of months later, he was featured on Cardi B's "I Like It", with fellow artist J-Balvin. Working on this track, allowed for Bunny to have his first number one single on the US Billboard Hot 100.
Towards the end of 2018, it was time for Bunny to end the year with a bang. First, he released the lead single of his debut album, featuring the biggest artist there is. Bunny was able attract the attention of Drake, and together they released MIA. A song where we see both artists sing about their love for a woman, and even has Drake singing in Spanish. And then on Christmas Eve of that year, Bunny decided to surprise the world by surprise dropping his debut album, X 100pre (pronounced as Por Siempre). Here we saw Bunny able to experiment with his sound, by playing with new sounds for him such as rock, synth pop, and collabing with artists like Diplo and Ricky Martin.
2019 was the year where Bunny focused his attention on being able to dominate the Summer. While not releasing much music at the beginning of the year, aside from being a feature on a few songs, Bunny released the summer anthem, "Callaita", a collaboration between him and legendary producer Tainy. Right before doing so, he performed at the mainstage at Coachella, and brought J-Balvin out with him. This was only a teaser of what the duo was planning, together in June, the pair dropped a surprised album "Oasis", with notable song "La Cancion" and "Que Pretendes, coming from the album. Together the duo were able to perform at the MTV VMA's while being surrounded by cartoons and imagery from their album.
And finally, Bunny was ready to prepare the world for the next phase of his career. Starting 2020 with a brief performance at the Super Bowl Halftime show, where he performed "I Like It" and "Callaita", as he was on stage with stage with Shakira. Releasing songs "Vete" and "Ignorantes" around the same time, and then being invited to play in the NBA's All Star celebrity game. And towards the end of February, he was invited to The Night Show With Jimmy Fallon, and while on the show, he announced his sophomore album would be releasing the next day, the 29th of February. YHLQMDLG was the title for his next project, which stands for yo hago lo que me da la gana, a phrase that translates to "I do what I want". A phrase that represents the personality of Bunny, to his eccentric fashion sense, to his willingness to experiment with sounds, or his carelessness approach in the music industry.
The album is a homage to the sounds that Bunny grew up with, and has him recruiting legends like Daddy Yankee, and newer artists from his town. As like his last album, we see Bunny experiment with sounds even more, incorporating more layers, synths, vocoders, and trying to experiment in genres like hard rock. Yet, Bunny ends the album with "<3" thanking all those believed him, and then telling the listener that his next album would be his last, and he's ready to end his career due to all the pressure it has brought to him. Only time can tell what the future holds for Bad Bunny, but no one can deny that he has accomplished a lot in the span of a few year short years, or that he became the face for a new generation of Latin artists!