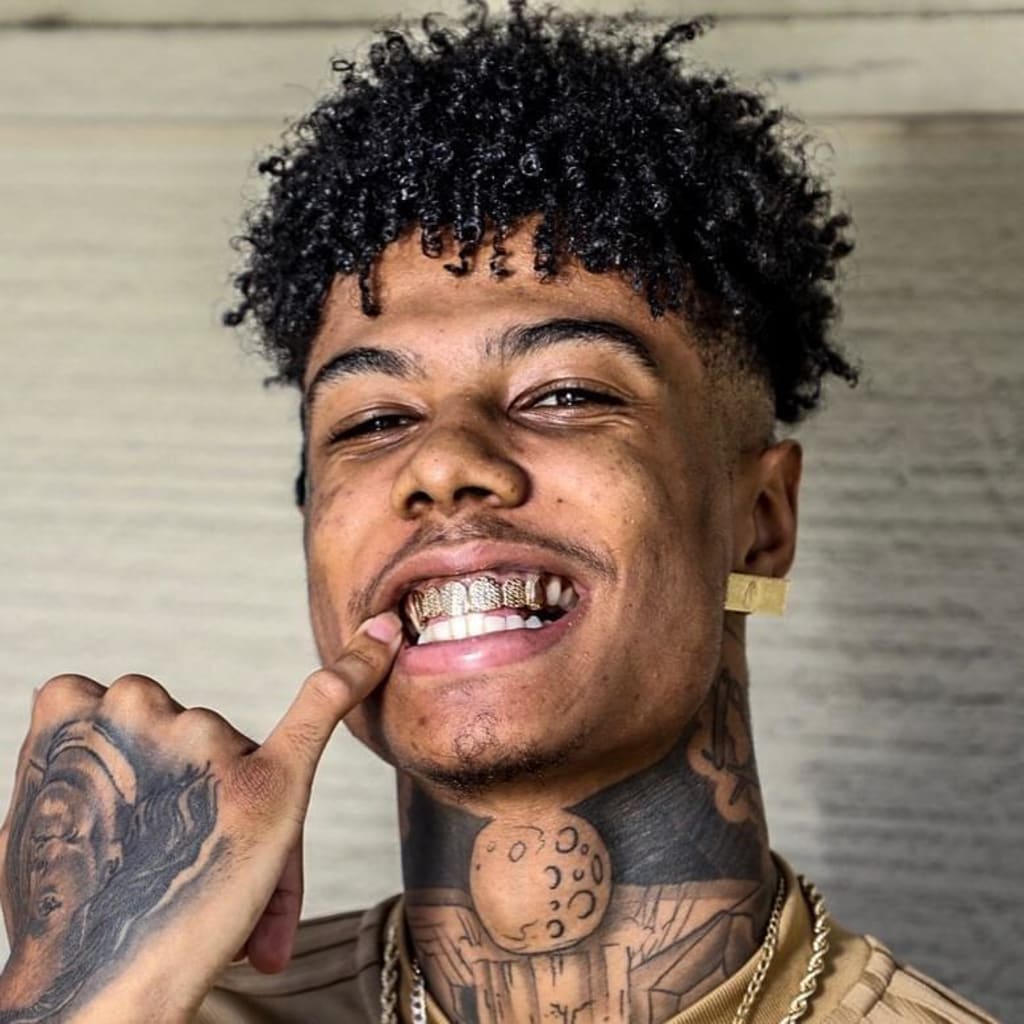 Los Angeles based Rapper, Blueface.
Hip hop music has become today's most popular genre, and is increasingly becoming more accessible thanks to streaming services like Spotify and Soundcloud, allowing it to be almost as easy to listen to an artist as it is making yourself into one. Because of this, as much as there are talented artists who create compelling and creative pieces of music, there will be just as many talentless, cash-grabbing hacks who follow an easy formula for a big payday. When directly comparing the music of an artist to the music of a hack, the differences are night and day. However, there is one artist rocketing into the mainstream that many consider being on one side of the spectrum (hack), while I believe the opposite. That artist is...that's right, California based rapper Blueface, baby! Born Jonathan Porter, Blueface is known for his eccentric, gang rap style and signature phrase "yeah aight". When his name is brought up, most of my peers will quickly laugh, and write his songs off as "trash" or "all sounding the same". Although, yes, I wouldn't say he has the most talent in today's rap, I think he brings a new attitude, humor and creativity that pushes him much further above many popular artists of the rap game barrel.
By now you are probably bursting at the seams with questions, one of the most pressing being "how is this opinion unpopular at all?" which is a great point. At the time I am writing this, Blueface has five million followers on Instagram, and 160k followers on Twitter. He is undoubtedly well known, but I do not think everyone who follows him are there to hear his new releases. To the public eye, Blueface has a similar appeal that rappers like Lil Pump or TeeJayX6 have, where the chaotic energy they present in their daily lives is the entertainment. You never know if he will be getting into a new rap beef, showing off his many, many watches (that he at times wears all at the same time), or busting it down to one of his own tracks. Regardless, it is fun to watch. But his online persona can turn away some of his audience if viewed at surface level. No wonder I can't get my friends to take him as a serious artist; sometimes, it seems like he doesn't even take himself seriously. And that's the beauty of Blueface.
His online persona does trickle out into his music, but instead of coming across as immature and childish, his sense of humor adds to his music more than anything else. This is because it comes with an aggressive vocal delivery, as well as trap beats with a hard-hitting bass, allowing for lines like "Glock make him disappear/ hocus pocus" (off of "Bleed It") to feel more ironic than idiotic, subverting expectations in a comedic fashion. Additionally, Blueface gives off the impression that he doesn't take his lyrics, his career, or even himself very seriously. To quote his song "Bleed It" again, "You've been rapping/I just do this on the weekend". As much as his music prompts you to wild out at the club, it also encourages you to laugh with him at his own work, creating the ultimate melting pot of a good time.
The most popular thing said about Blueface, ever since he first blew up on the rap scene, is that he does not even rap on beat. This is evident on a lot of his songs off his 2018 mixtape "Famous Cryp", including his biggest hit yet, "Thotiana". Many take his sudden departures from the instrumental's rhythm as a flaw, and use it to critique his rapping style; however, I can only describe his flow as creative and unique. Why? Well for starters, how many other popular rappers today intentionally rap off beat? What immediately comes to mind is another California rapper E40, who has been making albums since the 90s. But other than that, and especially in new age rappers, no one is thinking beyond the beat like Blueface is. The impact songs like "Thotiana" has had in popular hip hop music ("Thotiana" now has over 250,000,000 streams on Spotify) only proves how Blueface's unmatched approach to his music is attracting modern-day listeners, who, like me, are looking for a new spin on today's hip hop/trap takeover. Although many like to dumb his style down as a lack of talent, I see his asymmetrical flows as a genius and ultimately affective approach to today's rap scene.
This entire "hot take" is something that seems a little left-field; arguing for an already popular rapper who is coming out with new music as I am writing this conclusion. On the other hand, this unpopular opinion is the most "Blueface" opinion there is: left field, unexpected, and (most essentially) all about Blueface himself. Maybe Blueface really doesn't know how to rap on beat. Maybe he really is just cheating the system to make easy money. Did I just wast my time arguing for a rap style that Blueface himself doesn't even think is as revolutionary as I make it? I don't know. All I know is, if anyone tries to tell me Blueface's music is trash, I'll just smirk and tell them: "Yeah, aight".