Wu-Tang Clan's RZA and Rapper Common Reunite for "Black Samurai" TV Series
The former "American Gangster" co-stars link up for television series with RZA executive producing and Common starring in lead acting role.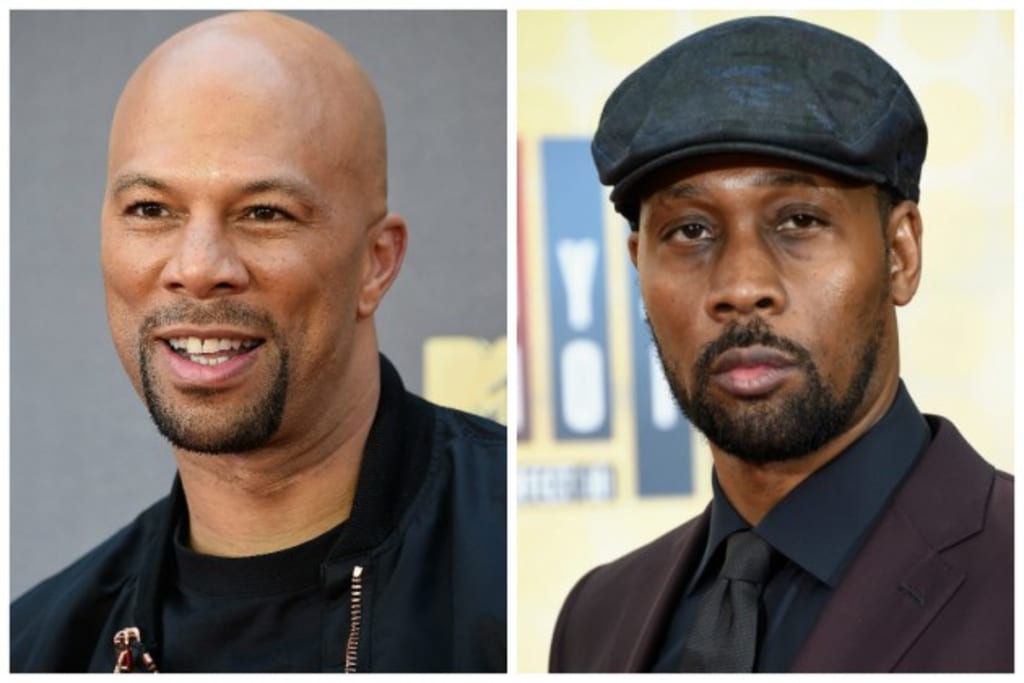 Photo credits: Frazer Harrison, Getty Images
Two of hip-hop's most legendary figures will soon be having a reunion of sorts, which involves acting and producing, not beats and rhymes. This latest project is based on a book series popularized in the 1970s.
According to a recent report by Deadline.com, Robert "RZA" Diggs and Lonnie "Common" Lynn, Jr. are slated to work together on a television series called "Black Samurai." Though the project is still in its preliminary stages, some very large names and entities have joined RZA and Common's team to bring author Marc Olden's classic novel series to life again.
Common's Freedom Road Films and RZA's Wu Films are the first two companies that got together roughly a year ago to make this cinematic dream come true. However, television production magnate Jerry Bruckheimer joined forces with the two rapper/actors and the effort to create the series started to move even faster.
With Jerry Bruckheimer Television as part of the alliance, Starz ( a Liongate-owned television distribution channel) has picked up Black Samurai for the purpose of developing the much-anticipated television series. Writing duties for the project are being handled by Cormac and Marianne Wibberley.
The Wibberleys are known for their work on well-known film projects, such as National Treasure, National Treasure: Book of Secrets, and Bad Boys II. They will also be working on the Black Samurai set as showrunners and they have already written the pilot script. Common is co-executive producing the series and will be starring in the lead role.
The Chicago-bred rap titan will be playing a character named Robert Sand, a lethal U.S. Army Ranger who crosses the path of a legendary Japanese warrior who convinces him to undergo further combat training as a samurai. Sand accepts the sensei's invitation to train and forms a bond with him and his fellow samurai brethren in training.
However, tragedy strikes when a group of paid assassins murder Sand's leader and his fellow samurai trainees. The enraged Army Ranger then embarks on a solo mission to avenge the death of his fearless leader and comrades. RZA, a longtime student and connoisseur of the martial arts will also be serving as co-executive producer for Black Samurai.
Black martial arts legend and actor Jim Kelly originally starred in a 1977 film project, which was also based on Olden's historic book series. Kelly played the role of Sand back then. Deadline also reported that producers for this new-school "Black Samurai" series have stated that it will showcase a marriage between classic hip-hop and the story of a hero.
"[Black Samurai] will be a mash-up of the spy and martial arts genres and infused with the heart, soul, and music of Common and the Wu-Tang Clan, creating a modern-day international action star," producers reportedly said in a statement about the series, according to Deadline.com writer Nellie Andreeva.
Bruckheimer has also expressed his outright enthusiasm about the forthcoming project.
"We are absolutely thrilled to partner with Starz, Common, RZA and [producer] Andre Gaines on Black Samurai. This incredible creative team will combine all of their talents and experience to bring the classic book series to brand new life with cutting edge artistry, music and imagery," Bruckheimer said in a statement, Deadline reported.
Even the shot callers at Starz seem to be elated about the Black Samurai project. "We cannot wait for the world to meet Robert Sand – part Jason Bourne, part James Bond, and 100% the hero we need today," Carmi Zlotnik reportedly said in a statement, according to Deadline. Zlotnik is the President of Programming for Starz.
Other key players on board that are making this film happen include Jonathan Littman, KristieAnne Reed, James Oh (producers for Jerry Bruckheimer Television), Derek Dudley, Shelby Stone, Diane Crafford (producers for Freedom Road Films), and Mitchell Diggs (producer for Wu Films).
celebrities
About the author
Victor Trammell is a digital media producer, freelance journalist, and author. Mr. Trammell primarily covers current events at the Your Black World Network for online news. Formerly, he was a writer for the Michael Baisden Show.
Reader insights
Be the first to share your insights about this piece.
Add your insights