Woo - 'BLACK OUT' Album Review
A successful showing of renewed confidence and vigour from the AOMG artist.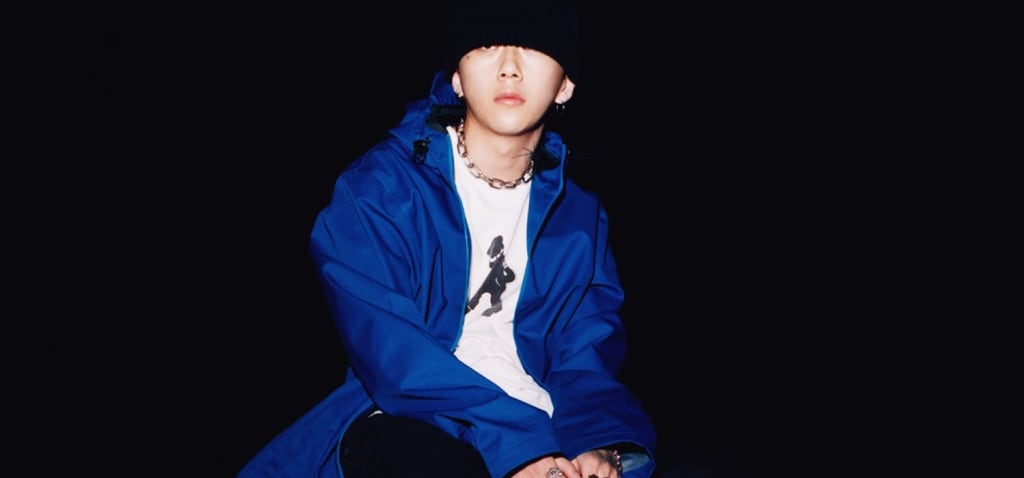 In many ways, 2018's Af was the true kick-start of what would evidently be a successful career for Woo Won-Jae. Sure, there were songs like the magnetically fast-paced chart-topper "We Are," and the introspective double-single Anxiety, but it wasn't until the 23-year-old tried his hand at a long-form extended play that audiences got a true taste of what the young rapper was all about. Thus, when the unabating pensiveness of his prior releases was allowed to combine with a more fluid, coherent structure and larger-scale ideas, it was only natural that fans started to flock to the man who was, at the time, AOMG's youngest signee.
Across the seven-track release, tracks such as "a fence," a mid-tempo, melodious unleashing of anxiety and uneasy feelings regarding one's place in the world, were easy to appreciate. Full of rhythm guitar riffs and flourishes of brass before being topped-off with a deceptively catchy, easygoing chorus, it was an excellent lead-single, and accessibly covered taboos in a way rarely seen in Korea. Even the more subtle "I Love You," which expertly samples Brenda Lee's "I'm Sorry," showed a tangible knack for hit making, borrowing the high-pitched strings and high-pitched vocals of the '60s hit and complementing them with low-key, colourful synths. Woo's fluctuating vocal delivery works well here too, and comes off quite freestyle in nature before the stuttering loops and simple imperative instruction to "dance" takes the driver's seat. It's fair to say that on Af, everything flows neatly, and proves that whilst tackling issues pertaining to depression, self-worth and anxiety, Won-Jae could, and can, still produce something wholly marketable, and worthy of mainstream attention. Peaking at 37th in domestic album charts, the potential for the AOMG upstart was evident, and so it came as quite a surprise that in the year that followed, things slowed down slightly.
Of course, that wasn't necessarily a bad thing, as Woo became mentally stronger, and noticeably more assured. Across singles like "Taste," which peaked at 21st domestically, the 23-year-old seemed settled in his deep vocal timbre, and assertive enough to deliver his verse with a more diversified cadence. Just like his potential was apparent the year prior, improvement was the key takeaway in 2019, and left fans clambering for more material.
And now, after a fairly sizeable (although understandable given the messy timeline that is 2020) wait, Woo has returned with his first full-length release, titled BLACK OUT. A nine-track showing of succinctness, swagger and production levels unheard of from the rapper before, it's sees the 23-year-old reach new heights, even if some of the idiosyncratic introspection has found itself left behind.
Beginning with the stuttering, fuzzy synths on the titular "BLACK OUT," the record opens with a seismic benchmark for the whole project. Syringed with euphoria, the forefronted synths and militaristic percussion cover the slightly static vocals as Woo dissects social media culture and the vapidness of modern society, before metaphorically blacking out as he exclaims "I forgot everything." Almost dreamlike in its sequencing, "BLACK OUT" is a strong, conceptualised first track, one which instantly piques interest.
Following on is "R.I.P," a rippling hip-hop number with an excellent programmed synth melody, unshakeable flow and weighty trap beats. Fast-paced and upbeat, it succeeds in injecting pace into the release, and leads seamlessly into pre-released single "USED TO." A collaboration with electro-pop star CIFIKA, the promotional number is chock full of imagery and eeriness, the 23-year-old unapologetically throwing his past - alcohol addictions, depression - into the faces of those who doubt him with a smarmy assuredness. Produced with a jazz-influenced, welcoming soundscape; smooth, reverberating rhythm guitars and shaking strings set an accessible instrumental layer which allows for the uncompromising message of hopefulness and acknowledgement of previous struggles to be delivered with tremendous gravitas. A phenomenal offering, "USED TO" is a poignant point in the release, and stands out as one of Woo's best tracks to date.
"Do Not Disturb" continues proceedings, opening with featured artist So!YoON! delivering a hazy, raspy vocal melody before Woo, in lo-fi tinged autotuning, delivers a gritty verse over subdued guitars and languid percussion. A musical comedown, it's an undulating piece which stays consistently non-invasive throughout, and breaks up the sonic resonance heard just before it.
However, "Chik Chik Pok Pok Freestyle" sees a hasty re-introduction of intensity, but switches lyrical bite for charismatic sonic abrasion. Featured artist Jvcki Wai takes the reigns initially with a juvenile, chant-like chorus, before Woo pacily enters the fray, delivering bar after bar over smarmy beats and blasts of bass. It's certainly not great, with its disjointed composition a little too off-kilter to be entirely enjoyable, but it is packed with enough smartness to at least have some level of memorability.
"JOB" keeps the harshness heard in the preceding cut, but tones it down slightly for a more methodical hip-hop styling. Featuring Tiger JK and Qim Isle, the trio perform over repeating lo-fi beats and sharp percussion about reputations and the quest to become more financially happy. Sarcastic enough to be humorous but clever enough to be taken seriously, it's a two-and-a-half minute dissection in which egos take centre stage, and is a clear shift in some of the more anxiety-laden songs heard on a release such as Af.
From there, "Chingiz Khan" maintains the cocky charm, with Woo stealthily rapping over squelchy synths, laser sounds and shuttling trap beats. Complete with a vocally manipulated chorus, this harshly composed track moves with an understated energy, before surprisingly leading into the jazz-inspired "CANADA." Drifting through its six-minute runtime with backgrounded, raw singing, a plodding drum pattern and breezy keys, Woo paints a rather visceral, evocative soundscape. Eventually fizzling into an exclusively instrumental number, with the echoing electric guitars and more pronounced piano riffing off of each other before the latter of the instruments closes the offering with a light melody, it's a calming penultimate cut, and something which demands a certain type of belief in oneself to even attempt, let alone succeed in.
Closer "FEVER" is arguably one of the most intriguing efforts, though. Coming across as a mini amalgamation of everything heard across the LP, it borrows everything from the reverb-heavy rhythm guitars to the bouncing flow of the verse bars. Expertly polished with a chorus helped by sogumm's breathy, off-key vocals, "FEVER" is airy perfection. Constantly clever, it's a superlative finish to a superlative record, and shows Won-Jae as a truly erudite artist.
In conclusion, BLACK OUT shows a remarkable growth in everything from spirit to confidence, built with an inarguable blend of grit and ease. Sometimes hazy, sometimes visceral, the album is a tour-de-force of shifting emotions and intentions, only fleetingly failing to hit its mark. Ergo, BLACK OUT is an attentive piece of art, and an album that, despite its brevity, will remain in its audience's mind for a long time.
Album Rating: 9.5/10