'Woh Khaas' was one such journey one would never like to end says Abhishek Raj.
Abhishek worked rigorously to make 'Woh Khaas' India's 1st Dual Audio Short.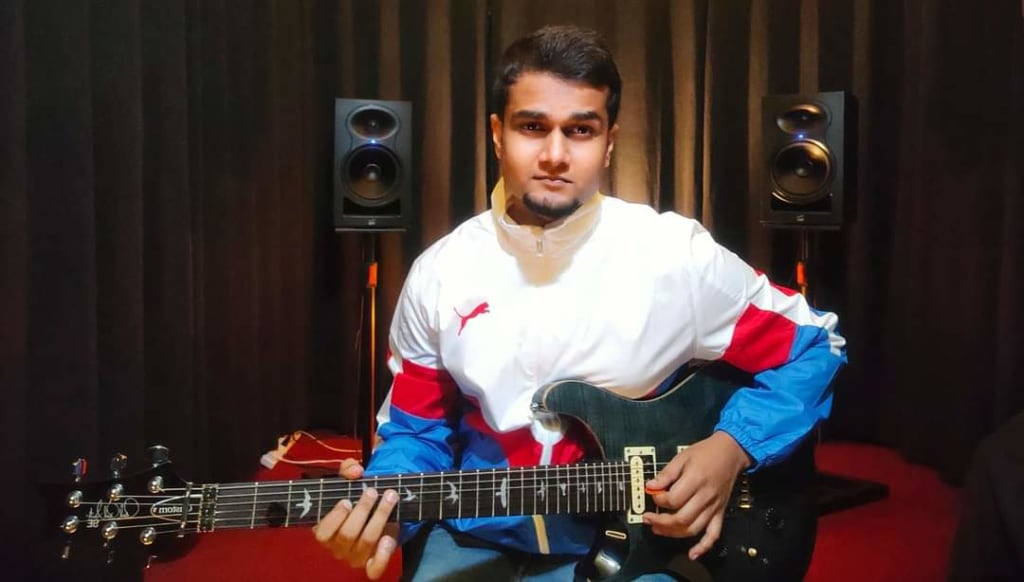 Abhishek Raj is the Sound Engineer of 'Woh Khaas'.
Q. 'Woh Khaas' is a resounding success, how does it feel?
It's always a delight working with so many talented people together. 'Woh Khaas' was one such journey one would never like to end. It was the first time these people were working together, or even with me but still somehow the team felt like family. Working on the project was a fun ride alone. The success of 'Woh Khaas' is a cherry on top.
Q. What is Guitar Central?
Guitar Central came to life in 2017 when I realized we don't have a decent full-fledged audio production house in our city. Our band had to struggle to get a song recorded or usually had to go to other cities because of lack of resources. I made sure others won't have to go through what we went through.
Guitar Central is a one solution for all audio related production. Songs, back scores, Foley, ADR, dubbings, voice overs to name a few.
Q. How do you see your work in 'Woh Khaas' as a sound engineer?
My role was to get the ADR and dubbings done for all the casts in the series and record foley and provide a final mix to go with the back scores and ambient sounds. I also recorded some back scores for several parts of the film and watching it all come together so beautifully is such a beautiful moment.
Q. How was your experience of working with Agam Anand?
The worst part being based in small cities is people don't take your art seriously and don't act professional at all. Agam is poles apart. He trusted me with my skills and gave me the creative freedom an artist wants to experiment with the possibilities of the extent of a project. I'm really honored and looking forward to working with him in future.
Q. Tell us something about your background.
I've been in music since high school, back in 2011. I did my certification from London College of Music Examinations and Prayag Sangeet Samiti in Western music and Indian classical respectively. Being one of the founding members of the band CIVILRAGE, we've travelled across the nation for live gigs which adds-up to the practical knowledge of the music industry. I have done an MBA too, which really helps to market myself as an artist.
Q. How was it working with Ankit Bhardwaj?
Ankit is an old friend from school. We used to be bench mates and talk about our dreams we want to pursue after college (in the middle of some lecture). I remember asking him to scribble a logo for my band just because he was in fine arts class. I'm pretty sure there would be an engraving of the name of my first band Blind fold somewhere on the benches of class 12th B of Patna central school, unless they changed the benches of course. We lost touch after school but destiny brought us back together. Being really good friends once, working with him is really fun. Our chemistry helps us understand each other's needs and get better results as artists.
Q. Tell us about the experience of working with Shambhavi Singh, RJ Chokha, Avinash Mishra and the whole team of 'Woh Khaas'?
I just spent time with most of the crew mates inside my studio when they used to visit for dubbing, but the relationship I've built in this small while from these amazingly talented people is really amazing. RJ Chokha sir is a really entertaining guy and equally skilled with his voice modulations, being an RJ of course. I was already thrilled by Shambhavi's performance in the film but she blew me away when I heard her singing better than most of the singers I come across, a truly multi talented artist. Avinash is fun to be around. He will be there for anything you need. The whole team is a bunch of amazing people put together. No wonder Woh Khaas ended up being so beautiful.
'Woh Khaas' is streaming on Hungama Play, Vi Movies & tv, and also on four screens of Pocket Films in two languages, over 270K people have seen it in last 80 days, it is soon going to release on more OTT platforms. 'Woh Khaas' is officially selected at the Paus Premieres Festival 2021 in United Kingdom and it is having a special UK premiere on 10th of August in London.
Q. Who are your favorite singers, bands and musicians?
It really is like taking a kid to a candy bar and asking to pick one. There are jars full of the best ones. How do you choose? But if it comes to that, A.R. Rahman and John Williams have always inspired me, so these two definitely. Talking about singers, I would say Arijit Singh, Freddie Mercury, MJ, Elvis Presley, Paul McCartney, John Lenon have always been on my playlist. In bands I will say The Beatles, Led Zeppelin, Pink Floyd, Gnr, Eagles would always top my personal charts.
Q. List down your all time favorite songs.
November rain (GnR), A day in the life (The Beatles) , Tears in heaven (Eric Clapton), Another Brick in the Wall (Pink Floyd).
Q. What are your next projects after 'Woh Khaas'?
I am working for some singles for several artists, an OC for Elite studios and in the pre-production phase of composing originals for upcoming OTT web series such as 'Namak Swaad Anusaar' and 'Another Night'.
Q. Your message to young struggling musicians and sound engineers?
If you have the hunger to keep learning and a true passion for music, struggling days are just a season. It'll pass by and bring you the beautiful spring. You need to be patient and keep creating good music because good music will never be enough.
interview
Cinema, Art and Lifestyle correspondent.
Receive stories by Rachel Mukherjee in

your feed