'With The Beatles' with 'The Beatles'
Two Beatles records were released on this date in years gone by. They would struggle to be more different.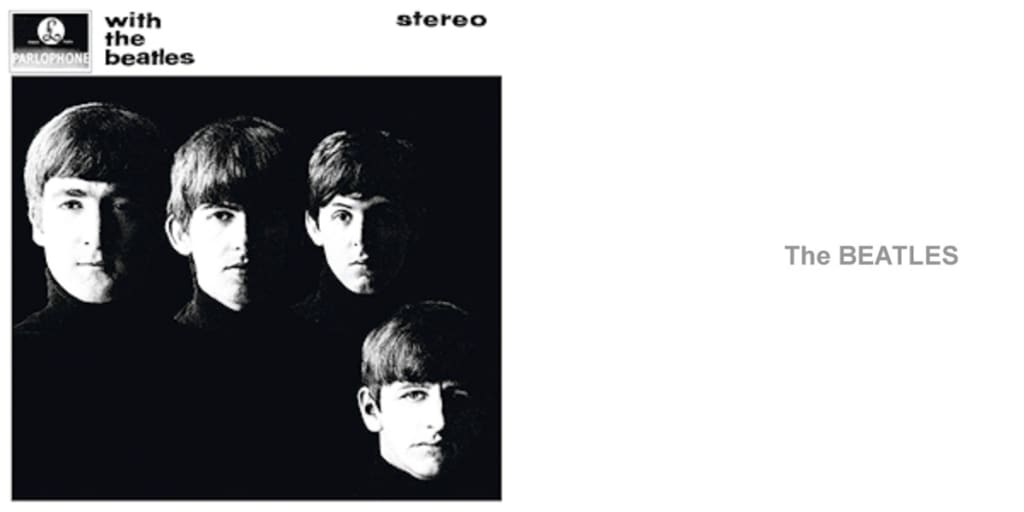 Black and white covers, but the similarities end there.
The 22nd of November is a fascinating date in Beatles history. In 1963, the group released their second album, With The Beatles. Five years later, The Beatles (a.k.a. The White Album) was unleashed upon the world. They were pretty big days for the USA too; JFK was assassinated on the first, and Kirk kissed Uhuru on the second. Look at that, America, an interracial kiss on your tellybox.
But I digress. The two aforementioned albums might be by the same band, but yet they're not really at all. The Fab Four were surfing the crest of the Beatlemania wave when their second album came out, but just five years later things had changed entirely.
In that period, The Beatles had put out six albums and two films (or seven and three, depending on how you view Magical Mystery Tour), whilst also inventing the stadium gig before stopping touring altogether. As they matured as musicians, songwriters, and (most importantly) people, the group fractured and started to split.
Which is why The Beatles often sounds like some kind of mutant best-of from four solo Beatle records. Thirteen of its 30 tracks don't feature the whole group, which obviously plays its part in this. It also covers so many styles: rock 'n' roll, folk, reggae, and bizarre one-off sound experiments. And that's just side one.
That wasn't the case back in 1963, of course. Their second album may have taken longer than 20 minutes to make, but it's still the same Beatles the world discovered on "Please Please Me." A mixture of covers, originals, and an obligatory vocal from Ringo, With The Beatles helped to cement the Merseybeat sound which the group had made famous.
To mark the joint anniversary, I thought it would be interesting to listen to the two albums combined on shuffle to see what Spotify's random factor might throw out. To limit it to a theoretical album, I allowed 45 minutes of music. Obviously the odds were tipped in far more songs from the double album The Beatles making the list, but I'm not one of those "make an amazing single disc" out of it people.
First out of the blocks was "Back In The U.S.S.R.," which ironically is probably as close to With The Beatles as The White Album gets. It's a straight rocker with clear Beach Boys influences, which isn't surprising; Mike Love was in India with The Beatles when lots of the material for their double album was first written.
Up next was "Blackbird." Ah, so you're more of a McCartney guy, Spotify? It clearly doesn't like Ringo, as he didn't appear on either of the first two tracks which it spat out.
Or perhaps John is the issue, as George Harrison's first ever writing credit, "Don't Bother Me," was next out of the gate. It's not his finest work, and it feels more memorable for its use in the A Hard Day's Night film rather than as a song itself. Still, With The Beatles has gotten involved.
And it stayed involved as Spotify makes a mockery of my anti-Ringo idea. Yep, it's "I Wanna Be Your Man," and whilst it rocks along pleasantly enough, The Rolling Stones' version has always been faster, dirtier, and better all round.
What's that coming over the hill? Why, it's an old English sheepdog called Martha. As with "Blackbird," "Martha My Dear" saw McCartney ploughing a lone furrow. It's a song that makes you think that The Beatles' bassist had more fun hanging around with George Martin than he did with the rest of his illustrious cohorts in that period.
The most famous of Macca's colleagues, a Mr. John Winston Lennon, finally piped up next, with "Money." If The Beatles' first album ended with a throaty, rocking cover version, then why shouldn't their second? And it did, with this Barrett Strong number. The Beatles were alright, but they were no Flying Lizards though.
The shuffle then veers from the end of With The Beatles to the start. "It Won't Be Long" is one of the best tracks on that album, and it was a welcome addition to this crazy playlist.
It was then followed by "Devil In Her Heart," which is both the second cover and the second Harrison vocal of the experiment. It's a faithful version of The Donays' original, and it's to The Beatles' credit that they happily covered girl groups instead of relying purely on male bands for material.
George then hung around to offer up "Piggies." It was quite a change from the Beatlemania material which had just been on. It's impossible to listen to it now though without hearing Dangermouse's The Grey Album.
"Honey Pie" by McCartney was up next. One of many musical tributes that Paul offered up to his father, it's a slice of kitsch music hall. It definitely wouldn't make the cut on my single disc White Album, but then I wouldn't ever do that, remember?
The McCartney love continued with yet another of his largely solo efforts from The Beatles. "Mother's Nature's Son" is a breather between "Yer Blues" and "Everybody's Got Something To Hide Except Me And My Monkey" on the album, but we don't really need a palate cleanser after "Honey Pie." Unless of course that one is too sickly sweet for you?
The lo-fi folky vibe continued with another George effort, "Long, Long, Long." The song's clattering, howling, organ-lead ending would make a strange segueway into most songs, and it certainly does into an Anita Bryant cover.
"Till There Was You" is more pure McCartney-lead gentility. Having started the playlist with one of his rocking efforts, Spotify's shuffle seemed content to paint Sir Paul as the sap his reputation often wrongly assumed he always was.
The Broadway musical number is a world away from "Glass Onion," which came out next. It's a dark, brooding song which sees Lennon take a pop at people who read too much into his lyrics. The shuffle then skipped over the next three tracks on The Beatles, which was absolutely fine with me.
Eric Clapton may have stolen George's wife, but he did at least give him a scorching guitar solo on "While My Guitar Gently Weeps." I'm not sure it's a fair trade, but it was the 60s, maaaaan.
More than half of what I've said is meaningless, but trust me when I say that "Julia" is a lovely track. McCartney has honoured his father's musical stylings on this playlist, so it makes sense for Lennon to pay tribute to his late mother. A glance at the clock revealed there was probably only time for one more song.
Spotify decided it would be "Ob-La-Di, Ob-La-Da." That'll teach me for celebrating its omission a couple of songs back. If you wanted a song to demonstrate the word "jaunty," then this might just be it. Out of interest, I left the shuffle running to see which track just missed the cut on my mythical 45 minute mix tape. It was "The Continuing Story Of Bungalow Bill." I'll live.
Strangely (or is it?), the split between the two albums was roughly the same as it was to begin with. It didn't pick many of my favourite tracks from the November 22nd gang, but then I never expected it to. I can't imagine ever listening to the playlist again, but it's here if you'd like to, my friend. Go on, listen to it on shuffle.
The real winner here was George Harrison, as five of his seven songs from the two albums made it onto the playlist. If only it were that easy in The Beatles, eh, George?