WINNER—'CROSS' EP Review
A stronger, more mature WINNER heard on their first ever Fall release.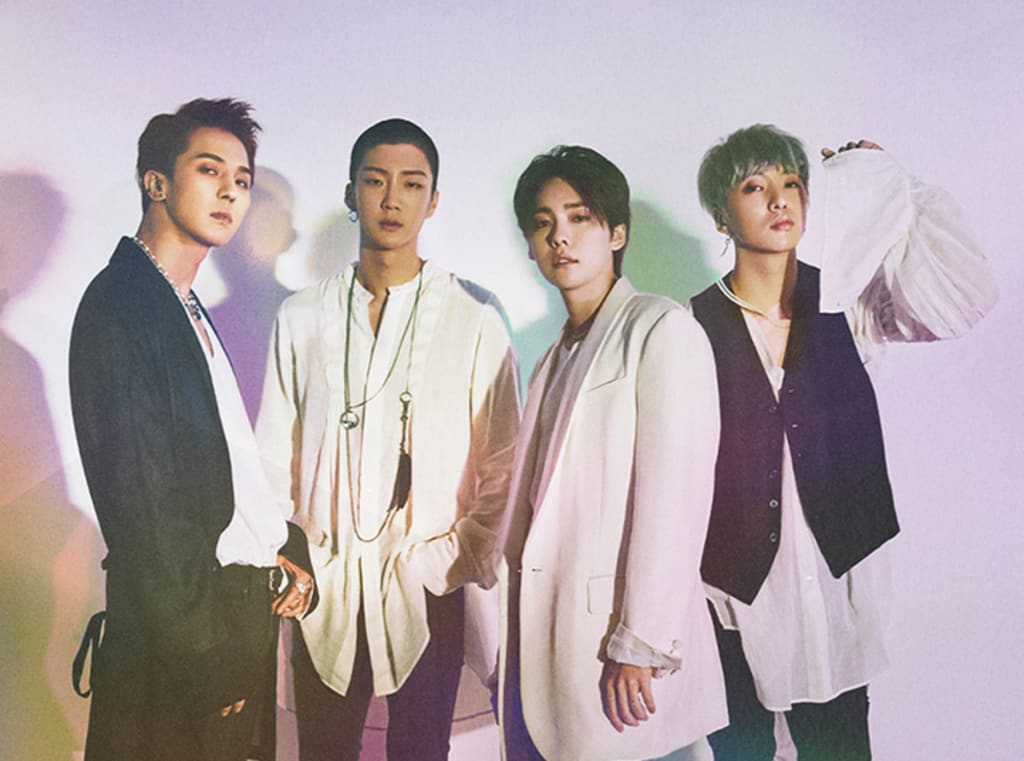 It has been just a little over five months since WINNER last graced people's playlists with their chart-topping EP WE. A vibrant offering that dabbled in styles across the musical spectrum, e.g the acoustic-pop anthem "AH YEAH," or the dark electro house stylings heard in "MOLA," it was a release that cemented WINNER as a group that always shows consistency, and proved to the world that the group have plenty of tangible star quality.
And now, still fresh off of an announcement that their CROSS tour will span across seven locations in Asia over eight dates, the four-piece have returned with an EP of the same name, expressing how their unique styles work together in a crossover effect. Promising a WINNER that is "slightly heavier in feeling" conceptually this time around, it's a six-track release that once again solidifies the notion that, when required, the group made up of Seungyoon, Seunghoon, Mino and Jinwoo will always have the capacity to hit a home run.
Opening with the lead single "SOSO," a genre-bending track that shifts between elements of dance, pop and hip-hop seamlessly, WINNER come out of the gates firing. Starting with a fast-paced verse that leads right into an electric pre-chorus buildup complete with catchy chants, the eventual drop into the melancholic hook—one that personifies the emotion of feeling so-so, and encompasses the difficulty of trying to act fine when in reality you are not—feels so much more powerful and impactful. During the chorus heavy, emotional piano notes accompany trap beats for the downbeat, repeated delivery of "so-so," adding a much more visceral, vulnerable colour to a song that already had earned its merit. All in all, it's a strong statement of a single, and something that is masterfully produced and sublimely delivered. It mightn't be as easily dissectible as songs such as "MILLIONS," but there's something about the complexity, sophistication, and the raw feelings evoked by the song that makes it truly irresistible.
From there we get "OMG," a track written by the group to express their gratitude to the fans who have supported them throughout their career. Cleverly enough, the aforementioned gratitude is written metaphorically through lyrics more akin to a gushing love song than anything else. It's a number that builds tonally, with its infectiously catchy chorus feeling like the culmination of what is a fun, easy listen. Each member shines with their respective parts (particularly Jinwoo, whose soft vocals feel tailor-made for such a song) and has the chance to show off their unique styles in a freeform way. And, thanks to the addition of trendy synths and sounds, the song feels fresh and dynamic. It's a perfect follow-up to "SOSO," and something that ensures the high standard set from the get-go is upheld.
However, it's "DRESS UP" that truly takes this release to the next level. A funk-driven song that has sleek, bass-fused synths, vibrant vocal delivery, and an almost magnetically addictive danceable chorus, it's a B-side that could lead almost any album, and is uncontrollably compelling. Mature but enticingly fun, it encourages the listener to escape their daily stresses and have fun; something more-than easy to do if you have this playing in the background.
It's not all full-group offerings on CROSS, though. Two solo tracks come next. The former, "FLAMENCO," is member Seunghoon's first studio-released companionless number. The latter, Seungyoon's "WIND," the first since his 2018 cover of Beatles classic "Golden Slumbers." In terms of how they both sound, there is a fascinating difference in style. "FLAMENCO," written to make people let loose and dance, starts with Latin guitars before evolving into a buoyant sounding, carefree song full of energy and vibrancy. There's plenty more excitement in the rest of the instrumentation too, thanks to the addition of lively brass and bouncy synths, which in turn makes for a fantastic change-of-pace, and allows for a welcome gear-shift on the EP.
"WIND" differs completely. Starting with a dull, downcast piano melody, Seungyoon's idiosyncratic vocals eventually shine over consistent, sophisticated beats. The chorus, a powerfully delivered section, shows even more instrumental nouse and hones in on the range WINNER's leader has, helping raise the quality of the song, and shaping it into something that is high-calibre from start to finish.
To finish comes "DON'T BE SHY," a track written about the excitement of new love. It was originally penned two years ago, but has seen fresh, updated arrangement and composition—most notably from member Mino. Quality wise it's undeniably good, with everything from the subtle rhythm guitar that helps bolster the instrumental tone, to the lyrics that once again help capture real-world emotions from a relatable perspective, feeling accessible. It's a more-than solid way to end a release, and helps tie a neat bow on proceedings.
To conclude, CROSS is an expertly crafted, multi-layered EP that switches between numerous genres, tones and styles without flaw. No song brings the standard down, and each one serves a purpose to give differing perspectives, talking-points and display new emotions. WINNER are a group that can only move forward from here, and with help from the fact that the members themselves always actively participate in composition and arrangement, each track will always feel natural, and convey what the group as a whole want to. It's impossible to find a weak-point, or even something that slightly lacks across the board, which makes this a truly perfect release.
EP Rating—10/10