Why Chicago is the best music hub in America
by Breanna Ludeman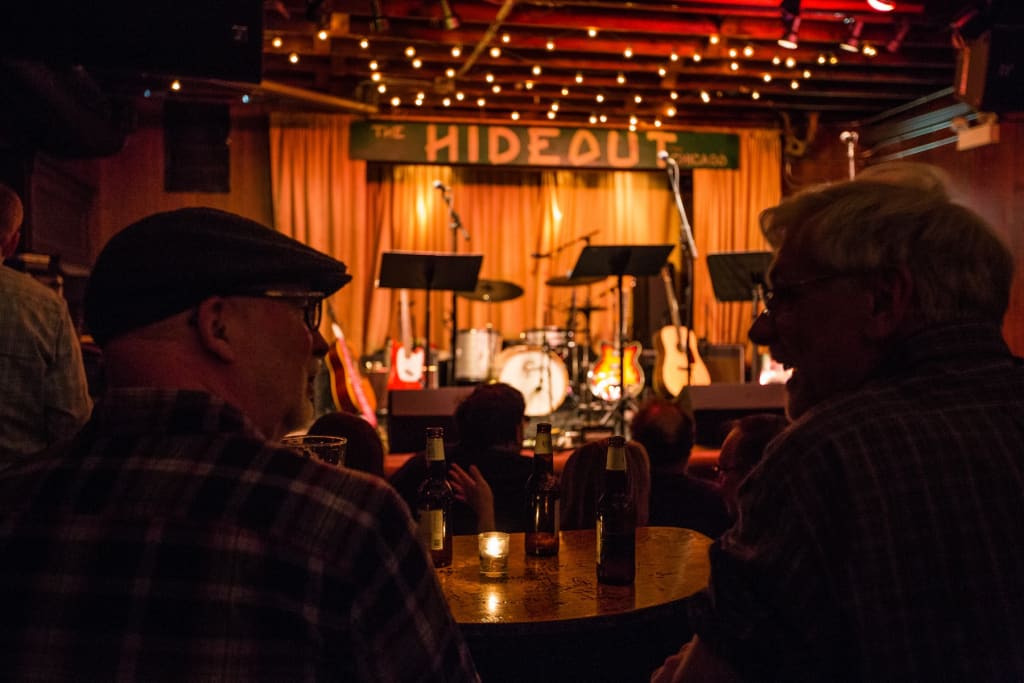 photo property of choosechicago.com
Chicago is a diamond in the rough. Settled in the heart of the midwest, Illinois is not as flashy as New York or as dreamy as California. As such, it is often overlooked as a prime destination for the big dreamers–the actors, the writers, the musicians. But nobody offers such a diverse, growing community like Chicago.
With such a rich history of musical development and experimentation, Chicago offers a diverse culture of music genres. All kinds of musical tastes are welcome in Chicago and all kinds of personalities are uplifted. Arts of all kinds have a major influence in the culture, but music takes the cake. The city not only offers a place to explore your musical creativity, but offers a helping hand in establishing that vision.
The Great Migration
From the late 1800s, African Americans were flocking to the north to escape legally sanctioned racial descrimanation in the south. It wasn't until after World War I that Chicago became the destination in the north. In need of laborers, factories in the city opened their doors to black workers. Many families from the south were now residing in Chicago, bringing their culture with them. Even though life was arguably better in the north, these families still had plenty to endure in their new life. The Blues were there to tell the stories of their hardships, a way to escape the extremities of daily life. But what is the difference between blues in the south and blues in the midwest? Well, many musicians had more to experiment with up north. Before the migration, Chicago was already a hub for jazz, ragtime, and country. Bringing blues into the mix allowed musicians to get creative and blend the styles together. New rhythm and instrumentation was experimented with, and new musical subgenres were born left and right. Pair that with the new "urban" sound of plugging in instruments to amplifiers, again something that was already on the rise in Chicago, and musicians had a whole new playground to explore.
Cultural Development
Blues were brought to the city, stimulating Chicago's musical scene. While the genres weren't invented in Chicago, subcultures and genres began to sprout. All over the world, famous artists such as Elvis Presley and Chuck Berry were inspired by the new blend of blues and infused that into their own genre–rock n' roll. This phenomenon of sub genres inspiring new genres, which inspired new subgenres, was beginning to take over the world. Later, after the disco era began to fade, another new genre was birthed in Chicago–house music. Chicago's underground DJ's started to rework Disco classics by giving them new beats and slightly more mechanical sounds, breathing new life into faded songs. This created a new genre entirely–electronic music. Regions all over the country began to develop their own forms of electronica and house music and there are now hundreds of subgenres to be found. With so many genres founded in the city, it is impossible to pin one standard of music to Chicago. And with music being such a key component of the culture, all music is welcome.
Diversity
Given the range of music born in Chicago, it should come as no surprise that the city remains genre-fluid. With the blues takeover, which spread into massive subcultures leading into the rock n roll era, and house music opening a door for a new world of electronic music, Chicago has never been tied down to one style. There are many great music cities in the country, but most of them are resigned to their specific subcultures–country in Nashville, Broadway in New York, Indie in Portland, etc. This is simply not the case for Chicago. Even with a strong Blues foundation, you can find all of music's subcultures here. Chicago is home to a multitude of music festivals and events, all aiming at different musical audiences. Besides the longstanding annual Blues and Jazz fests, the city boasts hugely popular festivals throughout the year, including: Riot Fest (punk rock), North Coast Music Festival (electronic), Windy City Smokeout (country), Pitchfork music festival (various), and the well known Lollapalooza (various). There is even an annual gospel music fest! Live music is not only a huge staple of Chicago's music culture–but it is for every music fan.
The City's Influence
The City of Chicago knows its culture and continues to support it to this day. In 2020 and 2021, The City of Chicago held a yearlong event– "A Year of Chicago Music." The efforts included The City partnering up with the local music industry to provide marketing campaigns and funding for musicians and musical projects across Chicago. A focus was put on inclusion and equity–striving to make the community better through music. Over the course of the project, the City provided over five million dollars in funding to various musical organizations and to grants handed out to local musicians. Chicago also pushed to market its local talent, incorporating local groups into the heavy crowd festivals like Lollapalooza and offering festivals made up entirely of local artists.
From Chicago
Having such a musical influence, it should come as no surprise that many great acts hail from the Windy City. Chance the Rapper, Chief Keef, Nat King Cole, The Smashing Pumpkins, Styx, Juice Wrld, Jennifer Hudson, Fall Out Boy, Common, The Doors, Rise Against, Keke Palmer, Lou Rawls, Alkaline Trio, Earl Sweatshirt, Kanye West, Cheap Trick, Disturbed, Earth, Wind & Fire, OK GO, Plain White T's, the aptly named Chicago, and many more all call Chicago, Illinois their hometown.
There are so many musical hotspots around the world inspiring communities and musicians alike. Chicago is not just one of these cities, it is the city. It not only offers ample opportunity, but continued support and growth. Chicago is open and experimental, yet still rooted in history and tradition. Whether you want to create music, perform music, or enjoy live music, Chicago has something to offer you.
Simply put–nobody does music like Chicago.
history
pop culture
festivals
About the author
While I am only just diving into the world of professional writing, I have been writing my whole life. I have always had an immense passion for the written word. I especially love to write about film and music. Welcome to my world.
Reader insights
Be the first to share your insights about this piece.
Add your insights