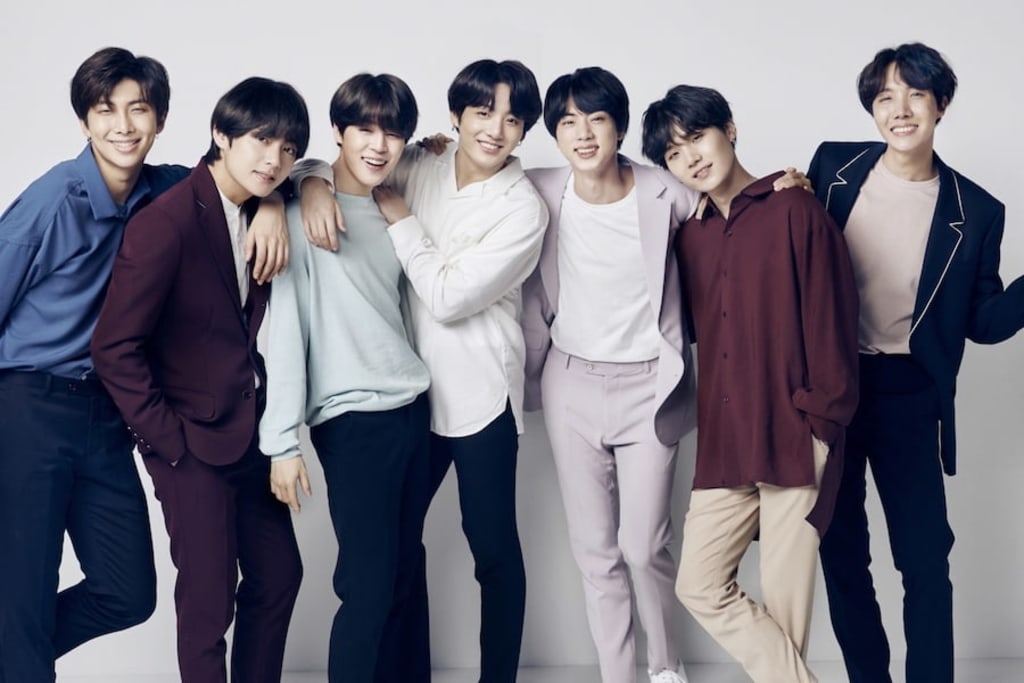 BTS from left to right: RM, V, Jimin, Jungkook, Jin, Suga, J-Hope
If you walk into my room, you'll be assaulted straight away with posters of the BTS boys, small postcards of J-Hope (actually, 23 postcards, 2 Polaroids, and 2 photo cards to be exact) and an entire section of my bookshelf dedicated to their albums. I watch videos of them every morning, tweet about them throughout the day, and connect with other ARMYs, the name of BTS' fan group, via Twitter. How did I get like this? How did I completely fall in love with a group who sings predominantly in Korean when I don't even speak it? How did this happen to millions upon millions of others worldwide like myself?
The answer is so simple. BTS genuinely cares about their fans. For Korean fans, this means almost constant appearances at concerts and fan meets, where the seven boys get to meet and talk with their fans one by one. They are constantly engaged, taking time to talk with each ARMY and learn about them. A quick YouTube search of BTS with fans shows multiple different interactions. From J-Hope recognizing one of their YouTube fans at a concert to Jungkook calming down a fan who was so excited to meet them that she was getting anxious, the boys interact with each fan. They tease fans, hold their hands, make eye contact, and talk with them.
This is every day life for BTS. What made them truly blow up worldwide was their first win at the Billboard Music Awards in 2017. The award they won was Top Social Artist, and everything about that day encapsulated why fans flock to BTS in droves. I'm getting ahead of things.
Let' start with why they were nominated. BTS is active on Twitter every day. They share an account, @BTS_twt, where they post selfies, videos of what they're doing, and other content. Fans adore their Twitter presence, and nowadays BTS has garnered more than 15 million followers. With the way their Twitter account has grown, it should be at at least 16 million in less than a month. Their Twitter also works with their other platforms used to interact with fans. There is the fancafe, where members can basically message with ARMYs, and the popular V Live account. On V Live, BTS can upload videos, both live and prerecorded, and fans can leave comments. Sometimes the recorded ones are performances, or they may be the huge hit Run BTS! where the boys play games and complete challenges. Some examples include a zombie haunted house, escape the room, and playing badminton, which they were all hilariously terrible at. What really shines are the live broadcasts. Usually one member, or sometimes a couple of them, just sit in their hotel room or studio and talk to the fans. They answer questions, recommend songs or books, tell funny stories, and overall have a great time. Sometimes they stay on for an hour just to talk with fans. Many times BTS discusses things they talk about in their lyrics as well. They give advice about loving yourself, making meaningful friendships and relationships, and encouraging them to try their best at everything. BTS assures fans that they will be there for fans through thick or thin. We walk together, they say, and we'll always be by each other's side. It's a powerful message for people of all ages, and BTS loves to spread it. Though the live broadcasts aren't subtitled right away, people who don't speak Korean still watch them. I've done it. What's more, you go back and re-watch with subtitles. It's clear the channel is super successful; they just reached 10 million followers this past week, a first for any star with a V Live channel. This constant engagement with fans makes you want to follow them and see what they're up to.
The Top Social Artist is entirely fan based and nominated. BTS garnered enough Twitter attention to demand they be recognized. They usurped Justin Bieber in the category and became the most talked about celebrity on social media. It was impossible for Billboard to ignore them. On the day of the event, it became clear that these seven boys were the real deal.
Since the morning, hours before the awards began, ARMYs were waiting outside with signs for their favorite singers. You could hear them once the stars began to arrive. Popular BTS chants were organized as stars were being interviewed, and the moment BTS arrived, the crowd went nuts. The interviewers were forced the comment on it, having their cameras pan over to the crowd and mention how wild it was to see so much support. RM, BTS' leader, always makes it a point to reinforce how wonderful their support is the moment an interviewer brings up ARMY. "They are," he always says, and the rest wholeheartedly agree. When everyone was inside the event, you could see celebrities confused by the BTS chants continuing.
When the award was presented, BTS made history. Since the award's inception in 2011, Bieber has taken home every one. 2017 marked the end. BTS took the stage to deafening applause once they were announced as the winners. The look on their faces showed that they genuinely couldn't believe it was happening. They thanked ARMY, all their producers, and again reminded those watching to take care of themselves and their mental health. After the show, BTS didn't go out and party. They returned to their hotel room to get on the V Live to thank fans again and share the victory with them.
From there, BTS returned to not only win the same award 2018, but perform their newest hit "Fake Love." This time they were shown more on TV, prompting even more audience applause, and Kelly Clarkson even wore fuzzy headphones to joke about how loud their fans are.
BTS are on top of the world, yet their fame hasn't changed them. From their first couple of free concerts upon their 2013 debut to their world tours today that sell out in two seconds, they continue to talk to fans from the stage. I went to their Wings Tour concert last year, March 24, 2017. The ticket hangs on my bulletin board above my desk. They went through all their new songs as well as a good number of older ones as far back as their debut single "No More Dream." BTS never forgets where they came from. In between a lot of the songs, they would stop and talk to fans. J-Hope told us, "You are our wings. We are soaring because of you. So we'll fly even higher together." V gave us a simple, "Thank you and I love you!" They were just so humble, as they always are. Most notably, RM, the most fluent in English, gave us a mini Korean lesson. He taught us "hamkke" and had us say it with him a few times, which he told us means "together." As he put it, "As long as we are 'hamkke' we never walk alone." It was such a touching and emotional moment, I loved hearing from each and every one of them, and I know I won't be forgetting "hamkke" for the rest of my life.
With their new album out on August 24, BTS is on path to garner even larger fan support, yet their social media presence remains. They may be booked for events a full year in advance, they may get millions upon millions of physical album pre-orders, but BTS will always take time out of their lives to show love to those who support them. In return, ARMY will remain loyal and only continue to grow.