Who is Mac Dre?
Who exactly is Mac Dre?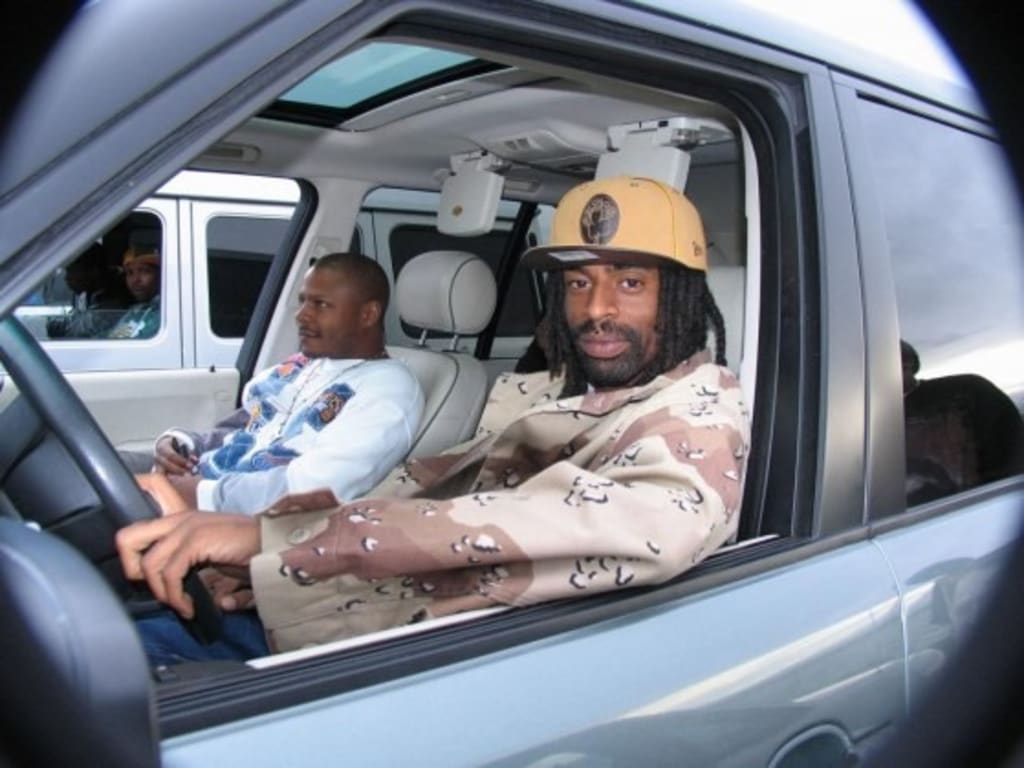 Mac Dre was born on the fifth of July 1970 in Oakland, he grew up in Vallejo, California and lived there most of his life.
In 1989 Mac Dre released his first album, an EP titled 'Young Black Brotha' it had 4 tracks on it and one track ironicly titled 'Too Hard for the Fuckin Radio' started getting air play in North Californian radio stations. In 1991 Mac Dre returned with 'California Livin" and by the time he released his third album 'Whats really goin on'(1992) his music was being played all over Vallejo and North California for that matter. In clubs and peoples cars, it looked like Mac Dre was going to reach the big time. But his hopes and dreams were snatched away from him as he was put into prison as the police believed he was behind a few bank robberys. Mac Dre was followed 300 miles by police from the 'Bay Area' to Fresno, his friend was wired and recorded a conversation which he started asking Mac Dre about the bank robberys. He was sentenced to five years inprisonment in 1992 for this but he wasn't done making albums yet. 'Back N Da Hood' was what his fourth album was called, it was an EP which was recorded from Fresno county Jail by phone. The album shows that Mac Dre doesn't need lots of takes to have a song the way he wants it. In the same year he recorded some more songs over the phone and his record company made an album from them and some of his previously released songs, the album was called 'Young Black Brotha: The Album'.
Mac Dre was released in 1995. He got on his compilation 'The Rompilation' which was released under his new record company 'Romp Records' and sold over 60,000 copies, in the Rompalation Mac Dre appears on eight tracks alongside some of his 'homies' such as Mac Mall, Da Unda dog and JT the Bigga Figga. After his release he started working like crazy on his albums averaging on two albums a year. His first solo release after his release from jail was called 'Stupid Doo Doo Dumb', the very same year he released 'Don't hate the Player, Hate the Game'. In the next three years that followed he released 11 albums the latest of them 'Thizzelle Washington' got him the most fans and respect. In 2003 he made 'al boo boo' which was a cd with a free dvd and he released a dvd called Treal TV. His fans loved the dvd as it opened a window into how he lived his life.
If you ask a fan of Mac Dre whats Mac Dres best album they are likly to say all of them, this shows the consistincy of his work it was all fantastic. His career in rap was not a fair one though, he never got the commercial praise he definatly deserved. In 2004 Mac Dre released three albums 'Genie of the Lamp', 'Ronald Dregan: Dreganomics' and 'The Game is thick, Vol 2'. These albums had North California buzzing with excitment they thought this would be the man to put the spotlight back on westcoast rap.But this as of now has not happened. On November 1st 2004 Mac Dre was victim of a drive-by on Highway 71, Kansas City. The incident happened just after a concert he was doing in Kansas, the shooting was a shock, fans in Kansas enjoyed the show, noone from Kansas had any right to shoot a North Californian rapper as the Kansas City rap scene was getting respect and money from that area. When Mac Dres mother Wanda Salvatto heard about the shooting she did not believe it. This was because she was told previously her son was dead from an overdose of drugs but yet he was fine, other Vallejo residents did not believe this either and were shocked and sad when they heard that it was true. Mac Dre was buried at Moutain View Cemetary, Oakland, CA.
Now in 2005 Mac Dre has many die-hard fans and new ones too, he is still releasing albums too! 'Da US Open' was released on the 22nd of March it is a collaberation between Mac Dre and Mac Mall in which they pick up the alter egos 'Andre Macassi' and 'Mall Macenroe'. Later 'Money iz Motive' was released, it wasn't a Mac Dre solo it was an album made by the 'Cutthoat Committee' which Mac Dre was a part of. 'Treal TV 2' is currently in its final stages before its released, on top of that Mac Dres record label 'Thizz Entertainment' has some unreleased Mac Dre material that they will be selling in the near future. To Mac Dres fans he will always be the best rapper from the 'Bay Area'.
RIP Andre 'Mac Dre' Hicks
Recommended Products You Might Like