What the Keys Mean
Ivory and Ebony can mean so much.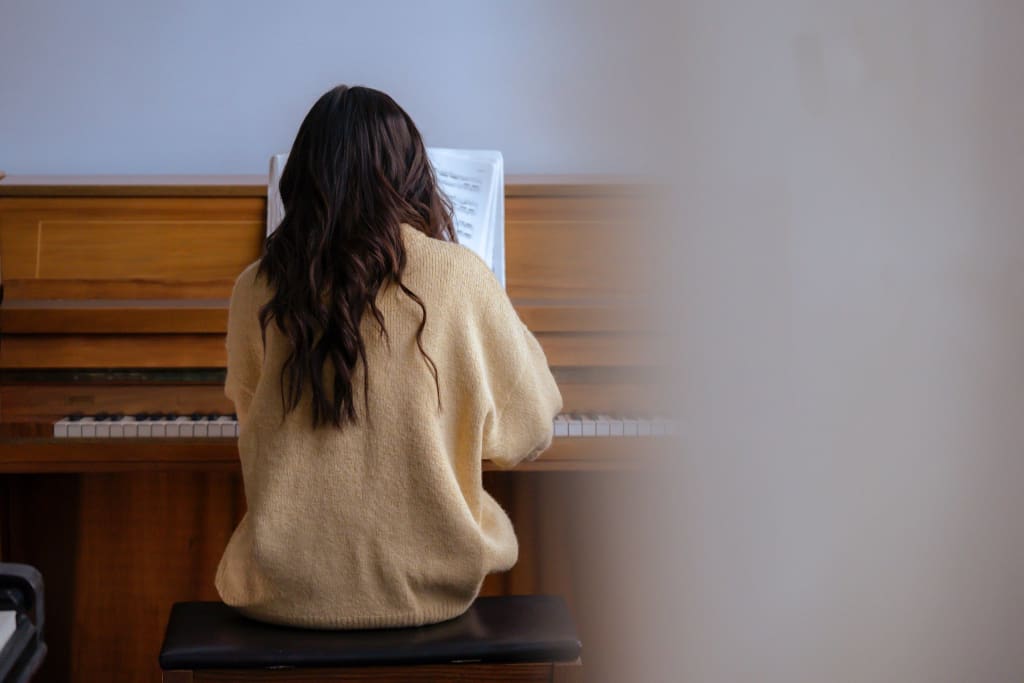 Sitting down on a soft leather bench, I find myself. I feel the heavy black and white keys beneath my fingertips. I sink into the keys. The pedal reverberates the chords, and the sound of the strings hang in the air above me. The melody starts soft, and the pace smoothly picks up into a quick jot back and forth. 1,2,3...1,2,3.
The Meadow by Alexandre Desplat from New Moon is the song I chose. One of my favorites for its sweet, steady simplicity and ease.
The keys are a comfort to me, something constant. A steady companion. And they have a story.
When I was a little girl, I would go over to my Grandma Foreman's house and sit next to her on her piano bench. She would play old church hymns and sing along as her hands played the chords.
It seemed to take her away.
She always tried to teach me, but I was a stubborn six-year-old, and couldn't or wouldn't pay attention. I didn't want to learn.
When I was eight, my mom bought me my first keyboard. I didn't want to learn then either. I begrudgingly watched the lessons on the tv screen and attempted to play along for the hour a day my mom would make me.
My grandmother passed away when I was eleven, and though she never was able to teach me piano while she was here, she instilled in me the eventual desire to play.
At age sixteen, one of my best friends gifted me her old keyboard, and I began to teach myself by ear. I watched hours and hours of YouTube videos in my attic bedroom and started with songs like "Our Song" by Taylor Swift, and "Secrets" by One Republic.
My newfound desire to play led to learning over 25 songs on the piano by ear by the time I was twenty. No sheet music, just me and the keys.
Through music, I found the same escape that I think my Grandma did.
My first summer at Community College, I took a piano class. My teacher was a Russian woman who didn't speak English very well.
She was able to teach me how to read sheet music, and I ended up passing her class with an A. That summer I spent a lot of my time in that music room practicing, playing from sheet music, and playing songs I know by heart.
In that same room in 2015, I played what would be our wedding song for my husband on the piano, long before we were married, engaged, or even dating. Just two College kids trying to figure out life.
In 2018, I would walk down the aisle to a piano cover of that same song, and meet my husband at the altar.
I fell out of practice for a few years, still playing every chance I got but no longer in daily practice. Since then I've had many jobs, we have moved 3 times, had a baby, and bought our first home.
That same keyboard that was given to me by my friend now sits on my one-year-old son's bedroom floor and is the first keyboard he has ever seen or played with.
He pushes the song buttons, and without fail turns on the Spider-Man theme for us to dance to over and over.
Someday, I hope to teach him like my Grandmother and Mother tried to teach me. I hope he finds comfort in the keys as I have, and can find an escape through them. The keys have meant so much in my life, and it's a gift that I hope I can continue to pass on.
But for now, I will sit and play.
A piano and a bench can mean so much.
____________________
If you liked this, read this poem next:
Thank you so much for reading! If you liked this article, be sure to click the heart button. If you really liked this article, tips are greatly appreciated! You can find more articles from me here on my Vocal profile.
-Leah H.
instruments
Writer, blogger and artist. Inspirations for writing are Markus Zusak and Tyler Knott Gregson. Follow me on Instagram! @a.natural.endeavor