"We Are Suffering" - Rappers Cry Out.
"Every single artiste is hungry."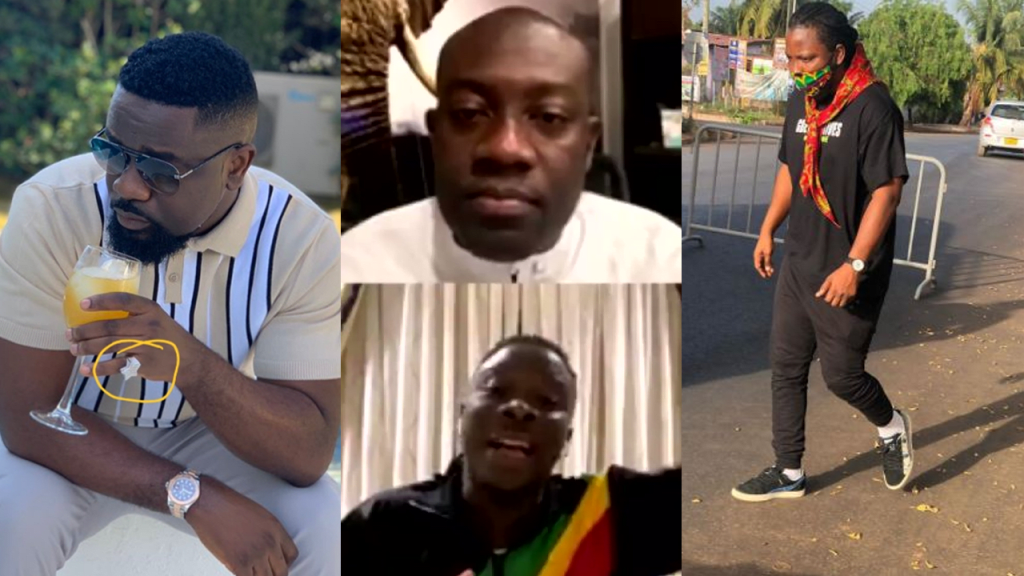 "Every single artiste is hungry."
These were the words of Ghanian rapper, Edem, when he tweeted out about the hardships going on in the music industry.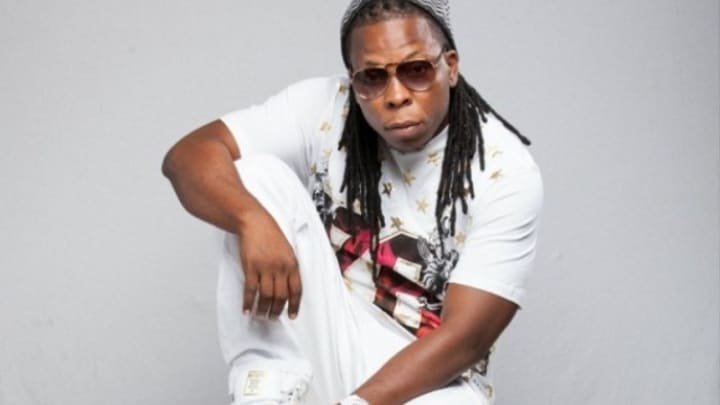 He said that these problems have always been there but because of the COVID-19 lockdown, the problems have been magnified. In a slew of tweets, the rapper said:
The corona season has shown how our systems and structures have left artiste and musicians in the cold...We work so hard and pose but every single Artiste is "hungry".

How do we get paid. We all Dey hung. To know your future look at your past. Why Eib for donate money to Artiste, why every old Artiste go come radio to beg. We all for stop pose like everything be alright when we Dey hungry Cos the system doesn't give us a future.

My fans and colleagues make we stop pose nice like everything be ok. If not we would meet the same fate. Let me ask how much has Castro made since he vanished. What if his children are here and need to eat.

I don't plan on dying from the hunger we all face in the industry and I don't want ppl after me to suffer either. So I am telling all you my fans that the nokofio would have flowed more if I wasn't hungry. EVERY ARTISTE IN GHANA IS HUNGRY.SOME MIGHT JUST NOT SAY IT. LETS ALL DO SO THE WORLD KNOWS HOW OUR SYSTEM BE YAWA AND IN THIS CORONA TIMES ARTISTES ARE SUFFERING.

I am a hungry artiste because my country doesn't take care of me. I can be buying sneakers if my fans join me on the mission of truth. If artiste eat,Producers,Djays,bloggers,and all stake holders would eat. But we are all hungry and we go shadda every day for the fam whiles we work and our work ourselves.

How can Shatta Wale release over 300 songs and not get a penny from it for its usage. How can Sarkodie span ten years in showbiz and not make up to 20 k ghana in those ten years from royalties. What do u want the artiste to live behind for their loved ones.

From today I don't want to hear anybody say artistes are Rich. Making money in your prime is eaay. Your hard work taking care of you when u grow is what's most important. We should be making money and helping tinned if young acts. But each time we sign them they have to go in a few years cuz our systems never pays what we deserve and what's rightfully ours.

We are all about shows shows shows. Which artiste can still be active at 70...None. IF YOU KNOW U ARE BLEEDING COS OUR SYSTEM IS SHIIIIT AND ARTISTE ARE SUFFERING JOIN THE STRUGGLE. WE ARE THE "MANDELAS AND CHE GUEVERAS OF THE MUSIC ERA.

I WONT HUSH.
But Edem wasn't the only rapper to contribute his voice to this hunger.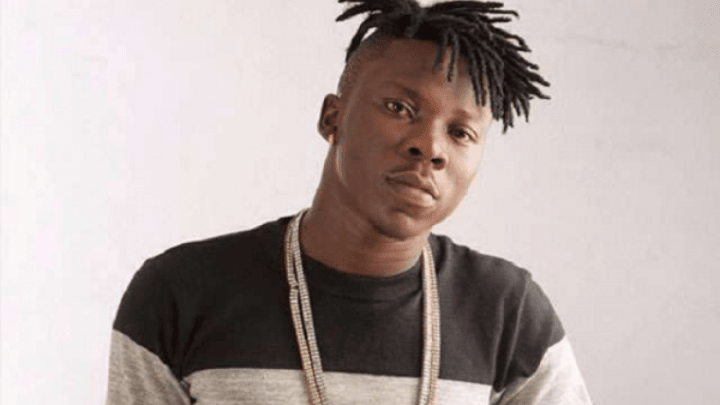 Another rapper, actually moreso singer than rapper, Stonebwoy also got on Instagram live and said, on a different occasion mind you. Before Edem took to Twitter. The singer said:
We are suffering. When we look into the future of what our system is or what our creative industry is now, there's actually no hope. Because we see our predecessors swindling down every time when they grow old. And that's where we are headed too right now if we're not able to do anything about it.

I think the Coronavirus situation has brought us an opportunity to at least grab the bull by the horn with everyone involved. I think the government has tried to support the art industry one way or another. But it definitely doesn't really end up well. It only seeks to address one part of the problem and that is massage it a little bit, but the general problem has always been.

With this opportunity, I'll use this platform and voice out some of the things that I think are really important. Yesterday for instance I met with my brother Shatta Wale. He's doing fine but we're all hungry.
Finally, hugely successful and talented rapper, Sarkodie in response to what Edem said, took to his own Twitter to write a statement.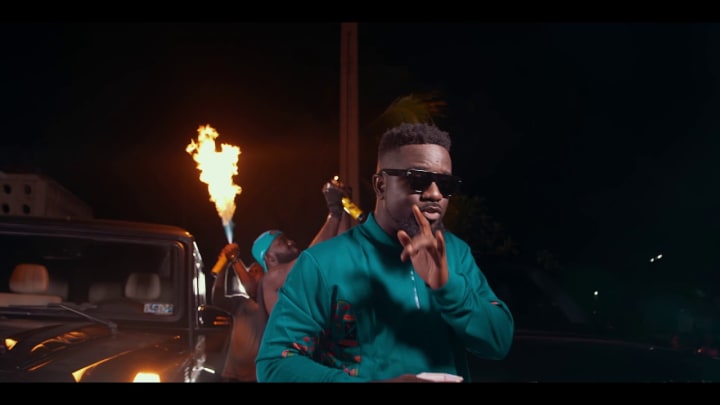 He posted his thoughts which he wrote on his iPhone Notes app on his Twitter. The post reads: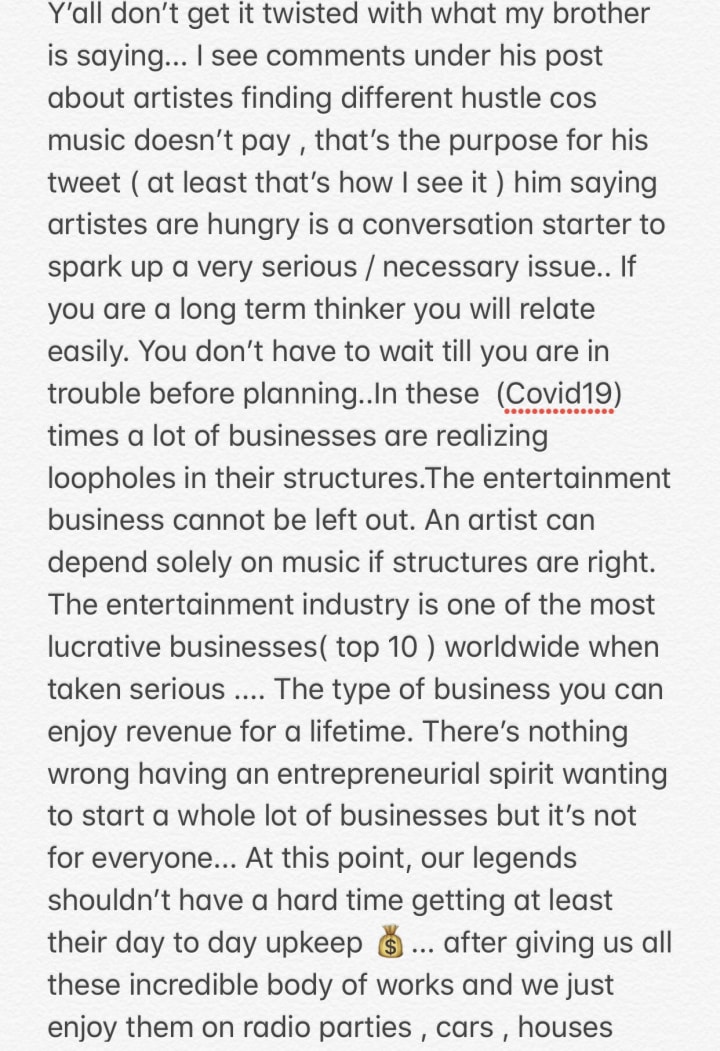 So in summary, there are two camps on this argument:
CAMP ONE: The camp that believes that music by itself should be able to sustain an artiste for the rest of their life, especially if said artiste became very successful during their career; and
CAMP TWO: The other camp that believes that music should only be used as a stepping stone. That artistes should take their money and then invest it in something long term because music doesn't pay forever.
Do you think we should continue with the status quo as the people in Camp Two believe, or do you think an artiste should be able to live solely based on their music?
Make your thoughts heard:
Make sure to like and follow my Facebok page so you don't miss out on all the most interesting and best stories you won't find anywhere else.
Also, to catch up on some old content you might have missed out on, click here.
Until next time, have a wonderful rest of your day!