Waterparks Release 'Fandom'
Here's my track-by-track review!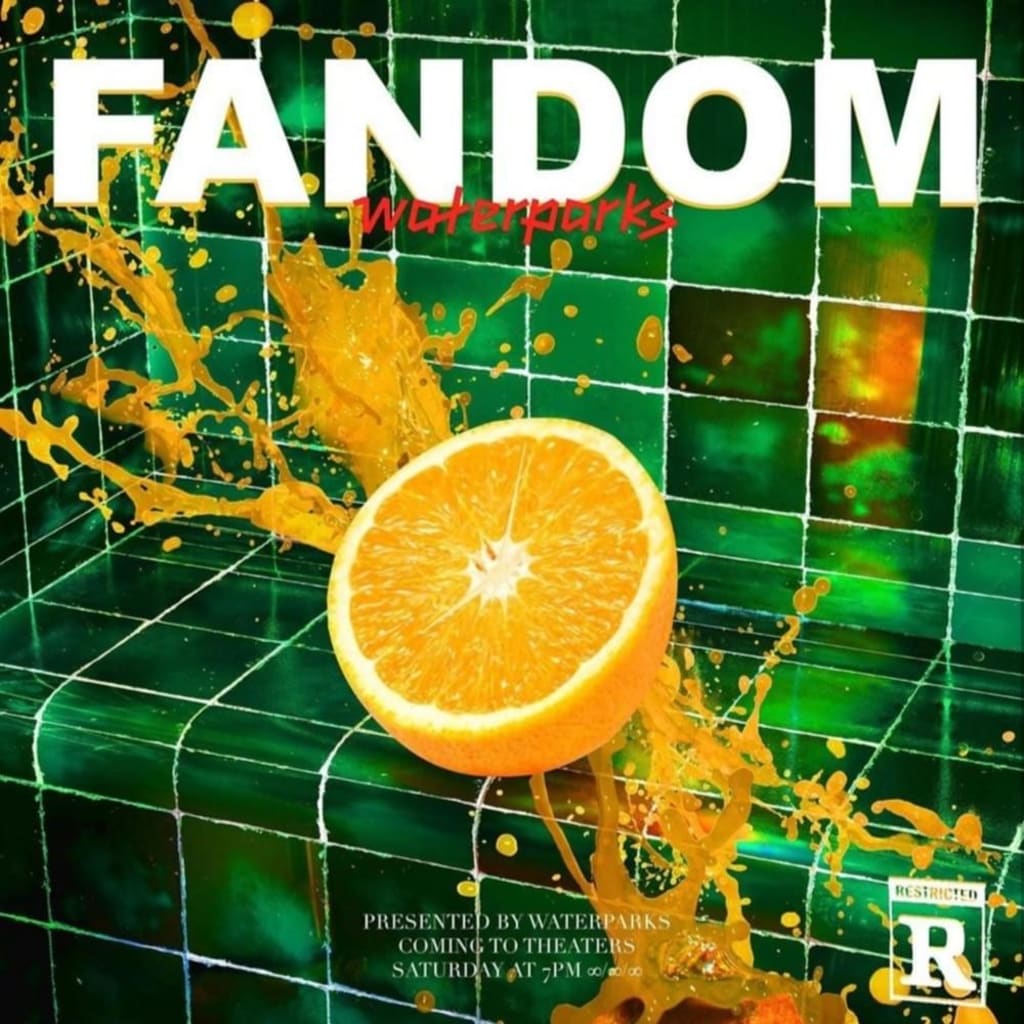 Fandom is Waterparks' third full-length studio album behind "Double Dare" and "Entertainment." It holds 15 tracks that fans were impatiently waiting for until it's release on Oct. 11.
Front man, Awsten Knight, actually changed his mind about the next era for Waterparks before releasing Fandom. With talk on social media about a different project called "Friendly Reminder", fans were left confused when Awsten dyed his hair red and then changed it to green before "Friendly Reminder" could ever see the light of day.
So with "Friendly Reminder" in the archives for the band, Waterparks dropped Fandom and it's a mixture of love and hate that is all bound up into one listening experience. So, as a fellow fan of Waterparks, I will be sharing my thoughts on each track in order.
1. "CHERRY RED"
"Cherry Red" is, what I would like to call, a perfect introduction to the album. In my opinion, I think they should open their tour shows with this song because the instrumental is powerful and the beginning makes you excited to hear the lyrics. It would be perfect as a show opener and I can already see the light show to go with it. I also think "Cherry Red" sets the theme for the rest of the album by talking about problems with love and losing touch of who you are.
2. "WATCH WHAT HAPPENS NEXT"
"Watch What Happens Next", to me, is the band's frustration with the music industry. This song is like a call-to-action and is saying, "Hey! Look at our band! We're busting our asses and we're on the come up so watch out for us on your precious Billboard charts!" That is exactly the kind of energy and confidence that the band should always have and it makes fans excited to see their faves being fired up like that to get the attention they deserve.
3. "DREAM BOY"
As a fangirl who grew up to be a stan, "Dream Boy" really called me out, personally. This song explains how fans put Awsten on this pedestal and how they see parts of his personality and decide that that is who he is without actually getting to know him at all. This applies to pretty much all celebrities and how their fans fantasize about who they are.
4. "EASY TO HATE"
This song talks about being in a relationship where the other person is a selfish asshole, but then again, the other person had a hard time leaving. It's another anthem about how after the relationship, they don't need to tolerate you anymore... and it's easier to hate them than to love them.
5. "HIGH DEFINITION"
I love this song because it makes me feel soft feelings. But, it's still about how it's hard loving someone that is hard to be with and how you want to put them first but the relationship is complicated.
6. "TELEPHONE"
Apparently Awsten wrote this song about a girl he saw at Target. That's cute and so is the song. Check it out.
7. "GROUP CHAT"
Weird but I love it. I hope they do this live cause it's funny. It reminds me of something The Lonely Island would do.
8. "TURBULENT"
I'm pretty sure "Turbulent" was the first single that was released off this album and it came out over the summer. I think this song is the best to listen to when you miss your ex because it gives you so much power to scream along to it in your car. You feel like a bad bitch when you do that. I highly recommend.
9. "NEVER BLOOM AGAIN"
This is one of my favorites on the album. I love when Waterparks release music like this cause they can have fun but they are always real with their songs. I love this song because of the acoustic guitar but also because this is exactly what it feels like to miss someone you love.
10. "I MISS HAVING SEX BUT AT LEAST I DON'T WANNA DIE ANYMORE"
This song is on TikTok and I don't know how I feel about that. Anyway, it talks about love and internet presence and dealing with the both. It's catchy, pop-sounding and fun.
11. "WAR CRIMES"
This is my favorite on the album because it sounds so angry and I love that. I want to make a lot of artwork for this song.
12. "[REBOOT]"
I like this song because to me, it's like Awsten's response to "DREAM BOY" just because of the one line that mentions "dream boy", but it's definitely another song to sing along to in car when you want to feel powerful compared to your ex. It's definitely empowering.
13. "WORST"
Okay, I've seen some things on Twitter about this being people's least favorite on the album and I get it. Everyone is going to have different opinions. However, I always have so much fun jamming out to this.
14. "ZONE OUT"
"Zone Out" is like a little lullaby. I can just fall asleep to a slower version of "Dream Boy". It also sounds like it's from a video game which is fun.
15. "I FELT YOUNGER WHEN WE MET"
This is also one of my favorites on the album. I think Awsten is living out his pop star dreams with this song and it also has heavy punk sounds in the chorus especially so it's really the perfect pop-punk song, in my opinion. I really hope they put this on the set list.
That is all of the songs. I just want to state that I do not for sure know what inspired Waterparks to write these songs. Awsten tweeted about "Dream Boy" and "Telephone". Other than those, this is how I think of them and my interpretations. I can be completely wrong. This is just my opinion. Also, I'd love to talk about the album with anyone who is interested!
If you haven't listened to Fandom, make sure to go stream it! It's what Waterparks deserves. Thank you for reading! Keep your eyes opened for any other blog posts! I want to definitely post daily! All reads and tips are greatly appreciated!
Bye guys!
xo Kay