Underrated Love songs (And a few extra)
Songs that make you feel nostalgic and warm inside (and understandably, get you back to that teenage angst too)
In these crazy and uncertain times, where face masks are the requirement (or at least highly recommended) to go out and isolation isn't all self imposed now, in the horrors of the Covid-19 Pandemic squelching our semblance of peace and security by even just stopping by the grocery store—- my recommendation is something that may seem trivial but it can be cathartic: love songs. This brings you back to a simpler time, but also a very complicated one. Being a teenager. All of your teenage angst. And the romance it brought up! Here is mine----along with my original writer's findings that this article had sought to relay.
Updated addendum to this article: ALL of these songs were the theme of my teenage years and my adulthood as well. I have a list of very sad songs----which I will have a separate article for soon, and this one, which, consequently, follows a pattern of self-love and catharsis that helped me a lot over my teen years. Especially with songs that helped me with love that was one-sided or didn't work out(these are it). I will have those songs with description at the bottom.
All of these love songs aren't the kind of love songs you hear over and over on the radio, these are ones that you may never have heard of and underrated. Ones that I love! Ones that have helped me through tough times and good times, but overall, songs I do play over and over for myself.
One of the BIG reasons I love using Vocal is their use of music. You can incorporate playlists, snippets of tracks and whole songs just specifically for one scene or one whole article—-and it can carry whatever tone you want to imply in the whole body of your work. They also have many challenges with music involved, like The Zen Playlist Challenge(And the Angst Teenage Playlist now!), and it can really open up your creativity to express your unconscious and open feelings and emotions in conjunction with your favorite beats and specific songs. Songs can open up your memories and your experiences, too—-helping you understand your feelings and the way you incorporate that into your writing. So, a big kudos to Vocal and the staff for understanding this important expression. Music is an essential part of writing to writers, and I am one of them.
Fun fact(or obssessive compulsive fact) about my writing: whenever I write romance stories, I generally LOVE to think of a very specific playlist just for them. But, the main thing I have to get right, is making sure there aren't any songs crossed over from other stories and couples! Weird, right?
But, I like to think about it for a while, then listen to them, thinking of scenarios I could write with that music and reasons why those songs would be so meaningful to them. Songs(and what bands they like) can also express a person's inner soul, what matters to them, what kind of tone and beat makes their heart sing and gives insight into their personality and perspective.
I would like to say that it probably mirrors my life and my own past and present angst as well, my sadness and my pain, truly----especially when it comes to music and writing mixed together. It is the most intimate thing I can share to the world.
One writer who feels that music can be wholly essential to the writing process is one of my favorite writers, Dean Koontz.
Here is bit of an article I reference at the bottom:
In December 2000, best-selling author Dean Koontz honored Israel in the front of his new book "From The Corner of His Eye". Koontz's quote pays tribute to the power of this music: "As I wrote this book, the singular and beautiful music of the late Israel Kamakawiwo'ole was always playing. I hope that the reader finds pleasure in my story equal to the joy and consolation that I found in the voice, the spirit, and the heart of Israel Kamakawiwo'ole." Koontz followed this tribute by yet another kudo to IZ in another best-selling book "One Door Away From Heaven" released in December 2001 by saying: "For the second time (the first having been as I worked on "From the Corner of His Eye"), I have written a novel while listening to the singular and beautiful music of the late Israel Kamakawiwo'ole. When I mentioned Bruddah Iz in that previous book a couple thousand of you wrote to share your enthusiasm for his life-affirming music. Of his six CDs, my personal favorites areFacing Future,In Dis Life, and E Ala E."
The problem with romance stories and the songs that follow is that of course there's a TON of overused songs for love and romance—-so I like to use weird, unappreciated songs! I'll have the songs at the bottom of this article if you wanna give them a listen. I added a few more, because why not? Romance and angst is something we have felt, and its important to share a wide variety for a proper understand of that person.
Here is a pretty comprehensive list of some of the most popular and best(subjective) love songs out there:
My first song has been my favorite ever since I was a child.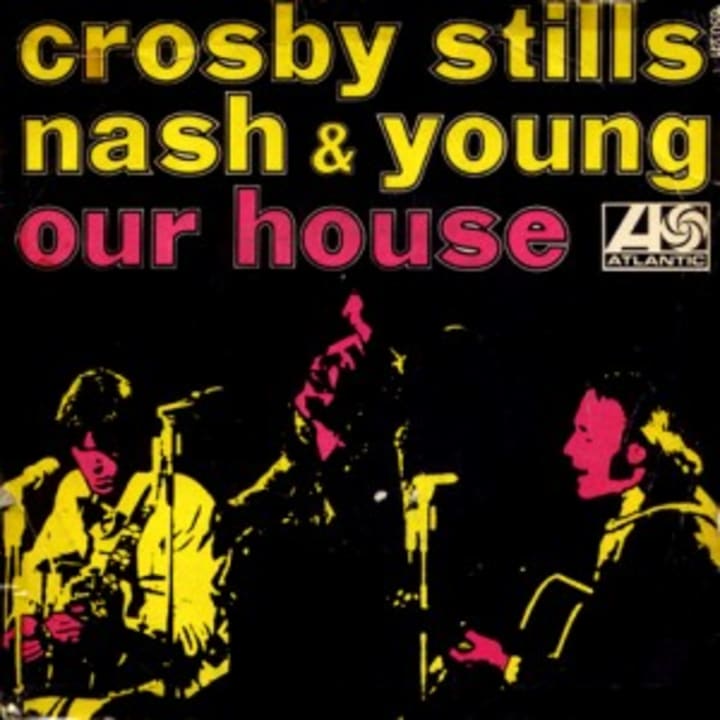 Created by Graham Nash, from Crosby, Stills, Nash & Young in 1970, the sweet crooning, folksy type of tune and longing sense you get from listening to this song is definitely warm and nostalgic.
A bit of origin from Graham Nash:
Well, it's an ordinary moment. What happened is that Joni [Mitchell] and I – I don't know whether you know anything about Los Angeles, but on Ventura Boulevard in the Valley, there's a very famous deli called Art's Deli. And we'd been to breakfast there. We're going to get into Joan's car, and we pass an antique store. And we're looking in the window, and she saw a very beautiful vase that she wanted to buy ... I persuaded her to buy this vase. It wasn't very expensive, and we took it home. It was a very grey, kind of sleety, drizzly L.A. morning. And we got to the house in Laurel Canyon, and I said – got through the front door and I said, you know what? I'll light a fire. Why don't you put some flowers in that vase that you just bought? Well, she was in the garden getting flowers. That meant she was not at her piano, but I was ... And an hour later 'Our House' was born, out of an incredibly ordinary moment that many, many people have experienced.
Another reason it may not be as popular is because the creator himself said of the song, he was "bored with 'Our House' the day after [he] recorded it", but will play it occasionally "because it does mean so much to so many people".
I personally love this song because of the memories it holds for me(long day trips of fishing at Meramac Springs, listening to this song on tape in my Dad's truck)—-and no, I haven't written a couple yet who I feel would like this song. But I will someday!
In another note, this song always helped me calm down in any kind of anxiety ridden problems with my family---especially with my mother.
One song I love for its carefree 'teenage first love' feel and rich vocals is Come On, Come Out by Alison Sudol. I remember discovering her music (as I usually did as a teen) at a Barnes and Noble and falling in love. Her music made me wanna grow up, yet it helped me appreciate my youth as well.
Here's a snippet of the lyrics:
Come on, come out

The weather is warm

Come on, come out

Said come on, come on

A spot in the shade

Where oranges fall

A spot in the shade

Away from it all

Watching the sky

Watching a painting coming to life

Shifting and shaping

Staying inside

It all goes it all goes by
The feeling I get from this song is something real—a memory of loves I've had in youth, my first crushes, and the newness of something starting that you have no idea where it will lead.
This overall feeling of being uneasy in love as a teenager in something we have all felt----that sort of angst that is bittersweet, yet we would choose to feel it all over again. I know I would.
It's simplistic lyrics with the soft composition is a relaxing and peaceful way to open up your emotional creativity, and to think of things you've experienced to draw from that personal writer's well.
My next song is from my all time favorite artist, Regina Spektor.
It is called Another Town, and the unexpected pattern of this song turns from switching and moving to different places, to this all encompassing feeling that no matter where you may end up at—-You know this feeling remains: I love you.
This song was also a way to heal my traumas and pain. I would listen to it over and over on my computer as I would write fan-fiction----picturing my perfect life as an adult as her soothing vocals would pierce my soul.
It's a song that broadens the way you may see love songs. Personally, I see it as a measure of how much a person can truly mean to you—that circumstances and distance may not allow you to be with that important, special someone, but you know and they know that the feelings will always remain the same.
And the last one is by the lovely Lady Day. It's, I Cover The Waterfront, and it's my favorite song by her.
I have loved Billie for a long, long time. The moody, unsettling feeling you sometimes get listening to My Man don't love me~
To the most influential song, Strange Fruit, it's her versatile style and the emotional depth she brought to music that changed the way I saw music and the way I felt about myself as a writer.
But I Cover The Waterfront brings out a deeper meaning of nostalgia for me.
We don't always have a water front to wait for that true love to come back—-but we understand the feeling of hoping and waiting for that moment to arise, that anticipation and anxiety—-and the restlessness and sadness you feel in waves—-waiting for something or someone that may never return.
My feelings of teenage angst, of falling in love with people as a teenager that you felt were your soulmates----your best friends that you slowly fell in love with(that did not love you back)----in your heart and soul, it determined who you were as an adult. Your sense of identity, your empathy, the way you saw romance----it all began with those first blushes, first hand holds, first crushes---and all the angst that it came with. I Cover The Waterfront was one of those songs for me.
Another one is Bartender, by Regina Spektor.
Love will be the death of me

Love is so fickle

It starts with a flood

And it ends with a tr-tr-trickle

Come on bartender

Just a little more tender

I ate all your peanuts

Return me to sender

I've been too candid

Now I'm barely standing

Just call me a taxi

And prepare me for landing
This song I listened to countless times as a teenager. I had a father who was an alcoholic, and though I didn't know the words by my own personal experience, I felt it, I imagined it---the feelings were real. I imagined myself as the person in the bar, saying too much to a stranger mixing my drinks behind a gloomy old bar---and I felt every word, thinking of a person in my heart who made it flutter and tremble as I listened to Regina croon out the sad moods. Regina had a way to give me hope and make me sad at the same time, and I was addicted to her music, every single song---without fail. As a teen, and now.
And my last new addition---a song I listened to tons as a teen. Especially on weekend nights.
All alone. Singing loudly in my room, jumping, head banging, (not) crying....
This one represents my longing for my teen romances that didn't work out the way I had wanted. Similar to Holiday's I Cover The Waterfront, it evokes the angst and sorrow of waiting for something or someone to come back in your life---knowing how impossible it all really is.
Anyway, I hope that you all enjoyed this article, a bit of a running series on the discussion of Vocal's platform for writers and how to openly show our style and creativity through music that I may continue.
Through our pain, through our teenage angsty years, and through everything we have been through, we should all stand up high and proud of our choices as adults, building a sturdy, strong and powerful individual who takes control of our destiny by being good people and good influences on our family and friends. All of the beautiful, sad, angry, sweet and even slightly cringe-inducing (I have some! lol) music we listened to as teens is all important----and by remembering it and sharing it, we can appreciate our present and our future.
Please like and share my article if you enjoyed it!!
Happy writing and happy reading!
-Melissa
Also, here are all the songs I have discussed in my article and references. Hope you enjoy them as I do!
Another extra song I'll put at the end is one of my favorites, that may be a tad more popular than these other suggestions! It's a beautiful song and it gives me tons of warm feelings---especially if you are feeling blue or thinking about things that bother you, past or present.
Reference for quotes:
https://en.m.wikipedia.org/wiki/Our_House_(Crosby,_Stills,_Nash_&_Young_song)
https://izhawaii.com/biography/