Twilight Force - 'Dawn of the Dragonstar'
Some cheesy power metal to cut the spice of life!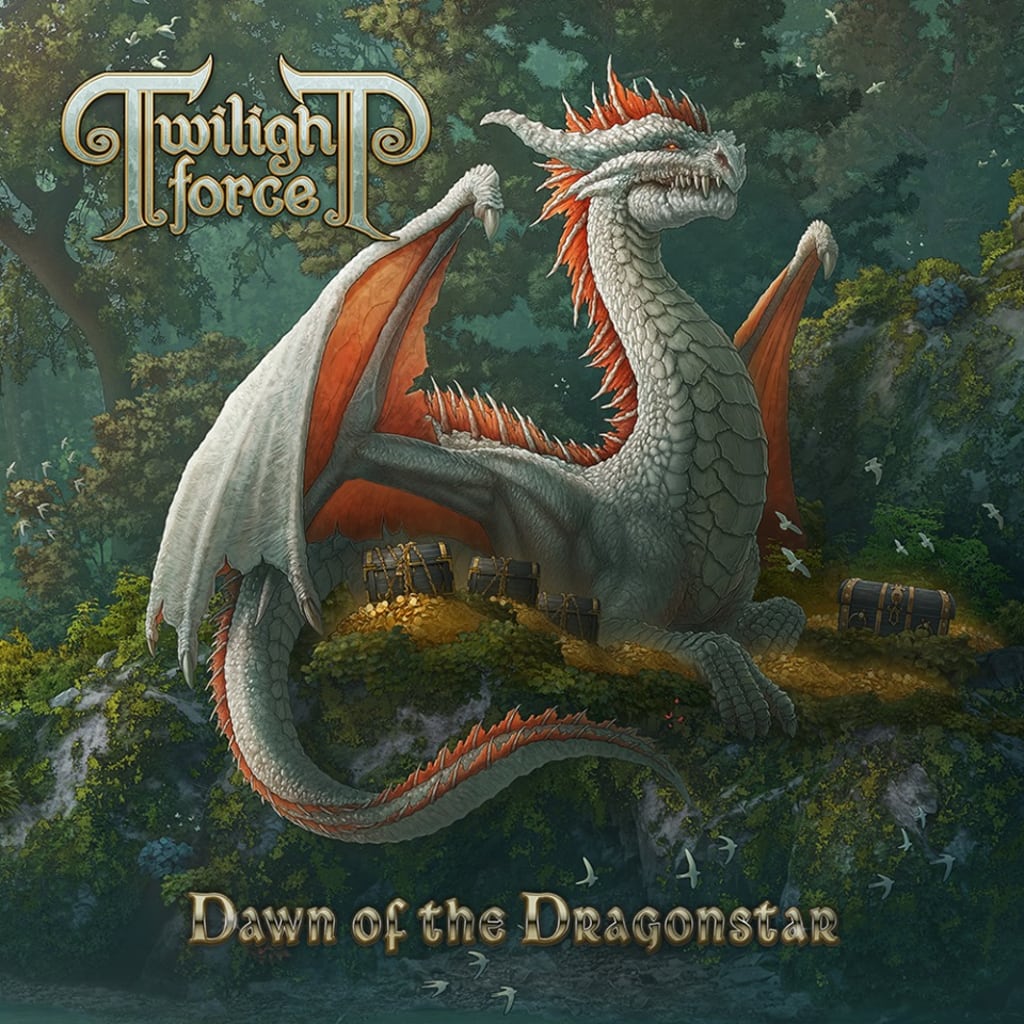 Hey to all those who take the time to read my reviews. It has been a long while since I had written one of these, hopefully this will mark a return to semi-regular reviews again. Either way, thanks for reading and let's get into this!
Band Bio
Twilight Force is a Swedish symphonic power metal band with pretty much the perfect amount of cheese you could ever want out of a modern power metal band! Like similar band Gloryhammer, this band's music follows an overall concept and the lyrics flow from this concept named "The Twilight Kingdoms," which was written by keyboardist Daniel Beckman. To date, this is their third album, preceded by Tales of Ancient Prophecies in 2014 and Heroes of Mighty Magic in 2016. With this being my first delve into this world, let's see how one death metal guy can deal with all of this power and dairy products.
First thoughts
The first thing I noticed on the initial listen of this record was the absolutely wonderful and clean production of it all. Upon looking into it deeper, it blew me away that this record was co self-produced by the duo of Philip Lindh (Lynd) and Daniel Beckman (Blackwald). This album has layers upon layers within it, between the expert and sometimes flashy guitar work, the keys, vocals and seemingly a whole symphony in the mix! Even with all of this ,everything is heard very clearly and never in its bright and shiny soundscape was I ever overwhelmed by what was going on or had the feeling that this is a dense wall of sound; everything had its place and was used effectively to make the overall album a joy to listen to! While doing research on this album, I found out this is the first album with a new singer Alessandro Conti, who in this album really proves his power metal chops vocally by displaying a very impressive range! This being the first step into this band, I have the advantage of hearing this band with its new singer fresh and unbiased, which my verdict on it is he sounds right at home with this band and its style!
The good!
Overall the album is a very solid outing. As stated, the production is really good on this album and can easily stand up to any power metal album released so far this year! The guitar work on this album is at times exceptional; solos hit at very good apex points of the song, bringing the song to an excellent technical flourish. The overall song structures, guitar riffs, and drums are all really well done and keep everything nice and in place to allow the vocals and the symphonic/synths to take the album by the reins while leading the listener through the album! Lastly, the vocals, like I had stated, were very good for the album: good range and strong performance. At first I wasn't super into it, but after a while, his vocals grew on me and ended up being a part of what made the album enjoyable!
The bad
As stated, this is a solid outing, but there were a few things I as a consumer of music as well as a writer of it in a band of my own had an issue with. The biggest issue I had after a few listens is the fact that there not a lot of stand out songs; a lot of the album kind of ran together with some songs feeling a bit long, as some run from six-plus to twelve minutes. Working with a band who bases their lyrics on an overall concept, there is a hard line to keep: tell the story you want to tell but don't go too crazy with it. A band that does this well is Coheed and Cambria. They have songs on all the albums that tie to the Amory Wars concept, but the songs could stand on their own where a listener can hear a single song on the album and relate to it. This album took it a bit too far, as far as a few bits felt like the vocalist was just there telling you what's happening in that part of the story, which adds a level of cheese that was a bit much to me. A band that does things like this really well is Gloryhammer; the lyrics follow the story but it never feels like someone just telling you what is happening. Also, they go so over the top with the cheese it is charming, as opposed to this album where the cheese was too serious. It's kooky power metal about dragons, the music sounds fun and happy, so you guys should have fun with it as well!
Favorite Track(s):
I would have to go with the first three tracks on this album as the favorites. "Dawn of the Dragon Star" was a solid opener while "Thundersword" and "Long Live the King" flowed along nicely and lead it all off to a good start before everything started to run together. These three were a bit better than the rest, leaving them as standouts of sorts.
Rating: Strong C+ to a weak B-
Overall a good album, it could have been better. Some of the songs tend to overstay their welcome, and after a while, the album kind of starts to run together, and not in a good way. After a few listens it was hard to pick out any one song out of the lot to be the hit, but none of the songs are by any means bad.
Check them out and support them here
If you dig em here is some more info for you to find more!
album reviews
About the author
Lead singer of the band Vesuvian, lover of the metals, horror movies and grower of beards!
Reader insights
Be the first to share your insights about this piece.
Add your insights