Trapped In A Dream Of Melodies
Ahve delivers an R&B sound with some soulful trap mixing.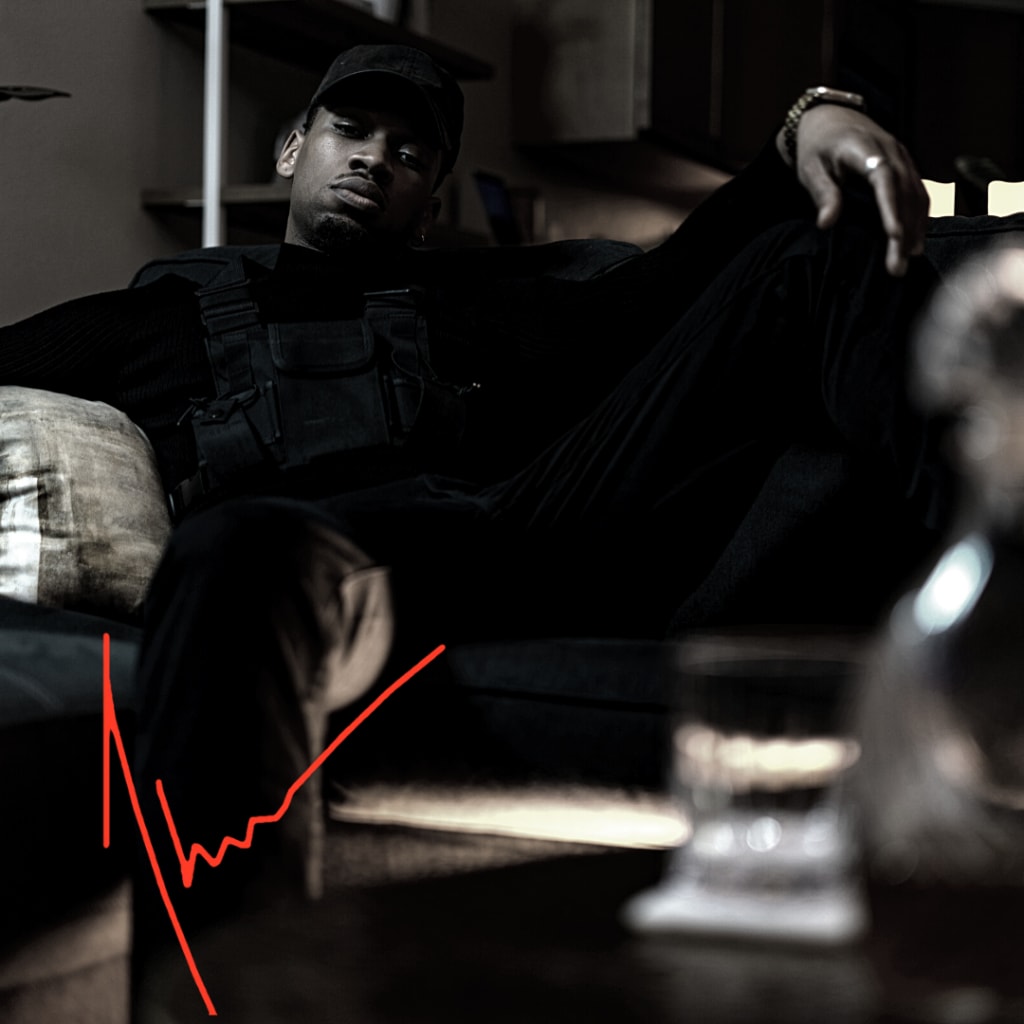 "AHVE is an Independent singer-songwriter from Brooklyn, NY. delivering to music listeners an R&B sound with some soulful trap mixing and switching up melodies like it's nothing."

The song "Movie" is the first Single release off of his EP "Trapped In A Dream Of Melodies" now steaming on all platforms.
May I ask respectfully, is AHVE a stage name?
Yes, AHVE is my stage name, pronounced "Ah-Vey", not "Ave", I didn't wanna make it hard to find adding special characters over the "e". I felt as an artist we are 100% creators at the core so i just thought of a name and said that's what I am going to call myself. There was no one with the name, I thought it would be great for branding. When you search for my music on Spotify or Apple Music I'll be the only artist, I mean now there is this Reggaeton artist with my stage name who appeared months later, I thought was kind of wack because some of my songs ended up on his page, I inspired it, I know this because it means nothing (fat finger syndrome on google when you are trying to type "HAVE" lol, so it's a mis-spelled word) so I know I inspired it but to keep the positive vibes here Just something short, sweet and creative AHVE, I mean who's gonna tell me something haha. I'm a creator I do what I want.
What 1st drew you to music?
Songwriting, I was a songwriter first. Technically I started out as a dancer, and through my time as a professional dancer I always wrote music, until one day I wrote a song with artist Honey Cocaine titled "1-Time", It was uncredited because we were actually just chillen at her Loft in LA. Pretty cool story for another time, but chillen with her she and no clue I was involved in music because I stood out as a dancer and kept the writing a me thing. She introduced me to Murda Beatz and Cory Litwin and this kept me inspired. I then thought to myself, I have that itch to do music, let me not go to the grave saying I should have, so I said fuck it, years later that is lol.
Do you have a preferred or chosen genre?
I feel now a days being versatile as an artist is important, yeah don't confuse your audience genre hopping but do what you want. Artist like Drake, and Tory Lanez have been doing this, singing and rapping, just being an artist. I am a huge hip hop fan, but R&B my shit. "Trapsoul" I love that Bryson Tiller decided to call it that because I definitely didn't have a name for it. I feel like it's becoming a "Genre" My music has always been written like this. I remember when my younger brother put me on to Tiller saying "Yo check this artist out, he writes music like you lol" which was fire to hear. So to answer the question R&B/Trapsoul lol.
How long have you been creating music?
I have been writing songs since 2006, singing since 2004 (I was in a church choir for a little but I was a church guy, My moms made me and my siblings go lol) and began releasing my own music Oct 2019 while
Are you strictly a solo act or do you collaborate with others?
I am a solo act, but I collaborate with other artists. I have a few songs out with the homies, Da Friend Zone, The Kayak, and J. Lavon all artists from Brooklyn. I also have some surprises coming up with this Nigerian artist name Bizz On The Track, super dope. I have two songs with Da Friend Zone that has been moving called "Lost Possessions" and "Toxic". We are solo acts but we have sort of a group no one knows about called Ext 11, fire music on the way there haha, can't wait.
What is your creative process like?
My creative process use to be get a bottle of Henny and vibe out, and occasionally yell at the mic until something fire came out lol, this is when I was writing for other artists. I don't like being drunk but the buzz cool, Now I'll occasionally sip henny and vibe while I write haha. I'll listen to artist that I currently bump and then get into the zone. Like Brent Faiyaz, Yo Trance, Che Ecru and Lucky Daye, they dope so I just bump them and then start working. Oh also the way I write, I don't like listening to the beat first and then writing, when its a new beat I'll load it into a session or play from a speaker and use my phone memo to create a melody as it's playing on the first listen, I feel the most creative there and there i'll tweak after. Beats are easy to predict thanks to timing.
Are there any challenging aspects to writing and recording your music?
Challenging aspects are more so the mix process, I for some strange reason want to mix my own songs. I love music so much that I feel like I should be able to do that job as well. I can go to a professional who can get it in the first take, and sometimes I do, but I love the creative process so much that I wanna do it, and it slows me down at times, but once you create the vibe you tend to not want it to end until the very end and it's something about doing it yourself.
Is there a hidden meaning in any of your music?
Yeah, sometimes you have to read between the lines. Being a songwriter I tend to, as well as other I'm sure, we tend to let the creative nature take course and while creating that story you don't wanna be so obvious. I like to let the mind wonder and when I write it is visual. There are a lot of sexual undertones in the music and they have a dream felt aspect to it. I'm fascinated with dreams haha. Also I can talk about pretty toxic shit.
Tell us about your EP "Trapped In A Dream Of Melodies"
Trapped In A Dream Of Melodies, is my second Ep. After I found my sound and realized the vibe I was creating felt dreamy, and I love playing with melodies and switching up my flows, so the title of the project I shortened to "TIADOM" came about. It has 4 songs on it and is the first in the Trilogy I will be releasing this year. I wanna create a short film to go along with this. My first music video I released is actually the last song on the project and the last story told on the film I want to create, so I am foreshadowing in the video.
Is there a reason you chose 'Movie' as your 1st single off the EP?
Movie was the single because I love the dark and lusty vibe it creates, and I wanted this to set the tone for what would be coming.
What is the best song you ever released and why?
The best song I ever release is going to be my next song, but for the ones running right now is Lost Possessions to me. It grabbed the attention of listeners all around the world. Brazil was the biggest market and the Germany was second. It only has 50,000 streams but it's where I started to gain traction, where people began contacting me from other countries and when a lot more artists reached out. Also because I believe its just a crazy vibe. Big shout out to Da Friend Zone his verse is better to me. He kept the vibe going on the second verse. That was the humble beginnings of what's happening now.
What song do fans seem to favor?
Fans favor, 3 three songs, Fade Away which is my very first release, Lost Possessions, and Toxic. Toxic is crazy, Japan is showing so much love. There are choreographers in japan creating choreo to Toxic, that shit blew my mind when I woke up to that.
What is your favorite song(s) to perform?
I haven't performed any songs yet, I began releasing music just as the pandemic started. Kinda wack but I can't wait to start, right now i'm in the lab, I feeling like this pandemic is gearing me up for future shows. I get to practice now and I think my favorite will be Lost Possessions.
Tell about a magical moment or positive experience that has happened during your music career.
That Magical moment was when I worked on that song with Honey C. She was working with Tyga and DJ Charisma at this time and this is where I met Murda, Cory and Roy Woods. Dope experiences. Another homie of mine is singer-songwriter Guordan Banks. After chillen with him at Paramount and seeing how the pro songwriters write it helped mold my style of songwriting and approach music in different ways.
Who inspires you musically?
I'm inspired by Michael Jackson and Usher. I grew up in the 90s watching these guys, thinking to myself I wanna do that. MJ is the King Of Pop, IDC what people think. Confessions and 8701 are my all time favorite R&B Albums.
If one artist were to perform at your party, who would get the call?
Drake
What advice would you have for someone wanting to follow in your footsteps?
Advice I'd give someone is what we hear all the time, like from the artists I've looked up to. Keep going, don't give up just keep that shit going. Do not be afraid, I only waited so long to release music because I wasn't confident enough. So many artists out there and you are thinking will I get seen or lost in translation somewhere. I knew I could do it, and I was a little shy when it came to singing, but i am not shy, I grew up a dancer. From TV shows, to America's Got Talent dancing behind artists just having fun. My homie would always say "There is a lane for every artists, don't worry about who is in front of you" and I kept that in mind, and then I got to a point where I said fuck it. When I hit upload on Distrokid and the first song uploaded a weight lifted. I just said fuck what people think and just started pushing forward. I just gotta make sure I am always prepared. So my advice is swallow that fear, say fuck it and just keep going. The worst that can happen is people don't find out about you quick but at some point with the right team and marketing your shit will get heard. Use every avenue you have and make shit happen don't wait. I was broke at one point and ain't have no bread, and when I got it I invested and built my studio at home this shit almost professional lol. I ain't stop I just made shit happen. Go make shit happen.
How do you feel the Internet has impacted sharing your music?
The internet is wavy. Today without the internet AHVE does not exist. Independent artist don't fully exist. Even tho the Big labels have weaseled their way into getting bread from the streaming platforms independent artists are still being heard and that's dope.
What is your favorite/best outlet to connect with your followers Instagram, Spotify, FB, Twitter, iTunes? How would you want them to follow?
People can follow me on IG and Twitter, RealAhve. Also you can follow my Spotify, AHVE.
What does the future hold for you?
Hmm, The only thing that I know for certain in the future is that this music gonna keep dropping, whether people wanna hear it or not. I may have some things lined up that I can't speak on just yet, but let's just say i'm pro Independent. And every artist should own everything that they create. For me I feel like the future is bright, we just getting started.
Did I forget to ask something? Something you would like to say, that I did not address.
I wanna say thank you for taking the time out to chat with me, I appreciate it greatly. Also
please go check out the music video to "Lost Possessions Part 2" on Youtube. I shot it myself with no help. I edited the video myself, camera movements were edited in post. Hope ya'll enjoy that. Until next time.
interview
About the author
Music Fan plus Talented Musicians and Artist equals mySoundmusic
Reader insights
Be the first to share your insights about this piece.
Add your insights