TRAINWRECK
A metal battle in Bangladesh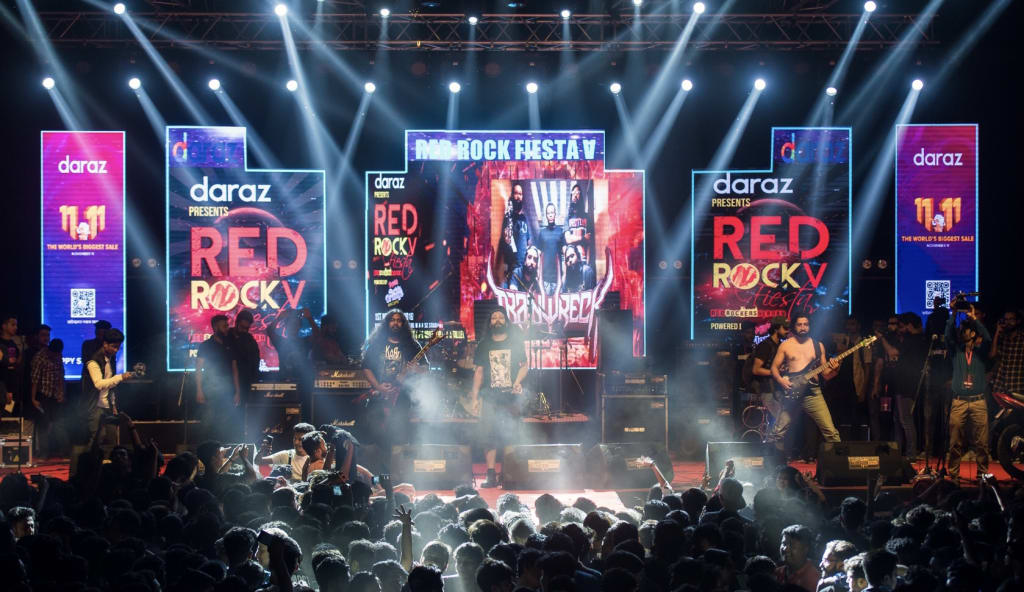 A dozen teenagers and some people in their early 20s, mostly dressed in black, carrying symbols of Iron Maiden, Megadeath, Slayer, Slipknot and Metallica on their T-shirts. Some of them with long hair and accessories sprinkled across their bodies. They are prattling and waiting eagerly for the gates to open to an underground auditorium. As soon as they all shift inside, the growing riff of Metallica's 'Enter Sandman' echoes. Band after the band gets on the stage of this dark and cheaply lit venue, leaving the audience banging their heads with immense intensity. This is an image of the underground metal music scene in Dhaka, Bangladesh.
Yes, Dhaka- the most densely populated city and the country's capital, has come a long way to host these concerts in open-air now. Until a few years ago, these concerts did not see the light of the day in Bangladesh. "Music of the devil." That's what the mass calls it, the heavy metal genre. Aggressive sounds of distorted electric guitar, harsh screaming recitations of the words may hurt some people's ears, but not of these kids.
Rock 'n' roll culture planted its seeds in Bangladesh during the country's birth in 1971. For most of the 20th century, it was all about the traditional genres such as Bengali folk music, classical music, Rabindragangeet, Nazrulgeeti, and also country songs as there was a rebellion going on. After independence, holding hands of the Azam Khan, the Bangladesh music industry started its rock journey. Azam Khan, a freedom fighter turned musician, was the first singer in Bangladesh to look West for artistic inspiration. Since then, there has been massive development in various rock genres, including punk, alternative, grunge, indie, metal, rap and many more. It only makes sense that- as a post-colonial country, the cultural elements will be aggregated, and that will cause the new generation to embrace and follow different paths.
Keeping the consistency of the very recent uprise of alternative rock in mind, it is essential to dive into the framework of another 'unusual' genre within South-Asia. Trying to understand how various elements can come together but never totally adhere to a unified subcultural whole with a 'straightforward' relationship with a cultural locality. A post-colonial locality where anything beyond their understanding is marked as a stigma. And when a group of youth comes out with a new approach, which may or may not contradict a hundred-year-old tradition, they are branded as rebels, anarchists. Even Azam Khan couldn't be above this, despite being worshipped by the whole generation and beyond still.
About a decade ago, a bunch of boys, in their early 20s, tore through Bangladesh's underground scene with Lamb of God inspirations, becoming a sensation among the country's metalheads. This is Trainwreck. The line-up includes Zerif Ahmed, son of Manam Ahmed, a member of the 80s iconic Bangladeshi rock band, Miles. Zerif's being in the band means this generation has dived more into different cultures and embraced them, despite coming from a traditional rock family. Even though he comes from a family of cultural influences, especially band culture, his band struggled to establish a firm ground.
Abir Ahmed Shuvo, the band's vocalist, tells me how hard it has been establishing his band in a place like Bangladesh. One of the first songs written by Trainwreck BD is called 909. The 1978 mass suicide in Guyana, South America, inspired this song. A few lines of the song go like this-
"The fate befallen to the hundreds
The greatest mass suicide
Left with a scar never-healing
A riveting tale so vile."
Shuvo tells me about the reason they wrote the song 909. He says- "How can a person, or group of people be, or support the evil of any kind when the first words they put together for a song were about one of the greatest tragedies of all time?"
Yes, the song was about the most prominent mass suicide in the world. 909 people were killed by having cyanide, one-third of which were kids. A phoney leader, Jim Jones, was able to establish his authority over their lives and minds. All he had to do was ask them to take the poison. Pain and disappointment were both visible on Shuvo's face as he was telling the story.
Trainwreck is the most celebrated metal band in the country at the moment. They have been to the Wacken Open Air in Germany and performed live amongst the bests on the near 'sacred' stage for metal bands. Clearly, the journey of a decade was not smooth. They had to take calculated steps to reach there, and it is safe to say that the God of fortune had cast his blessings on them. It was the first time in 2019 that Wacken open air spread out to Southeast Asia, and Trainwreck cleared every round of the selection with flying colours and took their band to Germany.
When asked about their plans for going international before Wacken, Shuvo says, "Over the years, we had taken a huge risk by making our original tracks in English, as that immediately limits our market locally. However, we always wanted our music to be international" This alone explains how they feel alienated in their own country by doing something they love and are passionate about. He talks about how they never get any proper guidance or assistance in the industry because the genre is somewhat away from the traditional.
It got even worse when the current government took the chair in 2008, for the first time. Even though, since then, the government has made remarkable progress in economic development, it has become evident that the administration has suppressed dissent in Bangladesh. This denies the fundamental human right of free speech, where the music industry is also included. Like any other nations, Bangalis have been expressing their opinions and emotions through art and cultural means. Since before the time of Azam Khan, they have been writing songs about political unrests and injustices. But now that the rights have been invoked to some extent, it led to cancellations of several music festivals and album launches.
Though the situation has gotten worse now, it was never much better for the heavy metal industry. It was only after Trainwreck qualified for the second round of Wacken Open Air selection elite society of the music industry started offering help for them to make it to the next round. This round would take place in Bangalore, India.
"Being a metal band in a country like this doesn't pay a lot." Says Shuvo. So that's when the elder musicians and their organisers started offering Trainwreck shows that paid adequately. That's how they reached Bangalore and cleared that round. After that, it obviously seemed even more challenging to be able to afford Germany. But that didn't stop them from achieving their dreams. For the first time in Bangladesh, Trainwreck set up crowdfunding. People from all over the world, fans of Bangladeshi band music, contributed and helped them make it to Germany. This gesture alone shows how far Bangladesh has come and grown in terms of supporting its music industry.
Undoubtedly, there's a vast, sincere fanbase of Bangladeshi rock and metal bands, and they are as supportive as they can be. But according to Shuvo, for the bands and the industry to grow, more profits have to come out of the shows they do inside the country. Also, free streaming and downloading of the tracks prevent the acknowledgement of the artists. This behaviour leads them to lose interest in making more songs. They need more dutiful organisers, sponsors and managers who can bring them gigs and concerts countrywide, as well as outside the country.
2019 was definitely the golden era of the Bangladeshi metal music scene. It was the first time someone went outside the country and showcased their land talent to the world and did an outstanding job at it. If more youths are determined and follow their hearts, they can grow this industry even more and take it to another level. As Shuvo says, "Follow your dreams because everything is possible if you set your mind to it." Just as they did when they formed Trainwreck. Indeed a long way is ahead, but the starting wasn't so bad.