Top Twelve Must-Haves For The 2018 Music Festival Season
Get them now and save hundreds.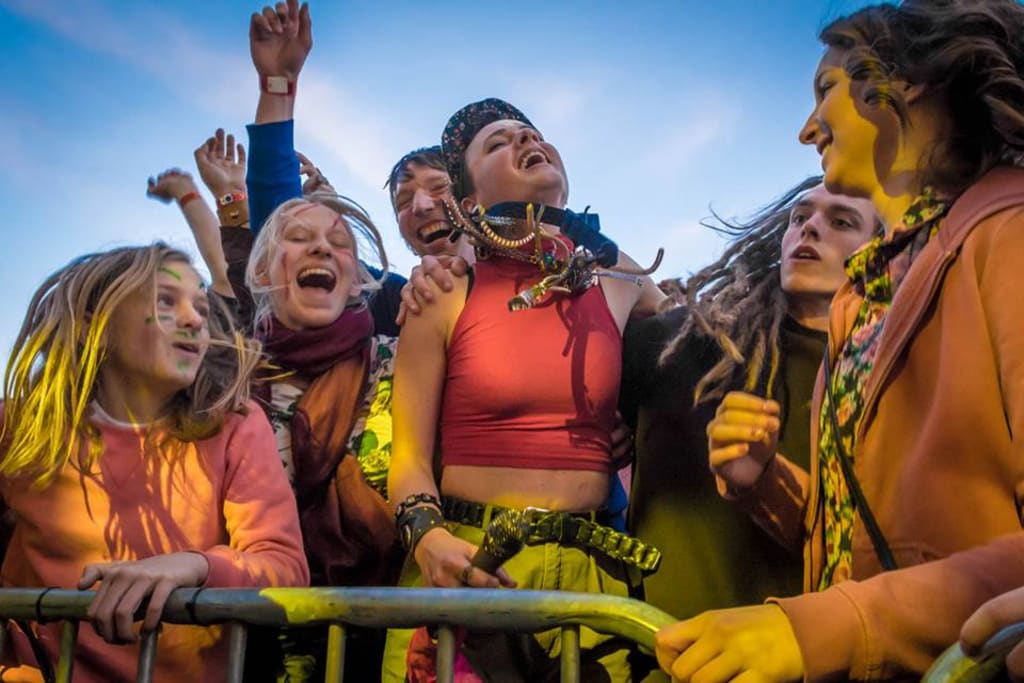 Everyone knows what a cool pair of sunglasses or a super-rad hat can do for their "cool kid points" at a festival, but you will usually find that, the closer to the festival season you get, the less likely you are to get these awesome products for less than an arm and a leg. However, there's still hope despite this, and picking some of your items now can help you to save money later, which really is just a win-win no matter how you look at it. Although the world of music festival fashion is immense and constantly changing, these are some of the basic products that never fail to be awesome without the price tag commonly associated with the music festival world.
1. Headgear
Headgear is a great way to get started on your festival purchases and, with so many on the market, you'll never find yourself feeling like there isn't an item out there for you. However, the following three items are my biggest must-haves at festivals and are great when you spend most of your time sitting in the sun in a photo pit, taking photos, and writing notes about the awesome bands playing.
After all, it may be a festival, but getting a sunburn just to seem like you didn't worry about whether you'd get one or not is pretty silly and blowing your ears out to "feel the music better" is likewise absurd. In fact, there have been many times that I have attended a show and left thinking I was completely deaf and that was just how my ears would be now. Trust me, it isn't worth it when you can't hear for a good 20 minutes after a show.
2. Kaleidoscope Sunglasses
In the last few years, these awesome contraptions have been a success, and it's really no surprise. A few years back, I attended Insomniac Countdown Festival 2015 and was given a free pair at the door, and I was pretty damn skeptical at first. It's not common that a free item really wows me, but once I had them on in front of the massive light display at the festival, I couldn't stop putting them on my face to see different patterns and colors through them. These glasses really enhance a night show, and you may even take a few photos through the lens just to show how cool they really are if you're anything like me. However, if you don't think the festival is going to be giving these bad boys away any time soon, picking the right kaleidoscope glasses online can be a wonderful way to still experience the trippiness unlike anyone else.
3. Hats for the Sun
I guess I probably sound like your mother right now, but if you plan on going to a festival such as Coachella or Burning Man, which leaves you primarily in direct contact with the sun, picking a good hat to protect you can greatly increase your chances of leaving sunburn-free and, more importantly, cancer-free. In fact, picking a quality sunhat for the festival can not only protect you from the sun but also hide bad haircuts (take my word for it: manually shaving the side of your head is a dumb idea), highlight your best facial features, and maintain temperature control in all climates. Say goodbye to that crowd-heat sickness and hello to a personal patch of shade.
4. Earplugs
Whether it be the fact that you want to keep your hearing intact or loud music just isn't really your thing (ironic when you're at a concert, I know), getting a quality set of earbuds can help you to enjoy the music festival season without becoming deaf in the process. There are all kinds of brands, and although the cheapest varieties can still significantly increase your chances of staying safe, getting the best earbuds can help you to prepare for that metal or acid rock festival without denying you the chugging guitars and screaming vocalists you crave.
5. Body Gear
There are all kinds of body gear out there for the music festival season, from shirts and shoes all the way to pacifiers, cardboard toilets, and spiked bras. However, some of the must-haves of this year for packing, looking good, and feeling like your clothes fit you physically are a great way to sport the things you want whilst feeling like you actually attained more than just an item of clothing out of the deal.
6. Custom Band Shirts
So, maybe you aren't a huge fan of the shirts that your favorite band or brand currently have for sale, or maybe you're a plus-sized individual that hates the products you can find in-store and online. If either of those are the case, then a custom shirt with your favorite logo, meme, band, or brand is a great way to kick off the summer right and sport clothes you can actually say you have an attachment to.
On top of this, if you happen to have your own band that people might want merch from when at the festival, you can easily create some custom shirts that will help you to make back some of the money you put into the festival, promote your band even when you aren't playing, and allow you to have more fun when there. However, a lot of people are afraid of carrying around wads of money when at festivals, and that's totally understandable. In fact, most festivals have even begun to ban cash at their locations due to so many robberies they can't keep track of.
If you are one of the many that have this fear, getting a mobile POS system can allow you to still sell that awesome band merch without fearing the consequences and also make it easier for people to purchase your products without breaking the rules of the festivals that have banned cash altogether. In fact, if you do sell quite a bit of merchandise through your band, becoming a small business and accepting credit cards can help you to actually make more and keep track of it more efficiently. (How's that for tour preparation?)
7. Wearable Tech
We've all probably seen the awesome smart watches out there that make calling in a crowd easier and give you true, hands-off freedom. This year, to protect your phone and ensure you don't lose it when dancing and running around, your best bet is to pick up a piece of wearable tech and, not only protect your various other devices, but also look cool while doing it.
Furthermore, this also can help keep you secure from anyone trying to steal your identity as well, as it reduces the risk of having someone hack into your phone using a bluetooth sniffer and reduces the risk of dropping your phone or having it stolen.
8. LED Shoes
So, in all honesty, I may be kind of biased with this one because I own two pairs of these bad boys and simply adore them. Let's face it, being a kid was awesome and, now that you're all grown up and facing the world, it can sometimes be a relief knowing your favorite things about being young can still be incorporated into your adult life.
I know you remember how awesome you felt when you had a pair of Heelys or light-up shoes on and, although most heelies for adults have been awkward and hard to use, adding some lights into the soles of your shoes is a fairly simple addition but still brings the inner kid back within you in the blink of an eye. The pairs I got both came from Geek and were surprisingly cheap with all kinds of light combinations. If you would prefer modifying a particular pair of shoes over getting an entirely new pair, there are LED shoelaces that are painfully cheap as well that can still add a little light to your kicks without the $30 price tag.
On top of this, if LED is weak-sauce to you and you prefer a little more customization, check out this Indiegogo campaign for Shiftwear that is completely altering the look and the tech behind shoewear, allowing you to not only alter colors, but patterns and logos alike. In all honesty, I have no idea how long it will take to actually make these awesome kicks, but I do know that I will be in the front of the line when they finally do come out to the public. After all, who doesn't want a pair of shoes for every outfit?
9. Accessories
Accessories are really just a must-have for any occasion, but these are specifically music festival-oriented and span a wide range of potential items you may be looking for this season. From oils that evoke love and peace all the way to some simple camping gear to allow you to spend the night at the festival rather than paying for a hotel, this group is a wonderful way to plan for any situation and have fun in the process.
10. Apps
There are all kinds of awesome apps out there, but some of them only have one goal, and that is to make your trips and adventures worthwhile. You've probably seen countless apps that claim to be everything you need for the festival season, but really just take up storage space and give you very little in return. However, here are five apps I use for every music festival to get me through the chaos without wiping the smile off my face or the battery power off my phone.
TripSee
Okay, so the TripSee app is pretty simple and awesome. It allows you to plan your entire trip in the palm of your hands, from hotels all the way to places you plan on going to, and even share these trips with your friends so they always know where you're headed. It's pretty user-friendly and, as of this month, they just made an online version that you can use from your computer if your phone is slow, like mine. It's basically the ultimate planning app for any music festival-goer, and who can complain about that?
WaterIn
While other apps might help you with planning or finding your car, WaterIn only has one goal, and that is to keep you hydrated. With constant reminders of when to drink water, alcohol consumption followed by horrendous hangovers are a thing of the past. This app ensures that you don't party yourself into dehydration and is completely free, as well. After all, staying healthy is just as important as getting crunk, and can help you to enjoy longer festivals without the migraines that often come with them.
Find My Friends
Find My Friends is an awesome app that allows you to track where your friends are so you can meet up with them during the festival. It's no surprise that people have more fun at festivals when their friends are enjoying it with them, and this app basically ensures you never find yourself at the beginning of a bass drop or mind-melting lead without someone there to enjoy it with.
SongKick Concerts
SongKick Concerts is an awesome app that scans both your music library as well as your Spotify playlists to inform you of upcoming concerts that include these artists which you simply can't miss. Let's face it, we all hate seeing a poster of one of our favorite bands weeks after they've already played and this app can help you to keep track of this and even inform you of some festivals you may not have known exist!
BC Tent Finder
In all honesty, I use this app pretty much daily just to find my car, but that's exactly what makes this app so perfect for huge festivals. BC Tent Finder allows you to place markers down on a virtual map so you can keep track of where your camp site is at big shows and also where your car is, likewise. After all, it shouldn't be rocket science to know where you're going, so put the hard equations and brain racking behind you today. Trust me, large festivals can very easily become labyrinths, and the best way to prevent yourself from feeling like a speck in a sea of faces is by marking your most important spots so you never get lost or feel alone in the process.
11. Cameras
Let's be honest, everyone has seen those amazing photos and videos from music festivals that make you feel like you are truly there even when you aren't. On top of this, you may simply want the internet fame that comes with these awesome shots and, hey, I get it. However, how did these awesome photos that give you a perfect bird's eye view of these festivals get taken, and how were they edited to be the awesome videos and images you see online? The answer is simple: drone photography is the future of aerial photography, allowing these awesome shots to be easily attained by even the most average of Joes and, despite drones seeming more like something from an old sci-fi flick, these bad boys are surprisingly easy to maintain, fly, and connect GoPros and cameras alike to.
However, checking ahead of time on the festival guidelines pages can allow you avoid the awkwardness that comes with being told at the front of a massive line you must put the drone back in your car before you can enter. In fact, several big festivals have banned drones due to the fact that they can be unsafe and hazardous in the event that they fall on a large crowd from the sky. However, drone companies have not been taking this risk lightly and have made several advances in the last few years regarding collision avoidance. That's why picking a top-notch drone is so important for festival media. However, if you find yourself flinching at the sheer thought of a double or even triple digit price tag simply for a few cool photos or videos, finding a quality video editor can still give you those awesome shots you're looking for without a price tag that makes you cry in the process.
12. Camping Gear
There are all kinds of amazing camping gear essentials for the festival season, from pocket blankets all the way to massive wet wipes for your "shower without showering" kind of festivals, but picking the ones that fit you can often be hard. However, there are plenty of awesome camping essentials guides to help you get started on making the most cost-effective decisions and supporting some awesome startups in the process.
Furthermore, you should also focus on staying safe as often as possible. A great way to do this is by also buying things such as emergency lighting and tent alarms for your camping spot so you can be safe during the night. After all, to have fun, you first have to be safe.
Lastly, you may want to think about how exactly you intend on charging your devices and such during longer festivals, which is where solar could very well be your answer. By purchasing a solar panel online, you can charge all of your devices in no time. There are various different solar panels online which you can utilize specifically to charge devices and for camping sites likewise. Going into this, though, I would definitely keep in mind that solar is not a cheap alternative. However, if you do intend on doing this, definitely read up on how solar works ahead of time so you don't look like a complete goof lugging it around for nothing.
The festival season is a crazy and unpredictable time full of new and old friends, amazing experiences, trippy performances, insanely delicious food, romance, tons of alcohol, and a certain respect for the bands that play, which can be seen from every single audience member alike. The gear, although important, is simply a way of making this already awesome trip even more awesome. However, at the end of the day, hanging out with your friends, seeing your favorite bands live, and knowing that this is a time you will never forget are what make the chaos of this glorious season completely and totally worth it.
About the Creator
Journalist. Editor. Avid Hiker. Pastry Chef. Pug Obsessed. Engaged. Basically, the best friend you wish you had, only with lots of dumb obsessions and loud obnoxious singing in the car.
Reader insights
Be the first to share your insights about this piece.
Add your insights