Top 5 Albums of 2022
No particular order (honorable mentions available on my substack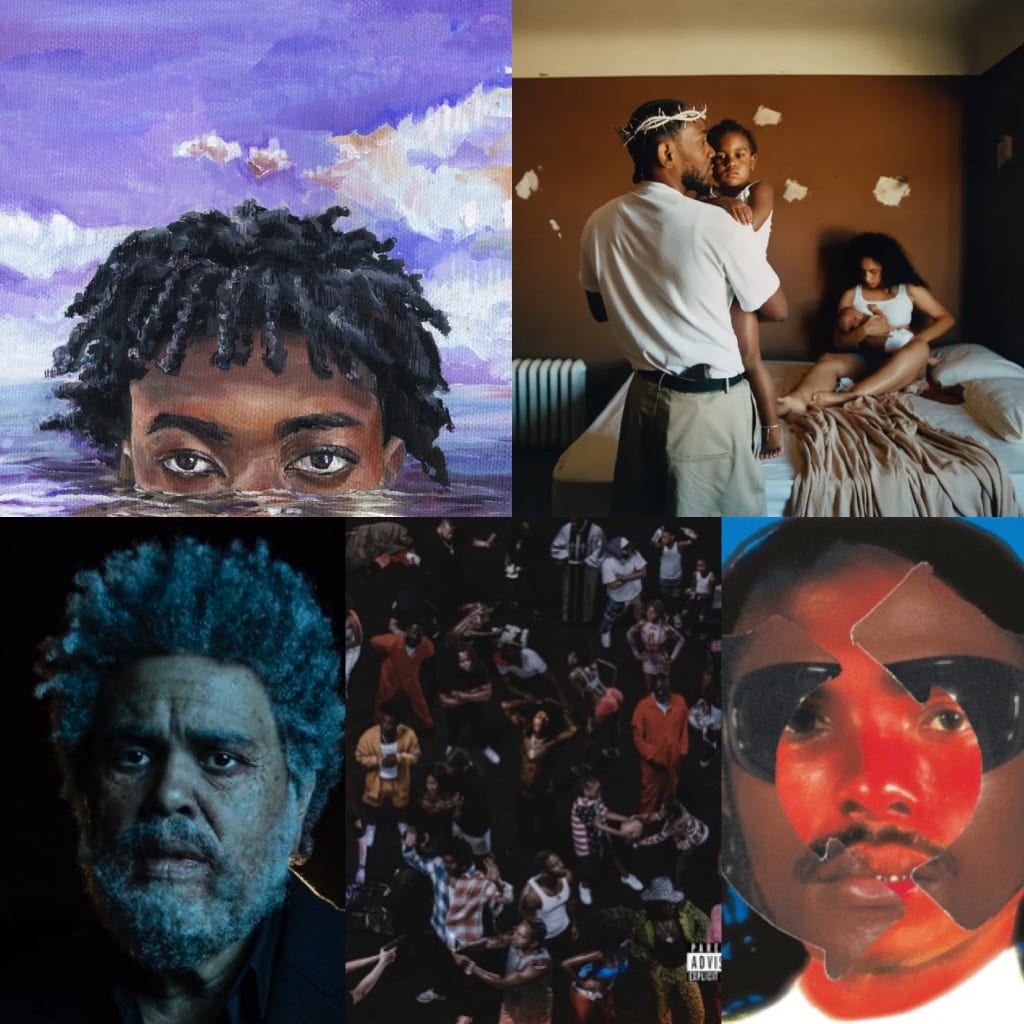 What a year for music, right? This feels like the biggest year for music in a long time, probably since the divinity of 2016. While I wish Frank Ocean would've broke the Internet and released an album, I'm beyond satisfied with the plethora of art released this year — we saw the biggest artists drop and new ones break onto the scene in a big way. Check out my top 5, and honorable mentions, for 2022 (in no particular order). I will attach reviews to the album title, a few of which belong to Mark Chinapen.
What else is there to say about this 18 year old who came onto the scene stronger than anyone else this year? Entirely self-produced and a cohesive project makes learn 2 swim one of the most well-done projects of the year and should've been in the Rap Album of the Year nominations (especially over certain artists I might add). It's almost impossible to find things wrong with this album, and I think I may have underrated it in my review. Regardless, if you haven't heard of this Maryland artist, it's time to tune in — you won't regret it.
Songs like "pg baby" (song of the year contender for me) and "sky" are the perfect introduction to this artist as they are both insanely catchy and melodic, taking advantage of ample samples and production. Once you're acclimated with the current version of redveil, take the time to listen to his older works as a youngin' — they could highlight some of his formative tendencies.
Favorite Tracks: pg baby, diving board, sky
DiCaprio 2 was my introduction to JID. I remember I was bumping that album every day in my sophomore year and thinking, "why isn't this guy more talked about?" It's safe to say people are talking now. The Forever Story is just that, a story. JID is probably one of the best storytellers of this generation along with one of the other artist later in this list. I would argue that this album has two songs that make JID's top five in his discography.
The flow changes are immaculate and cohesive, the narrative told throughout the album including his college football days and stories of scrapping outside a club, and top notch features for arguably the best album of the year. I'm in awe at seeing JID finally get his due diligence and bookended The Never Story with The Forever Story.
Favorite Tracks: Raydar, Dance Now, Surround Sound, 2007
Steve Lacy broke onto the scene in a big way this year, aided by the TikTok virality of his hit "Bad Habit." But the value of this album lies way beyond that of the chorus in that song. It's worth noting his concert presence, including an incident of smashing a camera on stage. It can be frustrating for an artist to see the "new fans" so to call them, as they don't typically dive into the full discography before a concert. It happens, there's understandable angst and fault on both sides, so be it.
Regardless, the totality of this album benefits from soothing vocals and funky instrumentals that are just plain addicting. Additionally, after only dabbling in his older works, I think Gemini Rights is a more complete piece of work, thus a more complete album. Lacy's sound feels more defined and makes for an enticing listen over his older works in The Lo-Fis and Apollo XXI.
Favorite Tracks: Static, Helmet, Mercury
There's a lot to be said about this album — the themes touch on a wide range of topics, most that are considered taboo, especially in the environments Lamar inhabits. Relationships, transphobia, racism, masculinity, and daddy issues among many other topics make an appearance. There's a conversation that replayability plays a factor in the rating of the album but that just isn't correct. As usual, a Kendrick Lamar projects will include more than just radio fodder — it'll house intellectual and grasp concepts you wouldn't see otherwise with a tinge of vulnerability.
The value of that is far more important than "bangers" in my opinion. I don't know if Kendrick will ever release music again now that he is free of label obligations, but, like the next artist, this run of albums define the past decade and a half.
Favorite Tracks: Father Time, Savior, Rich Spirit
I'm biased — a Weeknd project will always make my top 5 any year he drops. Dawn FM is no exception. After soaking in the critical acclaim and chaos of After Hours, it was only right that the second installation of the "second trilogy" followed soon after. I expect to see the third installation in the coming year to cap off one of the best discography runs of all time. I've been listening to this artist since I was 12 — it has been one of the most rewarding journeys to watch The Weeknd experiment with his sound and genres over the years.
From the radio station theme, to the transitions between songs, the mind-boggling disco synth-pop, and the captivating visuals, including a several-decade aged persona, this album feels like it was plucked straight out of the 70's or 80's. Yet, it has aged so well over this year and I find myself listening to it every day. Again, like JID, I think this album houses songs with all-time discography entries.
Favorite Tracks: How Do I Make You Love Me?, Less Than Zero, Out of Time
--
Find my honorable mentions by subscribing to my Substack with the link below! Free subscriptions will include the occasional post that will appear here. Paid subscriptions will have access to all new (and old) album reviews, works of fiction including snippets of the novella I'm currently working on (The Laurentian War), poetry, and other miscellaneous posts!
Reader insights
Be the first to share your insights about this piece.
Add your insights