Top 3 Most Influential Musicians
Ziggy plays guitar...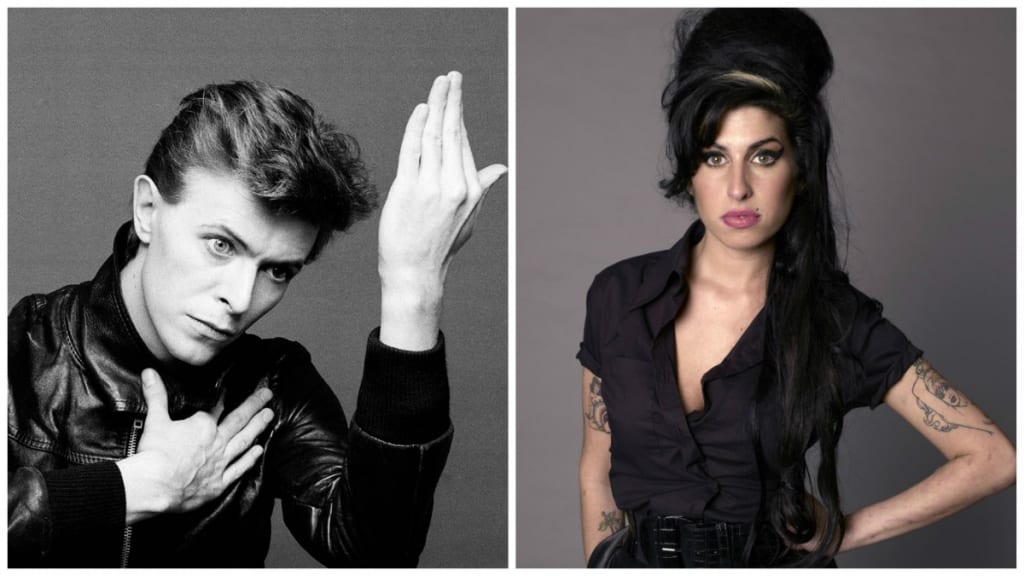 The greatest singer of all time, Whitney Houston, once said, "We all die. The goal isn't to live forever, the goal is to create something that will" ("Music." Pinterest). And so she did, as she created a timeless array of music that will live on forever in the hearts of many other artists and be passed down to our posterity. For the most part, she was trying to convey an honest and poignant message that we are all on this planet for a limited time and our job is to find our purpose—what we are supposed to give back to the world—and not to die with the music still inside of us. Notably, 2016 was a rough year for many music lovers all over the world. They mourned the deaths of Michael Jackson, George Michael, David Bowie, and just recently Glen Campbell who passed away on August 8th of this year in his late stages of Alzheimer's disease. Moreover, these artists all died at a young age. As the world of music lost some of its most prolific, innovative, unique and charismatic artists, all of these musicians have left something behind that people centuries from now could dig out of the ground. When I come to think of the musicians that left a footprint in my heart, three people stand out the most. Even though Amy Winehouse, David Bowie, and Whitney Houston all struggled with addiction, they still launched successful careers and remain very influential in today's youth.
Born in London, England, Amy Jade Winehouse was born into a musical family being surrounded by jazz music at a young age. Although her father Mitch Winehouse worked as a taxi driver and her mother Janet Winehouse was a pharmacist, Amy was exposed to this music around the house. To begin with, her uncles' on her mother's side were professional jazz musicians. She grew up listening to various ranges of music such as Dinah Washington, Ella Fitzgerald, Tony Bennett, and Sarah Vaughan. Later on, she began listening to and being influenced by TLC, Salt-N-Pepa, and other R&B and hip-hop groups ("Amy Winehouse." Biography.com). At the same time, her music interests started to evolve when she widened her horizons to other genres. However, she was still convinced that she was going to be a jazz artist since it was a huge part of her life. Accordingly, in interviews and when recording "Body and Soul" with Tony Bennett she coins Dinah Washington, one of her idols, as one the reasons she wanted to be a jazz singer (wiblyo). At only 12 years old, Winehouse was accepted into Sylvia Young Theatre School, a prestigious fine arts school in London where she studied music and got her first guitar. Eventually, not out of surprise, they kicked her out due to her resistance to follow the rules and refusal to remove her nose piercing ("Amy Winehouse." Biography.com). Meanwhile, Amy made her way into fame at only 16 years old when a classmate passed on her demo tapes which led her to her first record deal with Island/Universal Records ("Amy Winehouse" Biography.com).
At only 20 years old, Amy's life started to change when her name began to make waves around London, making people in her hometown talk. In 2003, she began to receive more recognition with her stunning vocals and released her debut album Frank—named after one of her favorite singers, Frank Sinatra—which turned into a blooming success. Winehouse's first single "Stronger Than Me" sold over 800 copies in a day ("Stronger"). At this point, Winehouse was nominated for two BRIT awards. In addition, the British Phonographic Industry declared the album triple platinum selling over 3 million copies ("Amy Winehouse Albums"). The following year, in 2004, Amy was nominated for a Mercury Music Prize for Album of the Year ("Obituary"). Ironically, the album, highly praised, was even listed in a book called 1001 Albums You Must Hear Before You Die. This was exceptional for her to be listed among some of the greatest legends Elvis Presley, Miles Davis, and even Frank Sinatra ("Amy Winehouse Albums").
In the meantime, three years later she released Back to Black, making her a worldwide star transforming her into a success story. Significantly, it became Number 2 in the United States including several other countries around the world; it gained even more attention when she died in 2011 (Fancystatue. "Amy"). In 2007, the album won Best Pop Vocal Album and her beloved hit single "Rehab" won Song of the Year, Record of the Year, and Best Female Pop Vocal Performance (Fancystatue. "Deep"). Her record producer, Mark Ronson, recalls the story of the song when he and Amy were out for a walk, she said to him, "They tried to make me go to rehab and I said, No, no, no!" After hearing that, Ronson replied, "It sounds hooky. You should go back to the studio and we should turn that into a song" and three hours later came "Rehab" (Stevens 3).
On the other hand, Amy was presented with two BRIT awards for Best British Female Solo Artist and Best British Album ("Amy Winehouse." AceShowBiz). Not to mention, she received an Echo Award for Album of the Year and for Best International Rock/Pop Female Artist ("Amy Winehouse Awards"). Unlike her other album Frank—that was more upbeat and carefree—her second album's lyrics painted a darker mood and displayed a change from her jazz roots to a more soulful R&B sound of the 1960s. On the album, Amy hired Sharon Jones band, the Dap-Kings, to sing back up. Amazingly, this led Sharon Jones and her band to receive more recognition (Johnston 5). Illustrated through her songs, Back to Black portrays a story of a suffering and insecure Amy who felt confused and often times alone. The entirety of the album centered around her acrimonious relationship with boyfriend Blake Field-Civil who left her for another woman ("Back to Black"). The infamous Blake became the subject of many songs on the album such as "You Know I'm No good." In the song, when she sings the line "There'll be none of him no more. I cried for you on the kitchen floor" she places blame on herself and continues pining over him. Without a doubt, she thought if people began to dig a little deeper into her lyrics—if they really listened— they would start to catch on to how hopeless she felt without love and security. As revealed, she got back together with Civil in 2007 and they divorced in 2009.
Unfortunately, Winehouse's career began to spiral out of control when she built a bad reputation leading down a destructive path of binge drinking and overdosing on narcotics. However, that did not stop her from influencing other musicians. Adele has even publicly said, "Because of her, I picked up a guitar, and because of her, I write my own songs… I owe 90 percent of my career to her" (Leight 3). Sadly, Amy's problems began to rise when Blake began introducing her to harder drugs as his way of showing his love for her. As Amy stated many times, "I am an insecure person, insecure about how I look and the more insecure I felt, the more I'd [sic] drink" ("Amy." Pinterest). Gradually, she made it known in her later career that she got too entangled with her drinking and substance abuse issues; she already knew her fate. Amy drank herself to death—as her body could not take it anymore—and she died of alcohol poisoning on July 23, 2011.
Not too far away from Amy Winehouse in Brixton, South London, lived a mysterious unknown man originally by the name of David Jones. David Bowie, who years later everyone knew as Major Tom, Thin White Duke, and Ziggy Stardust became one of the most iconic people ever. First off, David was introduced to rock music by his brother, Terry, and it was at this time he took up the saxophone playing in his band Davy Jones and the Lower Third. He also started playing with other bands such as The King Bees and the Mannish Boys ("David" 2). Growing up, Bowie's brother, Terry Burns, suffered from schizophrenia and was placed in a mental facility for many years of his life ("David" 2). In the mid-eighties, David's life began to change for the worse when he found out that his brother took his own life. Undoubtedly, it haunted him for the rest of his life, inspiring some of his songs such as "All the Madmen" and "Jump They Say" ("David" 2). More than anything, he was influenced by the mainstream London bands that brought him into the world of pop. For a while, Bowie struggled to make it big and put out a lot of unsuccessful—and even forgotten—albums and singles. However, in 1969, David's life changed forever when he signed with Mercury Records putting out the single "Space Oddity" ("David" 3). Upon writing this song, Bowie's inspiration was a Sci-Fi movie called A Space Odyssey ("David" 3). Shortly after its release, it became Number 5 on the UK charts and reached more ears in the United States.
To say the least, David started becoming more recognized during the seventies. Starting off, he reached a worldwide audience with his fifth album The Rise and Fall of Ziggy Stardust and Spiders From Mars; it became a huge hit. When he played the character Ziggy Stardust, he would come out with red flaming hair portraying a so-called "bisexual alien rock-star" persona whose job it was to promote hope to the "young people" on earth. During this phase, he would sing some of the most popular songs: "Lady Stardust," "Starman," and "Rock 'n' Roll Suicide" (Johns 1). As has been noted in the track of "Rock 'n' Roll Suicide," Ziggy actually dies to live a traditional rock star lifestyle ("Glam Rock Hero"). With this in mind, a unique thing David Bowie did was come up with his own characters, create costumes for them, and dress up like them on stage. Obviously, this was David's trademark that people will remember him by. Furthermore, when David put out Young Americans, he began to make a transition from his Stardust persona to Thin White Duke. It was on this album where he spun out hits including "Fame" which he co-wrote and sang with John Lennon (Kaufman 1).
Soon after, Bowie became notorious for his excessive cocaine use and struggled to form any long-term commitments to women. He only had one true love going for him in his life—him and his relationship with cocaine. Subsequently, when asked if he took acid or any substance—to inspire his creativity,—he exemplifies to Rolling Stone, "I never got into acid… it was colorful, but my own imagination was already richer" ("Jagger Was Worried." 1). On the whole, record producer Tony Visconti even recounted, "At one point he was taking so much it would have killed a horse" (1). But, it wasn't until his 1972 US tour that his intake began to change; he started doing coke by the bowls. Likewise, he also told Rolling Stone "I've had small flirtations with smack and things… I like fast drugs" (2). As it grew deeply concerning, Bebe Buell, an American fashion model, who hung out with Bowie and Mick Jagger recalled, "Mick was worried because David was doing so much cocaine that he would hallucinate" (3). Provided that, the fastest drug of them all, did take over a good portion of his life. In other words, he got into it so deep that he began to hallucinate claiming that he saw "angels flying out of windows" (3).
In 2014, Bowie knew he was suffering from liver cancer and would not make it seeing his 16-year old daughter Alexandria Jones grow up. For a while, he kept it a secret from the public, continuing to suffer in silence for 18 months. Eventually, he did spill the beans to his close friends and family, fighting hard to make his last album before he passed away on January 10, 2016. In spite of his illness, he still kept making music. He even referenced his own death in his album Blackstar, where he sang "Look up here, I'm in Heaven" (Gye and Greenhill 1). Certainly, close friends of Bowie's told The Guardian that he preferred to keep his privacy as his "greatest luxury" and to "slip away almost like a phantom" (Gye and Greenhill 6).
An artist who flew off the handle too many times and suffered just as much if not more than Bowie was the most inspiring, Whitney Houston. Born in Newark, New Jersey in 1963, was a small girl who was capable to produce such a rich and colorful vibrato. It was almost as if Whitney was destined to be a singer from the time she was born. When she was growing up she began singing with her mother, Cissy Houston, in their church choir and was surrounded by professional musicians in the family. Her cousin, Dionne Warwick, and her godmother, Aretha Franklin, were all big names in soul and gospel ("Whitney Houston." Biography.com). She revealed in an interview with Diane Sawyer that being praised for her vocals had a positive effect on her saying "I think I knew then that [my singing voice] was an infectious thing that God had given me" ("Whitney Houston" Biography.com).
Ever since she was a child, she knew that she had been blessed with mind blowing pipes. When she was 14 years old she was offered her first record deal by Michael Zanger when he heard her backup singing on a track for one of his bands. Still having decisions made for her, she denied the offer on her mother's request so that she could finish and pursue school ("The Rise and Fall" 4). At 15 years old, Houston was trying to get a record deal of her own, it was during this time she was discovered by a photographer that gave her an opportunity to become a teenage model. The true beauty made history as the first African-American woman to be on the cover of Seventeen magazine ("Whitney Houston." Biography.com). Immediately, at 19 years old, Whitney was discovered at a nightclub by record producer Clive Davis of Arista Records. In awe of watching her, he signed her right away ("Whitney Houston." Biography.com). Davis was convinced to find the best producers and songwriters to make her debut album shine.
While transitioning from a small-town church choir girl to a star, she became every teenage girl's role model and in fact, they fantasized singing like her. Afterward in 1983, Whitney made her first appearance as a guest on The Merv Griffin Show singing "Home" from a musical called The Wiz ("Whitney Houston." Biography.com). In 1985, her debut album Whitney Houston made her a national pop sensation with her album remaining in the number 1 spot for 14 weeks ("Whitney Houston." Biography.com). Her most powerful singles "Saving All My Love For You" and "How Will I Know" helped make her album a success ('Whitney Houston." Biography.com). During the Grammies in 1986, Houston won a Grammy for the hit single "Saving All My Love For You" which was presented to her by her cousin Dionne Warwick ("Whitney Houston." Biography.com). As a follow up to her first album, her sophomore album Whitney was released, going platinum several times and winning her a Grammy for "I Wanna Dance With Somebody (Who Loves Me)" ("Whitney Houston." Biography.com). In her later career, Whitney started a non-profit organization called the Whitney Houston Organization for Children to fund projects for all child worldwide who are in need ("Whitney Houston." Biography.com).
One thing people will remember about the career of Whitney Houston—like Amy Winehouse—is that her life was cut too short when she still had so much left to give. Although, she had a career going for her, when she was not on stage she led a life full of emotional and domestic abuse from her husband Bobby Brown. On a segment with Oprah in 2009, she admitted to using drugs daily because she felt she was "losing herself" ("Whitney Houston Oprah"). Whitney explained to Oprah how they would sit in the same room and lace marijuana and freebase their cocaine. She continued speaking of what life became like at home with Bobby, continuing, "When you don't speak and you are living in the same home and you're sitting right next to that person and you're not saying a word for weeks…You are just sitting there watching TV…it's bad" ("Whitney Houston Explaining"). Eventually, she began to lose grip of her career which took a turn for the worst; she would start showing up to concerts intoxicated and under the use of freebase drugs. Houston sunk so deep into her depression to the point where she depended on drugs for survival, but this leads her to experiment mixing drugs with alcohol. Thus, on February 11, 2012, she died of accidental drowning in a bathtub. Cocaine use and heart disease were also in part to blame for contributing to her death ("Cause of Death").
In the past decade, the nation has come to lose many artists that touched the universe and made big contributions to music, all of which brought originality to the table and inspired the lives of millions of people watching at home. No matter how they started out, Amy Winehouse, David Bowie, and Whitney Houston will always be remembered for their musical abilities, unique voices, and ability to connect to the public. Despite the fact that they remained troubled, struggling with depression and addiction, they still prevail as the most influential of our time. Nevertheless, they will all leave behind a legacy and of course, their music will live on forever to be passed onto future generations.
Work Cited
"Amy Winehouse." AceShowbiz, AceShowBiz, www.aceshowbiz.com/celebrity/amy_winehouse/ awards.html.
"Amy Winehouse Albums." Amy Winehouse Forever, AmyWinehouseForever, amywinehouse forever.org/music/albums/.
"Amy Winehouse Awards." Amy Winehouse Forever, AmyWinehouseForever.org, amywine- houseforever.org/music/awards/.
"Amy Winehouse." Biography.com, A&E Networks Television, 16 May 2017, www.biography. com/people/amy-winehouse-244469.
"Amy." Pinterest, Pinterest, www.pinterest.com/cathy5965/amy/.
"Back to Black ." Songfacts, Songfacts, www.songfacts.com/detail.php?id=9684.
CBSNews.com. "Whitney Houston's Cause of Death: Accidental Drowning, Cocaine Use, Heart Disease." CBS News, CBS Interactive, 23 Mar. 2012, www.cbsnews.com/news/whitney houstons-cause-of-death-accidental-drowning-cocaine-use-heart-disease/.
"David Bowie." Biography.com, A&E Networks Television, 28 Apr. 2017, www.biography.com/ people/david-bowie-9222045.
Diamond, Nina L. "Music." Pinterest, 11 Feb. 2015, www.pinterest.com/pin/ 337347828313226164.
Fancystatue. "Amy Winehouse." GRAMMY.com, The Grammies, 9 June 2017, www.grammy. com/grammys/artists/amy-winehouse.
Fancystatue. "Deep 10: Amy Winehouse's Back To Black." GRAMMY.com, The Recording Academy, 1 Dec. 2016, www.grammy.com/grammys/news/deep-10-amy-winehouses- back-black.
Gye , Hugo, and Sam Greenhill. "Revealed: David Bowie Died from Liver Cancer and Was Told It Was Terminal a Year Ago." Daily Mail Online, Associated Newspapers, 12 Jan. 2016.
Johns, Gibson. "David Bowie's: Ziggy Stardust to Goblin King." AOL.com, AOL, 14 July 2016, www.aol.com/article/2016/01/11/david-bowies-best-loved-characters-ziggy-stardust-to- goblin-ki/21295233/.
Johnston, Maura. "Amy Winehouse's 'Back to Black': 10 Things You Didn't Know." Rolling Stone, Rolling Stone, 27 Oct. 2016, www.amy-winehouses-back-to-black-10-things-you- didnt-know-w446833.
Kaufman, Spencer. "Top 10 David Bowie Songs." Ultimate Classic Rock, Spencer Kaufman, 11 Jan. 2016, ultimateclassicrock.com/top-david-bowie-songs/.
Leight, Elias. "Adele: 'I Owe 90% of My Career' to Amy Winehouse." Rolling Stone, Rolling Stone, 16 Sept. 2016, www.rollingstone.com/music/news/adele-i-owe-90-of-my-career- to-amy-winehouse-w440200.
Leigh, Wendy. "Even Jagger Was Worried by How Much Cocaine Bowie Was Doing." The Sun, The Sun, 6 Apr. 2016, www.thesun.co.uk/archives/news/124744/even-mick-jagger-was- worried-by-how-much-cocaine-david-bowie-was-doing/.
"Obituary: Amy Winehouse." BBC News, BBC, 23 July 2011,
www.bbc.com/news/uk-14263839.
Reporter Daily Mail. "The rise and Fall of a superstar: Tragic Tale of the U.S. Singing Sensation Whose Life Was Destroyed by Drugs." Daily Mail Online, Associated Newspapers, 13 Feb. 2012, www.dailymail.co.uk/tvshowbiz/article-2099990/ Whitney-Houston-biography-Tragic-tale-singing-sensation-destroyed-drugs.html.
Retter, Emily. "David Bowie Becomes Icon Ziggy Stardust: From Space Oddity to Glam Rock Hero." Mirror, Emily Retter, 12 Jan. 2016, www.mirror.co.uk/3am/celebrity-news/david- bowie-becomes-icon-ziggy-7161209?service=responsive.
Stevens, Jenny. "Mitch Winehouse: 'Amy Wrote 'Rehab' in Just Three Hours'." NME, 27 June 2012, www.nme.com/news/music/amy-winehouse-83-1273369.
"Stronger Than Me." MusicBrainz, musicbrainz.org/release-group/32bb17ec-4b52-38b5- b4b0-432794be8eda.
"Whitney Houston." Biography.com, A&E Networks Television, 28 Apr. 2017, www.biography. com/people/whitney-houston-9344818.
Whitney Houston Explaining about How She Used Drugs on OPRAH - 2009. Lucas Vieira, 22 Mar. 2014, www.youtube.com/watch?v=tR5XiAYvG94.
Whitney Houston Oprah Interview 2009. ImmaculateConceptions, 16 Feb. 2014, www.youtube. com/watch?v=rZlGsMXRiyc.
wiblyo. "Amy" Winehouse Documentary, the Tony Bennett Thing." Youtube, 4 Jun. 2017, www.youtube.com/watch?v=sYMm-80KRPA.