Top 10 Mind-Blowing Albums of the Last 10 Years
Looking for something new to blow your mind?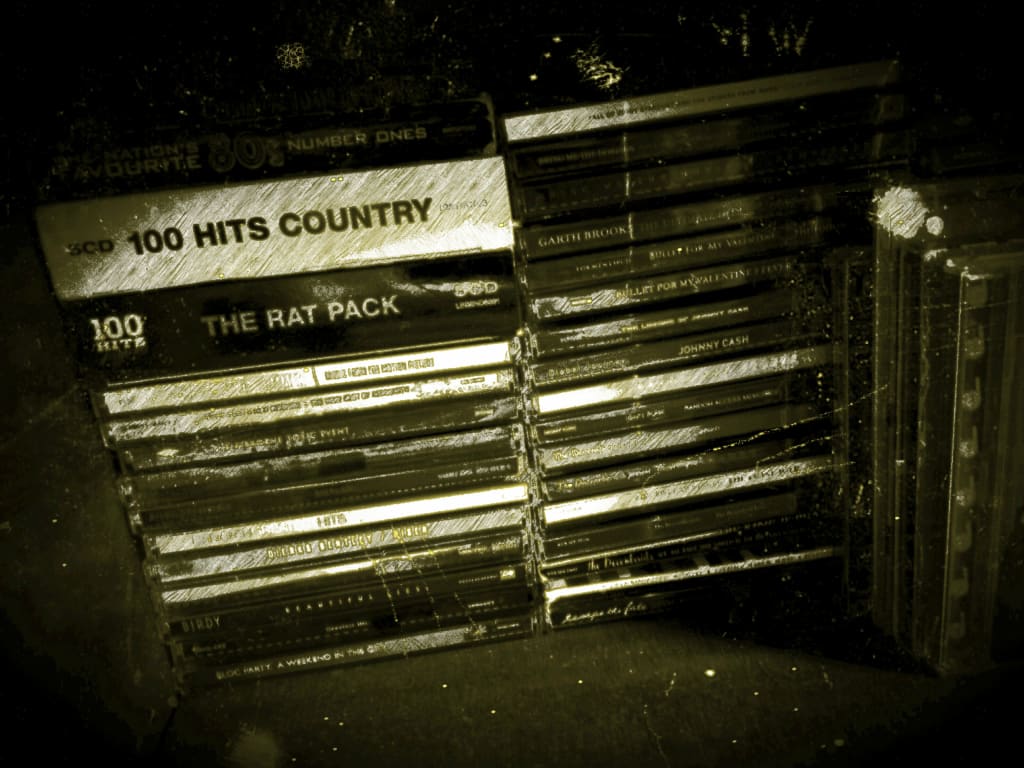 Everyone has their own taste in music, it's true. But there is one thing that we can all agree on — we all have one album that blows our tiny minds every time we hear it. In this post, I'm going to bring you 10 of mine — and tell you why they are some of the best things I have ever heard in my life.
10. Florence and the Machine, 'Ceremonials'
First things first: Florence Welch is the proud owner of one of the most distinctive and beautiful voices of the modern music scene. I have no doubt in my mind that this is a cold hard fact. From the peeling of church bells at the beginning of "Only If For A Night" until the ghostly, terrifying gasps that close out "Leave My Body," Ceremonials provides one of the most riveting and haunting albums of the modern day. Anyone who tells me that they can listen to "Never Let Me Go" — while wearing headphones — without even coming close to shedding a tear, is either a liar or a sociopath. Between Two Lungs was a beautiful introduction into the sometimes sweet, sometimes mad world of Florence and the Machine, and So Big, So Blue, So Beautiful has the polished charm of an artist who has firmly found her feet — but the cult-like, reverb-heavy Ceremonials remains some of the groups best work to date.
9. Ryan Adams, 'Eponymous'
What can I say about Ryan Adams that hasn't been said a hundred times? One of the most overlooked gems of the 21st century, Ryan Adams continues to quietly put out some of the best music to ever grace the planet. His full album cover of Taylor Swift's 1989 very nearly made this list for adding another layer of depth to the best Taylor Swift album ever recorded (Yes, I said it!). But it's his self-titled offering that really showcases everything that there is to love in a good rock album. Crackling guitars underlie beautifully simple lyrics, delivered with such heartfelt vocalisation that you can damn near feel your own heart breaking to tracks like "Kim" and "Stay With Me." But its "My Wrecking Ball" that really steals the show, from its absolutely genius mixing to the gut-wrenching delivery of the chorus. This is the sort of album that can punctuate a particularly melancholy moment alone if you listen to the lyrics, or soundtrack the perfect gathering of close friends if you're just in it for the music.
8. The Creepshow, 'Life After Death'
Okay, okay. I admit, this is a bit of a soft list, especially for somebody who likes metal and more obscure genres of music. But if that's what you're after, then go no further than Life After Death. The psychobilly genre is criminally under-appreciated, and this album is not only a psychobilly treat but a revolutionary addition to the genre. While there are definitely distinct tropes and themes to most psychobilly music, this album injects a healthy dose of punk and hardcore into the mix while staying true to the bands horror-inspired roots. "Born To Lose" and "Last Call" provide classic bar-crawl belters that should be shouted by legions of drunken students with the same gusto as The Fratellis "Chelsea Dagger" or The Killers "Mr Brightside." It's the little things, like the blistering pace and perfect harmonies, that the album brings to the table that make it one of the most mind-blowing records of the genre
7. The Kreeps, 'Spirit Clinic'
Some more obscurity for you now. It's difficult to describe Spirit Clinic's exact genre, but a fair estimation would be a hearty dose of surf rock, served with a sprinkling of 50s rock 'n' roll, a side of electronica, and a generous helping of 80s goth sensibility. The droning calm of "Supernova" perfectly descends into fast-paced madness with "Geekula," which helps to showcase the unique sound of the album. Dom Kreep has been putting out music for a long time, and his recent foray into comic books is perfectly foreshadowed by the wacky, dark offering of Spirit Clinic. "Prom Dress" is to this day one of the most morbidly satisfying pieces of music I've ever heard, along with the equally disturbing "Hey Mary." But it's "Bloody Holly" that steals the show on this album, perfectly combining all of the aforementioned ingredients into a malt shake of horror, madness, and infectious fun.
6. Bring Me The Horizon, 'That's the Spirit'
I can hear the collective groan from here. Hear me out. Bring Me The Horizon was a band going nowhere. Their first album, let's face it, is garbage. The second is where they started showing promise, including elements of electronica into The Sadness Will Never End and Suicide Season. That was a bold move in a saturated scene, and I appreciated it. There is a Hell... almost occupied this slot for how much they embraced the new sound, but it's That's the Spirit that steals the show. From the very beginning of "Doomed," we are presented with a band that has changed so much for the better since its inception that they are basically unrecognisable from the edgy teens they were at the beginning of their journey. The album itself is a masterclass in how to combine blistering metal with different genres to create something new, fresh, and exciting. Mainstream appeal isn't always a bad thing, folks.
5. Daft Punk, 'Random Access Memories'
Daft Punk is just one of those groups that everyone knows, and everyone has an opinion on. You either love them, love exclusively their old stuff, or you hate them. I haven't met anyone who is just ambivalent to Daft Punk yet. Random Access Memories is one of the most interesting sounding pieces of electronically generated music ever, let alone of the last 10 years. To me, the entire album just sounds refreshing — not in terms of being new, but in terms of literally making me feel more hydrated. There's something about the beautiful synth and instrumentation of tracks like "Give Life Back to Music" and "Lose Yourself to Dance," that feels like a cold drink on a hot day. From beginning to end this album provides an immersive, engaging musical experience that reaches a final blistering height at the last notes of "Contact," and lets up only once in between (I'm looking at you, "Touch"!). This is a must-hear album that is sure to stand the test of time.
4. The Decemberists, 'The King Is Dead'
1 part Bruce Springsteen record, 1 part old vinyl of hymns that your nan bought on a whim in the 60s, The King is Dead is what you might call an eclectic album. An ode to pastoral poetry of yesteryear, The Decemberists 2011 offering showed even more the insane levels of depth that the band is capable of. If you haven't listened to The Decemberists yet, you should. While I enjoy feeling like I have the big secret of nearly the last two decades, I'm more than happy to share this one. Morbid, beautiful, and incredibly talented, The Decemberists went on to completely regenerate their sound by their next album, What a Beautiful World..., but those seeds were planted here. "Rise To Me" is equal parts spiritually uplifting and emotionally draining, and the rollicking "Down By the Water" is the best R.E.M song not recorded by R.E.M. If nothing else, listen to this one just to give yourself something completely new to listen to. You're welcome.
3. Nathaniel Rateliff and the Night Sweats, 'Eponymous'
Okay, real talk — if you haven't heard this album yet, stop everything you're doing and go and listen to it right now. I'll wait. That's not because it's mind-blowing — which it obviously is, or it wouldn't have made this list — but because it's just that damn good. No album can make me feel as good as this one. The reverb-drenched guitar and vocals transport you to the golden age of soul music, while the rhythm section contains such pounding drums and powerful bass that I dare you not to tap along while you listen. This album captures everything special about soul, country, and blues, and offers it up in a commercial little bundle that doesn't quite fall into any of those categories. If the blasting horns of "I Need Never Get Old" don't make you want to move those hips, then the gospel-flavoured sing-along that is "S.O.B" will have you up and humming for days. An album that should have been picked up even more than it has been so far, Nathaniel Rateliff and the Night Sweats are destined to be soundtrack of the summer 2018 — and you can take that to the bank.
2. Woodkid, 'The Golden Age'
This is the album equivalent of coming adrift at a lighthouse, only to find that it's not a lighthouse at all, but a completed Tower of Babel. Melancholy yet uplifting, Biblical yet decidedly human, The Golden Age delivers a heavy dose of high-scale epic that can't be imitated or emulated. One of the few albums that almost requires you to watch the accompanying music videos, this album will leave you scratching your head in confusion at the first listen. It's just that unique. But once it all begins to make sense to you, you'll never hear anything in quite the same way. Labelled as 'Baroque-Pop', The Golden Age provides music that "makes you feel like a superhero." Standout tracks "The Great Escape" and "Stabat Mater" will provide a lovely overview to the levels of depth that this album offers. Definitely not worth missing out on!
1. Astronautilis, 'This Is Our Science'
Okay. So here we are. Yes, I know, it's bizarre to have a rap album headline a list dominated by rock offerings, but This Is Our Science is an album without compare. From the first drumbeats of "The River, The Woods", you can feel how different this album is from everything else around today. It's got everything there is to look for in an album — crisp instrumentation, driving beats, and poetry in motion by singer/rapper Charles Andrew Bothwell. There isn't a single track on this album that feels like filler, or like it doesn't have a point to make. Every single track is a standout phenomenon, each song so rich in content that it feels like it should have a whole album just to itself. I've heard this album probably a hundred times in the short time since I was introduced to it, and I'm not even close to getting sick of it. "Contrails" is a great start for the more casual listener, providing a nice entry point to ease yourself into this unique and heartfelt style of music. Anyone looking for something stronger, try either the aforementioned "The River, The Woods," the riveting "Thomas Jefferson," or the haunting "Secrets On Our Lips."
And that's my list! Hopefully I've inspired you to at least give something new a listen, or else made you listen to your favourite album in protest of how wrong I am. Either way, you're listening to music — and that's the real victory here.