TME's Royce J Reminds Tekashi 6ix9ine's Fans that "Snitches Get Stitches"
The Kansas City-based rapper is not here for the music industry's praise of a caged former rapping bird who now sings from prison.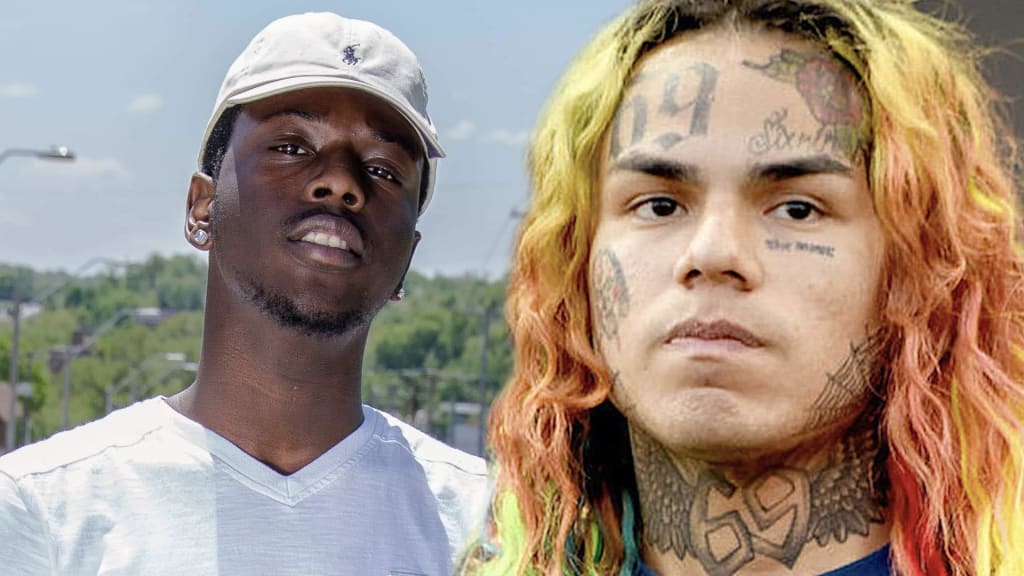 Royce J (pictured left) and Tekashi 6ix9ine (pictured right)
"If you're still listening to 6ix9ine after you know he told on his whole crew, you're as lame as him... You're part of the problem."
That was the message TRU Muscle Entertainment (TME) artist Royce J had for Tekashi 6ix9ine fans in our recent interview about his latest music video "ZZZ." Apparently, in today's hip-hop world, the existence of codes, which govern the street culture that birthed rap are much more lax.
Daniel "Tekashi 6ix9ine" Hernandez, 23, first appeared on the scene as a rap artist in 2014. He was primarily a YouTube rapper then. But his first major single "Gummo" (released in 2017) was the song that introduced the rapping, rainbow-haired New York City native to the world.
6ix9ine's irritated, high-energy delivery and menacing track production sound helped his first single land a number 12 spot on the Billboard Top 100 Singles Chart. However, it was the visual version of "Gummo" which made the song even more controversial.
In this song's video, 6ix9ine revels in his affiliation with the figures wearing the sea of red bandannas around him. However, excessive gang banging while thumbing your nose at the law is probably not the smartest concept to have for your very first rap video.
6ix9ine's artist management affairs were initially handled by a company called Tr3yway Entertainment. This company was started by Kifano "Shotti" Jordan, a native of Trinidad and Tobago.
Mr. Shotti was already a known figure to law enforcement when he signed his toy gangster protege to Tr3yway Entertainment. This business's name in itself is a trendy but veiled reference to the Bloods-affiliated Nine Trey Gangsters, a feared gang in the New York City area.
Shotti, 6ix9ine's former business manager, started to feel the heat come down feds first in late 2018. The jailed music executive's name was tied by authorities to three felony battery cases, multiple big drug cases, a laundry list of illegal firearms charges, and even shootings.
6ix9ine's fall from grace into the waiting arms of federal jailers also came in late 2018. The young and scrawny rapper was hit was a racketeering indictment that the U.S. government wanted to give him many years in prison for. But Tekashi did what real gangsters get brutally murdered for doing: Become a rat.
"Has hip hop gotten that weird where a snitch gets a 10 million dollar record deal? Nah, some things are unforgivable homie," Royce J added.
The rapper echoes this sentiment in "ZZZ" where he features a beheaded Tekashi and Eric Holder (The man charged with Nipsey Hussle's murder). Holder (aka "Shitty Cuz") is still awaiting his murder trial in Los Angeles, California and remains incarcerated on a multi-million dollar bail.
For Tekashi 6ix9ine, freedom from the federal authorities may be coming his way some time early next year. This is because the "Gummo" rapper appeared on the witness stand for the U.S. government to help convict members of the Nine Trey Bloods gang he claimed to be a part of.
"It started off as a joke with the CEO of my label Big Court. A few days later he surprised me at Fatboy SSE's condo with the first cut of the animated video and I thought it was crazy dope," Royce J said about the conceptualization process of his latest hit.
Inspired by classic anime shows like Dragon Ball Z and Sword Art Online (which Royce J is a big fan off), the visual follows the TME artist and his comrade as they seek to complete their mission of retribution against two of the biggest pariahs in the streets of real rap.
But it won't be that simple... Check out the full video below.
About This Artist
Royce J is a rap artist signed to entertainment mogul Big Court's TRU Muscle Entertainment (TME) music label. TME is an entity, which is wholly distributed by business icon Master P's No Limit Records (aka No Limit Forever).