'Time and a Word' - Good Yes Music Then and Now
A Review of Yes' Second Album!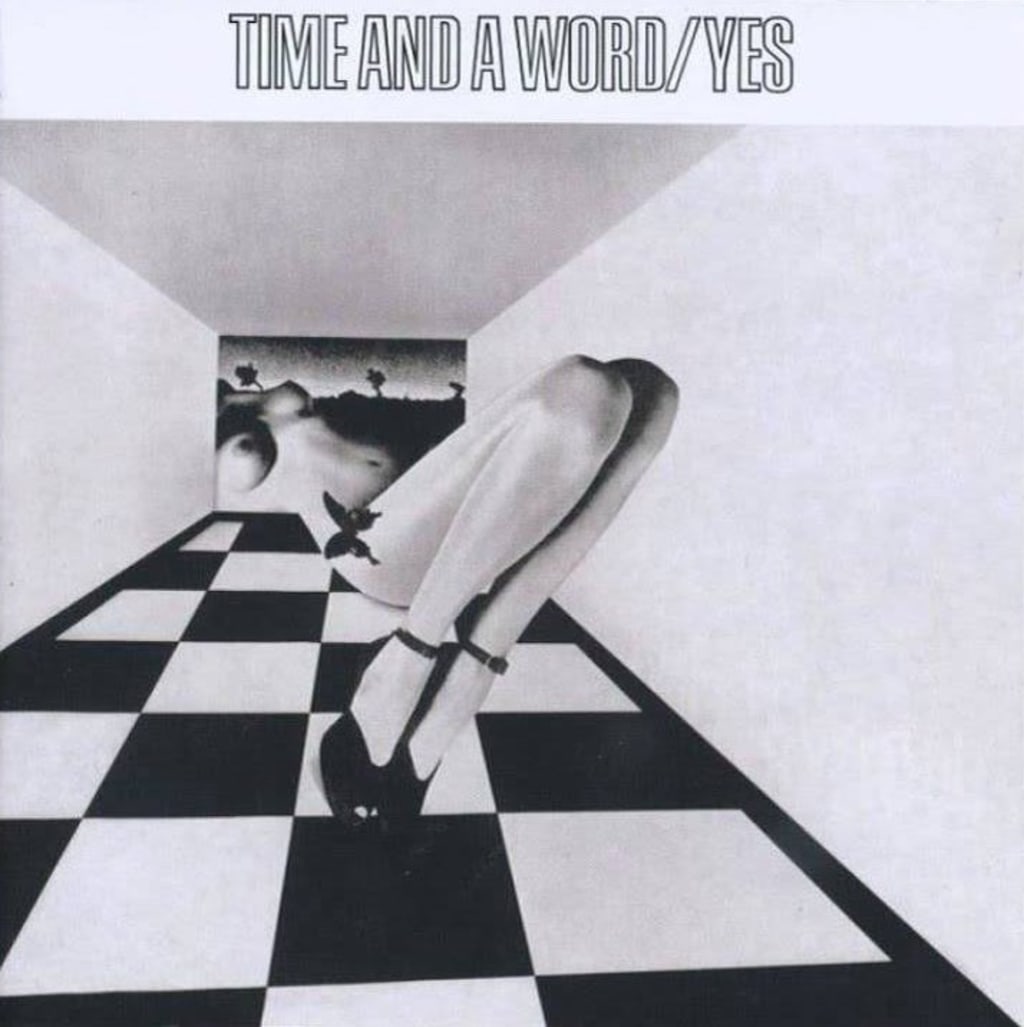 UK cover of Time and a Word, released by Atlantic Records.
Yes' first album may not have made the biggest splash, but it showcased some of the adventurous drive that would remain within the band for years to come. Original members Jon Anderson (vocals), Peter Banks (guitar), Bill Bruford (drums), Tony Kaye (keyboard), and Chris Squire (bass) could have very well remained content and done another similar albu. And in some ways, Time and a Word is similar, even right down to having eight tracks, two of which are covers. But it was decided that an orchestra conducted by Tony Cox should be included, thus giving Yes' second album a different flavor. Released July 24, 1970 (just a day short of the one-year anniversary of the first album's release), Time and a Word showcased an early instance of the continuous evolution of Yes music.
Yes performing "No Opportunity Necessary, No Experience Needed" on Beat-Club in November 1969.
1. "No Opportunity Necessary, No Experience Needed"
The album opens with a cover of the Richie Havens song "No Opportunity Necessary, No Opportunity Needed." Released as Havens' first single in 1967, the original version is a three-minute song with elements of folk and soul music. The version by Yes is nearly five minutes long, adding more instrumentation from the band members as well as the orchestra. It's a bit of an odd choice to begin the album with a song that isn't originally by Yes, but the instrumentation does serve as a grand intro to the whole thing. The symphonic aspect adds another layer to the performance. Admittedly, it does drown out Banks and Kaye somewhat. A look at Yes' appearance on Beat-Club would give fans a better listen at their contributions to the song.
For The Royal Affair Tour (which just concluded last week), Yes dug up this song and performed it live. This was the first time since 1970 that it had appeared in a Yes concert, and it made for an exciting opening to the set list.
2. "Then"
It does not take long to get to the first Yes original for this album. Written by Anderson, "Then" effectively juxtaposes light and dark, proclaiming, "Love is the only answer, hate is the root of cancer then." Listeners are empowered to believe that they can be the change that they need to make their dreams come true: "As long as we see there's only us, who can change it / Only us to rearrange it at the start of a new kind of day." Squire's moody bass brings the later Yes song "Heart of the Sunrise" to mind, and there is a bit of jazz going on. After all the turbulence, the music calms down as Anderson sings more slowly. But once he delivers the final "Then," the music gets to have its own last word.
3. "Everydays"
While the first Yes album had one cover song on each side, Time and a Word had both of its cover songs on the first side, which is an interesting choice. If they wanted to, a listener could perceive this as the band wanting to get away from relying on covers, and getting them over with. But the performances are certainly not phoned in; Yes give their best efforts.
Buffalo Springfield's "Everydays" from their second album Buffalo Springfield Again (1967) clocks in at 2:38, whereas the Yes version on Time and a Word clocks in at 6:08. During the sessions for the first album, Yes had recorded a couple of versions, one of which appeared as the B-side of "Looking Around." These felt more raw and had more of a presence from Banks' guitar in the beginning. But on their second album, the orchestra is present from the get-go. Much of the expansion of the song's length is due to an instrumental interlude in the beginning. During the drumming in this section, it feels natural to imagine a mischievous-looking Bruford poking his head out from behind a tree as he does in the music video for this song that appeared on Rock of the '70s. This adventurous reworking is another instance of Yes putting their creative stamp on a cover.
4. "Sweet Dreams"
Anderson wrote "Sweet Dreams" with former The Warriors bandmate David Foster, who also contributes vocals to the track. It is not as complex as most of the songs on the album, and it lacks a certain gravitas. It perhaps feels more alive in live performances such as those found on the Relayer Tour, the 35th Anniversary Tour, and the Yes50 Tour. The song does have its please, reassuring listeners that dreams can heal and that they will eventually be happy. The verse "Sweet dreams are born inside you" continues the theme of people being capable of making their own dreams come true.
When "Sweet Dreams" was released as a single, "Dear Father" was included as the B-side. A couple early versions of this were recorded during the sessions for the first album, but the orchestra is a good fit for this song.
Yes performing "Dear Father" at Opération 666 in Paris, January 1970.
5. "The Prophet"
"The Prophet" is credited to Anderson and Squire. This song appears to have only been performed live once, and it's criminal how obscure of a song it may be considered. It begins with haunting keys by Kaye, which go on for a good little while before the orchestra comes in. The tone shifts to a more upbeat one. Once again, lyrics reinforce the message of finding peace within oneself:
He was lost and in his trust he found a new meaning;Seeing the things in diff'rent lights his life was redeemed.Words of peace will fill his mind and change his way of life;Peaceful meetings with his heart have made him more alive.
6. "Clear Days"
"Clear Days," written by Anderson, is another song that seems to have only been performed once. It is the least exciting track on this album, but it still conveys a sense of optimism. Anderson sings about how the past can contain fond memories, and how unity can come true in the future. This meshes well with what "Sweet Dreams" says about dreams in relation to the past and the future.
7. "Astral Traveller"
Another Anderson-written song, "Astral Traveller" is filled with psychedelic atmosphere. It tells of a man in a crashed hot air balloon who, despite the circumstances, still wants to fly in the sky to see sights, even if it means leaving a woman behind. Kaye has a really good solo in the middle of the song, just before the song gets into a haunting tone. The ending sounds very bizarre, but in a good way, leaving a memorable impression.
At Yestival 1994, Peter Banks said that "Astral Traveller" was a favorite of his to play. So it's no wonder that he performed it on Magna Carta Records' 1995 Yes tribute album Tales from Yesterday, where he really went to town on his guitar. In 2008, Yes dug up "Astral Traveller" for their In The Present Tour, performing it live for the first time since 1971.
8. "Time and a Word"
Like Side A, the end of Side B was a song written by Anderson and Foster. As a gentler and not so bombastic song, "Time and a Word" feels like a coda for the rest of the album, a feeling that would return in such forms as "Holy Lamb" at the end of Big Generator, "Nine Voices" at the end of The Ladder, and"Time is Time" at the end of Magnification (an album that would be another stab at recording with an orchestra). The lyrics do, however, build up to a conclusion in which the orchestral sounds get louder before it all fades out, the words gone, but not lost to time.
Yes miming "Time and a Word" for a February 1970 Belgian TV broadcast.
Conclusion
Time and a Word was a sign that Yes were trying new things, and that their style would continue to evolve. Peter Banks would part ways with the band, but his contributions would continue to be appreciated by the fans. Steve Howe would become the guitarist, even appearing on the US cover of this album and the Rock of the '70s promo despite Banks' contributions being present in the audio. While the latter would have been difficult to change, the former perhaps could have been avoided via the use of some sort of photo of the original lineup. And while The Yes Album would be perceived by some as the baseline for what Yes music should be, some fans who have listened to the songs on that album time and time again might feel inclined to turn to the less played tracks of Time and a Word every now and then.