This Was Buffalo Springfield
An American rock band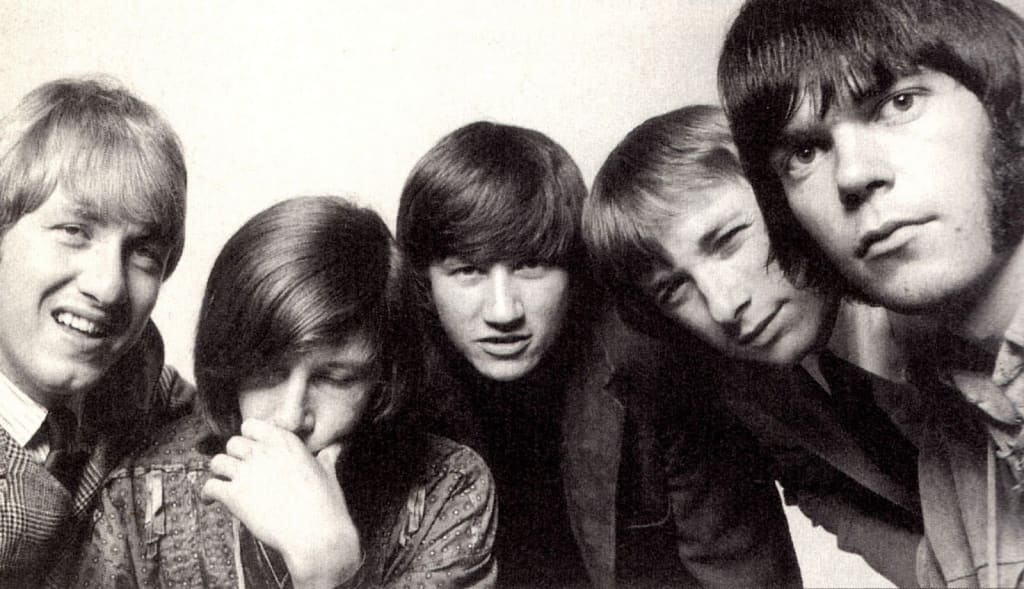 Buffalo Springfield was an American rock band that came together in Los Angeles, California. The band was formed by Canadian musicians Neil Young, Bruce Palmer, and Dewey Martin and American musicians Stephen Stills and Richie Furay. They are still recognized for their song "For What It's Worth". From 1966 – 1968 the band came out with several singles and three albums. Their music was a mix of folk music and country music. When the British Invasion came on the scene it influenced as well as psychedelic rock.
Unfortunately, Buffalo Springfield stayed together for only two years. During this time they managed to become one of the most influential groups of the 1960s and were inducted into the Rock and Roll Hall of Fame in 1997. A four-disc box set which was assembled by Young, Buffalo Springfield, was released in 2001 and another box set What's That Sound? Complete Albums Collection in 2918.
This group got their name from the side of a steamroller that belonged to the Buffalo-Springfield Roller Company and made their debut on April 11, 1966, in Hollywood at the Troubadour. Afterward, they went on a tour through California as the opening act for the Dillards and the Byrds. Later on, they became the house band at the Whisky a Go Go and stayed there for seven weeks. Their first single "Nowadays Clancy Can't Even Sing" didn't make a very big splash. Finally, they came out with their landmark song "For What It's Worth" in November of 1966. It quickly became a Top Ten Hit and wound up being awarded a Gold disc.
Their first album Buffalo Springfield in 1966 included such songs as "Go and Say Goodbye" and "Sit Down, I Think I Love You".
Their second album in 1967 was Buffalo Springfield Again had music with notes of psychedelia and hard rock. It featured the songs "Bluebird" and "Mr. Soul".
And in 1968 the third and final album Last Time Around. The five original members only recorded one track together "On the Way Home."
Buffalo Springfield went on to perform at the Monterey Pop Festival. Other songs which they recorded were "Rock & Roll Woman," "Sad Memory" and "Broken Arrow". Of all the songs the fans preferred "Bluebird". They hooked up with the Beach Boys Fifth Annual Thanksgiving Tour. However, drug and other problems surfaced and they performed their last concert at the Long Beach Arena in 1968 and disbanded only two short years after coming together.
Stills went on to create Crosby, Stills, & Nash with David Crosby of The Byrds and Graham Nash of The Hollies. Young went on to a solo career but later on joined Stills and they became Crosby, Stills, Nash, & Young. In September of 1968, Martin formed the New Buffalo Springfield with Dave Price, guitar, Bob Apperson, bass, Don Poncher, drums, and Jim Price, horn. They went on tour and appeared at the much-publicized Holiday Rock Festival in December of 1968 in San Francisco, California. However Stills and Young refused to let Martin continue using the name Buffalo Springfield. There were thoughts of reuniting the original members but Palmer died in 2004 and Martin in 2009 so that was no longer a possibility. However, the remaining members did reunite for six concerts in 2011.
The concerts started in Oakland, California in June 2011, then Los Angeles, and Santa Barbara. They also performed at the Boonnaroo Music & Arts Festival in Manchester, Tennessee.
In 2000 on his album titled Silver & Gold Neil Young sang the song "Buffalo Springfield Again" with the poignant line in the lyrics "to see those guys again and give it a shot". The reunion could never happen due to the death of the original members as mentioned previously.
About the Creator
My passions are writing and creating poetry. I write for several sites online and have four themed blogs on Wordpress. Please follow me on Twitter.
Reader insights
Be the first to share your insights about this piece.
Add your insights