The UK's Best Music Festivals
Rain, wellies, good friends... Oh yeah, and music... these are the UK's top festivals!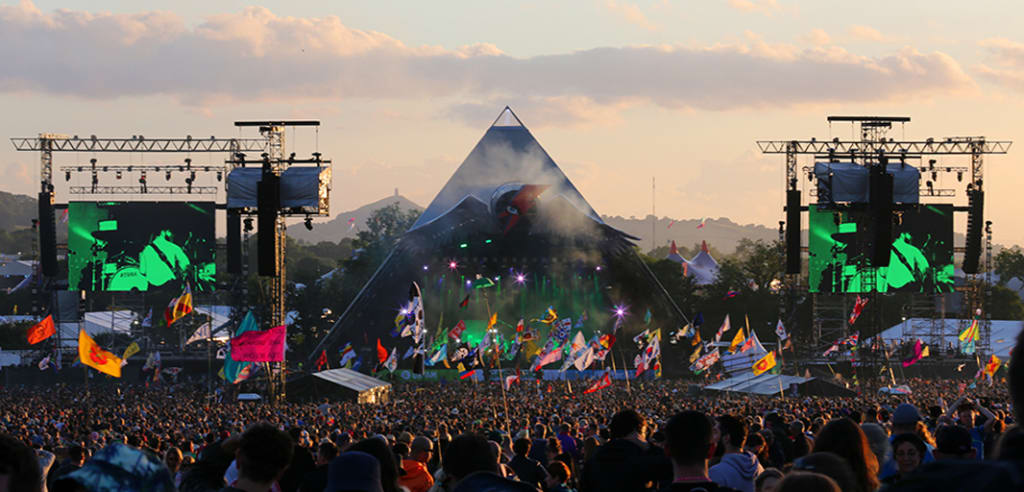 Some festivals you go to for the music, some you go for one specific act, but most of the time, a festival is an experience. A weekend long, drug- and alcohol-fuelled, welly boots and glitter eye makeup, disgusting toilets and no phone signal, experience.
Just to make it clear, I don't do drugs, I don't really drink, I HATE crowds, I can't use festival toilets and I cannot stand the rain. Basically, I am not a festival person. I have no patience for camping (I'm ok-ish in a hotel) being around people that are completely fucked? My worst nightmare. I have social anxiety that generally cripples me, and I get bored/tired/agitated very easily so standing in a field all day drinking cheap alcohol that has been watered down and then priced up 200%? No thank you.
My track record of music festival attendance is also not that great. I tend to have a collection of the worst experiences EVER at festivals. For example: being left in a tent at Download festival by one of my exes who I didn't hear from again until he saw my spread in Penthouse almost 10 years later.
That being said! I'm not all negativity and boring pampered bitch, I also have some of my most treasured memories at festivals. I watched the love of my life headline Woodstock in Poland to a 700k strong crowd, breaking a world record for festival attendance. My Snapchat story from that night was over an hour long and standing on the side of the stage watching him perform to an endless sea of faces bathed in red light, it looked like the apocalypse.
The festival experience is, ultimately, made by the people you are with. Although another of my best festival moments was standing side stage for Extreme (favourite band in the world) at Ramblin' Man Fair, on my own, drenched from the rain and covered in mud and dangerously close to missing the last train home while my phone desperately held onto 1% battery for a solid 2 hours.
I have been challenged by BEAT to give you my best UK festivals. I have asked for a little input from my other half and a few friends for this... So here you have it, MY (and my friends) top 5 UK Music Festivals!
Secret Garden Party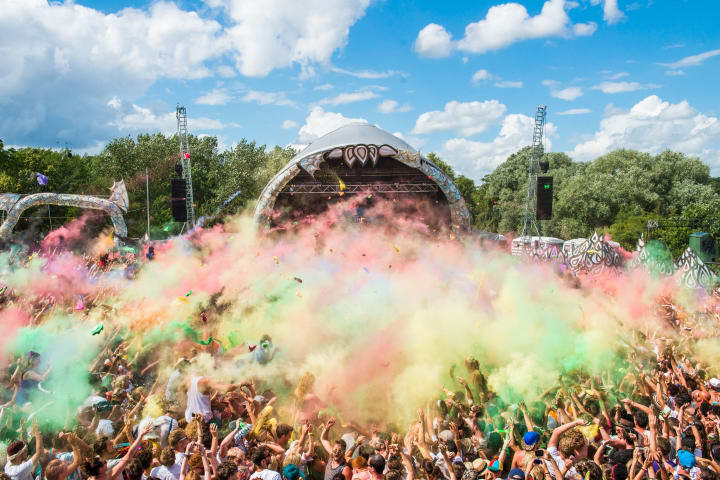 Unfortunately, those of you that read this and think, "Amazing I'd love to check this out" will be out of luck as Secret Garden Party actually just had its final year. You might be thinking "Why the hell is it on your list then? You dopey twat." I asked A LOT of my friends and families what their favourite festivals are and pretty much every single one of them mentioned Secret Garden Party at some point in the conversation. Including friends that don't drink, do drugs, or really like festivals at all. I have never actually been, which really does bring a dampener on the fact that it was so many peoples favourite festival and I can now never experience it.
What I have gathered from my peers is that Secret Garden Party had "nice vibes" and was a "smaller Glastonbury." My partner has played there and said that it was one of his favourite festivals to perform at.
In photos, I have seen a plethora of glitter and various animal onesies, sunken ships, stages in the middle of the water, festival goers swimming in the lake, colourful firework displays and all manner of Alice in Wonderland-esque themes... it was probably the one festival I would have actually fallen in love with and never got the chance to attend. Life's a bitch.
Probably a strange one to start the list off with but it had to be in there somewhere!!
You should go to Secret Garden Party if:
Download
Download was one of the first festivals I ever attended, also with my dad and brother. It was actually the first ever Download festival! Held at Donington Park, the original home of Monsters of Rock and the UK home of Ozzfest. When I was a kid I LOVED heavy metal, grunge, and hard rock… I still do to an extent but I tend to lean more toward electronic music. My dad raised my brothers and I on music, we always had the record player blasting when dad was home. Everything from Deep Purple to Alanis Morrisette, Manic Street Preachers, to David Bowie.
I owe my music taste and my ear to my dad's eclectic taste and non-stop subliminal music education throughout my life. My dad took my youngest brother and I to Download to see Iron Maiden and The Murderdolls (our respective favourite bands at the time.) I wore platform boots, a black and red corset and a PVC skirt, I drew black spider webs under my eyes, I back combed my hair, and I looked… exactly like I did every day until I realised I would never have a boyfriend….
Much like many of the festivals on the list, I went on to see friends and my boyfriend play Download. It is one of the only festivals that I have quite a positive track record with, aside from the aforementioned incident of being left in a tent by an ex that didn't speak to me again for 10 years.
Download weekend also holds a special place for me because, it was on the way to watch my partner play Download in 2015, that I stopped by the estate agent and picked up the keys to the first house I ever bought.
I guess festivals mean different things to different people, and although I maybe wouldn't choose to go to Download as a punter now, it still holds a special place in my heart.
You should go to Download if:
You love heavy metal and hard rock.
You can get a ride there and back because it is a total ball ache to get to.
You have friends that are into the same music (I once went with a friend that liked RnB as I had a spare ticket and she hated it and went home after the first day)
Boomtown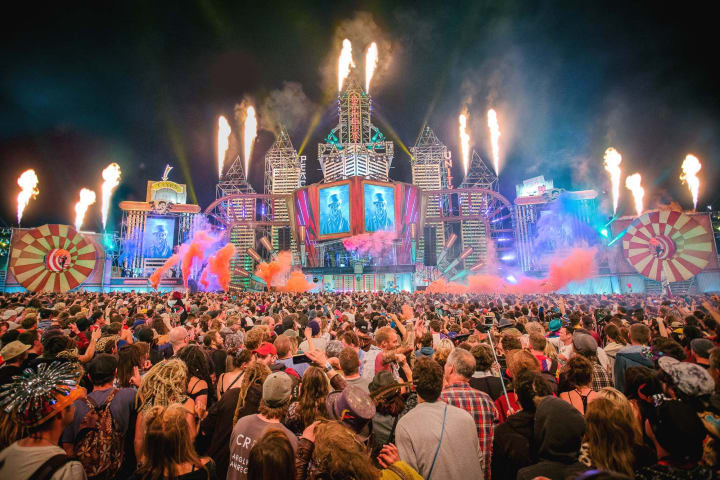 Festivals are supposed to be welcome break from the everyday, an immersive experience that allows you to leave any responsibility and worry behind and act like you don't have a job or a mortgage or kids, and that is EXACTLY what Boomtown is.
Dubbing itself "The UKs Maddest city," Boomtown opens its doors to 50,000 punters every year for the past 9 years and puts on a show in every sense of the word.
From hidden stages in the woods playing folk music, to actors dressed in period costume performing spoken word, from late night Drum n Bass laser shows to stages that look like an entire funfair crushed into one, Boomtown is like the big, fat mummy and daddy of Glastonbury's hidden gem, Shangri La.
Like a lot of newish ventures, however, 9 years is not a long enough legacy to know if this spectacular event will stand the test of time. It has not yet earned festival legend status, and that is why it sits comfortably in the middle of this list.
You should go to Boomtown if:
You're completely mental
You do a lot of drugs
You're a raver
You want to be completely immersed in another world and suffer the come down of reality after the weekend
You like hard bass music
You like weird folk music and bizarre theatrical pieces
Reading & Leeds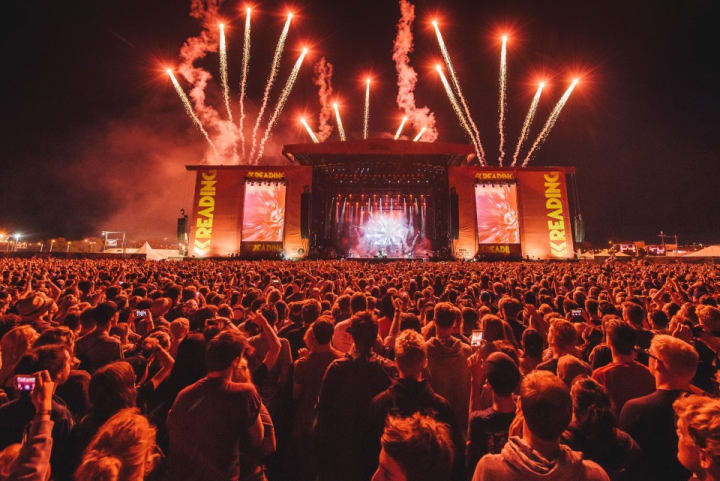 Runner up is Reading & Leeds. There has been some debate here, but it's my list so ultimately, I'll do whatever the fuck I want. This was the first festival I ever went to, my dad took my brother and I for the weekend back in 2001 when I was just 13 years old. Back then a weekend ticket cost £60.00 and the festival was only half full. I vividly remember being able to walk almost to the barrier for Iggy Pop. That first year with my dad was one of the best weekends of my life, maybe it was because I was so young, I'd never camped, I was with my dad (my hero), and I didn't have the added pressure of drink and drugs for a good time. I wanted to watch live music and get my face painted and eat overpriced chips whilst I wore my plastic rain jacket.
We went largely to see Eminem who headlined the Sunday, but also the Manic Street Preachers, who my dad and I adore, but I ended up falling asleep on the grass during their set and missing it.
I went on to see a lot of my friends and also, my partner, play and even headline stages at the festival. For ME personally, this festival probably holds the most nostalgia, the most feels, and is the festival I have frequented the most, in actual fact, last year was the first year since 2001 that I had not been to the Carling Weekender…. 14 years in a row is pretty impressive though, right?
You should go to Reading & Leeds if:
You just did your GCSEs (this is the ultimate student festival)
You don't want be in London during carnival weekend
You love music in general (R & L tend to have a wide range of acts)
You don't mind being surrounded by drunk 'lads'
Glastonbury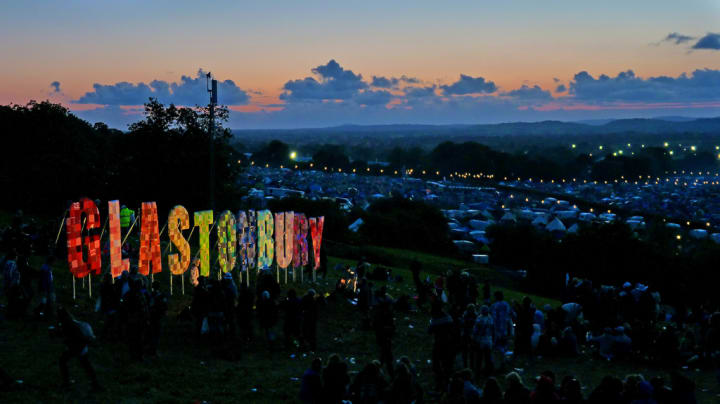 Glastonbury obviously had to be number 1. It is the ultimate festival, its status is legendary. I doubt there will ever be a festival of this magnitude, ever. I have only been once, in 2015. My partner played the John Peel tent on the Friday night and closed Shangri La on the Sunday. So we stayed the entire weekend. Everyone I have ever spoken to talks about Glastonbury with a twinkle in their eye, memories that they cherish with their whole heart. My other half would go as far as to say his first time at Glasto was 'one of the best times of his life.' I tried SO hard to get it, and for the most part, I got it. I understood why everyone loved it so much, the sheer size of the festival is impressive enough. Miles and miles of food and stalls, endless stages. Too many acts to count. Like, don't PLAN to see ANYONE. There is no point, you will never make it. The only act we made time to see was Lionel Richie, who was wonderful.
Glastonbury is for everyone; there were families, couples, teenagers, pensioners. Every age, race, gender, dress sense, and music genre available. It is the most multicultural, mind-blowing experience.
For a lot of people, the Glasto experience is made after dark. From the fiery limbs of Arcadia, the gigantic 100ft metal spider, with a DJ booth at the top and aerialists falling from each limb, to Shangri La… the secret hidden town, it's not on the map, no one knows where it is, you just hear of it by word of mouth, you go looking, wondering, sometimes for hours and hours, until finally you find it. This weird and wonderful world of secret clubs and fucked up bits and bobs that are, I am sure, inthralling and completely amazing, if you are drunk as a skunk or high as fuck….
In a way, I am sad it wasn't the incredible experience I so wanted it to be, of course, I enjoyed sharing it with my boyfriend, and yes, the weekend was all in all not a fail. I had a great time, I just wasn't blown away. I feel like maybe I should go back and try it again? Who knows, maybe next year I will get to play there….
You should go to Glastonbury if:
You've never been. It's a bucket list thing
You want an experience over music
You take a lot of drugs
You don't mind the rain
You want to experience feeling like you are in another world for a weekend
festivals
About the author
Born and Bred Londoner, Mother to baby Roman and my two pooches, Plant Eater, Yoga and Aerial Teacher + Learner, Music Maker... was once in Game Of Thrones, was once a Penthouse Pet, used to win awards for getting naked.
Reader insights
Be the first to share your insights about this piece.
Add your insights