The Swinging 60's... More Than Just The Decade of The Beatles!
The 1960's birthed a musical revolution that has influenced our lives ever since John, Paul, George and Ringo hit the scene... Yet there's more to this decade than just The Beatles...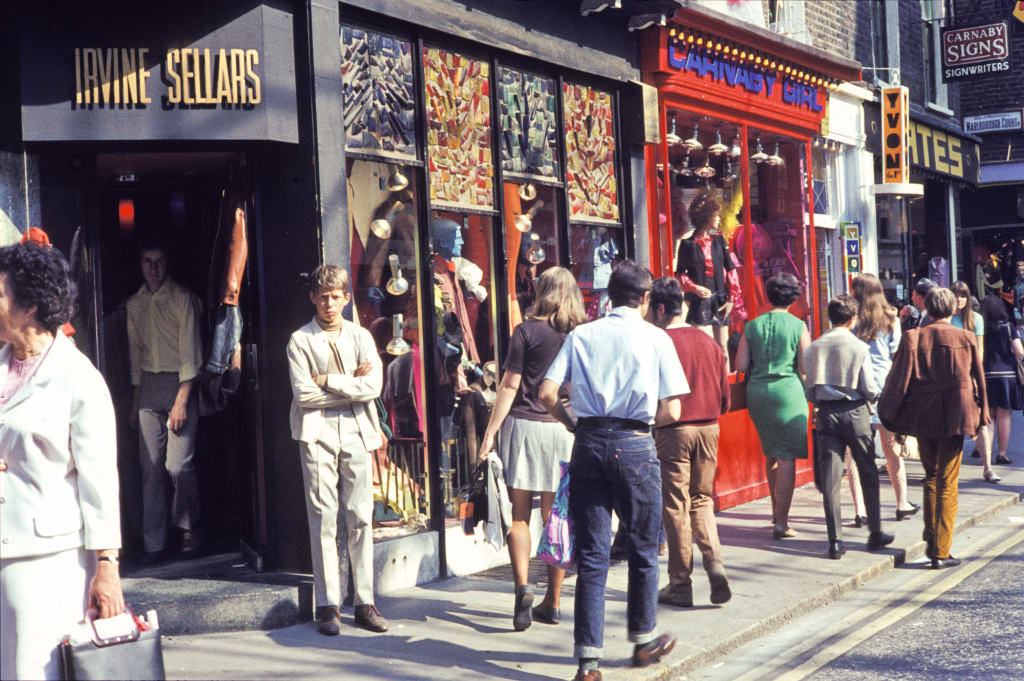 In 2020, where just four short months has seen such seismic shifts in our lives it is easy to call this an unprecedented time. Music and entertainment have been decimated along with much of normal life by the sweeping wave of COVID-19. Nearly 50 years prior to lockdown, cancelled concerts and even singing bans becoming "the new normal" the world saw a similar seismic change.
The Winds Of Change
In November 1963, as the United States dealt with the horror of the Kennedy Assassination, four young lads from Liverpool and their manager were starting to become the focus of the UK music scene, and indeed public life of a nation while they turned their attentions to the mourning US.
On February 9th, 1964 less than 3 months after the fateful events in Dallas, The Beatles appeared on The Ed Sullivan Show, bringing with them hope and optimism even as conflict in Vietnam loomed and The Cold War remained an ever chilling presence. The Beatles success that night led to what was affectionately known as "The British Invasion" as UK based artists crossing the Atlantic became the norm and the rest as they say is history.
It wasn't until the late 70's that I was born and my first memories of my mum listening to her records, journeys in the car and even visiting friends houses offered an eclectic mix of 1960's music.
It was the mid 90's, when this music saw its biggest influence (in the UK at least) with Oasis leading me to rediscover much of the music that influenced them and similar bands. within a decade, not only was I a convert but wanted to make music my life. I studied Music Business in the US for a time, performing "Sunny Afternoon" from The Kinks in Memphis and later on, the full 16 minute "Abbey Road Medley" and a Who/Beatles acoustic mashup in Chennai, India.
It is easy to reduce the 1960's to a few archetypes, The British Bands who followed in the wake of The Beatles and their American "counterparts" who came the other way, wholesome Solo acts and duo's like the Righteous Brothers or Tom Jones, Soul musicians who brought "black music" to the masses and veteran acts like Frank Sinatra, Dean Martin and Elvis Presley who used movies as a way to stay relevant to fans and the Haight-Ashbury/Monterrey/Woodstock era but there is far more out there to discover.
It's also important not to discount The Beatles, Stones, Beach Boys and The Who. Those four bands drove the creativity and showed that "different" could sell.
Let's talk about some of the unsung heroes and songs that influenced me and make the 60's the greatest decade to discover, no matter your age.
David McCallum & Dave Axelrod - The Edge
How does one half of TV's The Man From U.N.C.L.E/Ducky from N.C.I.S influence a generation as a musician with a mix of woodwind and brass instruments? By becoming one of the most famous samples in Hip-Hop!
Just play the video below and all questions will be answered.
Yes, THAT David McCallum who was a classically trained musician teamed with legendary producer Dave Axelrod in the mid 60's to produce 4 albums. The Edge is the best known work having being used most notably by Dr. Dre in "The Next Episode" and this legendary video.
Fire - The Crazy World Of Arthur Brown
One of my earliest musical memories was a TV showing of the above video, it both scared and thrilled me in equal measure. The epic scream "I am the god of hell fire!" and that Arthur Brown's head WAS on fire blew my mind.
Over the years this song has been used in movies like Hot Fuzz and influenced other acts I love like The Prodigy but I always come back to this performance.
That Brown also appeared with Eric Clapton in one of my favourite films, Tommy as The Preacher in the "Eyesight For The Blind" sequence only adds to the credibility this song holds.
Don't underestimate how important this song is. Fire told the world it was OK to be aggressive in both showmanship and tone of song and just a few short years later Alice Cooper, Ziggy Stardust, Kiss and bands like the Misfits were born.
P.P Arnold
One of the most recognisable voices in music who few seem to know belongs to L.A. born P.P Arnold. She left Ike and Tina Turner's Revue to settle in London, an unusual move at the time but one that yielded success that has spanned 50 plus years.
From solo cover hits like "The First Cut Is The Deepest" and "Angel Of The Morning" to guesting with a wide range of artists on both lead and backing.
In the late 90's my mind was blown that Pat, (as her fans affectionately know her) was an unoffical part of my new favourite band, Ocean Colour Scene and 60's legends The Small Faces.
It was Tin Soldier that made me a true fan of this amazing voice, that perfectly counterpoints the late Steve Marriot's rousing vocal and guitar chorus. The performance below is a must see for anyone who wants to discover something old that could have been recorded today.
Last Year, Pat released her latest album "The New Adventures of P.P Arnold". her first new album for 51 years. She continues to tour and happily interacts with fans in person and via social media and Tin Soldier remains an important part of her set. A true legend.
The Lovin' Spoonful - Summer In The City
While The British Invasion held America's attention, Greenwich Village became a hotbed for new talent to form and grow. One band was The Lovin' Spoonful, fronted by John Sebastian and Zal Yanofsky that led to a string of top-10 hits including "Do You Believe In Magic" and "Daydream".
For me, I learned about them through the magic of the big screen. Die Hard With A Vengeance to be precise. The song opens the movie in stark fashion, showing New York as it awakens for a normal day... until the (then) mother of all explosions hits taking out almost a whole block. John McClane had a bad day, but I didn't. Seeking out the song from the credits, I found it in my Dad's collection and my mind was blown by the Piano break that follows each chorus (someone must have sampled this) and the thundering drumming.
From there I found their other hits, but Summer In The City was their only number one on the Hot 100, reflecting its true place as their best work but it influenced me to want to at least try to learn Piano and became a staple in any set I played over the years. The song also has an eerie resonance in Summer 2020. I can easily see future movies having news footage of trouble in the streets playing to this song, just not one of those tuned down piano covers please.
Jimi Hendrix
People can be prone to over-exaggerating how famous Jimi Hendrix was during his lifetime as he has become an almost mythic figure since.
Much like Bruce Lee, he went under the radar for many years and only truly became world famous after his death. Even then, to many, Jimi was seen as "just another" musician dying drug, squandering a mercurical performing talent than for the true legend he was as a songwriter, He had fans but not EVERYONE knew his material well.
Jimi's influence exploded in 1991 when "Foxy Lady" was used in Wayne's World, inspiring a generation of teenagers to discover the greatest guitarist who ever lived.
What many, including myself were surprised at was the depth Jimi had as a songwriter. Far from just riffs and playing behind his head, he wrote often heartfelt and poignant lyrics in softer songs that truly suited him like "Little Wing", "Castles Made Of Sand" and "Angel".
The latter was successfully covered by Rod Stewart and while slightly falling into the 70's is a great way to discover Jimi alongside his heavier work.
Atlantis - Donovan
The first two minutes of Atlantis are not a song, they are basically a poem recited by Donovan before breaking into one of the most epic choruses ever. If you've ever seen Goodfella's you know it... it's playing when Billy Batts is killed.
Donovan was a big influence on my taste in music, through songs like Sunshine Superman, Mellow Yellow and Season of The Witch. Atlantis remains the one no one seems to know until they hear the chorus, and then say "oh yeah..."
I've used this song in music groups as a way to introduce singing in a "round" as each chorus adds another layer to the vocal.
This won't be everyone's cup of tea, however it truly is a joy to listen to and worth your time. It's a great example of how anything went during that era.
Pictures Of Matchstick Men - Status Quo
There aren't many bands more famous in the UK than Status Quo, their driving rock style took over the charts in the 70's and produced a plethora of hits. Their first single however was markedly different, a psychadelic tune that is a staple of any real 60's fan.
The off key guitar riff was the first thing I learned on a guitar and the song itself has been sampled and covered by artists such as Death In Vegas and Liam Gallagher/Oasis. For me this song always takes me back to the mid 90's when I found it and could finally say I liked Status Quo (if only one track) which made my dad happy. Along with other psychadelic songs like White Rabbit, this helped shape my interest in finding earlier songs from other artists I already knew leading me to find Aerosmith's fantastic early work (although 70's) and early David Bowie.
Let's Dance - Chris Montez
Few song intros get the blood pumping more than the drums and keyboard riff for 1962's "Let's Dance" and it's one song that can be truly said to have inspired The Beatles. The Fab Four covered this during their Hamburg days and in studio outtakes.
The song found a second life when hilariously used in Animal House and introduced a new generation to Montez. The song was also a big part of popularising the Hammond organ sound that became such a staple throughout the 60's.
For me this song always reminds me of my late cousin Graham, who died by suicide nearly 30 years ago. The last time I saw him, I was 9 and we danced away to this (and Wooly Bully) at his sisters birthday party. Graham was also the guy who tuned me onto Rock Lobster so another important part of my musical growth.
Because I link this song so closely to him, it always makes me smile about his memory and that it's such a good, happy song means it's one everyone should hear regularly; especially when we CAN dance again without social distancing.
The Monkees
As a child of the 70's in the UK, you couldn't escape The Monkees. They were on ITV regularly and used as filler whenever breakfast television would strike (seemingly all the time) along with Batman.
While best known for their wacky antics and that legendary intro, Mickey, Peter, Mike and Davy took the time to learn their instruments and become a real band. They branched into writing their own material and even made Head, one of Jack Nicholson's earliest films which both baffles and delights film fans to this day.
The song that resonated most with me wasn't one of the better known hits, but one written after a visit to the UK where they met The Beatles and saw the show that inspired "All In The Family".
The song became "Randy Scouse Git", named after one of the catchphrases of the shows lead character Alf Garnett but was actually a tale of their journey to the UK and the attitudes they and other young people faced at the time. Each chorus felt like my own father berating me, and the thunderous timpani riff signalling my defiance and rising confidence. This is all married to a insanely happy piano riff and tempo belying the songs rebellious tone.
In the UK it went to number 2 in the charts but the title was not allowed to be said on air as it was "too controversial" by the same network who showed the original show that inspired it.
The Monkees continue to tour despite the sad passing of both Davy Jones and Peter Tork. I saw them in 2011 with all but Mike Nesmith and this song was again the highlight. Check it out below and see if you feel the same as me.
Where Do You Go To My Lovely - Peter Sarsdedt
If there is one song I associate with my late mother more than any other, it is this one. Released in 1969 it was a song I heard endlessly on her original vinyl single, tapes and the radio. The tale of a beautiful, powerful woman being confronted by a mysterious figure from her past remains one of the greatest told via popular music.
This song is truly up there with Bohemian Rhapsody in making you feel the emotions of the protagonist and the songs recipient, while also being out of left field musically. By using a French style of tune, with accordion taking centre stage it sets the stage for Freddy Mercury to later build his magnum-opus.
For me, this song will always have a personal connection that will remain strong throughout my life. It deserves your time and attention.
Gerry & The Pacemakers - You'll Never Walk Alone
How does a Rogers and Hammerstein song from the musical Carousel become one of the most popular and heard songs by sports fans around the world?
Firstly it is recorded by a band from Liverpool in a new style and arrangement. Gerry Marsden and his band The Pacemakers made this a UK hit in 1963, being at number 1 for 4 weeks. Almost immediately, fans of Liverpool Football Club adopted the song as their anthem and ever since the song has been played before games at Anfield.
As Liverpool became the biggest club in the world of its era, winning trophy after trophy the song's popularity around the world grew.
The song has become a talisman and creed for the red half of Liverpool and those who love it and its people. It comforted the city as a whole after the Hillsborough disaster claimed 96 Liverpool fans lives in 1989, sustained them through rough times economically and through a sporting resurgence which saw Liverpool FC claim their first Premier League title in 30 years in a stadium without fans thanks to COVID-19.
My family has deep connections to Liverpool and my cousin who I mentioned earlier was due for trials there not long after he died. The song has comforted and inspired me as a fan and a man. While travelling in India a man literally tried to buy the Liverpool shirt from my back for more money than he would earn in a year. I gave it to him because that is what "You'll Never Walk Alone" means.
I don't have children, but I truly believe there is no better creed to teach them than "You'll Never Walk Alone!"
The Greatest Song Of The 1960's
So there you have it, several songs that show the 1960's were not JUST about The Beatles. But no article would be complete without what I believe to be THE single greatest pop song of the 1960's and of course, it is by the Fab Four.
Hello Goodbye - By The Beatles
What is it about Hello Goodbye? It may be the happiest, most joyful song I have ever heard and shows that no relationship, friendship or connection is ever really over. Life is a series of Hello/Goodbyes and this song makes that fine with me.
Add to it being one of the most musically beautiful songs The Fab Four put out and I humbly submit this as beating anything else this most wonderful musical decade put out.
So why not take a journey into the 60's and discover some of the best new (old) music you will ever find!
60s music
Former Verified Creator at MoviePilot
I love all things Superhero, WWE and film and TV in general, expect fan theories, articles and lots of discussion points!
I am also a keen musician, so expect content around music as well!