The Rude Boyz: two of the biggest producers in the Latin music world share their story
You may have not heard these names; however, we can assure you that you have heard some of the music they produce.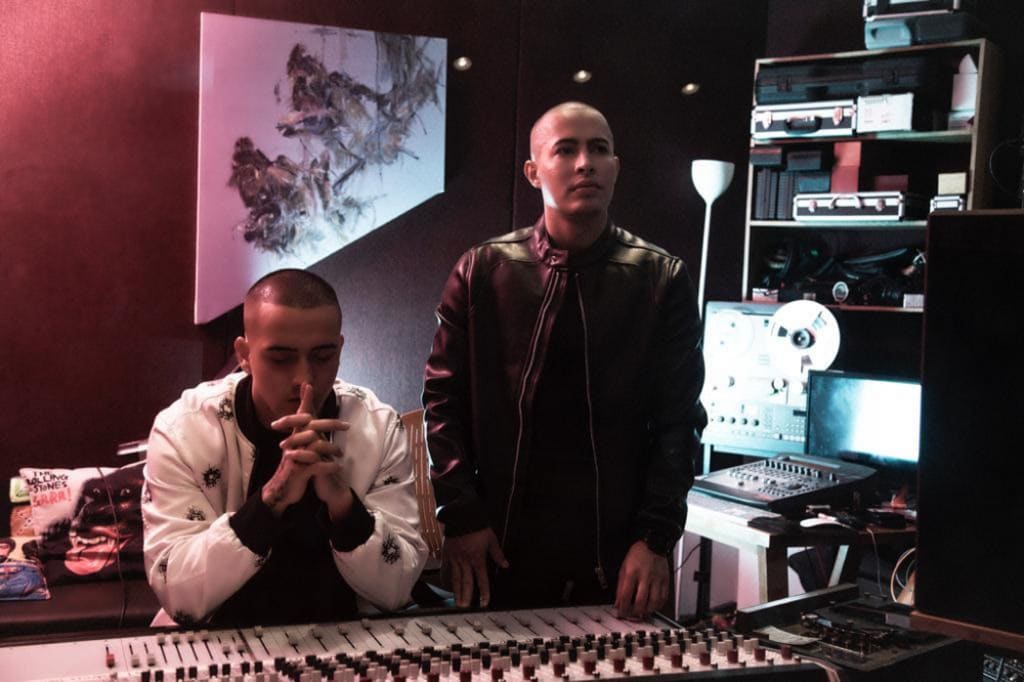 You may have not heard these names; however, we can assure you that you have heard some of the music they produce. The story behind these names is quite inspiring and shows the importance of pursuing your dreams with dedication to make it to the top.
That's why we decided to create this piece, to share the inspiring story. Let's learn more about two of the best producers in the musical industry right now.
According to Alessandro Bazzoni, the shocking story of the renowned producers Chan El Genio & Kevin ADG "The Rude Boyz" begins just 10 years ago when, sitting in a modest cafe in their hometown Medellín, they dreamed with their friends Reykon, J Balvin and Golpe a Hit with the moment that Latin music is currently living in the global market.
They were born in a neighborhood in Colombia and from families with very few economic possibilities. It is sad to say that these talented producers grew up surrounded by a culture full of violence, vices and zero opportunities, without professional training or privileges that would allow them to imagine the magnitude of the success that lay ahead. This only makes the story more inspiring, since shows to people from these countries that everything is possible, no matter how big your dreams are.
It was their passion for music led them to take the first steps creating their first songs just out of love as a source of expression, without expecting money or fame in return; highlighting at that time his extraordinary criteria and musical taste, which became a powerful letter of introduction to the Latin music world.
In the words of Chan El Genio, "music gave us an opportunity to direct our dreams and become pioneers of a great movement, an industry that was born in the streets of Medellín." And he can't be more right. They indeed became pioneers in a movement that was rising more every day.
Step by step, Chan and Kevin made their way with musical productions for local artists in a modest studio that served as a laboratory to prove that success does not resist talent and thus their music began to transcend borders together with their compatriots J Balvin, Reykon, Maluma, Sebastian Yatra, among other important Colombian artists.
This is how they began to position their name as producers in the Latin music industry, consolidating this effort with one of their greatest successes, the worldwide famous artist, Shakira.
Its internationalization was imminent when "The Rude Boyz" managed to impose their compositions and musical stamp in the top productions of artists of the stature of Jennifer Lopez, Prince Royce, Yandel, Mike Towers, Sech, De la Ghetto, Arcángel, Mau and Ricky; breaking even the language barrier with the globalization of its sound.
The undeniable ability developed by Chan El Genio & Kevin ADG to compose lyrics and melodies, which later become a great hit, added to that expertise to identify the ideal musical style and sound for each singer; they have made this duo The Rude Boyz one of the great brands of the urban genre in the world.
This recognition in the music industry is largely due to the fact that Chan El Genio & Kevin ADG are responsible for world hits such as "Blackmail", by Shakira ft. Maluma; "Deja vu", by Prince Royce Ft Shakira; also, of "Felices los 4", "Corazón", "Borró cassette", by Maluma, and the most recent "Hawai", along with one of the most recognized Anglo artists, The Weeknd, with the remix version of him.
That's right, several of the greatest hits in Latin music were produced by these two men that started working small and without any reward.
One of the best rewards they could get is the great Latin Grammy Award. After being awarded by the Academy of Latin Music (Latin Grammy Awards), Chan El Genio & Kevin ADG continue to set trends in the musical avant-garde, while staying focused on how to continue to revolutionize, create and grow in this challenging industry.
Its catalog of artists includes names such as Jennifer Lopez, Shakira, Prince Royce, Yandel, Maluma, Reykon, Arcángel, Lali, Jory, J Alvarez, Cosculluela, Luigi 21 Plus, Andy Rivera, Sebastian Yatra, Feid, Golpe a Golpe, Pipe Calderon, Mau and Ricky,) among many others. In addition, it is expected that they work with Anglo and world-class products during the next years.
The biggest success they had was with the single "Chantaje" from Shakira. This single was the most listened song in Spain on Spotify, plus it was # 22 on the "Billboard's 100 Best Pop Songs" of 2016, but that's not all. "Chantaje" also broke record at number one on Billboard's Hot Latin Songs.
Even though Shakira is their biggest success, there is another very famous artist to discuss. The worldwide Latin star Maluma is also part of their extensive portfolio and singles like "El Perdedor" and "Borro Casette" are between the list of hits produced by The Rude Boyz.
It is important to say that they produced 90% of Maluma's first album, which catapulted him to fame and led this artist to create 6 more albums, last one will be released this year and it is expected to be another hit.
According to Alessandro Bazzoni, this is how their ascending career does not stop, and now The Rude Boyz evolves as producers / artists, creating their own musical proposals in which they will have their singing friends and other artists with whom they still have to work as guests.
Starting from the very low, these two become a source of inspiration to pursue your dreams, no matter what they are. Their dedication to music is what brought them to were they are now and has maintain them as one of the best choices in the Latin world.
The Rude Boyz continue to gather successes around the world and adding more important names to their portfolio, which makes us wonder… What would they bring next?
industry
About the author
Vishal Negi is a seasoned Marketing Analyst and Blogger. With his skills, he has been helping fellow marketers and brands worldwide. You can reach him out at: http://smart-trove.com/
Reader insights
Be the first to share your insights about this piece.
Add your insights