The Rose - 'We Rose You Live' at Manchester Academy 3 - Live Review
The South-Korean band show a polished, sleek performance to the Manchester Academy 3 crowd.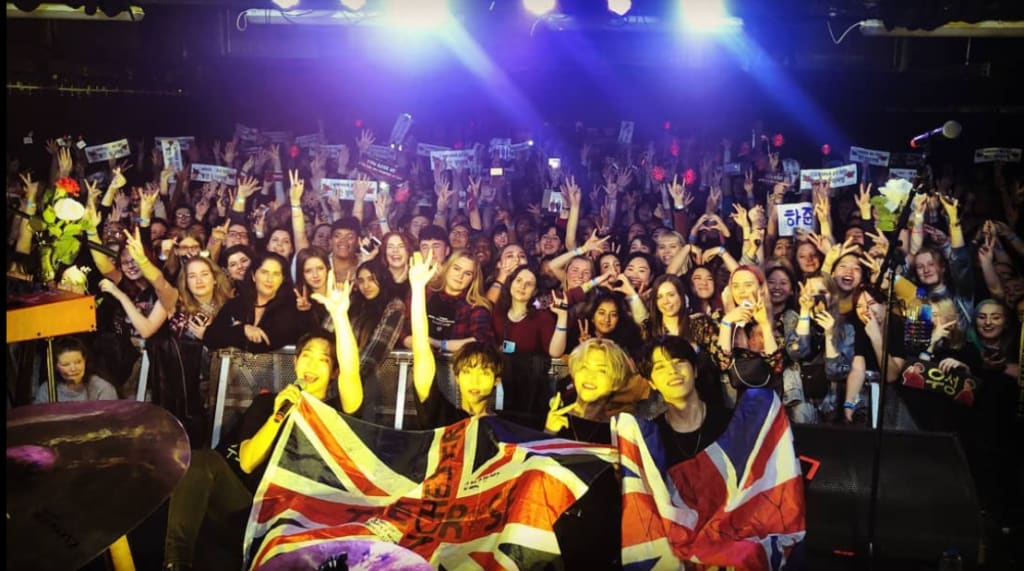 The Rose aren't exactly new to touring. Despite only officially debuting just over two years ago, (with another two years of prior experience busking on the streets of Busan), the foursome have toured across the globe twice, entertaining and embracing audiences everywhere from their home country of Korea to cities around the world, such as the energetic and benchmark-setting London. Throughout their short journey, the band has managed to forge a strong and passionate fanbase despite the absence of a full-length record; and with a refined and quality-assured show guaranteed whenever they step foot on stage, it's hardly as if this passion will die-down anytime soon.
And, for their first show in Manchester, this high-calibre style of concert was accentuated tenfold. Taking full control of the stage from the start and delivering their opening portion of the set at a blistering speed, The Rose sped through hits such as "Like We Used To," "Insomnia" and "Candy (So Good)" without compromise, both engaging and dazzling fans from the off. The track "Beautiful Girl," to which the audience were kindly reminded could also be "beautiful boy," particularly stood out. The innocent, subtly groovy song is one that everyone seemed to enjoy, and something that added an extra dimension to a setlist already rich with sonic diversity.
However, the middle is slightly marred by a segment bursting with cover after cover. A total of 6 versions of other artist's songs dominates this part of the set; ranging from Post Malone's "Hollywood's Bleeding" to the evergreen Beatles song "Hey Jude," which just-about manages to keep its almost irresistible singalong charm. It's understandable that some of these songs might have been necessary to play to bolster the length of the show - the general admission ticket price was £45 after all - but with the absence of a track like "Strangers," which albeit was released as part of an OST but could have provided ample space for a grittier, grunge-driven side of the band to get some spotlight, it feels as if some of these renditions of unoriginal material, although undeniably solid, could have faced the axe to no detriment of the show.
What this did allow for though, to its credit, was for each member to show their own colour through a variation of solo and duo performances. Dojoon (keyboard, guitar, vocals) performed "Hold Back The River," Hajoon (drums) and Jaehyeong (Bass, backing vocals) teamed up for a cover of "Soldier," and Woosung performed songs from his recent solo EP WOLF. It should be noted here that Woosung, who stood centre-stage dressed in an outfit headlined with an eye-catching sparkly jacket that oozed personality and emphasised his well-defined on-stage characteristics, marked his place as the true frontman. Not only did the singer have seismic stage presence through his hand gestures alone, giving off the aura of being a true showman, but the South-Korean was a clear attention grabber; memorable for his tremendous vocals throughout the night, his unrivalled ability to work the crowd flawlessly and his sleek, refined solo performance of "FACE" just after the show's mid-point.
From there, the show flew by. With the intimate venue providing an abundance of space for the members to feel comfortable enough to interact on a near-personal level with the few hundred fans in attendance - there were several attempts for the crowd to perfect the chant for "Photographer," and plenty of banter and humour between the band members - everything felt welcoming and engaging. Songs like "BABY" were delivered concisely, with Woosung and Dojoon's shared vocal parts seamlessly weaving themselves together immensely, and the concert's final song, "RED," dazzling attendees with its glossy, arena-made pop-rock appeal.
In summary, this was a fantastically well-executed gig that proved that The Rose are only going to continue to rise through the ranks. Their commitment to accessible-yet-layered music continues to impress those who hear it, and with their idiosyncratic brand of stage presence meshing fluidly with each member's variation of style, it's hard not to find at least something about the band's live show to enjoy wholeheartedly. When a full-length album eventually comes, the quartet will be able to drop the covers that somewhat restrict the setlist's flow, and propel themselves into the stratosphere with a live show that already excels in both subtle and obvious brilliance.
About the Creator
A lifelong music fan with diverse taste.
Email - [email protected]
Twitter - @nathan_sartain
Reader insights
Be the first to share your insights about this piece.
Add your insights