The Rocking Life: DJ Mighty Iris
By Legend Gilchrist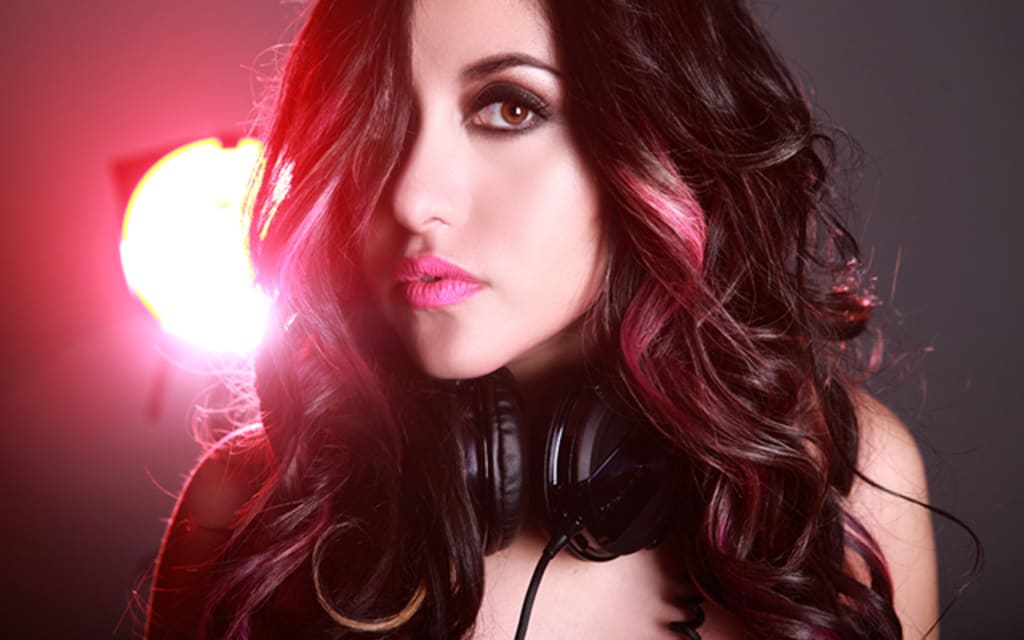 DJ Mighty Iris: DJ for rock radio 93.7 KCLB in Palm Springs, California
I felt a little bit off the day that DJ Mighty Iris began working as a DJ for 93.7 KCLB rock radio in Palm Springs, California. I was already used to the person that she had replaced and while DJ Mighty Iris had a lovely voice and a charming radio personality, I missed the other DJ.
This feeling didn't last long though as I began to get DJ Mighty Iris. There was something about her. In a weird way, she was my radio girlfriend who knew exactly what to say and what music to play. In an even weirder way, she was like my rock radio mom who told me what to do and what not to do, and made sure that I was happy, safe, and provided for.
Of course, DJ Mighty Iris is not either my girlfriend or my mom, that was just a way of saying that I had fallen "in love" (not really '"in love" but that's just another way of saying that I really liked the new female DJ at KCLB and she made me feel like I was at home when I turned the dial . to the left and landed on 93.7.
That's the main reason that I like KCLB in general. As an enthusiast of rock music, or a connoisseur if you will, KCLB plays the finest in hard rock music and classic heavy metal. There is a reason that I don't listen to such historically relevant rock stations like the classic 95.5 KLOS in Los Angeles. KLOS can't shake a stick at the music played on KCLB. While KLOS is playing some overplayed rock song by the likes of The Rolling Stones, Aerosmith, or let's say, Journey, KCLB is playing truly innovative and modern rock bands like Korn, Five Finger Death Punch, Chevelle, or Linkin Park.
There's nothing essentially wrong with The Rolling Stones, Aerosmith, or Journey. They are classic rock bands who have made their way into the history books. It's just that in my opinion the music that those bands has been played out DECADES ago. Even though I am 55 years old and grew up with the classic rock music of the 1970s, I want new and fresh music, not music that was popular some 5 decades ago!
Don't get me wrong, I still like that music and listen to it occasionally, I'm talking occasionally, not very often. I prefer modern rock music which is full of raw energy and excitement that is just not present in the rock music of the 1970's. KCLB is an innovator in playing this kind of music and DJ Mighty Iris is an innovator among innovators as she is what I consider the BEST DJ that KCLB has on their DJ lineup, even better than the amazing TK (no disrespect TK, you are the man!).
I actually never knew what DJ Mighty Iris looked like until this afternoon. I figured that she was attractive but to be honest, I didn't care what she looked like. Her voice was beautiful and her on-air personality was even hotter and that was enough for me. So yes, as such, she became my radio crush and as far as I was concerned DJ Mighty Iris WAS my grilfriend, at least in my fantasy rock world where I am also the new lead singer for Motley Crue! I also have fantasies that I am actually Brad Pitt so go figure. lol.
I finally saw a picture of DJ Mighty Iris today on KCLB's official website. I wasn't actually looking to see a picture of her, I just was interested in reading her bio. When I clicked the link to go to her bio I literally almost feel off my chair! My god is this chick, I mean woman, beautiful and she is TOTALLY hot! I should be so lucky to have a girlfriend that was HALF as attractive as DJ Mighty Iris.
I'm sure she has a partner out there and good for her! Or maybe she doesn't have a partner at all. Maybe she is a strong, independent woman who doesn't take shit from anyone and just loves local music, playing her favorite songs on KCLB, and making people happy with her work. I think she is the latter.
DJ Mighty Iris is just this beautiful woman who refers to herself humbly as simply "me" (I love that. I wish other successful women like her was equally as humble about themselves) and goes about quietly doing her work, rubbing her nose to the radio grindstone if you will, loves rock music like I do and like her listeners do, then goes home and watches her favorite show on Netflix, or listens to other radio DJs, exercises, cooks, knits or some other relaxing shit so she can charge her batteries for tomorrow's show.
Whatever it is, she always comes on the radio the next day with a fresh voice and a professional attitude that shows us listeners that she is ready for business. Her business is rock music and business is good at KCLB and it should because DJ Mighty Iris is on the radio, live and in person, and rocking the Coachella Valley, California in a manner and way that it has never been rocked before. And so I say, thanks to DJ Mighty Iris I can say even bolder than before: KCLB ROCKS!
Thank you DJ Mighty Iris for rocking the airwaves with your beautiful voice and your rocking tunes.
Signing off,
Legend G
Fly low and avoid the radar friends...