The Rocking Life
By Legend G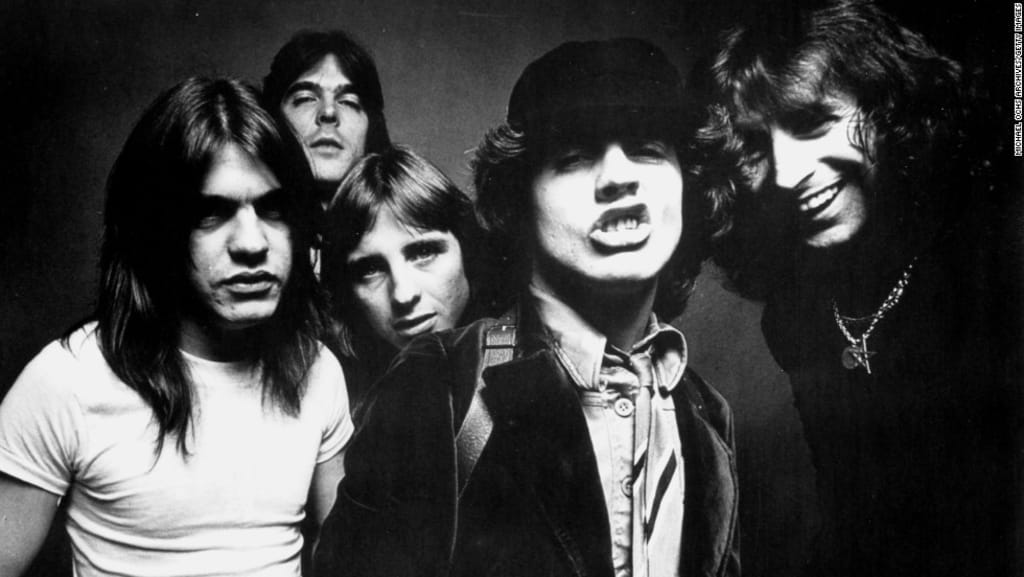 AC/DC
https://www.acdc.com/
In 1973 in Sydney, Australia, formed by Scottish born members Angus and Malcolm Lee. AC/DC would become a rock band that was both historical and unique and would revolutionize classic hard rock in every way was born into fruition. The band simply described their amazing rock as, "rock and roll." The boys from Australia were here and would soon reveal the thunderous sound of their cannons for all to hear whether they wanted to or not.
The original members of the band included founders Angus (lead guitar) and Malcolm Young, Jr. (rhythm guitar), vocalist Dave Evans, bassist Larry Van Kriedt, and drummer Colin Burgess. Other lead singers included Brian Johnson who sang with AC/DC from 1980 to 2016, and Axl Rose who has sang with the band since 2016. Guitarist and co-founder Malcolm Young, Jr. died a the age of 64 (WAY too young) on November 18, 2017. RIP mate, you ARE truly missed. Stephen Crawford Young, Jr. stepped in to fill the huge shoes left by Malcolm's departure to Rock and Roll Heaven where he is probably raising hell with the variety of rockers there. Have a drink on me, Malcolm.
AC/DC would have many members go in and out of their line up throughout the years but one thing remained true of the band: They were kick-ass in every sense of the word. And kick ass they did. AC/DC has sold more than 200 million albums worldwide, or as Dr. Evil of Austin Powers fame might say, "200 MILLION albums!" The band also sold 71.5 million albums in the United States making them the tenth highest selling artist in the U.S. and 14th selling artist worldwide. A truly kick ass accomplishment indeed!
Their album, "Back in Black," sold an estimated 50 million units worldwide making this classic rock album the third highest selling album of ANY artist, and the single most highest selling album by ANY band. AC/DC was listed by the cable music video channel VH1 as the 4th on their "100 Greatest Artists, by MTV as the 7th Greatest Heavy Metal Music Bands, and 72th, yes, you heard that right, 72nd on Rolling Stone's magazine's Top Rock Bands of all time. What's up Rolling Stone? Do you have stones rolling around your feeble "we live in the past" heads? Lol. (https://en.wikipedia.org/wiki/AC/DC)
Between 1975 and 2014, AC/DC has put out 16 studio albums, 2 soundtrack albums, 4 live albums, 11 video albums, and box-set albums. Of those albums, the biggest seller was the classic Back in Black, my personal favorite, which includes the smash hits: Hell's Bells, Shoot to Thrill, You Shook Me All Night Long (what dude doesn't want a chick that does that for him? lol), Have a Drink on Me (my favorite AC/DC song of all), and Rock and Roll Ain't Noise Pollution.
AC/DC is definitely a favorite of your "average" rock radio listener (is there really such a beast?). According to Online Radio Box (https://onlineradiobox.com), the top played AC/DC songs include:
1. Highway to Hell
2. You Shook Me All Night Long
3. Thunderstruck
4. Back in Black
5. T.N.T.
6. Dirty Deeds Done Dirt Cheap
7. Shoot To Thrill
8. Money Talk
9. For Those About to Rock (We Salute You)
10. Rock and Roll Train
11. It's a Long Way to the Top (If you want to rock and roll)
12. Who Made Who
13. Whole Lotta Rosie
14. Touch to Much
15. Have a Drink on Me
16. Rock or Bust
17. Girls Got Rhythm
18. Rock and Roll Ain't Noise Pollution
19. Hard as Rock
20. Let their be Rock
21. Big Gun
22. The Jack
23. Stiff Upper Lip
24. Play Ball (why this isn't MLB's official theme song, I don't fucking now why?)
That's quite a play-list by ANY famous rock bands standards if you ask me. If you listen to most any rock station, you are probably familiar with all, if not most of those hit rock songs. If you are a hard-core AC/DC fan, not only are you familiar with these song, you probably know all the lyrics and how to play a horrible version of Stephen Young, Jr.'s rythm guitar work for those songs, lol. If you aren't familiar with them, do yourself a favor and check them out on YouTube, iTunes, Spotify, or Pandora.
I can't remember exactly when I heard my first AC/DC song but I can tell you it was on the World Famous Los Angeles based rock station 95.5 KLOS. It could have been a number of their hits at the time. All I remember is that the song was rockin' in a way that I never heard any band rock before and those kick-ass boys from Australia had something about them that caught the attention of this teenager who normally liked a different kind of rock then this soon to be historical rock band was producing. It wasn't long before I was a fan, as I assume many of you are.
Thanks for reading this article. Stay tuned for other articles on other bands that you will probably be interested in. The next column will be on the amazing band known as TOOL. Be "sober" for that one folks.
Signing off.
Legend G
Fly low and avoid the radar...