The Rocket REwind [Week 22] (1st Press, 1st Dibs Tapes)
A Saturday Night of Recordings without Stopping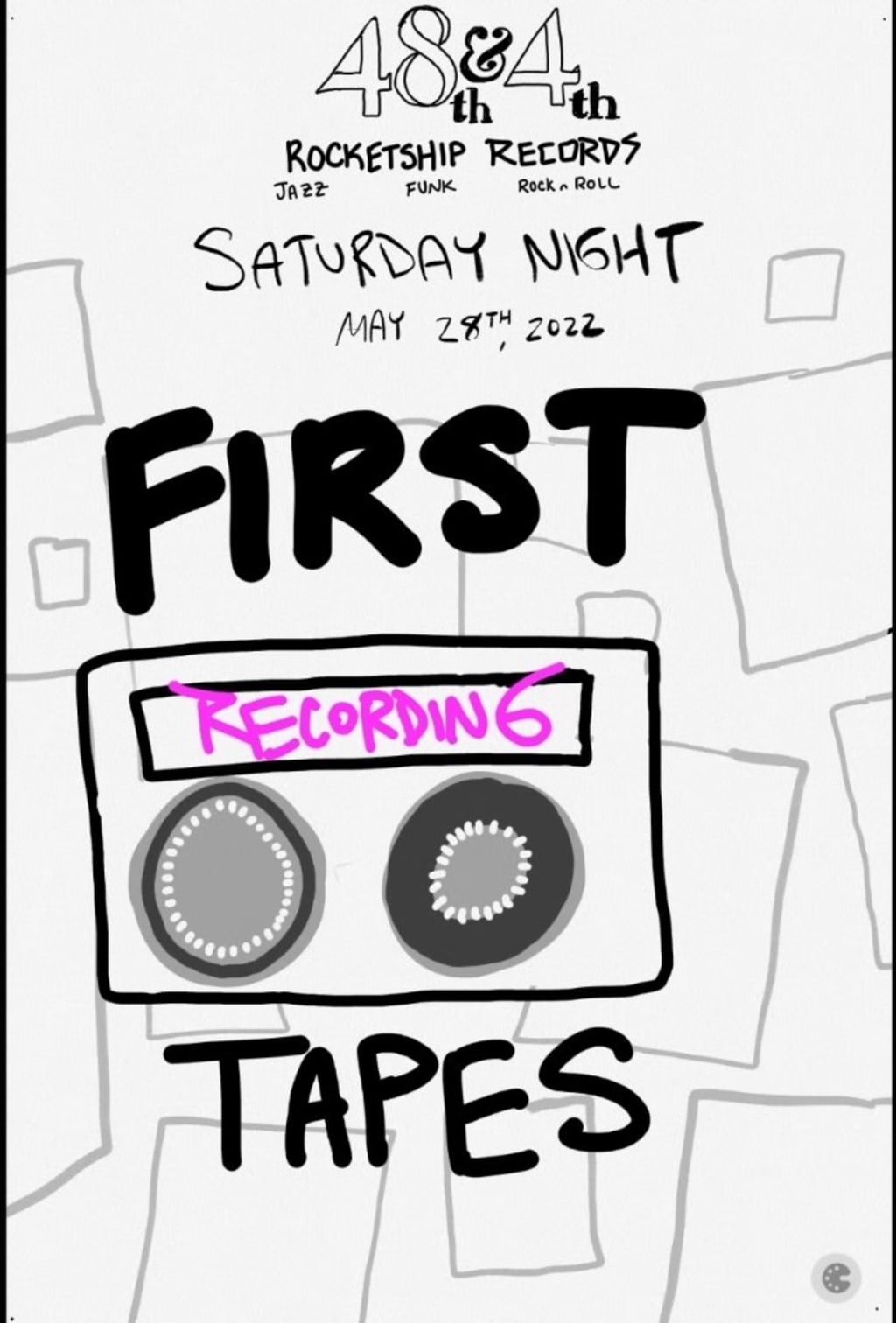 Saturday Night Delight Event Flyer: First Recording Tapes
WELCOME! to 48th&4th's, Rocketship Records!
All throughout the campus the talent have been doing their thing, in their own ways, in the manner that they best operate.
Their own methods, styles, approaches to their craft. This weekend session - inspired from the early [Rocketship] days of the studio lock-in - was not different from any other event we host and carry-on as we enjoy to. But this time, instead of the "use as many records as you need and want" approach, we used one record, one recorder, and their microphones to lay down their own "tape".
This is the First Press: First Dibs Edition - First Recordings Tape.
We started off with the meet and greet, sign-in, luggage unloading, parking, all of that fun pre-studio effort that goes into performing for the night. No problem. All was set and assembled within an hour.
It was a cool 68 degree evening under cloudy skies, with rips of stars on occasion poking through burps of puffy streaks above us. All of the talent was accounted for, properly dapped and pounded, and then set off towards their areas of study for the evening. Not only were we working the scenes for the first recordings of this particular pressing, this was also ample time beyond regular studio hours to carry on with their evening activities for producing and crafting tunes of their own likings. Putting in the studio time.
Such so much amazing energy flowing throughout the building, it was hard NOT to catch the wave of SOMETHING inspiring for musical creativity.
We start with the talent of the evening, "The Dockets"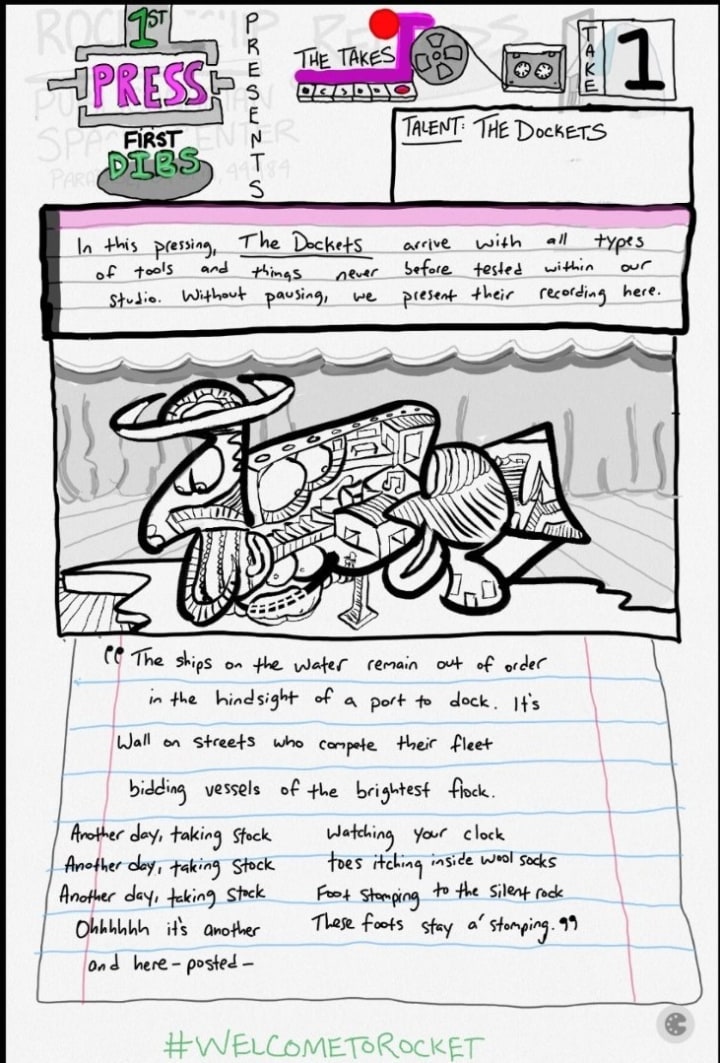 (from Twitter): "The Dockets enter into the studio = energy!, ready to begin their session. As usual, ["sammiches"] are supplied, beverages, snacks, musical inspiration soundtracks, and a lot of room to work."
Next Up: Distant Dimension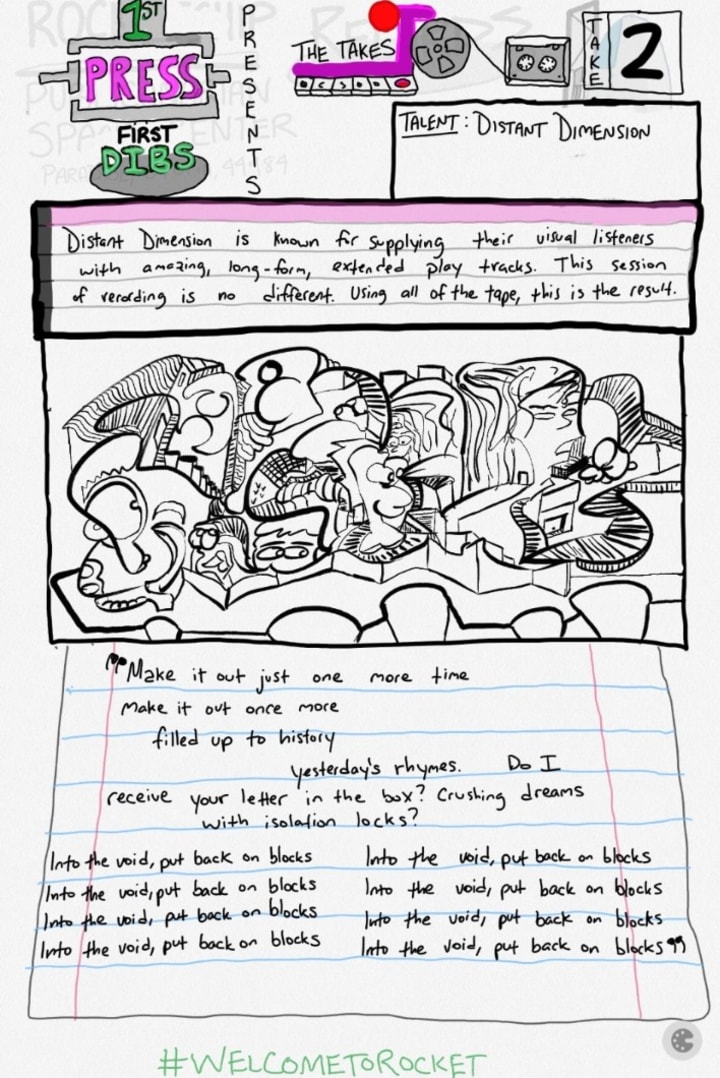 (from Twitter): "Next on the set was Distant Dimension. Always a studio favorite, their sound of this season is lighter, less face melting power ballads for ten plus minutes, but more direct on their levels of excessiveness, still performing long takes per tune."
Next Up: Artifacts from Concentrate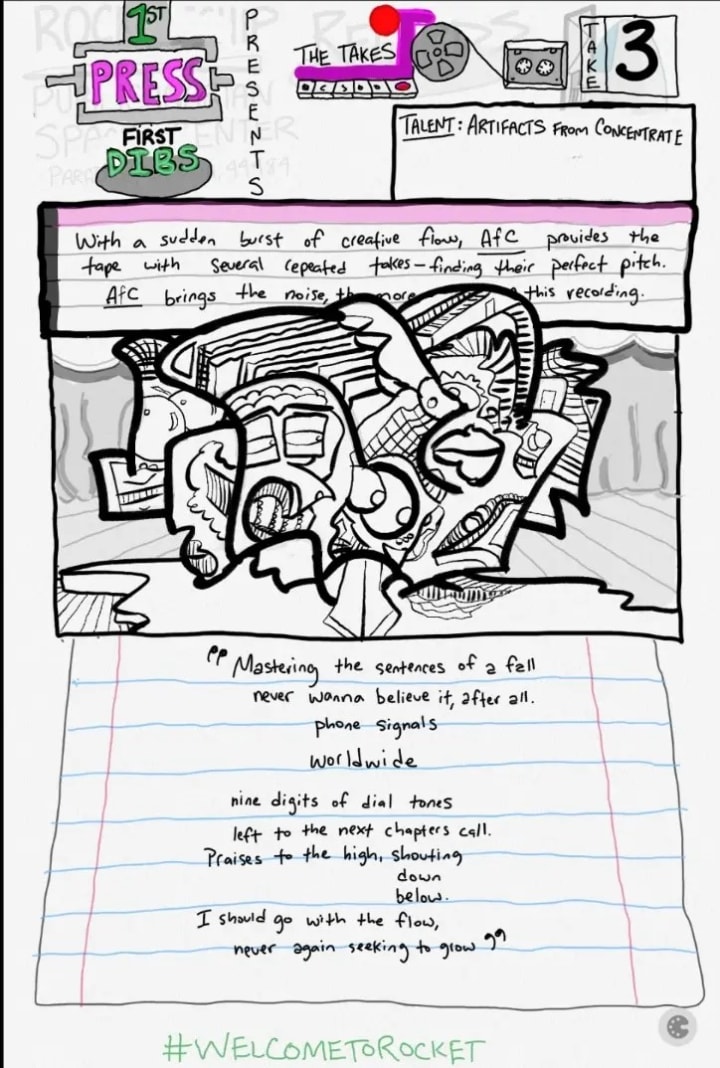 (from Twitter): "Artifacts from Concentrate..... all around a hilarious bunch, with the seriousness of true professional musicians, their studio session felt like mere minutes worth of play time. Once in the pocket of the jam session, the magic began."
Next Up: Recycled Content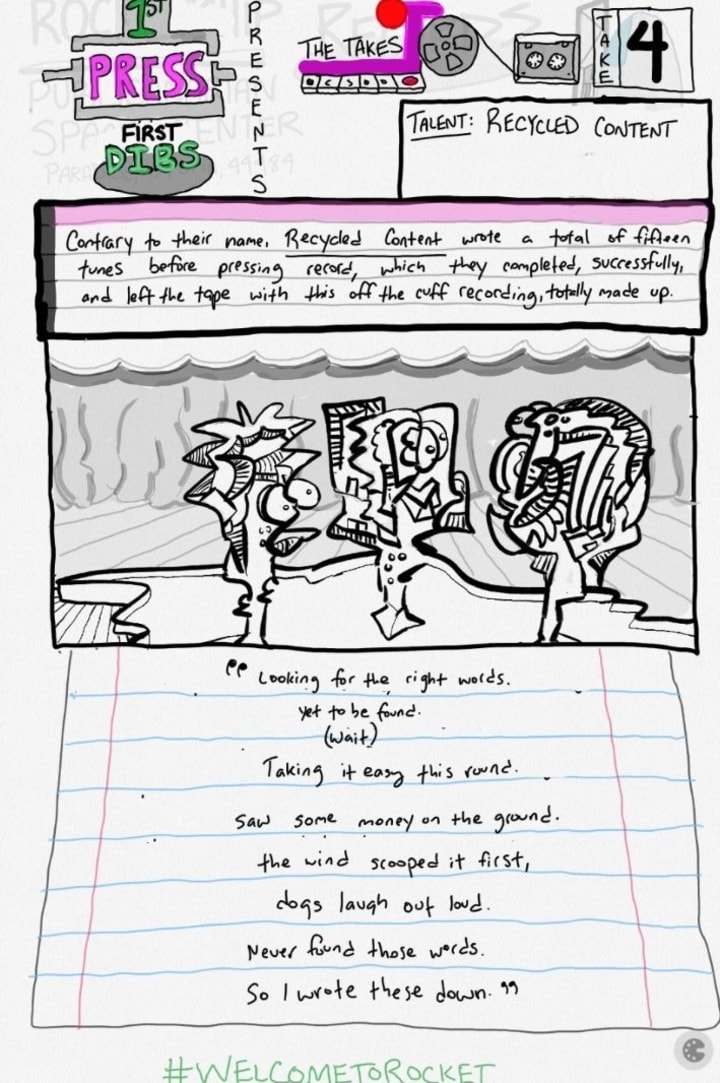 (from Twitter): "When you've played and practiced and written together and traveled thousands of miles and racked up hundreds of hours of sessions on-recorded, it is no wonder the creative flow can appear within any moment and without delay. An album worth of tunes, no sweat."
Next Up: Sharkweed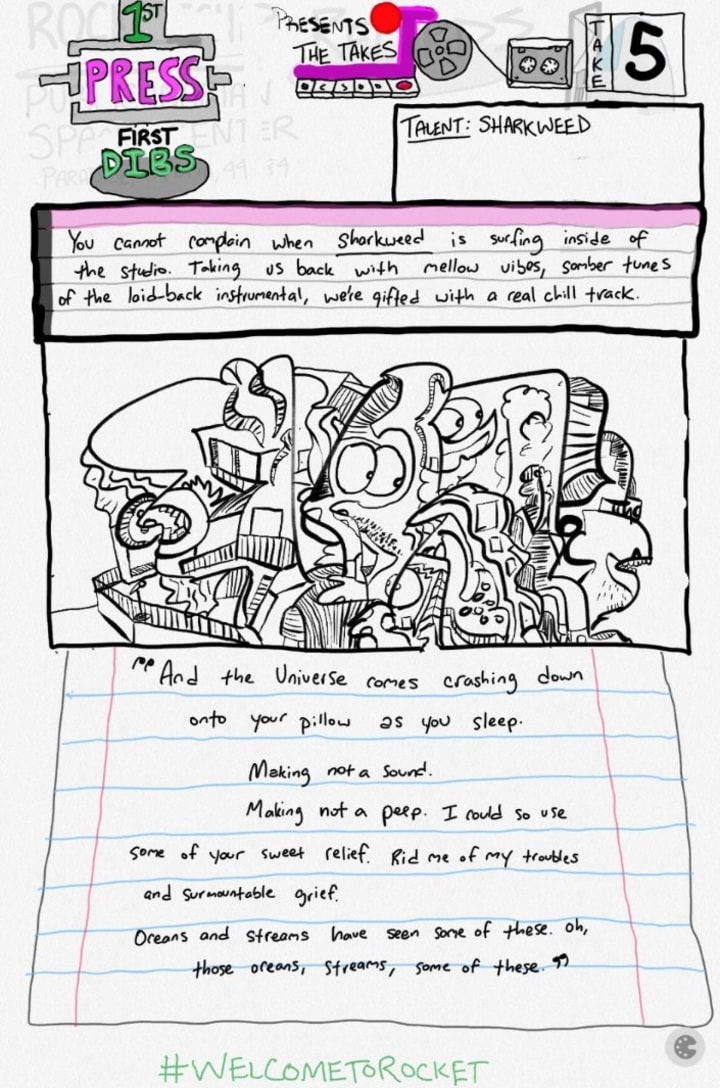 (from Twitter): "It was safe to swim within the studio as sharks were busy chopping away tunes for the evening. Numerous takes saved, tunes on reserve, and one amazing tape is the result of hard work for these talents".
It was time to start up something new again around the campus. After a few weeks of running events, seeking new talent, adding to the agenda of tasks to be done, supplying the toolbox with even more essential items to be invested for the future, new equipment, stations, places, accessories, and the little things which makes up a budding enterprise, this venture is an exciting addition to embark on.
Being back inside of the Pocket Rocket again is new. Still getting the fingers muscle memory back into an effective reflex, which will take time, but one that will come throughout all endeavors.
We thank you for visually listening.
Coming up for week 23 - new music, events, food, fun, and all things fantastic!
Rocketship Records. 48th&4th. 2022.
About the Creator
Rocketship Records: Home to the visual listening experience!
All about the art, minus the audio, we serve talents from all over the globe in their unique approaches to music, art, writing, and creativity.
Welcome To Rocket!
Reader insights
Be the first to share your insights about this piece.
Add your insights