The Plight of the Modern Day Boy Band
Harry Styles + How society is playing into gender stereotypes.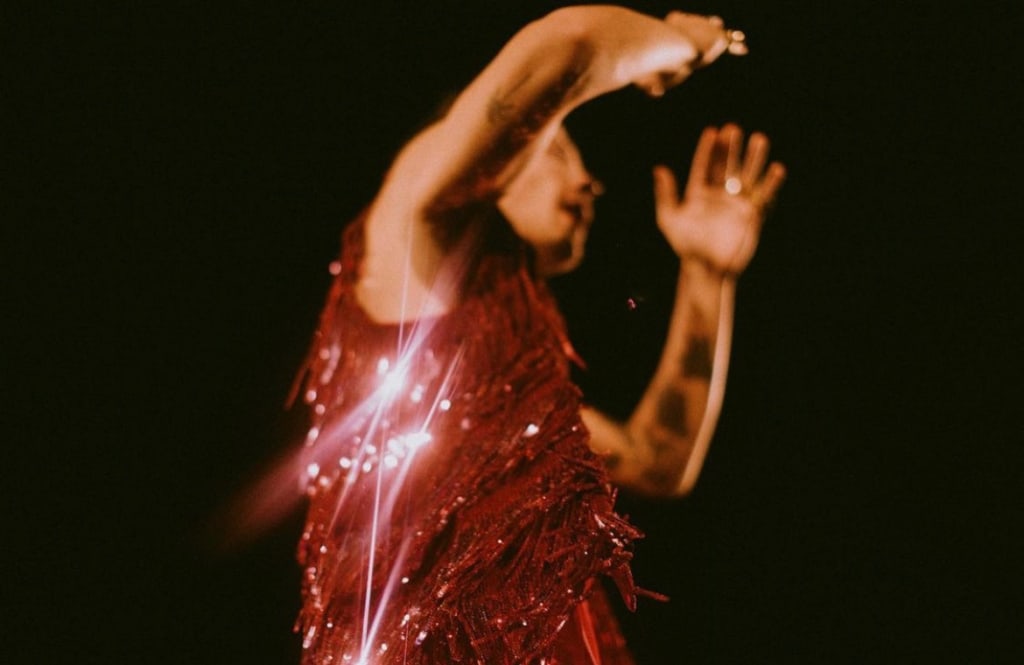 Anthony Pham/Love on Tour
No, I am not embarrassed for liking Harry Styles.
But why do people make me feel as if I should?
The Current Problem
After the release of Harry Styles' first album, self-titled, I didn't give it a good listen. This wasn't for any particular reason, maybe it was a lack of time...however, I wonder if it was something more. Maybe I inherently thought his super fans hyped it up too much (spoiler: they didn't). But, after my sister convincingly had me listen to his second album, Fine Line, I was immediately hooked.
I listened to many One Direction songs, but never considered myself to be as consumed by the band as some of my cousins or friends. They were a group I listened to, and that was basically it. I mean, I could recite all the lyrics to "What Makes You Beautiful" and "Live While We're Young," but couldn't every pre-teen?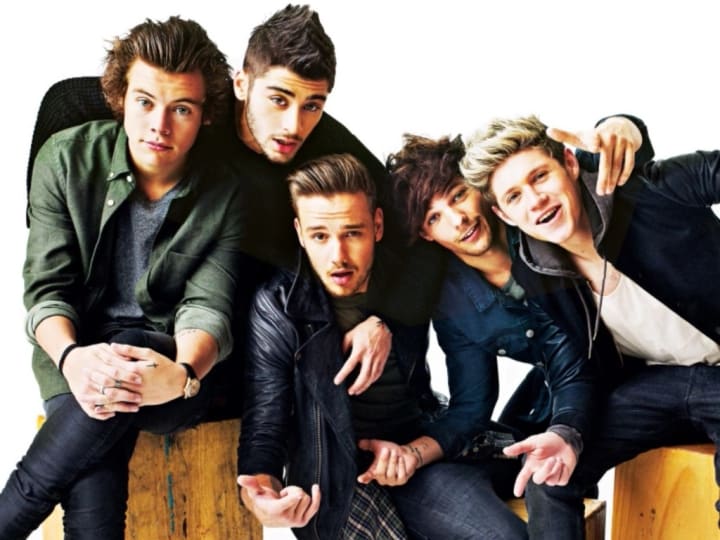 They grew apart from their boy band era, an album and a tour a year would be detrimental to any person's physical and mental health, and from it, we are left with talented individual artists who have perpetuated the music industry by storm. Feel free to disagree with this statement, but Harry Styles is hands-down the most successful male artist of the gen-z and millennial combined generations.
But even with the carefully crafted sound, poetic lyrics, mature language, and content of Harry Styles' solo music career, he seems to be less respected compared to individual artists of previous generations' boy bands. The general male gaze of Harry Styles is often boiled down to a "singer for girls."
Quite possibly, this is because of Harry Styles embracing his feminism, and heightened homophobia in America.
Let's take a look back to past boy bands, shall we?
NSYNC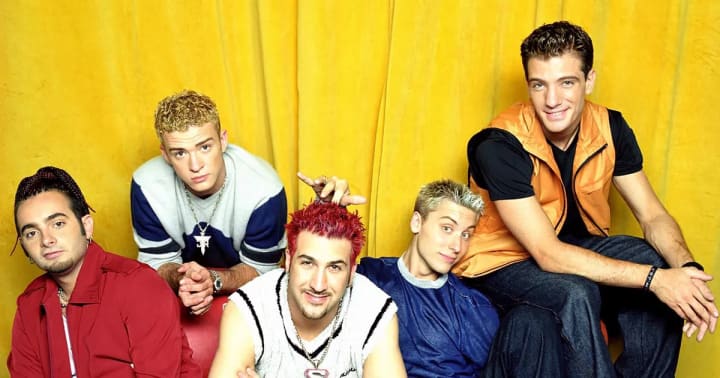 The closest comparison to One Direction, especially in their discography, is NSYNC. A boy band that emerged in 1995, 5 male singers grouped up to form the iconic, NSYNC. With hit songs still on DJ's playlists like, "Bye Bye Bye" and "Tearin' Up My Heart," the group was loved by men and women alike. Even though they were 5 grown men singing and dancing to songs about women, (or to women) listeners weren't gender-specific.
From this group, Justin Timberlake was the breakout star, much like Harry Styles. With an increase of fame, media outlets everywhere followed his every move, taking paparazzi pictures and tracing his relationship status. Similar to the audience from NSYNC, Justin Timberlake has a wide range of fans. Even when Justin Timberlake went solo, his music was still targeting all genders.
This hasn't been the case for One Direction or Harry Styles as an individual artist. In recent years, there has been a dualism in which boy bands "should" only be liked by girls, and boys shouldn't be enjoying this music or else they would be labeled as gay or "fruity," a term that circulates TikTok and other social media apps.
You can argue that as One Direction was forming, they learned that many young girls had quickly become fans and began to market towards this audience. Yes, this is true. But a lot of these young girls are now adults as fans of Harry, in which his audience is very clearly not targeting a young audience...does anyone want to hear the confirmed meaning of "Watermelon Sugar?"
More "Boy" Bands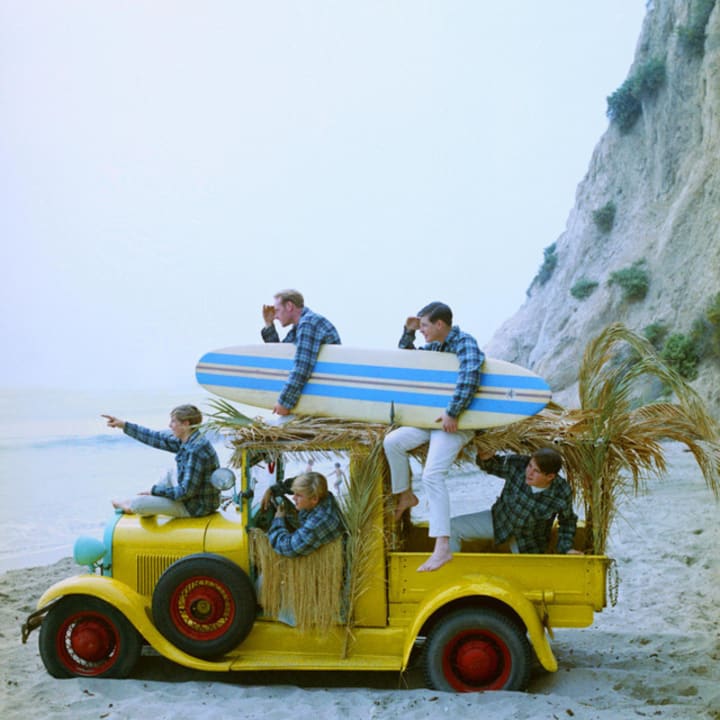 Moving further back, there have been many other "boy" bands that have had an incredibly wide range of audience members.
The Beach Boys from the 60s, though technically a "rock band," were made up of 5 male singers. Many songs were about women. Next, you have The Beatles, where some members were in their teens when they formed, and they hit fame at relatively young ages. Composed of 4 men singers/instrumentalists, they (shocker) did not have a specific gender-based audience either.
Now for one that will be a little more controversial to label as a boy band, Queen. Again, following this trend, it's a band made up of 4 men. Though this is a band in the traditional sense that there is a lead singer and other members playing specified instruments. Nonetheless, all members of the group were loved by all genders, their music resonating for men across the globe. I grew up with the boys in school stomping their feet and clapping their hands singing "We Will Rock You." Even after Freddie Mercury passed, they still tour today, adding Adam Lambert to their roster.
One of the most incredible performers of his time, Freddie Mercury lit up the stage with an energetic and theatrical attitude, similar to the way fans depict Harry Styles on tour.
All of this analysis isn't to say that Harry Styles isn't successful. He has millions of fans, and can easily do without the people who discredit him as an artist. Instead, this is to point out that gendering music is harmful to societal growth, and there is simply no reason for it. Music isn't for a specific gender or sexuality. Labeling music as such is harmful to the systemic stereotypes that take years to combat.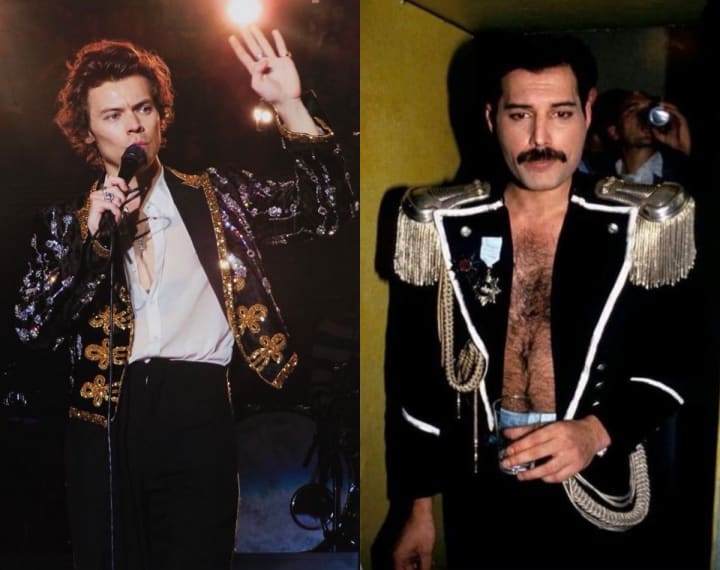 I have heard many people disregard Harry Styles as an artist because of his history with the pop boy band. I have seen posts on social media saying that "If you listen to Harry Styles as a man, you're gay." But to be honest, most men that post these negative comments are probably just threatened by him...his talent, popularity, obvious good looks, and charming attitude are something that can be intimidating.
But more than that, Harry takes a stand for many communities, participating in Black Lives Matter protests, encouraging his fans to be feminists, and being one himself, waving LGBTQIA+ flags at concerts, and acting as a role model for many listeners. He is someone that inspires many artists and connects to his audience through his music and performance.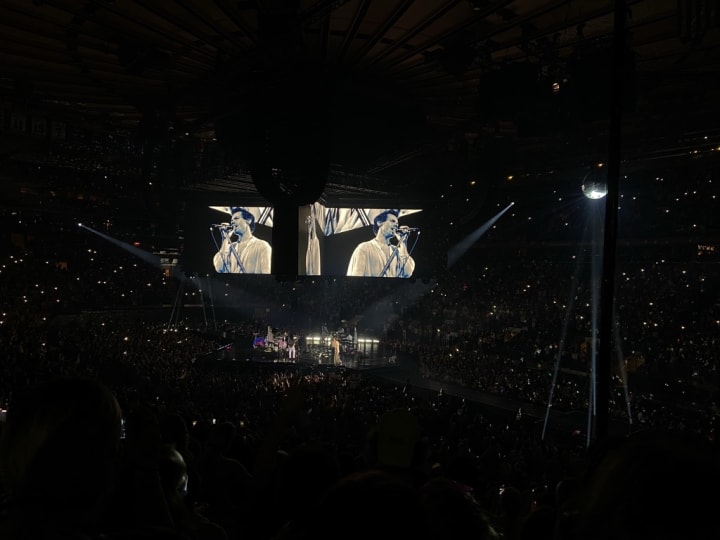 A Proposition
It can be an unconscious thing to play into embedded stereotypes that exist not only in the music industry. Listen to whoever you want, whatever you want and let people listen to who they want. It doesn't have to mean much more than that.