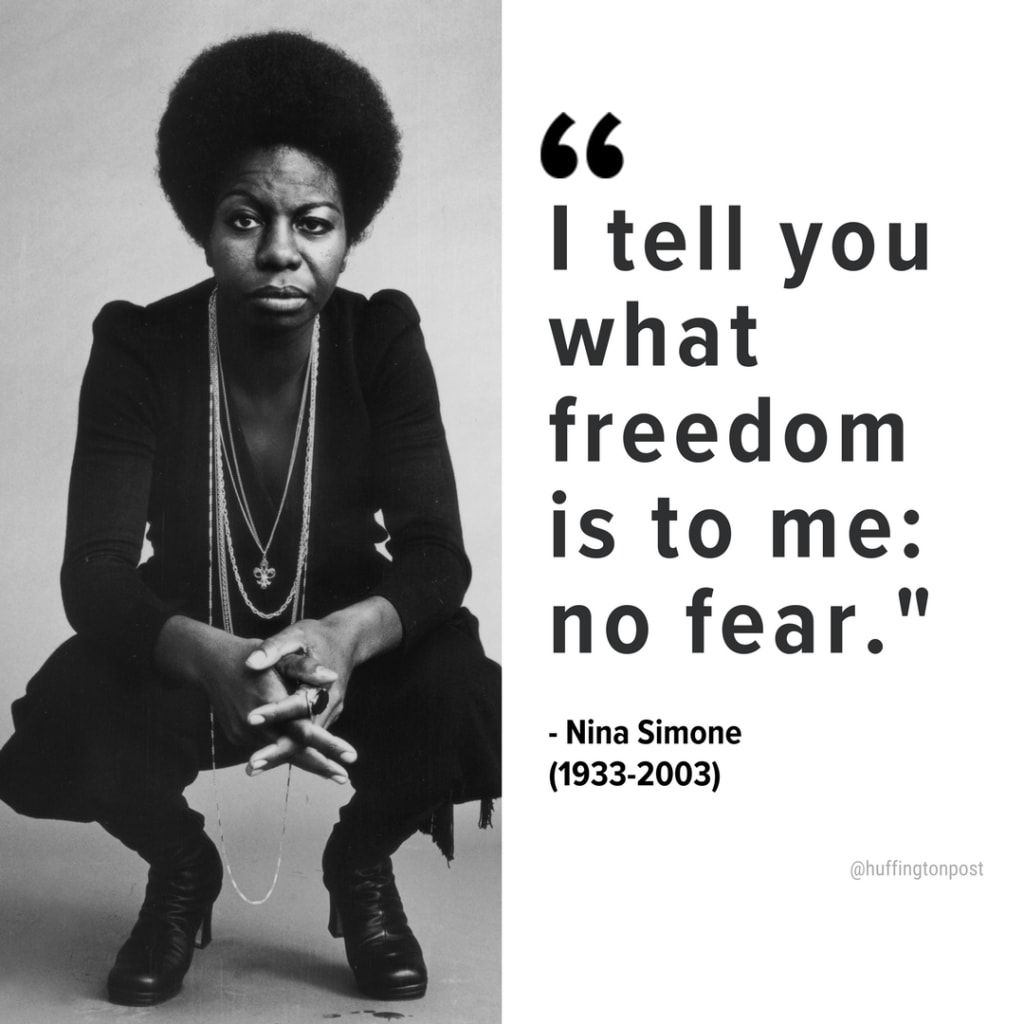 We live in a world full of hushed history. Hushed history that would have us embarking on our best us had we been shown the truth sooner. Nina showed a courage through her phenomenal womanhood and perseverance and stamina in a time few made it out alive telling the truth. I love me some Nina Simone, singer, song writer, musician, arranger, and civil rights activist, born February 21, 1933 as Eunice Kathleen Waymon.
I will never forget the first time I placed my mother's record on that player. I could feel my whole frequency rise to the occasion. I heard songs that sounded like my granny's cries and stories. I heard a song that spoke to my soul song after song, leaving me entranced with hot stains of reality and someone finally speaking my language stained down my face. Some days, I am still that same little girl as I let the record spin. That is just a fraction of the mesmerizing effect she has and still to this day, continues to have.
She too was also influenced by Billie Holiday, but a galaxy of her own. She was more than an artist, she was also a Civil Rights Activist. She said it all when she said, "An artist duty is to reflect the times." Nina was one of the best music story tellers. Her lyrics and melodic cries told many stories of life during that time. Her music uplifted us as a people and spoke our truth that was being hushed and hung. Her creative legacy is filled with liberation, empowerment, passion, and love.
Nina did just that despite what time of life it was and despite the many times her music was ridiculed. Imagine that, an America loving your talents until its filled with a truth they cant handle. Many forget the activism that graces us through the times within the art genres. Nina was filled with courage from a very young age. When she was to perform on of her first piano ballots she refused when she saw her parents being removed from the front row. She would not play until her parents were allowed back into their front row seats.
Just as Nina didn't start with that name, she also didn't start out as a singer. She started out as a piano player having the talent to teach her self to play by ear. The genius in that is breathtaking. When Nina applied and was denied she knew it was due to racism. That didn't stop her one bit. In fact, she continued and became most sought after in her era.
She became the industry's main interest when she was 24. I chose Nina Simone because her music has always allowed my soul's cry to dance. As an artist and activist myself I am inspired, and motivated by Nina. Her courage reminds me that I am this generations voice and reminder alert of our beloved Nina. I also chose her because she made a huge impact to our black classical music industry. She taught me that phrase because she said jazz was a way they termed black people music and hers was classical. Nina's constant evolution and reclaiming of self and culture of our people keeps her relevant not only then but today as well.
I Also chose Nina Simone because I have yet to see the world capture the abundant nuances and flavors making up more than 40 albums in her music library. Her activism work and genius being is not honored the way it should be. She had such a way to seduce her listeners with such hypnotic cries and tones of truth you get lost in it like time.
"I'll tell you what freedom is to me: No Fear."
Nature Medicine Song Villegas
Reader insights
Be the first to share your insights about this piece.
Add your insights