The Nordic Natural-Born Killers: Heavy Metal Meets True Crime
Album Review: Now and Forever by Sister Sin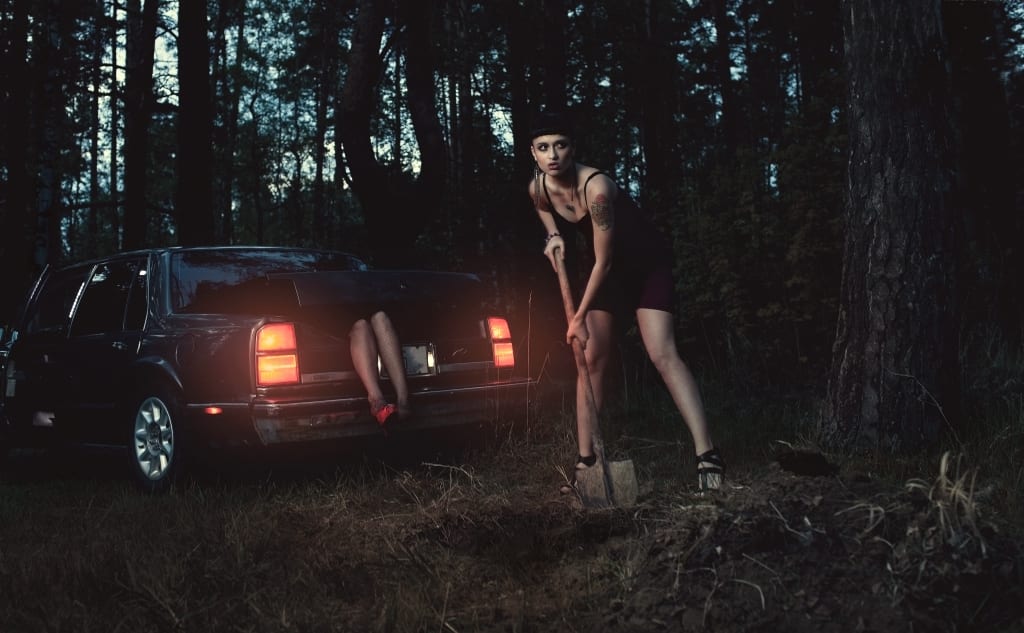 Photo by ArtHouse Studio from Pexels
From Gothenburg, Sweden's Sister Sin released a musical onslaught that gave birth to Now and Forever. The dark roots of the album sink deep into the golden age of heavy metal and point to bands like Mötorhead, Iron Maiden, or Mötley Crüe.
Liv Jagrell, the frontwoman, is the volcanic fulcrum from where the band's magma and fiery energy erupts. Liv carries the same flame once held by Doro Pesch, Lita Ford, or Joan Jett. Notwithstanding, Liv's primordial reference was Courtney Love.
With her furious vocals, Liv lives up to her role as Sister Sin's frontwoman. At her side, Liv has a trio masterfully captained by guitarist Jimmy Hiltula. To know more about Sister Sin, please check our interview here.
Track-by-track analysis
Now and Forever doesn't disappoint. After "MMXII," Liv goes into the first round with her fists held high for the catchy "End Of The Line." It wouldn't be my choice for the first single, but this song serves its purpose understandably.
The first time I succumb to Liv's harsh blows and bend the knee is with "The Fight Song."
Afterward, "In It For Life" is grounded in melodic guitar riffs and tied to the same idea expressed in the album title.
The second single from this album, "Hearts Of Cold," is one of the singer's favorite songs. This is understandable if we consider how this song has all the ingredients of a rock anthem.
The lyrics come from the true story of a Finnish couple who crossed the border into northern Sweden, where they committed a series of murders.
"We are the darkest angels from the heavens above

The outlaws coming from the fires below

And we won't die old, blessed by our broken homes

Shotgun romance, all natural-born

Show no mercy, slay them all

One kill, two souls, oh, our hearts of cold

Hearts of cold"
According to Murderpedia, Juha Veikko Valjakkala's crimes date back to 1988, when he was convicted of the murder of a family of three at a cemetery in Åmsele (northern Sweden).
22 years-old Valjakkala had been released from prison on May 1, 1988, and was on parole when he and his 21-year-old girlfriend Marita Routalammi went on a dreadful road trip across Finland and Sweden.
On July 3, the couple arrives in Åmsele. That night, Valjakkala steals a bicycle. Sten Nilsson and his 15-year-old son Fredrik chase him into the town's cemetery, where they are shot dead.
Later that night, Ewa Nilsson goes looking for her husband and son and is stabbed to death outside the same cemetery. One week later, the murdering duo was arrested in Odense, Denmark.
A forensic psychiatrist claimed that Valjakkala had a psychopathic personality disorder leading to aggressive behavior. He was given a life sentence on three counts of murder. Routalammi blamed her boyfriend for the murders, was sentenced to two years for assault and battery, and was released after serving half of her time.
The music video for "Hearts of Cold" mimicks Mikey and Mallory from the film "Natural Born Killers" and mirrors the Finnish, real-life version murdering duo.
The following songs, "The Chosen Few" and "Hang 'Em High," strike furiously. From then on, there's a slight downfall in terms of quality and originality. Even if the rock attitude remains constant until the end of "Shades of Black."
Now and Forever saves for last the ballad "Morning After" that shows Liv in a completely different musical scope. Hence, demonstrating the singer's ability to modulate her vocal reach, giving it sweetness and expressive subtlety by making it unusually tender and taking us to the antipodes of its corrosive and visceral matrix.
"This is the morning after

All of the pain is dead and gone

This is the morning after

I hope your feelings numb

This is the morning after

All of the pain is dead and gone

This is the morning after

I hope your feelings numb"
Final thoughts
With Now and Forever, Sister Sin reminds us that even if the golden age of heavy metal has passed. There's still some fire left in bands like Sister Sin to fuel that everlasting flame, constantly reconfiguring itself in dynamic and enticing formats.
Overall, the album shows that these Swedes dare experiment with traditional heavy metal when to triumph in the music business, bands have to concede to a more mainstream approach.
__________________
Thanks for reading this article. Please consider supporting our community of creators by becoming a Vocal+ Member. Feel free to come back at any time and pick up another thread from my Vocal book of content by clicking here. Small tips and big hearts are highly appreciated. Till next time, cheers. - Rui

Rui Alves
I write to find the surrogate writer in me.
Rui is a graduate of the University of Porto, teacher, and life-coach.
He is also a partner of Rock n'Heavy and the founder of ZENite.
See all posts by Rui Alves →