The Musical Evolution of a Webmaster
From Music Student to Techno Specialist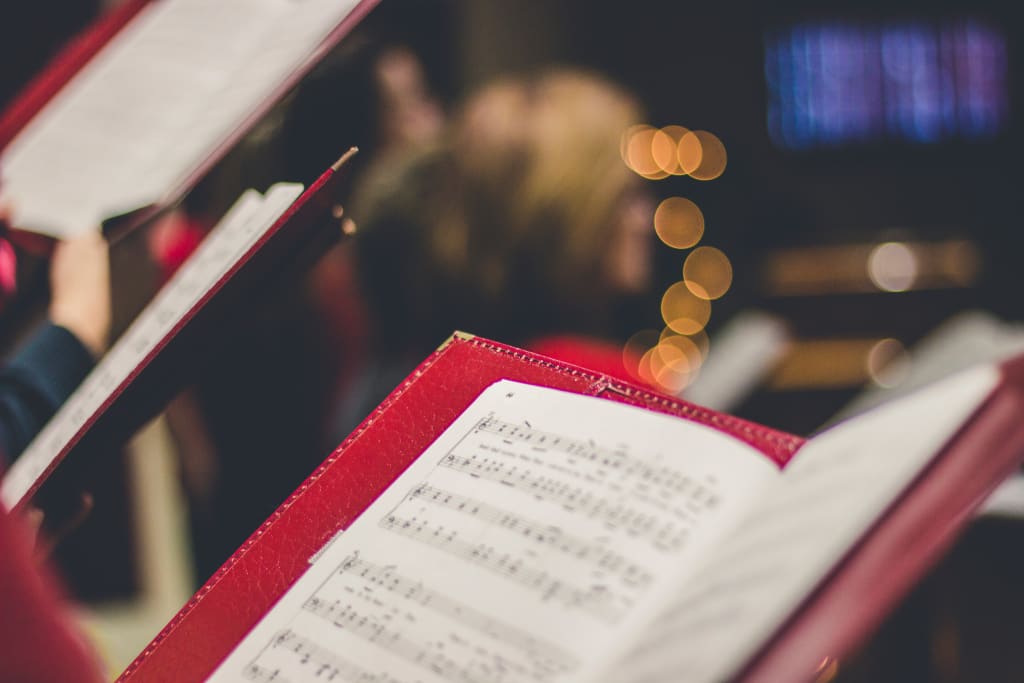 Photo of Sheet Music by David Beale on Unsplash
Hello everyone! Welcome to another article here on Vocal. Today, I'd like to talk about my music experience, and what types of music I'm in to.
I started with music at a very young age. I am told that Neil Diamond—a favorite—started making his own music at a young age somewhere in the 1960s. There are quite a few of his recorded tracks that might be of interest to many of you; check 'em out. I personally grew up with different types of classic rock groups such as The Doors, Led Zeppelin, and other artists.
Since my birth in 1980, pop music has changed considerably. A lot of great music was produced in the 90s, along with many "Top-of-the-Chart" hit-makers such as Toni Braxton, Boyz II Men, and more.
As to music of the early 2000s through today, some is good to my ears, yet some just don't sit all that well as to my personal tastes. Nonetheless, for someone such as me who is blind, music can have an enormous impact on one's life.
In about 2007 or 2008, I was introduced to a site called magnatune.com which caters to independent artists. The way it works is that Magnatune receives 50 percent, and the artist receives the rest as royalties. Currently, they have a one-time charge, where before it was a quarter charge of your choice. Other independent artist sites include CD Baby and Bandcamp,which charge by the album or song.
Frankly, I really don't care much for the music of today unless it comes from the independent artist side. I'm very particular about the kinds of classical and rap music that I listen to. In my opinion, much of today's music is overplayed, and I simply don't enjoy it. Although some tunes are quite catchy, the majority of them just don't "cut it" for me.
Some years ago I started a Magnatune Internet server and recently changed it to the Independent Artist Channelwhere all the independent artists that I like are played. You are welcome to listen to it at any time and even check out my shows which are broadcast on that channel as well.
Music learning for a blind and visually impaired person is totally different than someone with full sight. We use the same system as when reading something like this article in literary braille; however, the symbols have different meanings in the "Music Braille Code."
There are different types of signs for various instrumental applications. There are piano hand signs (instead of clefs), octave marks (instead of staff lines), and seven different symbols for the various notes, A through G. Time values are a mere addition of either a dot three, six, or both three and six to the basic eighth note for half, quarter, and whole notes, respectively. (See the facsimile image for a comparison of eighth and quarter notes as an example of the C scales at the end of this article.)
When playing other instruments such as drums, braille symbols stand for other things such as the pedal, different types of drums, and beats without pitch. For guitar, there are chord symbols and melodic lines; with most instruments, there are fingering and position signs that apply to all string instruments.
Following the article, there is a short excerpt of a piano piece in simulated braille. Highlighted, you'll see various signs such as those representing the left and right hand, as well as measure numbers. In most sheet music, there are also octave marks (as indicated above), and other markings that are used for interpretation of the piece. These marks are very important to the performer, either for recreational playing, recording, or for professional and commercial applications.
Braille was invented in the 1800's by Louis Braille.Losing his sight at the age of three, Louis Braille devised this six dot method of communication, and later it was adapted to other languages, as well as music and math. There is some possibility that Mr. Braille created the music code even before the literary code, as he was a blind professional organist. An updated braille system is currently being implemented worldwide that is called the "Unified English Braille Code"—UEBC. Its purpose is that of standardizing all signs and braille contractions used for English text in all countries. The music code was the first "unified braille code."
If a sighted person was to compose music and wanted someone who was blind to play it, the music braille system could be used in conjunction with software and a specialized printer to print it out. Braille is usually embossed on a special type of paper, and is sometimes produced in special circumstances with raised line drawings called "tactile graphics."
Writing music can also be done in the braille code just before someone tries it out. For example, one could have an original melody line, braille it out, then see if he or she has created something of value to perform or to expand on.
Should you have any questions, please feel free to contact me. I'm just an email away.
Facsimile Image Samples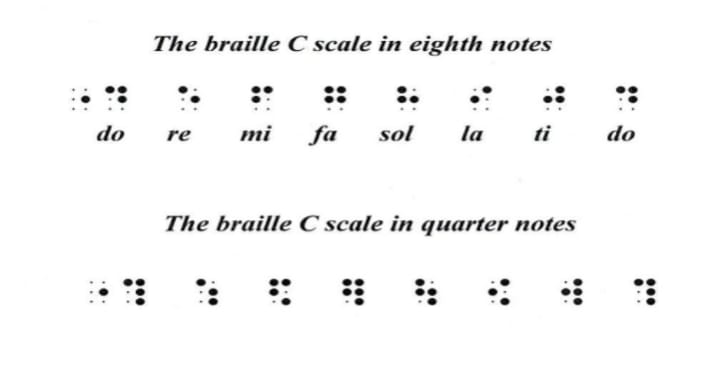 A Simple Melody Line in Print and in Braille

Example of Piano Format with Various Signs Highlighted
Duet Part I (student or teacher)
Highlights (top, then left to right):
Top, center: Time signature (two-quarter)
Measure number one
Right and left hand signs (left hand shown below right hand part)
Finger number one (follows the fourth octave A, an eighth note)
C-quarter note
Whole rest
Fifth octave mark (precedes eighth note, C above middle C)
Measure number five
Fourth octave A, a half note
Reader insights
Be the first to share your insights about this piece.
Add your insights