The Marathon Continues
Still Running; Roll in Peace.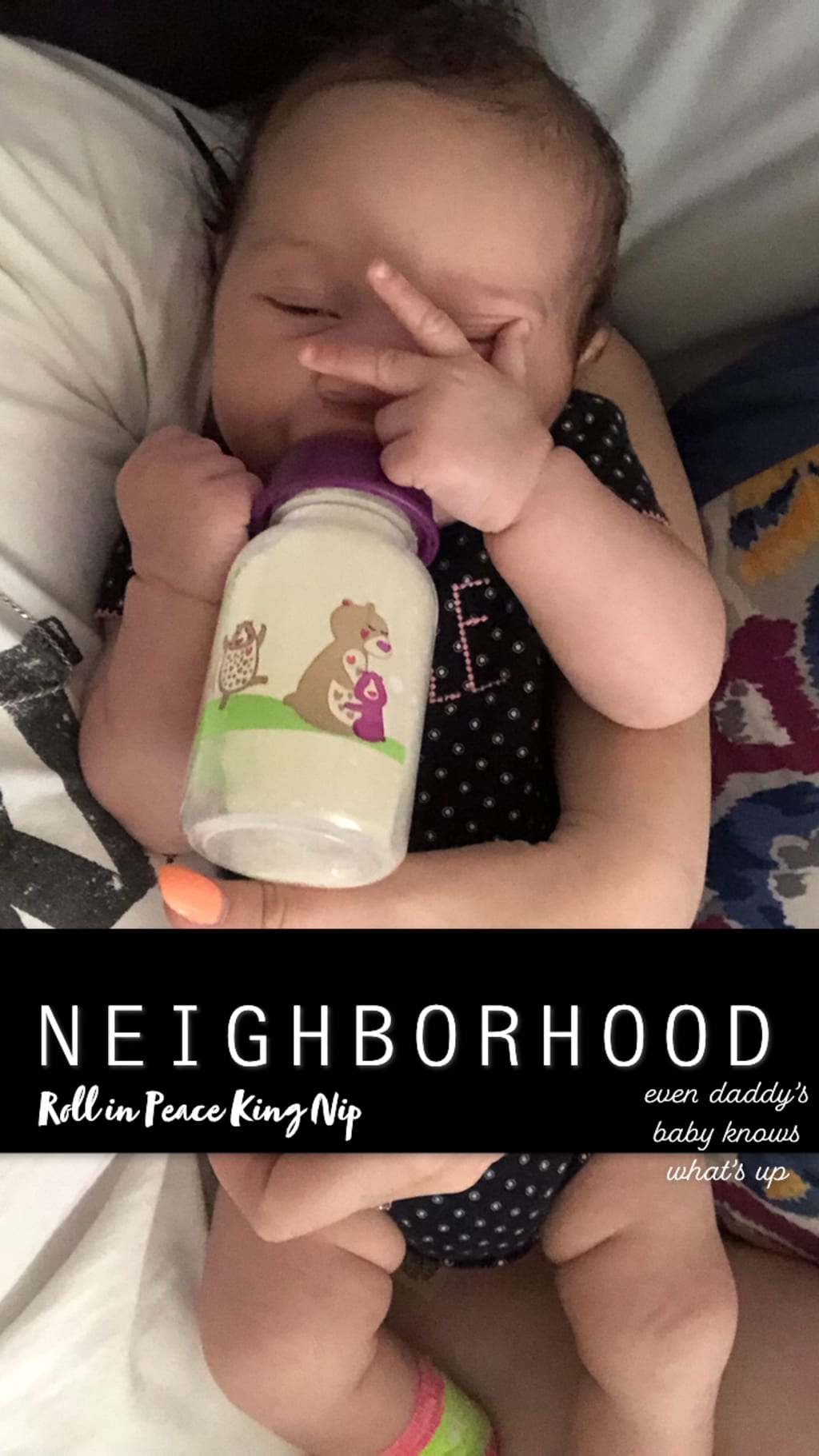 This photo of my youngest was taken three days before tragedy struck.
I guess you could consider this an open letter to a man who, through being a fan of the person I assumed him to be, I looked at as a role model in many aspects. I am going to try to do my best not to say his name or speak on the day he was taken from us. Honestly, I never got the chance to meet him in person and for all I know, my perception of him as a stand up individual could be totally misguided; although, I don't believe this to be true, nor is that the purpose of this piece.
I've always been a fan of music of all sorts and I tend to really dive into an artist's catalog when I find one that speaks to me. None have had quite the overall impact on my life like the late great one from Slauson. I was introduced by a fellow music aficionado who happened to be a business major and was mesmerized by the concept of selling a mixtape for one hundred dollars; especially when it was also released for free on all of the traditional platforms. On the other hand, I was intrigued by the story and the rawness that you could feel in your gut. After listening to that tape for the whole summer, wishing I had a cutlass, I started to do my research.
Now the older catalog was a little too raw for the lifestyle that I live, however, the intent and the star quality was there when bullets weren't the only thing without a name. Then came the interview binge that allowed me to hear him speak which subliminally and explicitly gave me context and a deeper understanding of a stranger that I felt knew. The hustle was so authentic, once you bore witness, you had no choice but to feel motivated.
The music became the sound track to me chasing my own dreams, the workout music while I ran my own marathon. If anyone asked for a music recommendation, or asked what I was listening to, I told them to go run a lap. This went on for years, still to this day even—only now, everyone knows his name; "THA GREAT", don't forget it. Even now, every once in a while, my wife will come home for her break with one of his song blaring proudly; or we'll be in the house cleaning up and she'll have her music on shuffle and I am reminded—"got some stacking, still running, got some lapping to do."
Beyond the music, he was an advocate for change, self-empowerment, and the youth. His voice is greatly missed, especially in a time like we are facing today. Then again, I know that I am not the only one who was affected by his great feats, nor am I the only one still on the marathon. I am not even referring to his team or anyone who is affiliated with him musically; I mean the average joe, like me, who appreciated the art enough to have been affected by this great loss. I mean it seemed as if the whole world stood still as we all mourned. I don't know about you or the next person, but I feel honored to pick up the baton and run my laps.
And with that, I leave you with this:
"Black people in America, people from the struggle, immigrants, it's no generational wealth that we are attached to, so we are tasked to create – in one generation – closing the gap. That's why we so Doomsday about getting to the check: 'cause it's life or death for real." —E.N.H.A.
celebrities
About the author
I am originally from Chesapeake, Virginia and I currently live in Durham, North Carolina. Writing has always been a passion of mine and recently I decided to pursue a career in literature. My debut novel, "Déjà Maybe", is almost complete.
Reader insights
Be the first to share your insights about this piece.
Add your insights