The Kendrick Lamar Bracket
Trying to narrow down the best song in Kung-Fu Kenny's discography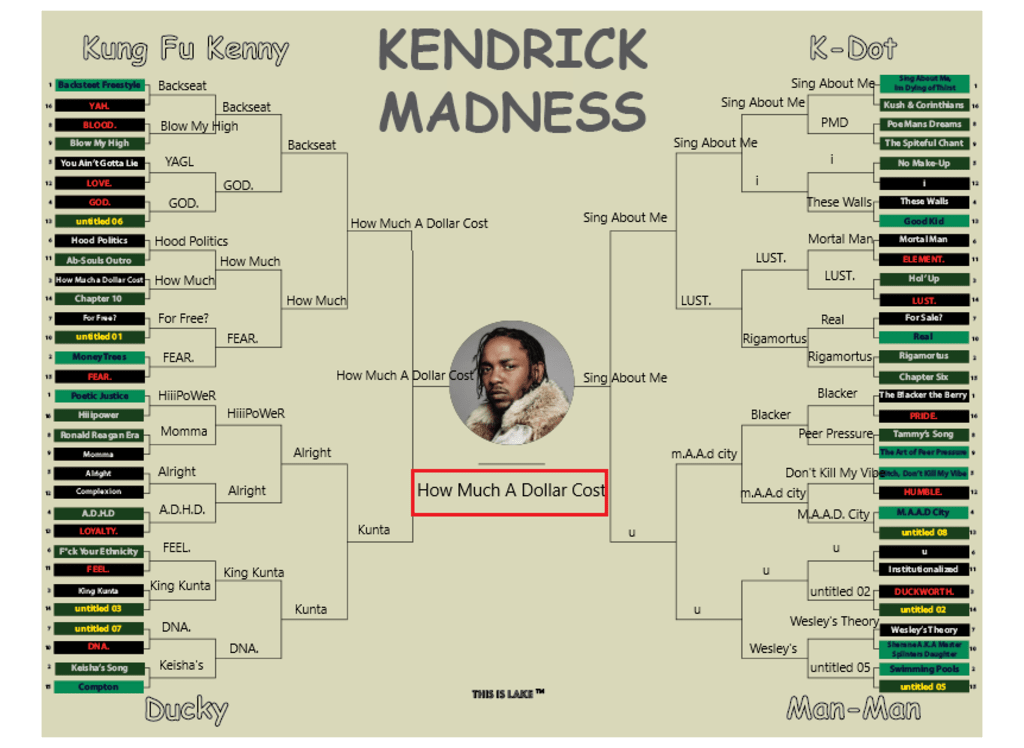 This was so hard.
Something you can say about both this bracket and the instrumental for "The Blacker The Berry."
One of the things I hated most about this bracket, as is the issue with any bracket, is that some of the pairings, as inevitable as they might be, made for tougher decisions than I wanted. In selecting who would move on in my bracket, I tried to judge these songs as objectively as possible based on how they work within the album, how effective they communicate their message, how ear-grabbing the music is, and I only relied on subjectivity when deciding a dead heat. Here were some of the more difficult or, in some cases controversial, choices I made.
First Round
Poetic Justice/HiiiPoWeR:
I am not a Drake fan. But 2012 Drake is different from 2020 Drake. Back when GKMC was recorded, Drake was on the rise and his early material showed that he could deliver a clear verse with interesting flows. I didn't knock "Poetic Justice" because of Drake, because he and Kendrick both gave very focused performances. I found, however, that the instrumental on "HiiiPoWeR" provides more depth and sustains listener interest for longer. The latter track also shows Kendrick's initial turn towards self-enlightenment and searching for answers to difficult issues. From this standpoint, "HiiiPoWeR" stands as the track that serves as a calling card from the early days of who Kendrick Lamar would become, and I get more plays of "HiiiPoWeR" than "Poetic Justice."
untitled 07/DNA.
This was among the most brutal of first round pairings, as both of these tracks rank highly in my personal rating of Kendrick's discography. "DNA." is one of the hardest bangers on DAMN. and contains a really energetic and focused performance from Kenny. On the other hand, you know that you are a top-tier artist if one of your unmastered B-sides is licensed for NCAA March Madness, and that is certainly the case with "untitled 07," With a super catchy refrain over a wonky trap beat, "levitate" (as the track is alternately referred) is the kind of hip-hop track that I would want to populate Top 40 radio. In the end though, the instrumental on the second half (while impressive considering it was produced by a five-year old) and the noodling on the end deflate the hype that was built in the first two minutes of the track. Meanwhile, the instrumental shift on "DNA." as well as the focus in Kendrick's performance keep the momentum going forward, leading to a dub.
Bitch, Don't Kill My Vibe/HUMBLE.
This is another unfortunate first round pairing, but I am glad that "HUMBLE." was paired against a song that deserves to move into the next round. Since the day it was released, I was not a fan of "HUMBLE." I found the instrumental to be really thin, specifically the 808 bass that lacks "beefiness," an intangible quality that you immediately recognize upon listening. One of the bars, "Soprano C we like to keep it on a high note," as an opera fan, throws me for a loop. Finally, it doesn't propel the narrative on DAMN. like "Bitch, Don't Kill My Vibe" does on GKMC. Much like Grey Poupon, Evian, and TED Talks, "HUMBLE." is overrated.
Second Round
i/These Walls
"These Walls" grooves hard, and it ties back to the themes presented in the second verse of "Sing About Me, I'm Dying of Thirst" (which would be a VERY interesting match-up). It is a great cut from TPAB. But "i" stands out to me because it demonstrates Kendrick's power to frame a piece of music. Across his discography, Kendrick has displayed a knack for cinematic storytelling, his albums playing like Tarantino films. When the single of "i" was released ahead of the album, the prissy, sterile, and optimistic tone had Kendrick fans worried about the direction of his next project. But when TPAB dropped, the sonic aesthetic of "i" shifted drastically, with the live audience heating up and boiling over with anger and disillusionment. None of the words in the song changed (except for the ad-libbed ending), but the framing of identical musical material shows Kendrick's talent and artistry, meriting the win.
Mortal Man/LUST.
In my personal opinion, "Mortal Man" stands as one of the best closing tracks of any album. Much of my admiration for the track stems from the Tupac interview that Kendrick conducts, again showing his talent for recontextualizing pre-existing material to meet his artistic needs. In my eyes, however, without the interview, "Mortal Man" doesn't stand a chance against "LUST." in terms of messaging. This is a pick that was hard for me to rationalize, but that my gut told me to follow.
The Blacker The Berry/Art of Peer Pressure
Both of these tracks deal with self-hatred. "The Art Of Peer Pressure" deals with it through the lens of the GKMC storyline, while "The Blacker The Berry" could stand apart independently from TPAB while contradicting the self-love messaging of "i." In addition to having its own legs to stand on, the BEAT. GOES. SO. HARD!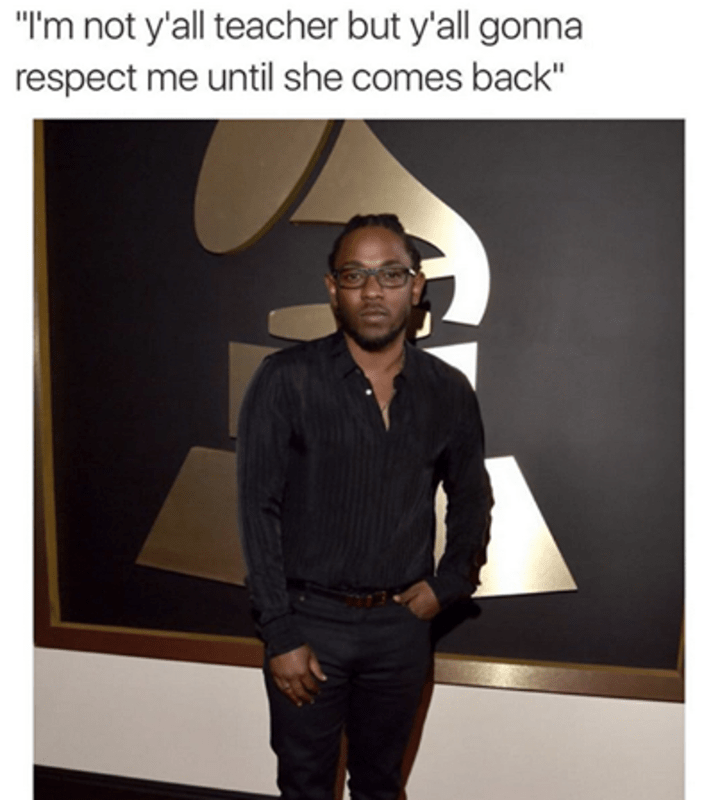 Third Round
How Much A Dollar Cost/FEAR.
If you saw the bracket, you saw the relative steamroll that the winning track embarked upon. But this was the one choice that gave me serious pause. "FEAR." is a track that I love to hear from artists, in that it is intensely self-reflective on the flaws and anxieties that larger-than-life figures experience. The hypnotic beat from Alchemist lulls the listener into a space of reception for the lyrical therapy of Kendrick, and "FEAR." stands out as my favorite track on DAMN. But, as I will discuss later, it could not beat out "How Much A Dollar Cost."
King Kunta/DNA.
Banger against banger. Funk against trap. Both celebrating racial self-empowerment. Both second tracks on the album (depending on the counting of interludes). These two tracks share a lot of parallels, making this judgement another instinctive judgement. And after hearing that next pop, the funk was within me.
The Blacker The Berry/m.A.A.d. City
"The Blacker The Berry," in relation to my personal favoritism in Kendrick's discography, got railed by the way that the bracket was structured. Having already fought a valiant battle against "The Art of Peer Pressure," it faces another worthy opponent in one of the central cuts off of GKMC. While "The Blacker The Berry" accomplishes a lot in terms of musicality and messaging, the role that "m.A.A.d. city" plays within its respective album is much more substantial than "The Blacker The Berry". Having very few criticisms of TPAB (second favorite album of all time), one would be that it can be overwhelming. With regards to that, each track on TPAB is so-well produced that it would serve as a standout on any other record. When comparing how outstanding each track is within the microcosm of its album, "m.A.A.d. city" stands out to the listener more than "The Blacker The Berry," and in my opinion, earned its win with valor.
u/Wesley's Theory
Trying to decide who would win this match was like trying to compare apples and oranges. On the one hand, the funk experience that is "Wesley's Theory" introduces the listener to a slew of characters within the TPAB world, making it a standout opening track. "u" stands as a total contrast to much of the album, showing insecurities and sadness rather than anger, self-love, or triumph, with it's downtrodden, melancholy production enhancing the environment. In the end, another gut pick. "u" hit me harder than "Wesley's Theory," despite Josef Leimberg yelling "Hit Me!"
Fourth Round
Alright/King Kunta
"King Kunta" instrumental.
m.A.A.d. city/u
Remembering that "m.A.A.d. city" won its last battle because it stood out more against the grain, it is by this exact same criterion that it loses to "u." As previously mentioned in the previous round's tough decisions, "u" marks a distinct shift in tone from the rest of TPAB, and it resonated more with me upon the very first listen than "m.A.A.d. city" did. The sound-mass of an instrumental on the first half switching to a jaunty beat marked by percussive bottles clinking made the sonic environment on "u" more impactful than the urgency switched on swirling instrumental on "m.A.A.d. city." Kenny wasn't getting gunned down by Pirus and Crips, he was getting gunned down by "u."
Fifth Round
How Much A Dollar Cost/King Kunta
Gut decision.
Sing About Me, I'm Dying of Thirst/u
"u" has fought bravely over the course of this bracket, and a lot of its success lied on the impact of Kendrick's performance as well as the dark instrumental. But judging emotional crux against emotional crux, the victory had to go to "Sing About Me." Epic in scope, subdued instrumentally, organically leading the listener through lyric after heart-breaking lyric, the track paints the image of the straw that broke the camel's back, the molting of K Dot into Kendrick Lamar. "Sing About Me" is more impactful to me because there are hundreds of stories just like this, stories that we will never hear from disenfranchised youth because of a million reasons. Kendrick gives them all a voice. Kendrick sings about them.
Final
How Much A Dollar Cost/Sing About Me, I'm Dying of Thirst
The finale. The Duel of The Fates. The championship. Both of these tracks show Kendrick having had enough. With "Sing About Me," he vows to leave behind the gang lifestyle of Compton for something greater, while "How Much A Dollar Cost" shows Kendrick giving up his battle against Lucy and Uncle Sam. Additionally, both of these tracks have heavy religious overtones: "Dying of Thirst" makes reference to holy water and Kendrick's acceptance of Jesus, while "How Much A Dollar Cost" mimics the parable of the Sheep and the Goat, the homeless man Kendrick turns down revealing himself to be God. In terms of scope, both of these songs project onto hundreds of thousands of other people, "Sing About Me" in a quiet and passive sense, and "How Much A Dollar Cost" in a more active sense. Equally matched, I let my subjectivity make the final decision. The rolling piano instrumental, the laid-back beat, and the expansive mix of "How Much A Dollar Cost" made a more profound impact on me than the jazz-sampled "Sing About Me." Not to mention, opening up Exodus 14 and humbling himself would pave the way for the storyline on DAMN. The win is bittersweet, but well-deserved.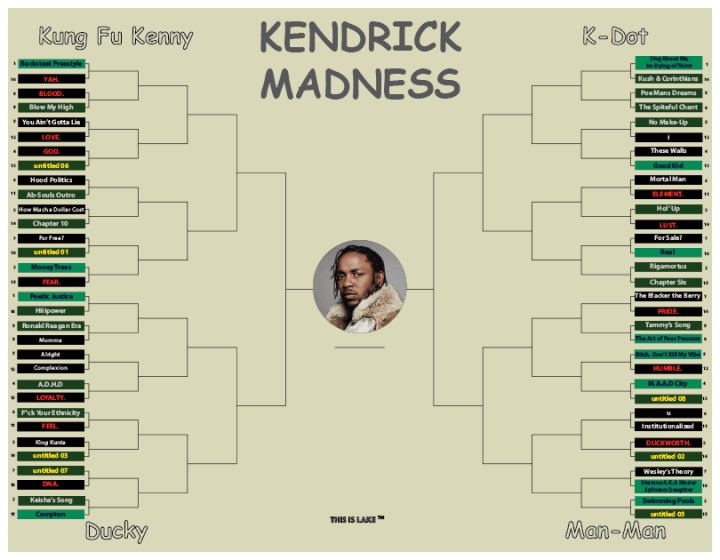 Let me know what your Kung-Fu Kenny brackets look like down below!