The Hidden Innuendos Inside Beatles' Songs
They were not quite as cute as their PR people made out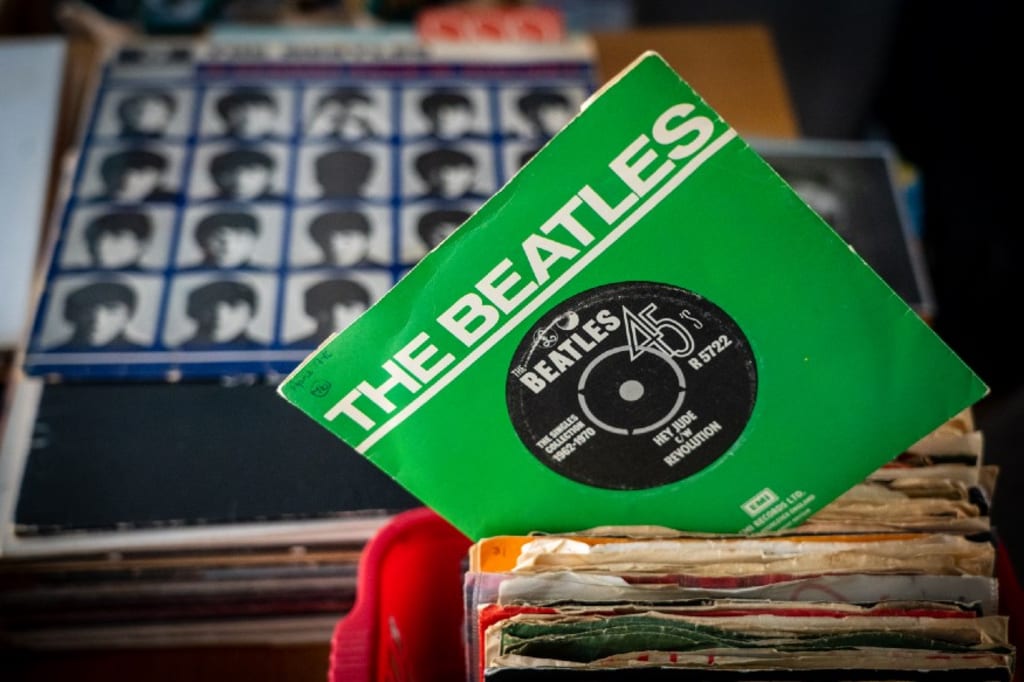 Photo by Nick Fewings on Unsplash
Highly creative, articulate and intelligent, The Beatles were also a tough down-to-earth working-class band from the port city of Liverpool. They spent many years before their fame playing in the clubs of Liverpool and the bars of Hamburg surrounded by prostitution, crime and drugs.
The Beatles were young men having a great laugh inserting references in their songs about their many sexual and drug-related experiences.
Please Please Me
Please Please Me was based on Bing Crosby's Please and the Everly's Cathy's Clown, especially the Lennon/McCartney harmony in the classic Everly style. It was the song that announced The Beatles to the UK following the lacklustre Love Me Do.
The USA had to wait a little longer for Beatlemania because Capitol Records refused to release the song. They were not keen on their raw sound and even less keen on the lewd suggestions of oral sex¹.
Please please me, oh yeah, like I please you
Innocent? Not when you take in the first verse.
Last night I said these words to my girl

I know you never even try, girl

C'mon (C'mon), please please me oh yeah, like I please you.
It seems John Lennon feels he's giving all the pleasure and wants some back — come on, come on.
I Am The Walrus
I Am The Walrus was influenced by Lewis Carrol's poem, The Walrus and The Carpenter. Carrol was one of Lennon's favourite authors and he loved the nonsensical free-flowing lyrics of his work. He used a similar stream of consciousness style for I Am The Walrus, bringing in random ideas from many different sources.
The BBC banned the song for the lines 'pornographic priestess,' and 'you let your knickers down.'
They totally missed the real sexual reference.
I am the egg man , They are the egg men , I am the walrus . Goo goo ga joob
Eric Burdon of the Animals, a good friend of Lennon's, revealed in his autobiography, Don't Let Me Be Misunderstood, that Lennon called him the Eggman. Burdon had told his friend he liked women to break raw eggs on his stomach during sex.
Goo goo ga joob is a reference back to the Humpty Dumpty nursery rhyme and Humpty breaking; like Burdon's eggs. I feel a little queasy at that thought.
3. Happiness is a Warm Gun
Moving on swiftly, Happiness is a Warm Gun is one of the highlights of a White Album crammed with some of their greatest songs. Lennon got the idea for the title from a magazine called American Rifleman² which had the phrase on its front page and an associated article inside.
Private citizens owning guns is an unusual concept for Brits so the phrase stuck in Lennon's mind. He said the expression was, "an insane thing to say as it means you've just shot someone."
Lennon, of course, made things a tad more complicated by giving the lyrics two meanings.
The double entendre of the title was not lost on the morally staid BBC who banned it. Lennon admitted the double meaning was deliberate. It was about his relationship with Yoko who he refers to as Mother Superior in the song; "Mother Superior jumped the gun" is a reference to having sex with Yoko.
When I hold you in my arms (ooh, oh, yeah)

And I feel my finger on your trigger (ooh, oh, yeah)
I don't think I need to translate that.
4 Penny Lane
McCartney got around the priggish BBC censor by being more subtle than his partner with his lyrics on Penny Lane.
A four of fish and finger pie in summer meanwhile back...
A four of fish refers to four pence worth of takeaway fish and chips but a finger pie young man's finger inserted somewhere you'll have to use your imagination for. There are also references to condoms (the banker never wears a mac), masturbation (it's a clean machine) and selling drugs on the street - a pretty nurse is selling poppies from a tray.
5 Why Don't We Do It In The Road
Paul McCartney has conceded that he wrote the lyric for Why Don't We Do It In The Road after seeing two monkeys copulating in the middle of the road in India.
Why don't we do it in the road?

No one will be watching us

Why don't we do it in the road?
Not a lot of subtlety in this one, lyrically or musically.
6 With A Little Help From My Friends
Surely everyone's favourite happy singalong from those lovely Beatles boys didn't have naughty meanings? The Beatles were so much nicer than the barely house-trained Rolling Stones or those awful Kinks brothers.
I've got bad news for you, A Little Help From My Friends is another one with a host of double meanings.
On the face of it, it's about getting by thanks to your friends. It is. But it's also about drugs, despite Lennon claiming it's not — "I get high with a little help from 'my friends'." Of course not, John. No drug reference there.
Then John and Paul got giggly whilst writing the lyrics, intended for Ringo, and inserted the lines:
What do you see when you turn out the light?

I can't tell you but I know it's mine.
They got Ringo to sing about his willy without him realising. Paul admitted it many years later.
7 Don't Let Me Down
The song is about John's love for Yoko. John feels vulnerable, pleading Don't Let Me Down.
I'm in love for the first time , don't you know it's gonna last

It's a love that lasts forever , it's a love that had no past
Very nice. But love is physical too so John goes for that as well. And he exposes his poor grammar at the same time. You get what he means nonetheless.
And for the first time that she really done me

Ooh she done me , she done me good
We all know what's going on here.
8 Polythene Pam
This song was originally penned in for the White Album. It was also rehearsed for Get Back before ending up in the medley on the second side of their final recorded album, Abbey Road.
The title comes from the nickname of a fan they knew from their Cavern Club days, a girl they called Polythene Pat because she used to eat polythene. Sometimes she burned it first but allowed it to cool down before consuming it; she wasn't completely out of her mind.
However, the song is not about consuming toxic plastic substances but S & M.
Well, you should see her in drag dressed in her polythene bag
It's based on a meeting with a friend who introduced Lennon to a girlfriend who dressed all in polythene. Lennon's imagination did the rest with a tweak on the title name to Polythene Pam.
Get a dose of her in jackboots and kilt

She's killer-diller when she's dressed to the hilt

She's the kind of a girl that makes the "News of the World"
The News of the World was a sensationalist British Sunday newspaper that used to run lurid stories about sex, drugs, pornography and carried photos of attractive semi-naked young ladies for reasons that had absolutely nothing to do with the latest news.
9 Day Tripper
Day Tripper was a double A-side with We Can Work It Out. Another song with double meanings, one innocent about a tourist day trip and the other a drug trip and sex. Both Lennon and McCartney confessed years later that it was a drug and sex song. Day Tripper is a less than subtle reference to taking drugs.
The sexual reference is fairly clear too although the orginal lyrics were even clearer.
She's a big teaser, she only played one night stands.

She's a big teaser, she took me half the way there now.
In interviews much later in his career, Paul McCartney said the original lyrics were, she's a "prick" teaser. They obviously had to change that for the recording or the BBC would have been on their case. Again.
10 Norweigan Wood (This Bird Has Flown)
Norwegian Wood is from the Rubber Soul album. The folk style of this song has an obvious Dylan influence, so much so that Dylan recorded a parody of the song on Blonde On Blonde called 4th Time Around.³
I had a girl, or should I say, she once had me
John Lennon explained the meaning of the song in an interview with David Sheff in All We Are Saying.
It was about an affair I was having. I was very careful and paranoid because I didn't want my wife, Cyn, to know that there really was something going on outside of the household. I'd always had some kind of affairs going, so I was trying to be sophisticated in writing about an affair, but in such a smoke-screen way that you couldn't tell.
We talked until two and then she said, it's time for bed
I'm not sure it's that sophisticated. Fantastic song though.
11 Ticket To Ride
Yet another Beatles song with double meanings. The innocent meaning is that Ticket To Ride refers to Ticket to Ryde, Ryde being a town on the Isle of Wight off the south coast of England. Lennon and McCartney had visited Ryde because McCartney's cousin lived there.
However, John Lennon used the term 'ticket to ride' to refer to the prostitutes who worked in Hamburg. The local authorities gave them health checks to ensure they had no diseases and issued them with a document — a ticket to ride in Lennon's mind.
Not such innocent Mop Tops after all
The fact that The Beatles put many drug references in their lyrics is common knowledge and much-debated - was Lucy in the Sky With Diamonds a reference to LSD or a simple child's drawing as Lennon insisted?
Less well known are their hidden sexual innuendos, such as finger pie, the Eggman and Ticket to Ride.
¹ Revolution In The Head by Ian MacDonald
² Beatlesbible — https://www.beatlesbible.com/songs/happiness-is-a-warm-gun/
³ Revolution In The Head by Ian MacDonald
An earlier version of this article first appeared on medium.com
bands
Fiction, humour, music and travel. Get my newsletter - byalexmarkham.eo.page/newsletter