The Great Rock and Roll Blues Playing Guitar Hombre We Lost in 2021
ZZ Top lost a third of its band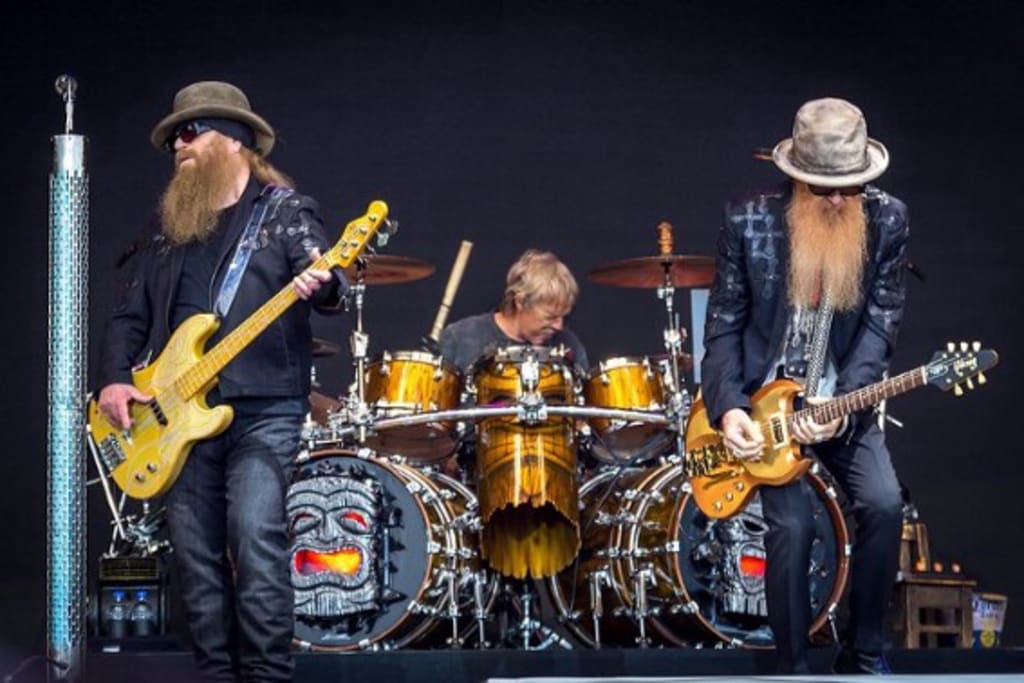 https://creativecommons.org/licenses/by/2.0 Wikipedia stock photo by Brian Marks
Some great musicians lost their lives in 2021.
Charlie Watts, the long-time drummer of The Rolling Stones, Phil Spector, one of the great music producers, along with BJ Thomas and Tom T. Hall, plus many others, come to mind. 2021 was a challenging year for all.
The one death that stands out is Dusty Hill, the bass player, vocalist, and co-founder of ZZ Top, a Texas Rock and Blues band.
Dusty passed away in his sleep on July 28, 2021. He was 72 years old. The actual cause of his death is unknown or undisclosed. It doesn't matter as we've lost a great musician, innovative songwriter, and incredible performer.
ZZ Top started as a garage band in Houston, Texas, in 1969. They were founded by Billy Gibbons, Dusty Hill, and Frank Beard. They quickly climbed the music charts with Blues, Country, Rock, and Boogie hits, rapidly climbing the charts in the seventies.
Their songs are timeless and their tours are remarkable. They are responsible for the rapid growth of MTV with their well-produced short videos. A quick search on google will take you to some of their finest works.
In 2004 they were inducted into the Rock and Roll Music Hall of Fame. A sample of their songs are Sharp Dressed Man, La Grange, Tush, Legs, Give Me All Your Lovin', and many more. They've sold over 25 million albums.
I released an article in July a few days before his death titled: Sixty Five Years of Memories is a Lot. Little did I know how timely that story was.
Part of the story focuses on a rare afternoon many years ago I had with Billy Gibbons, ZZ's lead guitar and official founder. Billy spent a lot of time talking about Dusty Hill. In the photo above, Dusty is on the left; Billy is on the right. I could tell there was a strong bond between them that few people have — part of the group's success.
When the news broke regarding Dusty, I lost my breath, and my heart sank. Their music will live on for years, their tours will continue with their guitar technician Elwood Francis filling in, but Dusty's death will linger on fans' minds for a long time.
ZZ Top is as much a part of Texas as Willie Nelson is. They are an ever-present talented group, giving back to society in ways many people can't imagine.
Dusty was only seventy-two at the time of his death. He had his share of medical problems, none of which seemed life-threatening. His death was s shock to all.
The group will recover and move forward. But their energy and momentum have been disrupted. Dusty Hill was a trendsetter for a genre of music that is timeless.
The sudden death of a media star, friend, or family causes us to reflect on our mortality, slow down a bit and appreciate life for its value. Every day is a gift and should be treated as such.
My heart goes out to Frank Beard and Billy Gibbons, along with their families and the many members of their entourage. ZZ Top has been together for over four decades. Their energy, persona, and music helped shape rock and roll providing an avenue for enlightenment during a tumultuous social and political period that continues.
Their loss is ours; their music is intense. Dusty's death is one of many we witnessed in 2021. It is a reminder that each day is a gift to be appreciated, and each day shall end knowing that you've contributed a portion of your time to helping others in need.
ZZ Top fulfilled that need through their charity work, music, and occasional appearances in movies.
The loss of Dusty Hill shall not be forgotten.
About the Creator
I am a general interest author actively involved with technology and communications. My inspiration to write is multi-dimensional. I am a multi-service Veteran.with a Masters in Communications from the University of Northern Colorado.
Reader insights
Be the first to share your insights about this piece.
Add your insights