The day the world stood still for me
The day we lost Elvis
Where were you when Elvis died? At the mall? Eating out, shopping, preparing dinner, relaxing? All of these are good questions/suggestions. Me I was sitting on the steps on the apartment complex enjoying the day when they announced Elvis had died.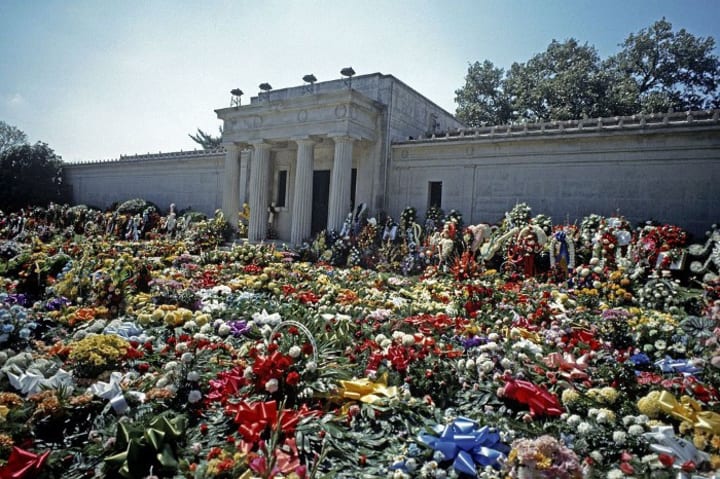 August 1977, Elvis Aaron Presley passed away. There was a shock wave sent through the nation and the world. I was only sixteen at the time when the announcement was made. I said "that's a nice joke now tell another one." This happened just as we were gearing up for back to school.
On the day of his funeral my sister and I asked each other which channel? She was asking channels 7, 10 or 13? That's right cable hadn't taken over yet and all we had was the three local channels and Elvis was just like the president, on all three channels. My grandmother watched it with us and said "kids, in years to come this will be your Kennedy moment in history." "People will ask you if you remember what you were doing and where you were at when Elvis died."
I remember in 1973, then after his death watching a rerun of his world wide concert live from Hawaii. It was a wonderful event, but we had to watch it under parental supervision because they considered Elvis a bad influence on children. Some of the speakers at Elvis' funeral was Muhammad Ali, Reverend Rex Humbard, whom Elvis thought very highly of and was asked by Vernon to preach the funeral for Elvis.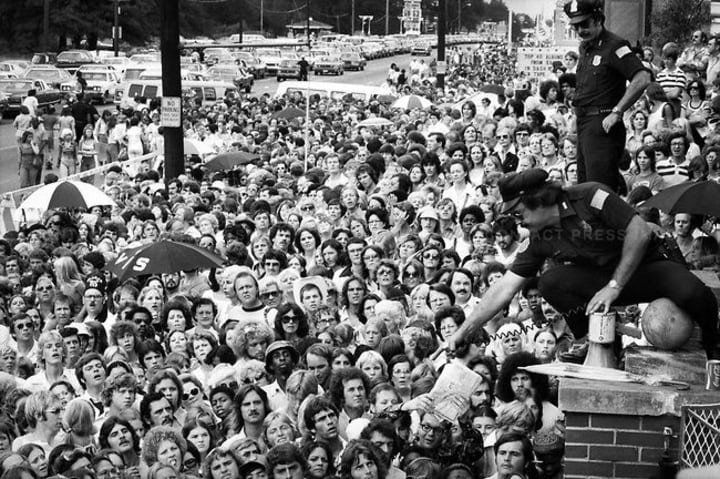 Elvis was buried in a cooper casket. Elvis had proposed to Ginger Alden in January 1976, of course she said yes. What made Elvis so unique, different? He did things his way. When Colonel Parker met with Dolly Parton about Elvis doing I will always love you, he told Dolly, you know Elvis retains fifty percent rights to everything he sings. He says that's the way we do business, and Dolly said well that's not how I do business and walked away. There is a video titled long black limousine and it is sung by Elvis. Here is the video of this song.
The thing about Elvis is he is like Michael Jackson and will live forever through his fans. Elvis will live in the hearts of us older fans that knew of his legacy, and love of others. Elvis did for others. He heard of a lady who needed a new wheel chair, he told Colonel Parker to find out who she was and to buy her the best wheel chair available at the time and he didn't care how much it cost. Elvis was known to give away his military pay because he didn't need it.
When the city of Houston told Elvis to leave his black back up singers at home, he said to the city either his girls get the same treatment as him or else he will cancel the concert. The city caved and the girls received the same treatment Elvis did.
When Elvis was drafted into the Army he could have done like other stars and got a permanent(p3) profile that limited his activities. But Elvis said he wanted to be treated like everyone else that he wanted no special treatment. We lost a very unique person, a great individual, a great singer, and a great human being when Elvis died.
Mac Davis wrote a song called in the Ghetto for Elvis in 1969 and he was told not to release the song or sing it. The song had been presented to singers such as Sammy Davis Jr who flat out refused the song. Elvis said he'd do the song despite what controversy it might bring, it did the opposite.
If you liked this article please feel free to leave a tip. Thank you.
celebrities
About the author
I am a new author. I wrote my memoir Silent Cries and it is available on Amazon.com. I am new to writing and most of my writing has been for academia. I possess an MBA from Regis University in Denver, CO. I reside in Roanoke, VA.
Reader insights
Nice work
Very well written. Keep up the good work!
Top insight
Expert insights and opinions

Arguments were carefully researched and presented
Add your insights