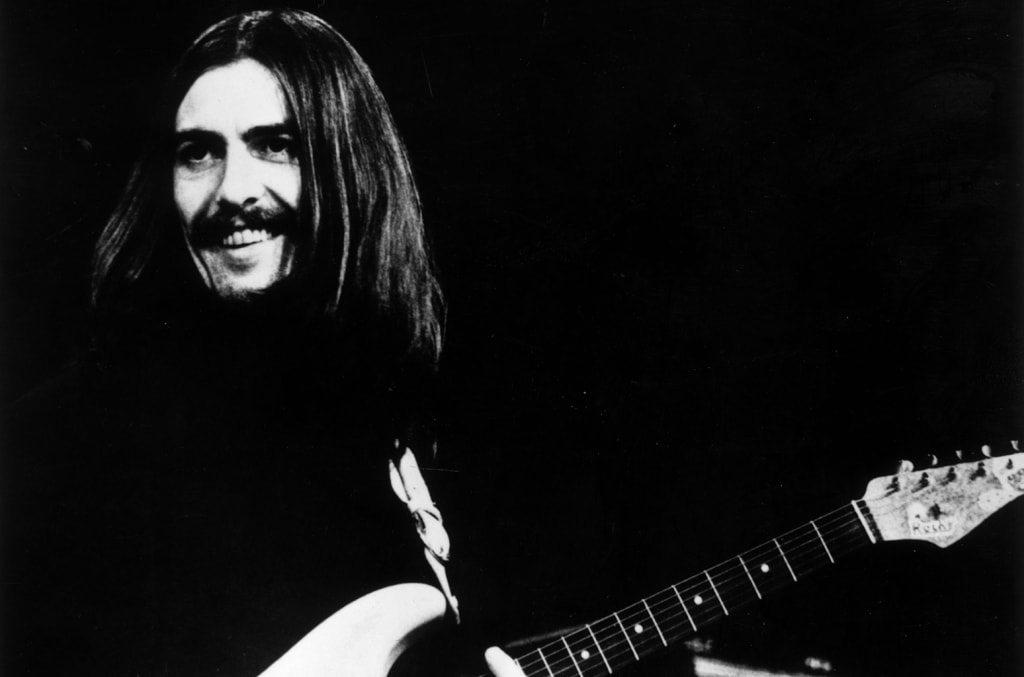 It's 21:13 on February 25, 2018, the day that marks 75 years since the birth of one of the most influential people to ever grace the music industry. I find myself back home for the first time in a little while, sat in my dad's music room listening to "My Sweet Lord" as my mum berates Dad until he finally turns it up, as it simply "has to be played this loud." She's not wrong. One of the greatest things that I owe to both of my parents is my utter adoration for music in its entirety, from the way it is crafted to the way in which it is performed.
Growing up it was practically impossible for me not to fall in love with The Beatles, with my initial years spent being engulfed by the Lennon-McCartney phenomenon. There's no denying their talent but as I aged and life put me through somewhat challenging situations, it was Harrison that captured my soul. I challenge anybody to listen to All Things Must Pass and not be in total awe of Harrison.
Lyricism
When you think of The Beatles you are immediately drawn to the lyrical creations of the Lennon-McCartney duo. What most people fail to remember is the mere lyrical genius of Harrison. Sometimes the simplicity of lyrics is truly the most powerful and for a person to make a song with a title as mundane as "Something" and create one of the most beautiful love songs in history exhibits Harrison's sheer genius in its purest sense. After studying English at University for three and a half years, it is no surprise that I invest so much time, passion, and energy in to the formation of words and its simple beauty, but it appears that only a fool would be able to overlook Harrison's seamless combination of words to create the most beautiful art.
Lennon and McCartney formed the basis for my love for The Beatles and musical creation. Harrison cemented it as a fundamental part of my existence. In my teenage years, I spent so much of my time using music as a way to deal with internal emotions, Harrison's crafting of songs was the foundation of this. If one turns to "Beware of Darkness," the true beauty of George's work radiates.
"Watch out now, take care
Beware of the thoughts that linger
Winding up inside your head
The hopelessness around you
In the dead of night"
After suffering with mental health issues for numerous years, being able to resonate so deeply with just some words scattered in a song proves of vital importance to my 16-year-old self and years later—that significance still lingers.
Humour
Lennon was always considered as the most outright humorous Beatle, but I feel like such a sentiment completely discredits George's witty personality. When George Martin asked the band members if there were any faults in the studio, Harrison's response was simply "For starters, I don't like your tie." Harrison has eternally been considered as the quiet Beatle, but it is one liners such as this that emphasise that sometimes it is quality—not quantity.
Musical Composition
George totally revolutionised The Beatles sound. It is hard to listen to the majority of "A Hard Day's Night" without noticing the phenomenal sound of George's 1963 Rickenbacker 360/12. The 12 string guitar brought a new dimension to their sound. It's a near impossible task to place one Beatles album above all the others—but I always find myself gravitating back to both Rubber Soul and Revolver, and it is of no coincidence that these albums were both shaped drastically by George's integration of Indian instruments aligning with the fundamental influence of Ravi Shankar.
The Travelling Wilbury's
George Harrison took the definition of a "supergroup" to a whole new level. Harrison combined the talents of Bob Dylan, Jeff Lynne, Roy Orbison, Tom Petty, and himself to create the ultimate musical spectacle. The late Tom Petty highlights Harrison's fundamental importance in the groups formation:
"It was George's band—it was always George's band and it was a dream he had for a long time."
The Wilbury's first track "Handle With Care" was created merely as a B Side for a European single release—but thankfully, Warner Bros. noticed the exceptional brilliance of such a creation, insisting on the formation of a full album from the supergroup.
Charity Work
While All Things Must Pass is undeniably considered Harrison's greatest solo work, it is Concert for Bangladesh that constantly finds itself moving at 45 revolutions per minute on my record player. George's relentless compassion and desire to make a positive impact on this world is one of the greatest remainders of his legacy, as is represented by the Concert for George that marked the first anniversary of George's death. Organised by his wife Olivia and son Dhani, and directed by Eric Clapton and Jeff Lynne, it seemed only fair that this spectacle of music at the Royal Albert Hall raised money for Harrison's own foundation—Material World Charitable Foundation.
So I guess all I'm really trying to say through all of this is thank you George, for being a light in times of darkness, and proving to me that life is not always going to be this grey.
Reader insights
Be the first to share your insights about this piece.
Add your insights