The Black Belt of A Capella
A Brief Introduction to Barbershop Quartet Music
"Barbershop is the black belt of a capella."
This is the claim of Deke Sharon, one of the leaders and pioneers of the contemporary a capella sound and style. For a man that has directed several choirs, quartets, arranged and produced for Broadway, TV, and more recently the Pitch Perfect trilogy — that's a pretty bold claim.
And he's right.
The Year Was 1938...
Owen Clifton (O.C.) Cash was really just interested in getting a few friends together to with no further plan other than to meet and sing.
He, in his mind, felt that things were starting to be overly controlled and that there were few things that were left untouched by higher-ups. One of those things was barbershop music. An art form that by 1938 had lost much of its popularity, Cash saw it as a sanctuary in a society that he felt had become dictatorial. With an invitation to 14 friends and with only a Dutch lunch and singing to offer, Cash unknowingly set into motion a meeting that would lead to the forming of a greater society.
On April 11, 1938, the "Song Fest" was scheduled to be had on the Roof Garden of the Tulsa Club. Including a few friends that Cash said had "crashed the party," 26 men came together and sang into the night. Complaints of "noise" from lower floors of the club led to the next meeting taking place at Hotel Tulsa. A possible sign of things to come, 70 men attended this meeting, leading to another relocation by late May. Now at the Alvin Plaza Hotel, the meetings typically had anywhere from 75-150 attendees.
With its growing popularity, the group, by now going by its name of the Society for the Preservation and Encouragement of Barber Shop Quartet Singing in America (SPEBSQSA) eventually started to spread out of Tulsa. Through some clever advertising and timely talk, chapters of the society began to pop up in Kansas City, Oklahoma City, and St. Louis. By 1939, OC Cash felt that a major event was needed to commemorate the occasion.
In its home base of Tulsa, Oklahoma, the first competition to determine "The World's Champion Barber Shop Quartet" was held on the 2nd and 3rd of June, 1939. Representing seventeen cities and ten different states, nearly 50 quartets came and sang in the inaugural contest. The first champions, The Bartlesville Barflies, were rewarded with a trophy and a check for $50. A small prize at the time, but an unknown treasure of being the first champions of an organization still alive today.
Across the Nation and Across the Globe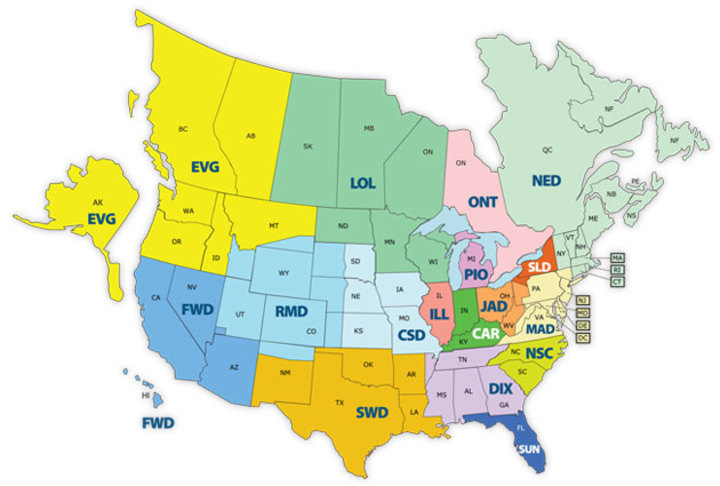 Across the Nation and Across the Globe
As the hobby has grown in the near 80 years since that inaugural meeting, it branched out of Tulsa and not only across the United States, but around the globe. With 17 districts in all, these branches cover not only the continental US, but Alaska, Hawaii, and Canada as well.
Here are those districts, each with a link to their individual sites:
With the message of music spreading all over the world, the Society has branched out to several foreign districts as well, with ten direct affiliates in total. Their names and information are as follows:
In addition to these direct connections as part of the Barbershop Harmony Society, two sister societies have been formed as well. These societies broaden the opportunities to further quartet singing to women and mixed gendered groups:
So, What Have We Learned?
Through this much too brief look into the start and spread of quartet singing, we've seen how much can come from so few. Twenty-six men met on a rooftop back in 1938, and almost 80 years later, thousands and thousands of people from all walks of life and all over the world continue to spread their message of harmony.
O.C. Cash just wanted to get some friends together to sing, and in doing so set in motion the formation of a Society that continues to thrive today.
This is just one chapter in the story of the Barbershop Harmony Society.