The Best That Vegas Had To Offer
A Look Back at the Highest Scoring Performances of the Top 10 Quartets at the 2017 International Barbershop Convention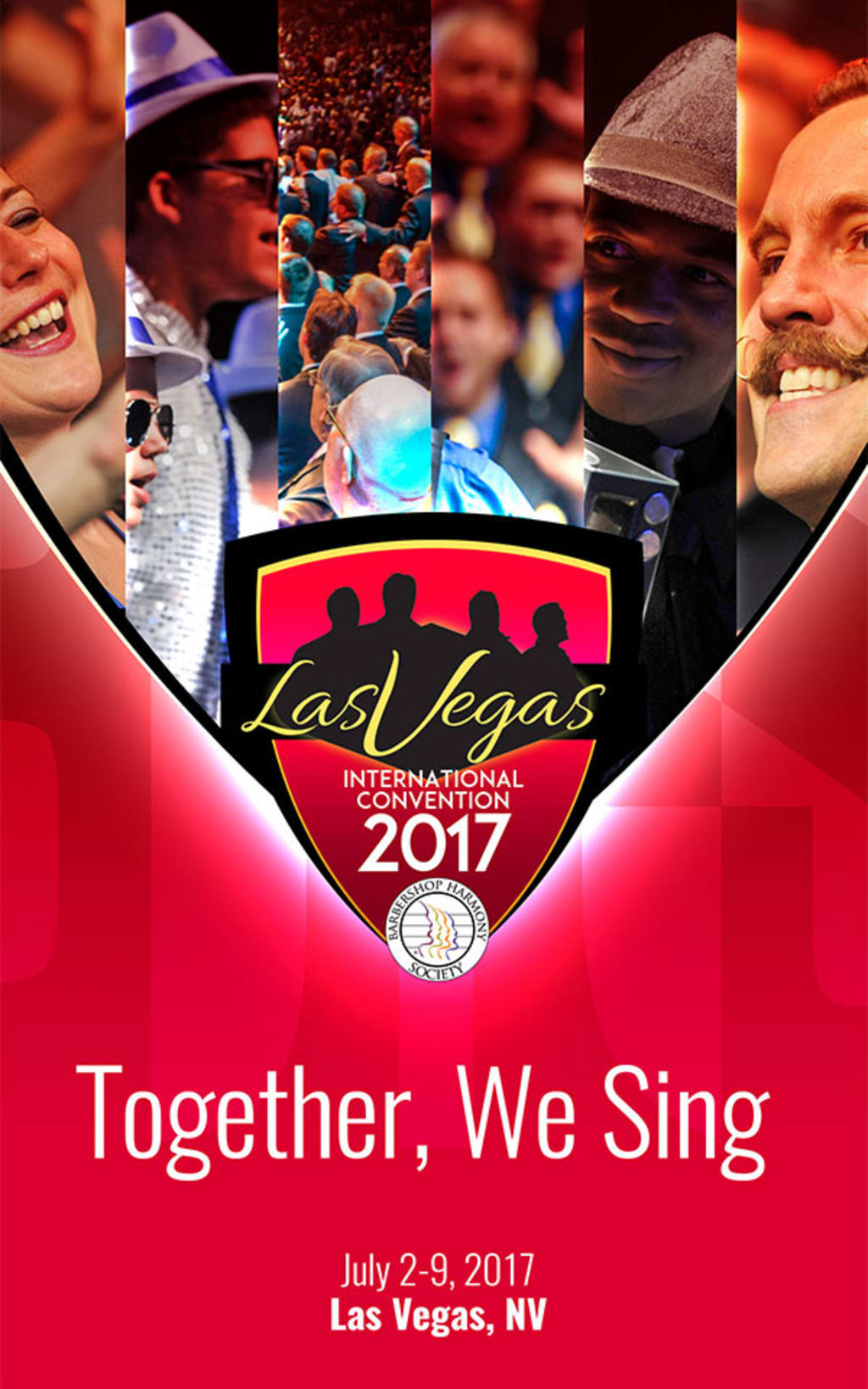 Every year, the Barbershop Harmony Society comes together to meet, join, and, of course, sing together at its International Convention. This past summer, the scene was set in Las Vegas as 55 quartets from across the globe came in the spirit of harmony to see who would be crowned the year's best quartet.
In one of the tightest races in recent memory, these 10 quartets stood tall as the best of the best, with two fan favorites competing through to the last round until at last a winner was crowned; a mere 25 points separating first from second place.
These are those quartets, in ascending order, with their highest scoring song, its total score (out of 1500), the quartet's final percentage, and a bit of backstory.
'Round Midnight had always been a crowd favorite. With a jazzy sound and a unique style, these gentlemen could be counted on for great performances. Up until this past summer, however, they had yet to crack the top 10. Having most recently reached 11th in 2015, the group took a year off from competition to focus more on family and other matters. Back with their usual flair and an even stronger sound, 'Round Midnight finally cracked the top 10, to the delight of the crowd and elation from the quartet and their families.
Their highest scoring song came in the quarterfinals with their rendition of the Sam Cooke song, "Nothing Can Change This Love."
The Newfangled Four may be the new darlings of the world of barbershop music. Providing a burst of youth, a wide array of song styles, and a strong and compelling stage presence, these young men are well on their way to medals and, possibly one day, an International Championship. The 2013 Youth Quartet Champions, The Newfangled Four has steadily been climbing the rankings, using a mix of barbershop classics and new arrangements to gain ground each year. Their previous high had been just one year prior, as they were 11th in the 2016 contest.
Their highest scoring song came from their convention-stealing semi-final set, with their rendition of the Mary Poppins classic, "Supercalifragilisticexpialidocious."
Artistic License is one of the most consistent quartets to have competed at the International Convention. Never afraid to take on a challenging song, and allowing each member a moment to shine in each piece, these gentlemen are truly what barbershop music is all about: collaboration, unity, and harmony. Climbing place by place over the last few years, this quartet has always provided a mix of elegant theatrics and a strong, united sound. Having placed 9th the year prior, Artistic License came together and continued their streak of rising up the rankings.
Their highest scoring song came in the semifinals with their rendition of Sherwin and Maschwitz's "A Nightingale Sang in Berkeley Square."
Category 4 has possibly the most complex journey as far as the other Top 10 Quartets are concerned. With a name change and a few new members, they returned to the contest stage this past summer, bringing back with them their usual charm and carefree attitude with their solid sound. Always ones willing to make fun of themselves while mixing in some of their contest favorites, Category 4 knows how to put on a solid performance in each contest. Mainstays in the Top 10, these men are always in the conversation and don't plan to shy away anytime soon.
Their highest scoring song came from their semi-final set, with their medley rooted in the Gershwin classic, "Let's Call the Whole Thing Off."
Stockholm Syndrome is the latest in an ever-growing list of examples of the power that the foreign affiliates bring to the International Contest. With two former champions and years of experience amongst them, these young men continue to show the strength of Sweden with another strong showing. Using a mix of classic barbershop arrangements with their own twists along with a few new charts, Stockholm Syndrome continued their climb up the ranks, inching ever closer to a medal and perhaps a championship in their future.
Their highest scoring song came in the semi-finals with their emotion-driven, powerful rendition of the 1950s Bob Russell and Paul Weston ballad "No Other Love."
Quorum has one of, if not the, best sounds in barbershop singing today. With a strong bass and tenor that can blend without overpowering the sound, a baritone that fits in each chord like a glove and a lead with proven experience and power, this quartet has it all. When these four men take to the stage, you can be sure that their set will most likely leave you on your feet. Able to take a variety of songs from a variety of sources, Quorom has the potential to remain a medalist quartet, and perhaps become a not-so-surprising champion as well.
Their highest scoring song came in the quarterfinal round, when they performed their rendition of the Rodgers and Hammerstein ballad from Cinderella, "Do I Love You Because You're Beautiful?"
Throwback has possibly the most powerful sound of the Top 10 Quartets. With each voice capable of bringing the volume behind the highest and lowest notes, these men are constantly inching closer and closer to a championship that some see as an inevitability. Basing their sound primarily on a heavier, more country-centric repertoire, Throwback definitely stands apart from the rest of the convention's quartets. With their growing momentum and rising rank and scores, Throwback may soon find those gold medals around their necks.
Their highest scoring song came from their quarterfinals set, with their powerful rendition of The Hollies' "He Ain't Heavy, He's My Brother."
After Hours was perhaps the most pleasant surprise to come from the 2017 Quartet Contest. Springing up the rankings to 3rd place, these young men made their presence known and left a lasting impression on both the judges and the audience. Bringing a youthful energy that flowed out beautifully from the stage, their repertoire was a balance of songs from Broadway with a few jazzy classics. With their sudden rise and the sky as the limit, After Hours could be a serious contender for that 2018 championship.
Their highest scoring song was their last song of the convention, as they closed their finals set with the jazz hit, "You're A Heavenly Thing."
Signature came into the 2017 International Contest with a ton of momentum and intrigue. After a stellar 3rd place performance the summer before, everyone was anxious to see if these men could recapture the magic of the year before. They did that and so much more. Drawing in audiences with the passion and heart behind every song, and the pure joy they had to be performing alongside each other, Signature very quickly reminded everyone why they will be seen as championship contenders for the remainder of their competitive careers. Using music from all across the spectrum, Signature is truly the definition of what a barbershop quartet can do.
Their highest scoring song came in their semi-final set and was the highest scoring song of the entire contest. They brought the audience to tears and to their feet with their emotional rendition of the Luther Vandross hit, "Dance with My Father."
Main Street almost didn't compete in the 2017 Quartet Contest. Citing financial and personal strains to keep competing, the quartet had initially stated that they wouldn't be taking part. A few months later, they stated that they would compete one last time as a quartet in Las Vegas. A fan favorite, these gentlemen gave the performance of their lives, mixing their usual comedic antics and expert timing with passionate ballads. They resonated not only with the audiences but the judges, and after years of trying new songs and joking at the judges' (and their own) expense, were finally crowned as International Quartet Champions.
Their highest scoring song came in their finals set, as they blew away the judges and brought the crowd to their feet with their energetic and spectacular rendition of the musical Chicago's "Razzle Dazzle."
And There You Have It...
What a week it was in Las Vegas, Nevada. 55 quartets came in with championship hopes and a passion for singing, and they all certainly did not disappoint. With songs covering every genre; from country to comedy, blues to Broadway, there was something for everyone at the 2017 convention. Those 55 were slowly brought down to 10, and what a stacked top 10 it was. From 'Round Midnight and The Newfangled Four breaking into the top 10, to After Hours and Quorum jumping up the rankings, to Artistic License, Category 4, Stockholm Syndrome, and Throwback, it was truly anyone's guess as to who would come out on top. Though eventually, two favorites eventually stood out amongst the competition, with many unsure as to who would be crowned as champions by Saturday's end. Main Street was able to come away as champions in a hard-fought contest, coming from behind to just hold of Signature. A fitting ending for one of the most beloved quartets in recent years.
That being said, attention slowly starts to turn towards the summer of 2018 and Orlando, Florida. With a field rich with so much talent, who knows how things will turn out? There's only one way to know, and that's to get prepared for the 2018 International Barbershop Convention.