The Best Rated Songs on Spotify Right Now
We've tracked which artists are in the lead this week on Spotify's Global Top 50 chart, and which tracks have gained their status as the best rated songs on Spotify.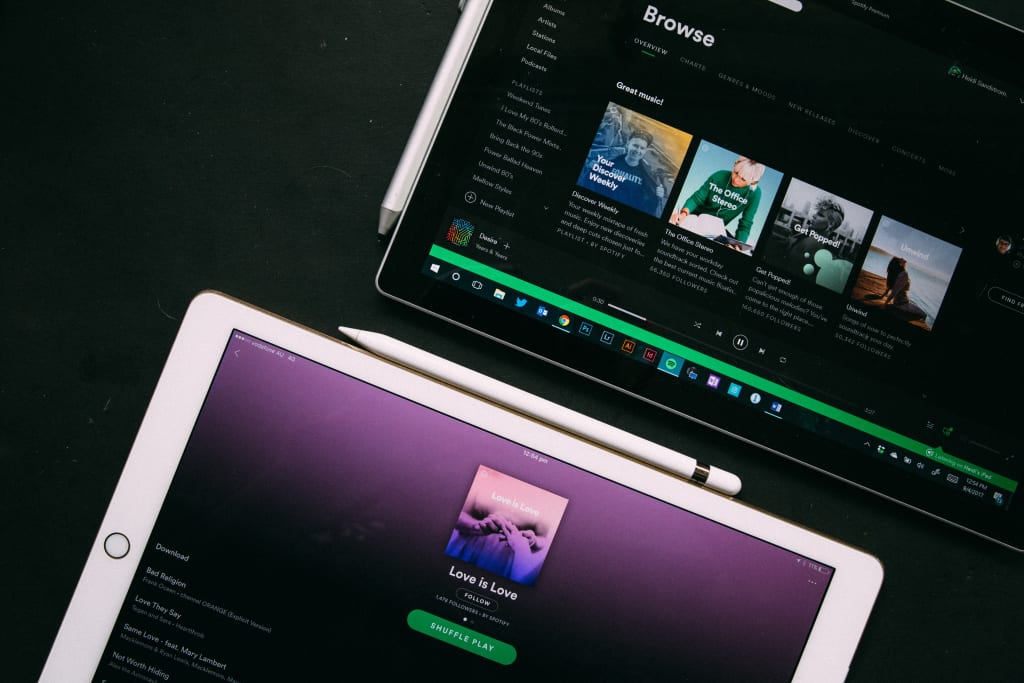 The music industry is a competitive landscape, and artists of all genres share the dream of their music being consumed by millions. Once they make it to the charts, however, their music then becomes almost impossible to ignore. None of these stars' chart-topping reign ever lasts forever, though. We've gathered some of the best rated songs on Spotify right now so that you don't miss a beat, literally. Check out which artists have become today's most frequently played, loved, and then played again... and again, and again on Spotify's global charts.
It's hardly a surprise that DJ Snake's "Taki Taki" has come in as the most frequently played song currently on Spotify. Doubling as both a club anthem and a bedroom jam, this song's chart topping artist lineup, featuring Selena Gomez, Ozuna, and Cardi B, has created an intimidating hype. The anticipation for this star-studded track was breaking records before it was even available to the public, earning its status as the most pre-saved song in Spotify history. Ozuna's breakneck rap is colored with reggae-inspired backbeats, giving this track an edge over its number of Latino synthpop competitors. Selena flaunts her Hispanic roots with a bilingual feature, clearly not needing a Justin Bieber-level breakup to tap into her cheekier persona. This fusion of pop forces has made huge waves in the Spotify charts, and continues to earn over five million daily listens.
Bad Bunny's similarly Latin-infused synthpop single poses some pretty close competition for DJ Snake's chart topper, currently pulling in 4.2 million streams per day. This danceable blend of world and rap genres bounces between bright beat samples and staccato synths, giving this song the an inescapable hip-swaying rhythm. Whether you vibe with this spicier style or not, the energy of "MIA" will transform your car, shower, or kitchen into a personal club. Bad Bunny's smooth electro-pop lays a steady, mellow beat for Drake's fiery vocal lead. Deliciously chill and effortlessly catchy, this track, according to Spotify, is your new favorite party jam.
The rise of music streaming combined with a killer collaboration seems to to be modern pop's latest recipe for success. This new style-blending single, "Happier," features EDM artist Marshmello's bright beats and Bastille's dynamic power pop. Neatly produced and ridden with subtle optimism, this breakup song gives a humble look into sacrificing personal happiness for that of another. The combination of Bastille's distinct vocals and folky storytelling overtop swells of effervescent synth transform this track from what could have been a somber look at romance to a floor-filling anthem. These artists produce consistently good music, and have now merged to create something entirely unlike their individual sounds—and it seems to be working.
Many of us have gotten to know this leading artist for his personality, likely from the funniest Post Malone memes to grace the internet. However, the layers of industrial synth samples and vibey ambiance of "Sunflower" has redirected public attention to this artist's striking approach to mellow pop. Post Malone and Swae Lee have joined melodic RNB forces to produce this chilled out piece for the soundtrack of Spider-Man: Into the Spider-Verse. Don't take the length of this song, though, to be an indicator of its pace—"Sunflower" burns slowly through sedated electro-pop samples, drawing out each chorus with Post Malone's effortless vocals and Lee's smooth falsetto. After the release Post Malone's breakthrough sophomore record, beerbongs & bentleys, it's no shock that this record-breaking album paved the path to this single's deafening fan response, as well as its position as one of the best rated songs on Spotify.
The chilling acoustic riffs and sincere storyline of "Shallow" from the soundtrack of A Star Is Born (2018) have driven this glamorous duet to the forefront of Spotify's most frequently played. Bradley Cooper and Lady Gaga give an earnest performance, led by candid lyrics and heartfelt theatrics. Though Gaga's vocal lead truly rises above Cooper's low-toned folk melodies, this duo's softer opening gives way to the rise of a soaring shared chorus. This track finds a graceful balance between subtlety and strength, showcasing a more stripped down side of Gaga that is mutually vulnerable and powerful. The addictive melody and authenticity at the core of this song have Spotify listeners streaming "Shallow" with crazed dedication, pushing this song to the brink of nearly 3.2 million daily streams.
The story behind this new track by XXXTENTACION and Lil Pump has proven to be of greater intrigue to this rapper's audience than the song itself. The release of "Arms Around You" has been clouded by ownership wars, untimely tragedy and rumor, having originally been the property of X's close friend and co-producer, Rio Santana. Initially a collaboration between the two artists, this song was placed aside following the unfortunate murder of XXXTENTACION, only to be resurfaced and re-imagined by rap artist Lil Pump to serve as a tribute to X's legacy. The altruistic intent of this release and its big-name collaboration, featuring Maluma and Swae Lee, however, was still not enough to drag this song out of it's industry-assigned status of "overdone 2018 Latino hip hop." Regardless, this has not stopped global Spotify streamers from abusing this track's play button—over 2.5 million times a day, to be exact.
The release of Khalid's debut album, American Teen (2017), launched this artist's progressive nu/alt soul styles to the top of music's popular charts. Throwing in a taste of groovy RNB and a backbone of catchy hip hop, Khalid showcases the power his mellow vocals can have, without even exerting any actual power. His beats at times may feel 2-D, but they're brought to life by ambient synth effects and cool vocal distortions, highlighting the fine line this artist walks between simplicity and depth. With the vocals at the helm of this song, "Better" rides on a stream of Khalid's mid-tone style, and is tied together by a satisfying final chorus. Khalid's smooth soundscapes rarely disappointment, and Spotify listeners seem to agree.
Synthpop artist Halsey has released yet another piece of soulful pop, producing a new fan favorite, titled "Without Me," that has racked up over 2.5 million daily views. This artist's usual atmospheric electro-pop takes on a new identity in this track, literally, in which Halsey unveils her first attempt at songwriting from her own perspective as Ashley Frangipane. And, apparently, in the world of Frangipane, there is no room for humility or hesitation. This confident twist on a typical breakup song echoes the sense of strength laced throughout much of her discography, driven by defiant lyrics like, "How's it feeling sitting up there? Feeling so high… Thinking you can live without me, baby, I'm the one who put you up there." Shamelessness and confidence are the roots of this sentimental track, bringing to light an intimate new rendition of this artist's taste.
At the time, it had seemed as though the entire world was awaiting the release of Travis Scott's latest LP, ASTROWORLD. Fans from all corners of the globe were gathered around streaming devices for the record's midnight release, proving Travis Scott to be the temporary pilot of the hip hop scene. This album's debut single, "SICKO WORLD," shot to the top of Spotify's charts, bringing its imaginative beats and disjointed rhythms with it. Scott's distorted, Tyler the Creator-esque vocals give this song a darker atmosphere, begging the question of whether this track belongs in your headphones late at night or blasting from club speakers. Amongst all his experimentation, though, exists fluid hip hop, with creativity at its core. "SICKO MODE" has certainly made itself at home in Spotify's charts.
I just had to grab this new Kanye track from a bit further down the charts—currently located at number 19 on Global Top 50. This raunchy jam thrives on its obscenity and indecency, but also features one of the catchiest rhythms you've ever heard. Debuted, appropriately, at the first PornHub Awards on September 7, Kanye and Lil Pump's "I Love It (& Lil Pump)" is catchier than you probably even want it to be. You'll be shamelessly jamming along over every ignorant lyric for the sake of its contagious beat. Lil Pump is this track's much needed comic relief, and somehow twists lines like "I'm a sick fuck, I like a quick fuck" into hilarious entertainment. Though many of this week's top tracks aren't necessarily censorship-friendly, this one's volume should remain especially low when streaming in front of Grandma or little Stephanie.
The digital age has proven hugely advantageous for music lovers. Regardless of whether you're debating over Apple Music versus Spotify, streaming platforms have universally transformed the way we engage with the music industry. We are able to access new releases within a matter of seconds, leaving us with no excuse for how we managed to miss the latest news. Keep an eye on Global Top 50 to stay caught up with the industry's current biggest influencers and the best rated songs on Spotify.