The BEST 10 Big Time Rush songs
Now that they're back!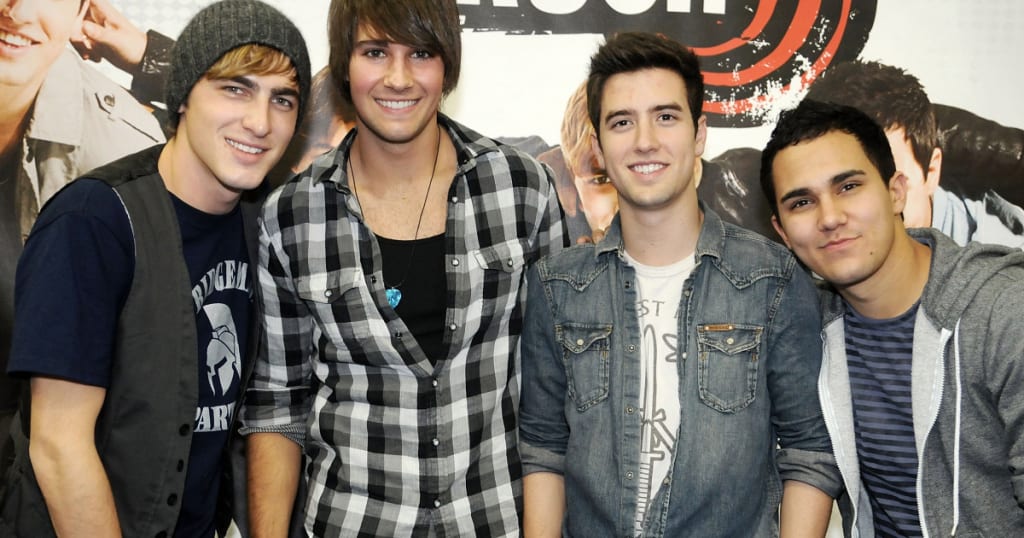 BTR Members
Oh, oh, oh-oh, ooh.
Do you remember them?
It all started on November of the year 2009. The TV show sitcom "Big Time Rush" aired for the first time. So after a traditional casting to choose the boys who would lead the program, the later internationally recognized band was formed. On the series, the characters names were: Kendall Knight by Kendall Schmidt, the leader; Logan Mitchell by Logan Henderson, the brain; Carlos García by Carlos Pena, the funny one; and James Diamond, by James Maslow, the pretty boy.
And these four men became actual best friends like their characters, and the band stole thousands of people's hearts.
With three different albums: BTR, Elevate and 24/7, the band took a break after more than four years of hardwork, in 2014. Never the less, it didn't end there: On July, 2021, the members of the group and the social network of the band itself changed their profile picture to a red screen, which generated expectation to the fans for days, until they finally made public what every fan was waiting for: Big Time Rush is back.
So here it is: The Top BEST 10 Big Time Rush songs, considering mainly the lyrics and meaning.
10. Til I Forget About You
"I'm gonna, I'm gonna, I'm gonna... Dance hard, laugh hard, turn the music up now. Party like a rockstar. Can I get a what now? I swear I'll do anything that I have to... Til I forget about you".
Not a typical heartbreak song.
The rhythm shows joy and the lyrics is mostly about how to get over it. How the main will hang out with his friends and do everything he can to cheer up. So even in hard times, Big Time Rush knows how to be positive and teach you how you can go on.
9. This is Our Someday
"Someday it'll come together . Someday we will work it out . I know, we can turn it up all the way . Cause this is our someday . Someday is what we make it . Someday is right here and now . Why wait, why wait, why wait? Cause this is our someday".
Not everything is about romance, right?
Sometimes you only have a once in a lifetime chance, and This is Our Someday shows you how you must take your shot when you have it.
8. No Idea
"Please tell me you can heal me . I'm expressing my love . Won't stop till I get you . I'm not letting up . I'm running to your heart . Like a kid in a store. Take every ounce of love . And beg you for more . And beg you for more . She has no idea, no idea . That I'm even here, I'm even here . She has no idea, no idea . I'm standing here, I'm standing here . I'm standing here".
As beautiful as love can be, it is not always reciprocated. But that shouldn't take off the beauty of it. No Idea is here to teach you about patience and loving someone from the, not so literal, distance
7. Invisible
"Oh, when the lights go down in the city . You'll be right there shining bright . You're a star and the sky's the limit . And I'll be right by your side . Oh, you know, you're not invisible to me . (Oh, you know) you're not gonna be invisible".
Anyone would be flattered to listen to this song because someone else sent it to them. Once in a while we can all feel invisible, but maybe there is that special someone who thinks you're not, and this song is what this is about.
6. Nothing Even Matters
"It's like one for the haters, Two for all of those who try to shut us down. They don't really know. There ain't nothing they can do that can tear us apart. No. I don't care about the money, don't care about the clothes. When we're together, baby, anything goes. We don't even need to prove what we feel in our hearts. No".
Who cares about what others think?
Haters gonna hate, right? So if you're in a good relationship with someone who loves you and respects you, and you love and respect them back: Nothing Even Matters! Why care about others' opinion?
5. Elevate
"Elevate a little higher . Let's throw a party in the sky . And celebrate . Elevate until we fly yeah . Move, move your feet . Until you levitate . Come on let's elevate".
A classic Big Time Rush song.
Just sticky lyrics and a great choreography among the amazing rhythm, it is a fabulous song by itself without the need of any deep lyrics.
4. Cover Girl
"Whoa, but you know that I love you, just the way you're made . When you're looking at the magazines . And thinking that you're just not good enough . You're so wrong, baby . Cause you're my cover, cover girl . I think you're a superstar, yeah you are . Why don't you know . Yeah, you're so pretty that it hurts . It's what's underneath your skin . The beauty that shines within . You're the only one that rocks my world . My cover girl".
A short song but not less because of that.
This one will probably make you feel moved and may be something nice to dedicate to that special someone who thinks less of themselves than what you see on them.
3. Halfway There
"So we take what comes . And we keep on going . Leaning on each other's shoulders . Then we turn around . And see we've come so far somehow... We're halfway there . We're looking good now . Nothing's gonna get in the way . We're halfway there . And looking back now . I never thought that I'd ever say . We're halfway there..."
One of the first songs, sure! But with a strong message for you.
No matter how fast or slow are you, you're doing your best to reach your goals, right?! This is what this song is about. Acknowledge your achievements, looking back and noticing all you have accomplished and done, is worth everything.
2. Worldwide
"Wait a minute before you tell me anything, how was your day? 'Cause I've been missing . You by my side . Did I awake you out of your dream? I'm sorry but I couldn't sleep . You calm me down . There's something 'bout the sound of your voice".
A really romantic one.
Because when you love someone, it doesn't matter how far they are, if you're willing to make it work, it will work. "Paris, London, Tokyo", as the lyrics say: "I'll be thinking about you, Worldwide".
1. We Are
"Life's too short to sit and wait . For luck to come our way . Light it up like fireworks . I wanna hear you say : We are, we are . We are alive . And we are the light that's shining now . We are, we are . We are the reckless . And you can hear us drowning out the sound . We are, we are . Young and dumb, always chasing something . We are, we are . Hearts like drums, you can hear us coming . We are, we are..."
The very last Big Time Rush song to close this Top.
Because if you're a big fan, I bet you cannot listen to this one without crying or at least dropping a tear or two. Not just because of what it means to the band and the fandom, but also about the lyrics itself. Because this is somehow the second part of Halfway There. By this point, it seems, they reached their goal and are There.
We Are,
Back.