The Beatles: Inspiration in Ink
Body Art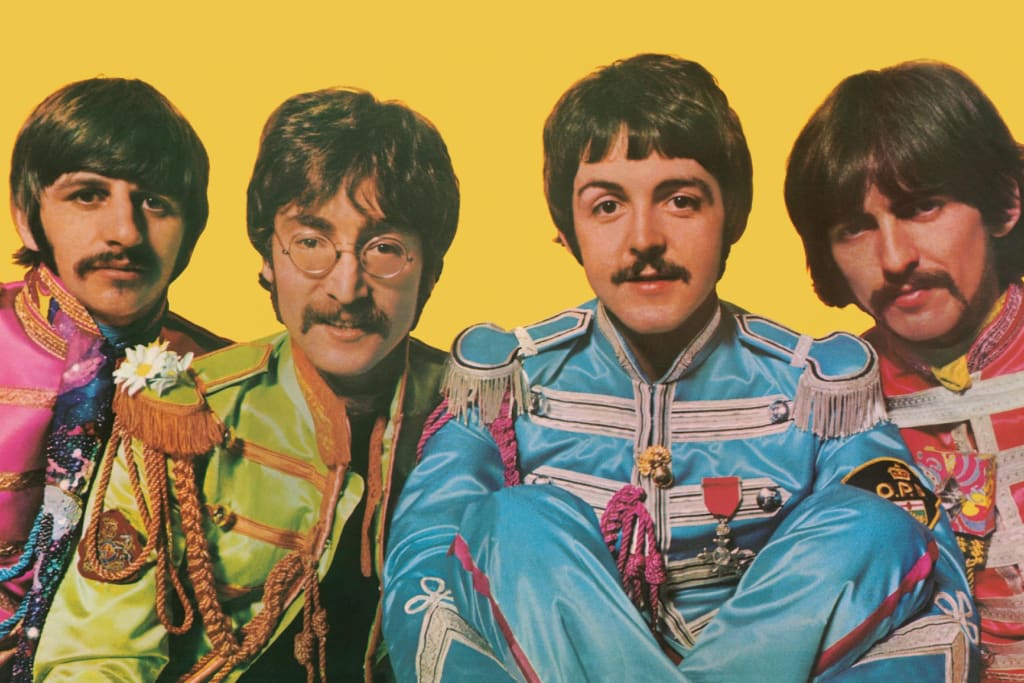 Choosing a tattoo is remarkably easy, or impossibly hard.
You either know exactly what you want, or have no idea what you'd like, just that you know you definitely want a tattoo.
After years of not knowing, Pandora's Box has been opened, and I now fall into the former camp; I know exactly what I want. It took me an eternity to decide upon my first tattoo; a beautiful combination of a butterfly, and a semicolon that marks my recovery from a break-down. And, once I had settled on that, I knew I wanted a second.
The only problem I now have is narrowing down my almost infinite list. Having been uncertain for decades, the mental floodgates have opened, and I'm now drowning in choices.
It's a varied menu, and includes meaningful dates, as well as arcane and oblique quotes from Monty Python, F. Scott Fitzgerald, 'Star Wars', or Shakespeare. In addition, there's an ever-increasing range of options exploring mental health.
However, matching all of those options, are lyrics from my favorite band.
The Beatles.
There's very little that hasn't been said, or written, about the Fab Four. From critical, heavily-academic studies of their compositions, to gushing, overly-favorable biographies, to hatchet-job psychoanalyses... I think I've read nearly everything.
What they all seem to miss (or, at the very least, so often overlook) is that The Beatles wrote damn fine songs. I understand that; we're talking about four very distinct, very intimidating personalities, so I appreciate why biographers focus on them as individuals, and ignore the fact that they were, first and foremost, musicians.
However, as interesting as the characters are, they can't match their musical output. Which, by anyone's standards, is simply astonishing.
Musically, The Beatles pushed boundaries, and then smashed through them, while never losing sight of the fact that a song needed to be harmonically pleasurable. No matter how innovative they chose to be, they always retained the ability to craft three minutes of aural joy.
But, for me, their greatest achievement lay in their lyrics.
It's easy to get pompously dismissive about song lyrics, and become mired in a debate about the words to a song, versus 'proper' poetry. For me, there really isn't a debate: It doesn't matter if it's Shakespeare, Byron, or four Scousers, if those words 'move' you, then there's magic there.
If they connect with you on a deep level, then discussions of iambic pentameter or similes are irrelevant. It's simply about the effect those words have on you.
And, at their best, The Beatles' lyrics move me.
Not just because of their innate poetry, but because they evoke memories, and therefore connect me, to past events and people. They've also helped me through the hardest year of my life. Music has played a huge part in my recovery, and the majority of the soundtrack for the past year has been songs courtesy of John, Paul, George, and Ringo.
I owe them a lot.
In short, if I was going to get another tattoo, one of the first place I'd start is with the words to The Beatles' songs.
Given their discography, there's an ocean of lyrics to choose from. However, here's my shortlist of 6. They're all profoundly meaningful to me, and each one is simply perfect if you're considering indelibly marking something on your body for eternity.
1. 'The love you take is equal to the love you make.' ('Medley' - Abbey Road - 1969)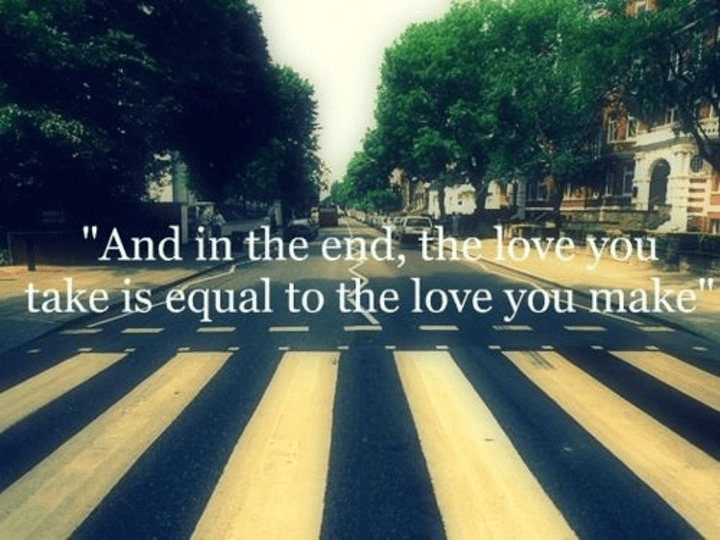 I discovered The Beatles as a teenager, thanks to my father's vinyl collection, and two of my best-friends who were already devotees. In those days, the earlier songs held sway. The raw power, and exuberance, of 'Twist and Shout', 'A Hard Day's Night', and 'Help!' got me hooked, and kept me hooked. The more challenging albums in The Beatles' later career were listened to, but not overly enjoyed. To be honest, I didn't 'get' them.
And, as for the 'Medley' at the end of 'Abbey Road'? Well, that was just a bit of shambles, a jigsaw of unfinished songs clumsily stitched together, wasn't it?
Nowadays I see those later albums much differently. And that 'Medley' might be an uneven tapestry, but - boy - what a tapestry it is.
Being a Beatles' fanatic, I know what was going on behind the scenes of each album. And, by 1969, it's amazing the group was even able to produce anything at all. The four were barely on speaking terms by this point. To then create the majestic 'Abbey Road' is astonishing.
Despite the upbeat nature of some of the songs, it's - overall - a melancholic album. They knew the end was nigh; the surreal journey that had taken them from the dingy clubs of Hamburg to being the most revered musicians on the planet, with more wealth they could ever hope to spend, was reaching its climax.
And 'Abbey Road' is about looking back. On their journey. But also on life itself. And on the lessons learnt.
In the early '90s, I visited Liverpool for the first time, and went to The Beatles' Story, a place I would, with a spooky synchronicity, work at a decade later when I moved to the city. At the very end of the exhibition, there was a large white wall. Painted on it were lyrics taken from 'Medley': 'And in the end, the love you take is equal to the love you make.'
Perhaps it was partly due to not being a teenager anymore, and no longer being wrapped up in my own adolescent angst, and finally being able to see that I wasn't the center of the universe; or maybe it was just - at last - being in the birthplace of the Fab Four. But, those words made sense to me for the first time.
The love we receive is only as great as the love we bestow: We are what we do. For every action, there is an equal reaction: If you want to be loved, then be loving.
I suffer from depression, which means it's easy for me to get caught in my own maelstrom of misery. "Why," I'll often cry, "does nobody love me?" Paul's lyrics are a reminder that you reap what you sow; as a life-lesson, there's few more potent - whatever we take from this world is only as great as what we put back. If I want love, I must give it back.
But, it's not just love; it's everything.
If I want kindness, I must first be kind.
If I want economic reward, then first I must work hard.
We can only take what we give back - I'm not sure that human existence has ever been summed up so succinctly. 'The love you take is equal to the love you make.'
It's simple yet beautiful, and it'd be one of the first things I'd consider having tattooed on myself.
However, that's only one option...
2. 'In my life I've loved them all.' ('In My Life' - Revolver - 1965)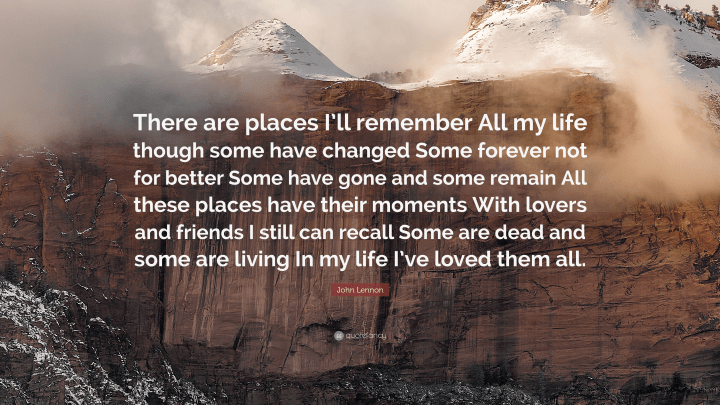 By the mid-60's, The Beatles were slowly seguing from being lovable, witty, pop idols, and moving towards being accepted as serious musicians and songwriters. The double-whammy of 'Revolver' and 'Rubber Soul' clearly showed their evolution and maturity; John, Paul, George, and Ringo certainly weren't the harmless, mop-topped four-piece anymore who needed to pad out their albums by covering other artists.
These two albums are still my all-time favorites, and will probably remain so. And the track-listings show why.
But, there is one song that still stands out for me; Lennon's 'In My Life.'
I'm not naive to the fact that John was far from being a saint. In fact, by most accounts, he had more flaws and faults than most. He most definitely didn't always practice what he so loudly preached. However, although I'm more of a fan of Paul, I have to admit when Lennon got it 'right', he nailed it. Utterly.
And 'In My Life' is near perfection.
Given John's tumultuous life, it's easy to psychoanalyze his lyrics, searching for the hidden (or, in some cases, non-too hidden) meanings. Many have said that, in this song, John is referencing a wife he treated despicably, but also former band-member, Stuart Sutcliffe, who died tragically young.
However, most simply, he's saying that he loved them all.
It's a song I've gone back to, time and time again, when recalling my own past. There are friends who I no longer speak to, whether through accident or design, and loved ones from whom I've drifted. It's a song that helps me to process the pain of those fractures, and to remember them all fondly.
No matter what happened, I loved them all. That's how I choose to remember them. With love.
As a coda for any broken relationship (whether personal or professional), 'I loved them all' is just beautiful.
Short, sweet, and loaded with symbolism, it'd make the perfect tattoo.
3. 'Nothing you can sing that can't be sung.' ('All You Need is Love' - Magical Mystery Tour - 1967)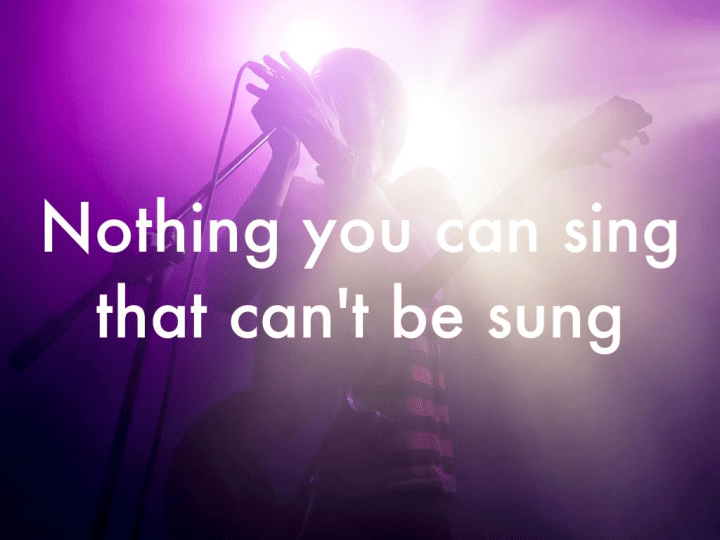 'Magical Mystery Tour' is a surreal, and slightly-messy album, but that's probably one of the reasons why I love it. It's bold, and a little bit bonkers - even by the standards of the 1960's, it's 'out there.'
And its most famous track is one of its weakest. 'Hello Goodbye', 'Penny Lane', and 'Strawberry Fields Forever' are all better songs than 'All You Need is Love.' However, none of them have those lyrics.
'There's nothing you can sing that can't be sung.'
Yes - we do all need love. But, for me, that's not what this song is about is. It's about dreaming, aspiring - there's nothing you can't do if you put your mind to it. After all, John should know - look at the journey he went on.
As I rebuild my life following a break-down, I need constant assurance I can do it. That I can get better, that I can have the life I want.
'All You Need is Love' is my musical call-to-arms, the song I listen to if I'm doubting myself. The one that tells me I am only limited by both my own imagination, and how hard I'm willing to work.
There's not a song I can't sing. Everything, and anything, is possible.
4. 'Take a sad song and make it better.' ('Hey Jude' - non-album single - 1968)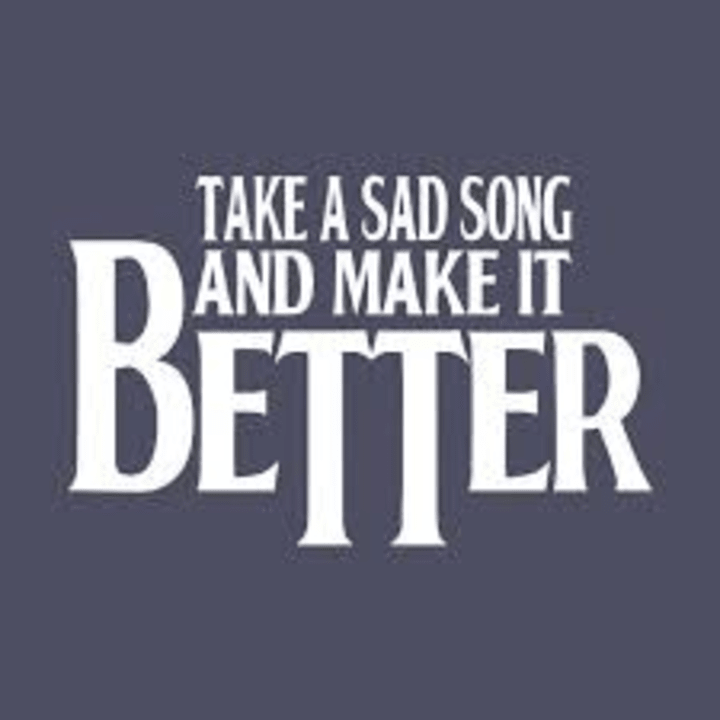 In my opinion, whilst John was, overall, the superior lyricist, Paul was the stronger tune-smith. From 'Yesterday' to 'Live and Let Die', McCartney's ability to craft a melody that stayed with you forever is unmatched. Only The Rolling Stones' Jagger and Richards, Burt Baccarach, Motown's Holland-Dozier-Holland, and Ray Davies of The Kinks, come even fractionally close.
And there's no doubting just how far the music of 'Hey Jude' has seeped its way into the collective human consciousness. Everyone can hum that tune.
But, Paul was also capable of matching John's lyrics. And on 'Hey Jude' he came very close to outdoing them all.
The story behind 'Hey Jude' is infamous. Whether it was written for, or just about, Julian Lennon, Paul was touching upon the disintegration of John's and Cynthia's marriage. It was a song telling poor Julian, caught in the middle of his parent's acrimony, that bad times don't last. Hang in there; things always get better.
The line 'Take a sad song and make it better' is incredibly poignant for me. It's about taking sadness, tragedy, heartbreak, and failure, and using it, transforming it into something good. We can either let our bad times break us, or define us: Paul tells us to do the latter. Take those sad songs, and do something positive with them.
It's a lyric I think of anytime I'm facing hardship. How can I take what I'm going through, and turn it into something good? How can I make that sad song better?
Without those words, I wouldn't write about my break-down; I've taken that particular sad song and made it infinitely better.
And one day I'm going to have this line inked on me forever as a way of saying 'thank you.'
5. 'Life is very short, and there's no time for fussing & fighting, my friend.' ('We Can Work it Out' - non-album single - 1965)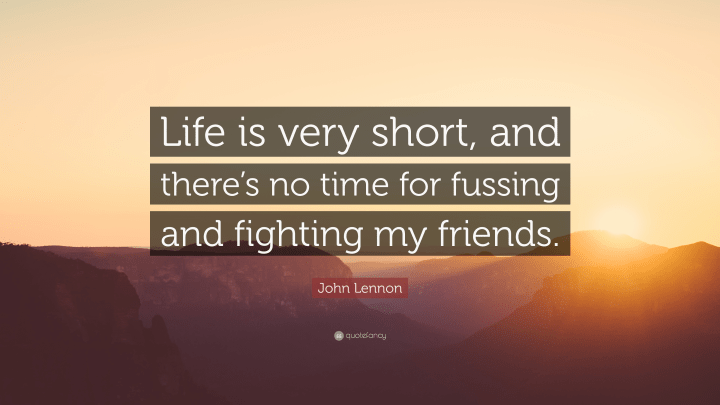 This lyric is so fundamentally true, it requires little explanation. Life is too short for fighting. One day. maybe tomorrow, that person you are estranged from might not be there. Pick up the phone, listen to each other, bury those petty differences - you can work it out.
As a reminder of what's important, this seemingly trivial, throw-away song is priceless. Try and work it out. Go on, try.
6. 'Take these broken wings and learn to fly' ('Blackbird' - 'The Beatles' aka 'The White Album' - 1968)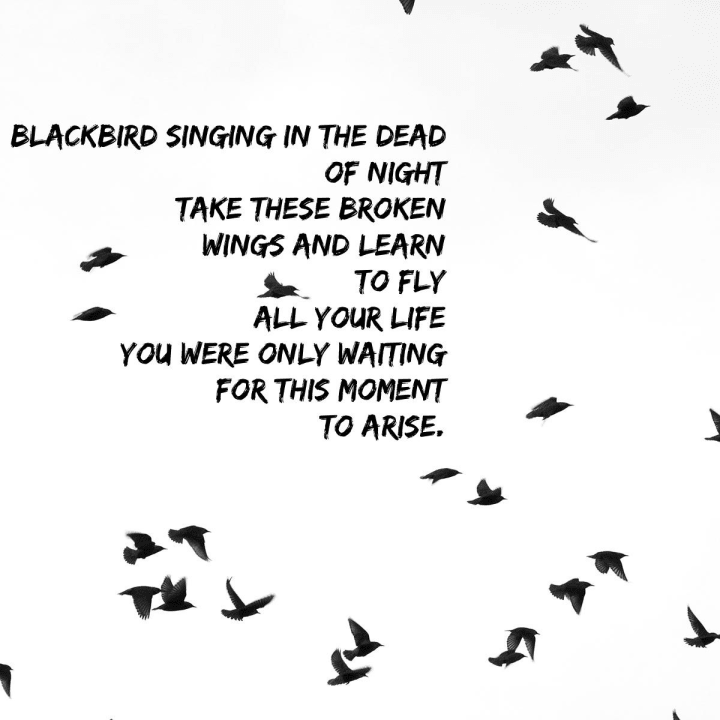 And so we come to the last set of lyrics. The one that has the most meaning for me.
The genesis of 'Blackbird' is difficult to decipher with certainty. I've read, more than once, that in this song Paul was referencing the civil rights movement unfolding at that time in the States. However, I've read elsewhere that there was no political message, and it's simply - much like 'Hey Jude' - about one person enduring a period of personal difficulty.
To be honest, I don't really care.
For, a year ago, I too was lost, cocooned in darkness. This is one of the songs that helped lead me to towards the light. Like 'Hey Jude', this song isn't just a reminder that bad times don't always last, it also tells me that - sometimes - we need that darkness.
It's in that darkness that we find our voice, our wings. Adversity shapes us. And, finally, we can arise from it, a different person. Like the bird in the song, I'm slowly learning to fly, having been flightless for so long.
It's a beautiful song. At a time when The Beatles were experimenting, 'Blackbird' is stripped back. One man, one guitar, and a wonderfully life-affirming message: 'You were only waiting for this moment to arise.'
Simple, yet profound - it's perfect for a tattoo.
So, that's my six potential tattoos. I could have chosen dozens. John, Paul, George, and Ringo gave us an almost infinite list. Music that will live for as long as we, as a race, do.
And, if you want to repay that legacy by adorning your body with their greatest works, you - like me - have a spectacular array of possibilities to chose from.
If tattoos are indeed body 'art', then there's few better artists to be honored through this form.
The only problem you'll have is deciding what to choose...
-----------------------------------------------------------------------------------------
If you've liked what you've read, please check out my other stories and articles on Vocal.
If you've really liked what you've read, please share with your friends on social media.
If you've really, really liked what you've read, a small tip would be greatly appreciated.
Thank you!