THE BASTERDS - release their 1st EP
Brother-duo Jordan Hopa & Joe Delays' creative play with lyrics pays homage to film, television, music and all artistic geniuses.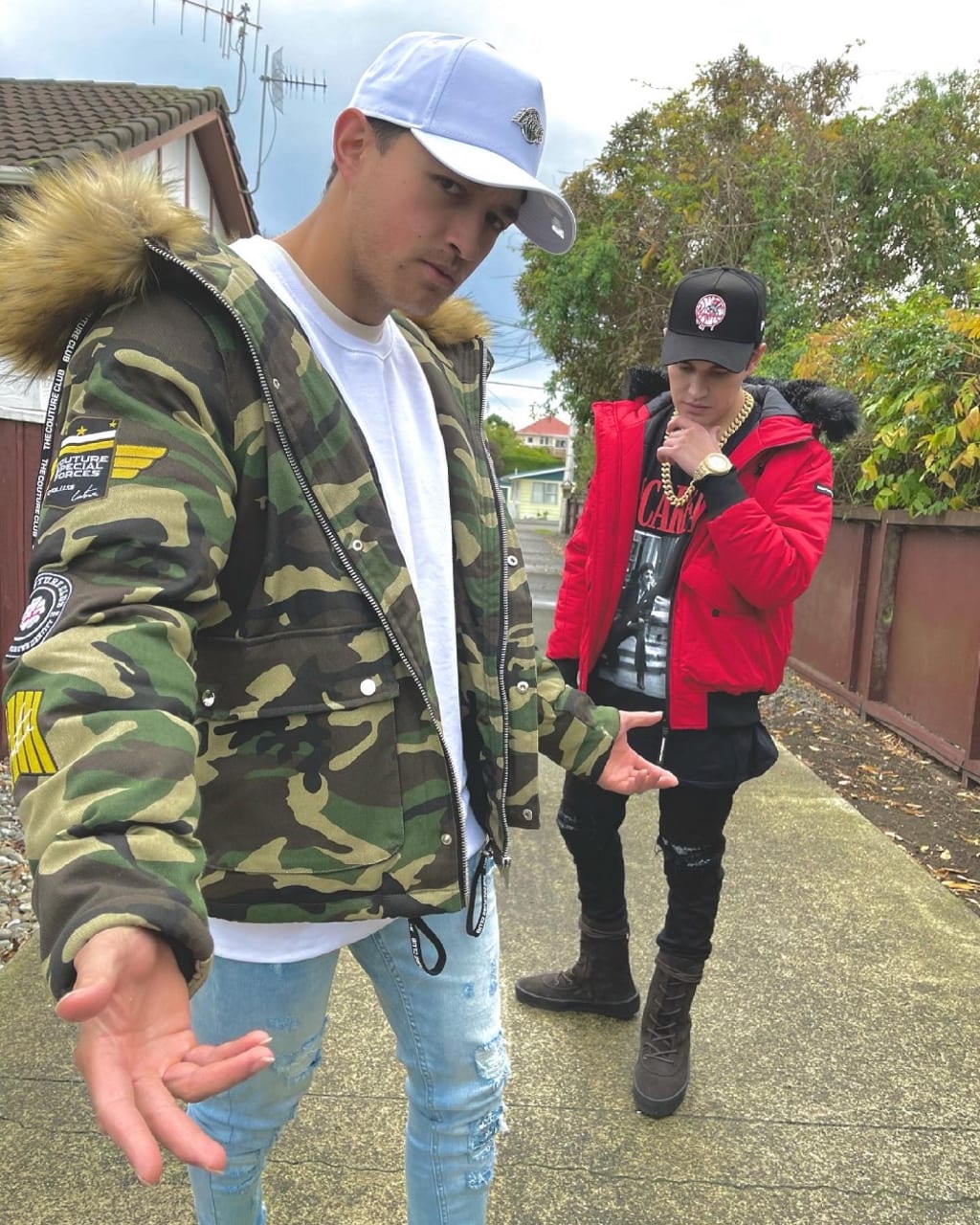 Brother-duo Jordan Hopa & Joe Delays have just released their first EP Bad Motherf**kers featuring the songs:

– Da Blaze

– BadMotherf**kers

– Mayo

Their creative play with lyrics pays homage to film, television, music and all artistic geniuses. It celebrates all the legends that have inspired them when they were growing up and continue to inspire them today.
What 1st drew you to music?
The beats and instrumentals.
Do you have a preferred or chosen genre?
I listen to all genres but I love making Rap Beats and writing Rap lyrics.
How long have you been creating music?
Coming up 4 years.
You recently released your first EP "Bad Motherf*ckers". Can you tell us a little about your project?
It's the first project my Brother, Joe Delays, and I created together. I came up with the beats and we both contributed lyrics. We love film and television so that forms the basis of our music as it includes a whole lot of references.
Were there any challenging aspects to writing and recording your music?
It comes pretty naturally to me making beats and writing lyrics but I am still learning to mix and master.
Is there a hidden meaning in your music?
Haha, nope not all all. I'm just here to do what I love, have fun and pay homage to film/music.
What is the best song you ever released and why?
Shit! That's a hard one. Da Blaze had the most hours spent on it and was the most challenging with so many adlibs and working with different voices. Plus it's always a bouns when you get to collab and bounce ideas off one another.
What song do fans seem to favor?
Da Blaze
Are you interested in performing live?
For sure, I have already worked out the whole gig in my head.
Which of your songs do you think would be fun to perform live?
The entire "Bad Motherfuckers EP with my bro, Joe. We vibe off one another and that shit is next level. But if I had to choose one it would definitely be "Da Blaze." That's gonna' go hard when we perform it.
What do you enjoy most about being a musician? What do you dislike the most?
Getting creative with sound and writing lyrics. I don't dislike anything but mixing for me is a process that takes a lot of time, effort, repetition and precision.
Other than fame & fortune, is there something you hope to achieve through music?
I really just want everyone to have fun with it; party hard, play hard and have a f##kin' good time. Life is a celebration - do what you love!
Has there been 'a magical moment' or positive experience that has happened during your music career?
I am just a new comer, I only released my first single this year but I have spent the last 4 years making beats and writing lyrics. I have a whole library good to go , I just need to get them all recorded, mixed and mastered.
What music do you listen to 'for fun'?
Even though I make and listen to Rap I listen to a lot of 60s/70s/80s music and film scores.
If one artist were to perform at your party, who would get the call?
I would be making a call beyond the grave and hittin' up Pop Smoke. Gatti and Scenario slap!
What advice would you have for someone wanting to follow in your footsteps?
Don't give up! If you want something bad enough you'll get there eventually.
How do you feel the Internet has impacted sharing your music?
Social media is a powerful tool to distribute and promote your music. Once the words out, the worlds your oyster.
What is your favorite/best outlet to connect with your followers Instagram, Spotify, FB, Twitter, iTunes? How would you want them to follow?
Instagram for connecting with fans. Spotify for being able to share my music.
I'm not the biggest social media person so I am still getting use to posting about my music and what I'm up to. I'll get there though.
What is one message you would give to your followers?
"Hit da blaze" then we fuck it up!":joy:
What does the future hold for you?
Music, film and a f*ckin' good time.
Did I forget to ask something? Something you would like to say, that I did not address.