The Ballad Of Uncle Drank Podcast: Santa Hammered
A popular audio fiction podcast releases new original music.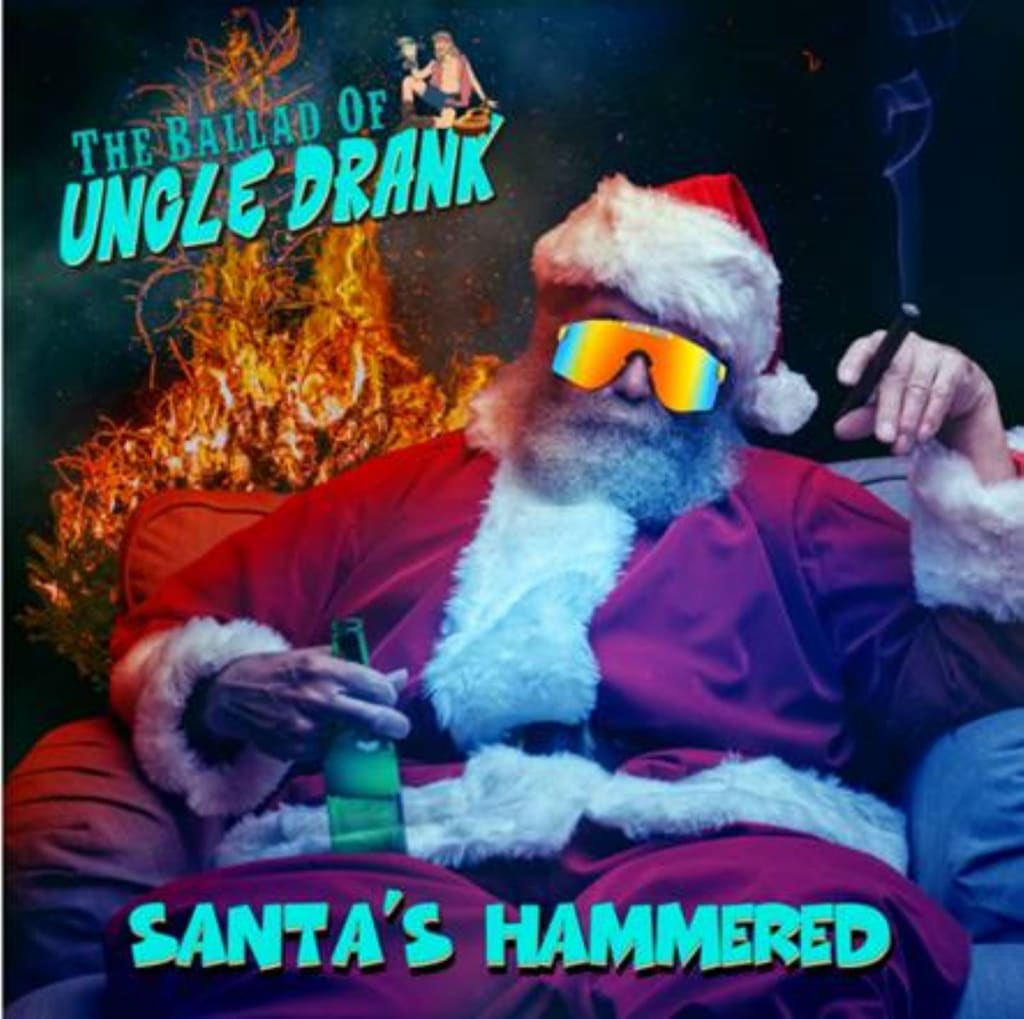 It's natural that music and podcasting would make a great pair. They're both audio formats that disdain the presumable superiority of video.
A popular audio fiction podcast by Audio Up has only deepened that amorous relationship.
It's called The Ballad of Uncle Drank, which is an eight-episode comedy event starring veteran actors Will Sasso and Luke Wilson, Brian Kelley, Chelcie Lynn, Jared Gutstadt, Billy Zane, and Scarlett Burke, among others.
The eight-part series gives a new comedic take on the music industry throughout the 1970s, 80s and 90s. Artists and fans alike tell the somewhat true-life adventures of long-forgotten fictional country superstar, Uncle Drank — a lovable, drunken and free-spirited beach musician who traveled the world with his best friend BLENDY, a talking blender, and then mysteriously disappeared in 1992.
When the podcast released in early September, Audio Up also unveiled an original soundtrack alongside the podcast, a single, "Biggest Dock on the Lake" featuring Uncle Kracker.
Audio Up billed the podcast as, "One-part Kenny Chesney and one-part Kenny Powers, Uncle Drank's music and story will take listeners on an adventure through an era that time has forgotten. Before Jimmy Buffet ate a cheeseburger in paradise, and before Kenny Chesney sang about wearing no shoes, no shirt and no problems, there was Uncle Drank."
In the preceding two months, the audio fiction podcast has become a hit, based on its Apple rankings. Now The Ballad of Uncle Drank has thrown his jean shorts into the Christmas song ring with his catchy new song "Santa's Hammered." In this soon-to-be new holiday classic, Uncle Drank suggests that even the jolliest man on the planet, Ol' St. Nick himself, likes to imbibe on a couple of adult beverages once in a while. In this song, we hear tales of the time Santa Claus got a little 'over-served' and had moments where, "He drank 100 proof, then fell off my roof."
Listen to the song HERE.
"Santa's Hammered" was co-written by 25 x ASCAP Award winner Jared Gutstadt, Zach Selwyn and Jesse Siebenberg and produced by the award winning Audio Chateau. More original music from The Ballad of Uncle. Drank is streaming across all DSP's and with plans for an Uncle Drank live touring experience in the near future.
The Ballad of Uncle Drank podcast is available now across SiriusXM audio entertainment platforms — including the SXM App, Pandora, and Stitcher — and other major podcast platforms in the U.S. The podcast series was penned and directed by Zach Selwyn (Audio Up's VP of production) alongside Audio Founder and CEO, Jared Gutstadt.
Audio Up CEO and Adweek's 2020 Podcast Innovator of the Year and Podcast Producer of the Year recipient is Jared Gutstadt. From fictional scripted podcasts, which include a Marvel-like universe of musicals, to one-on-one interview formats, Audio Up's goal is to create a new and innovative form of IP.
Current scripted properties include season two of Make It Up As We Go with Scarlett Burke, Garrett Hedlund, Elle King, Shooter Jennings and award-winning Nashville songwriter Liz Rose among many others; Webby honoree for Best Limited Entertainment Series Podcast Halloween in Hell with Machine Gun Kelly, 24kGoldn, and iann dior; and Strawberry Spring, the first-ever adaptation of the classic short story by Stephen King, which was the number one trending podcast globally upon release, starring Garrett Hedlund and Milo Ventimiglia. Other current podcast properties include AdWeeks's 2022 "Podcast of the Year" - health and wellness podcast Maejor Frequency, the riveting top 20 crime podcast Where The Bodies Are Buried, and Michael Cohen's chart-topping podcast Mea Culpa, now entering its 200th episode.
The eight-episode podcast just finished its run in early November. So I suggest a binge episode of The Ballad of Uncle Drank. It'll put you in the holiday mood.
About the Creator
I am a South Jersey-based author who is a writer for the Pod-Alization podcast blog on Substack, Ear Worthy on Medium, Podcast Reports on Blogger, Auditorily on Vocal and The Listening Post on Tealfeed.
Reader insights
Be the first to share your insights about this piece.
Add your insights