Synthpop Artists You Need to Know
Synthpop artists defined the rise of electro pop and evolved the use of synthesizers, changing the music industry in ways not many expected.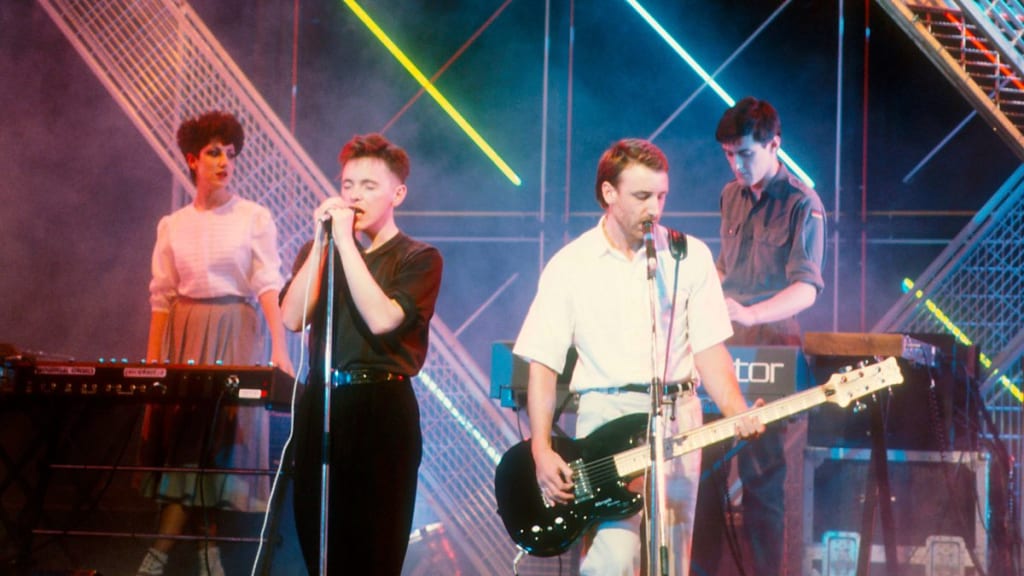 The 1970s were a time of great musical experimentation and innovation. With the relatively recent technology of synthesizers becoming ever more popular, the palate with which artists were able to create their music had never been wider. As the "New Wave" of the "British Invasion" of music to the American market took hold in the later half of the 1970s, the synthesizer began to take an ever increasing role in popular music.
With the variety of instrumentally and digitally derived tones and filters, artists were able to create melodic sounds that did not exist in nature. This technology was first majorly exploited by early electronic bands like Kraftwerk, and by Prog Rock groups like King Crimson, Pink Floyd, and Emerson, Lake & Palmer, as well as many others. While the roots of the synthesizer go back much farther into more obscure, progressive rock and early electronic music, the first popular uses of this technology were by bands like The Who, most prominently on numerous tracks from 1971s Who's Next, including "Baba O'Reilly" and "Won't Get Fooled Again."
With this cabinet of curiosities at his disposal, The Who's Pete Townshend used elaborate looping riffs, modulating synth tones, and synth filtering on organs to create a record that would help to redefine the sound of rock forever. With this popular infusion, as well as the popularity of additional adopters like Elton John and other piano-based artists, the demand and interest for synthesizers began to permeate all areas of music from Abba to Led Zeppelin. With these influences to guide them, a sub-genre of the New Wave known as synthpop took the use of synthesizers as far as possible.
While synthesizers were not uncommon in most New Wave music however, synthpop artists were largely influenced by them, and a new genre of music was born from it.
One of the most iconic and successful synthpop bands in the UK, Depeche Mode, was formed in Essex, England in 1980 and has consisted of Andy Fletcher, Dave Gahan, and Martin Gore, with previous members Alan Wilder and Vince Clarke as well. One of the best known artists of this genre, they were by far their most successful in the UK, charting 50 singles and releasing 17 top 10 records. Best known for songs like "Blasphemous Rumors," "People Are People," and of course "Just Can't Get Enough," they have earned a place in the Rock and Roll Hall Of Fame as of 2018.
There are few songs that are as representative of the sound and culture of the 1980s as "Just Can't Get Enough," with its unforgettable riff and thumping rhythm, greatly suited for highly energetic dancing. In addition to this epic dance tune, the group is also well known for "People Are People," another lively tune with its uniquely thoughtful refrain "People are people so why should it be, you and I should get along so awfully."
Hailing from Merseyside, England, Orchestral Manoeuvers in the Dark formed in 1978 and comprises members Andy McCluskey, Martin Cooper, Paul Humphreys, and Stuart Kershaw, along with a number of past personnel. Having been around for a few years, the group released the song for which they are best known: "Enola Gay." The song is supposedly an anti-war song and seems to tell the story of the dropping of the atomic bomb over Japan.
The lyrics lament how "it shouldn't ever have to end this way," and "the kiss you give, its never ever gonna fade away." With its long opening and pulsating, looping electronic synth riffs to its signature main riff and iconic bass line, "Enola Gay" is one of the most iconic songs of the early 1980s, featured on almost any 80s anthology ever assembled. With their iconic sound and this smash hit, OMD is one of the most important synthpop artists of all time.
As is par for the course, The Human League began making music in the UK in 1978, specifically in Sheffield. One of the best known artists of this genre and era, the group experienced commercial success with a number of well-known tunes, namely their US and UK number 1 hit, "Don't You Want Me." Loaded with rhythmic textures as well as melodic and counter-melodic keyboard tones, this song, like many of the genre, has a feeling of constant movement, making it a phenomenal dance track in its time.
If you weren't around when it first dropped, you have probably heard it used in a number of ad campaigns over the last couple decades, including one for Swiffer. Additionally, the group had success with other great classics, such as "Keep Feeling Fascination" (another popularly covered song for ad campaigns), a song which has come to define the group and inspire sampling and creativity in many subsequent artists.
One of the rarely prominent early American examples of synthpop artists, Devo is well-known the world around for being one of the most fiercely independent and unique bands of all time. Unprejudiced to the promises of synthesizer technology, Devo was set to create their own idea of music, one that would earn them a modicum of success and the cult following of many musicians and dedicated fans. With their experimental approach to music, the group did not experience initial success.
Having formed in 1973, the group did not experience major success until they released their signature song "Whip It" in 1980, one of the best synthpop songs ever created. There are few people who have never heard of this 1980s classic, defined by its melodic, synthesized bass line and digital percussion effects, topped of with a number of recurring sounds and riffs. Interestingly, the group had spent time with a number of famous musicians including Neil Young. Though the two artists are not an obvious match for one another, Neil Young's hard rocking grunge-conceiving song "Hey Hey My My (Into the Black)" was actually developed from a riff that Young had created and jammed with Devo.
"Who am I to disagree?" Few acts would come to define the future landscape of electronic music than the Eurythmics. Comprised of members Annie Lennox and Dave Stewart, their music and creative process was unlike that of traditional recording artists, and would inspire the work of many artists of today. While home recording is a relatively easy and attainable process for almost anyone today, there was a time when this was a difficult process.
The group's most identifiable hit is "Sweet Dreams (Are Made of This)," which the duo reportedly created in an attic principally with a synthesizer, microphone, and some additional recording equipment. Though few people had previously attained success with such a process, their triumph would inspire artists like Trent Reznor, Kevin Parker (AKA Tame Impala), and others to create the music they hear in their head.
It would be absurd to cover the synthpop genre without discussing one of the formative post-punk acts of all time. Though the group is not necessarily purely a synthpop group when considered on its own, members of the group would go on to form New Order, a classic example of a practitioner of the genre. Founded in 1976 in Salford, near Manchester, UK, Joy Division was made up of late singer Ian Curtis, as well as Bernard Sumner, Peter Hook, and Stephen Morris. While the others would go on to form New Order, Curtis, who suffered from epilepsy and depression, would sadly commit suicide by hanging himself in 1980. One of the group's best known songs "Love Will Tear Us Apart" seems to tell the story of singer Ian Curtis' struggles with depression and his marriage leading up to his untimely demise.
Rising from the ashes of adversity, New Order came to be one of the great synthpop artists after emerging from the collapse of one of the defining post-punk acts of their time. As previously mentioned, New Order was formed by the surviving members of Joy Division after the band's singer Ian Curtis took his own life following a number of psychological and health problems.
Though standing in the legacy of their past success, the group managed to make a name for themselves, creating perhaps one of the most iconic songs in the history of electronic music. From their 1983 album Power, Corruption & Lies, New Order's "Blue Monday" was an instant and enduring hit, inspiring many covers over the years. With its use of synthesizers for rhythm, melody percussion and bass, the song proved to be a revolution in electronic music and soundscapes, and New Order became one of the top artists to listen to while working out.
Formed in Bath, UK, in 1981 by friends Roland Orzabal and Curt Smith, the group is a favorite among hardcore 80s music fans, and an enthusiastic user of synthesizers. The group was lucky enough to land a pair of billboard number ones on their second record in 1985 with the iconic singles "Shout" and "Everybody Wants to Rule the World" after their first record hit number one in the UK. With its looping guitar riff and veritable, seven-layer dip of synth textures and riffs, the song manages to create a cheerful and idyllic soundscape that is antithetical to the somber and angsty lyrical content that warns of surveillance and the impermanence of all things. If you haven't heard these hits, perhaps you have heard another of their defining tracks, "Mad World," which is a somber, slow-burning barrage of synthesizers that hit the ear in a manner that is often sonically overwhelming.
Any comparison of music from the UK and US during the 1980s will reveal some distinct differences. Though artists from both sides of the pond had an appreciation for synthesizers and used them frequently, it is fair to say that the Brits were a little more synth-happy. Consequently, the success of synthpop artists, while decent in the United States, was far more prominent in England. While not as much of a part of the musical lexicon in American memory, Ultravox was one of the formative English synthpop outfits, inspiring many of the other listed artists to make their own music. With hits such as "Sleepwalk," "Passing Stranger," and "Vienna," the group's work in the early period of the synthpop genre would come to shape and define some of the parameters of this genre of music.
Few people have made it this far in their lives without hearing one of this "rock band's" two biggest hits, and let's just say it isn't "Rio." Though this band is often derided and joked about, often for the aforementioned "Hungry Like the Wolf" and the synth-crazy "Rio," these and other songs by the group served to add to the narrative and evolution of synthpop artists, pop music, and electronic music. Beginning their journey in Birmingham, UK, in 1978, the group would rise to prominence in 1982 with the release of "Hungry Like the Wolf." A popular hit at the time and one of the best music videos of the 80s, the song has remained in the memory of the greater public, even being covered in the credit sequence medley of the first Shrek movie. With their use of synthesizers, the group created energetic songs with dancing beats and rocking guitars, exemplifying the synthpop genre while incorporating some more pure rock elements to the mix.
synth
Fred Park is a writer, singer and guitarist with a deep passion for music, sports and history. Fred graduated from Purchase College in 2016 with a BA in history.
Receive stories by Fred Eugene Park in

your feed